Are you thinking of going to the wonderful Greek Island of Paxos?
Hi – a quick introductory video from me.
In this post I will answer the most frequently asked questions about the Greek Island of Paxos – hence the title Paxos FAQ. I hope that my answers will save you time and help you to make an informed decision about travelling to and enjoying this wonderful Greek Island. These answers are based on my personal experiences of visiting this very special place which my wife and I love dearly.
Where I have written a separate post answering a question I have provided a link to that post on my website.
1 – Why go to Paxos?
Why not? Seriously Paxos is a small, chilled and lovely island with no airport. I wrote a separate post all about this titled, funnily enough Why go to Paxos?
I liked Paxos so much I created this website so I can share my experiences. And I have never done that before!
2 – Where is Paxos?
Paxos is located to the south of the lovely island of Corfu in the Ionian Sea. Here it is on a map where the red tab is.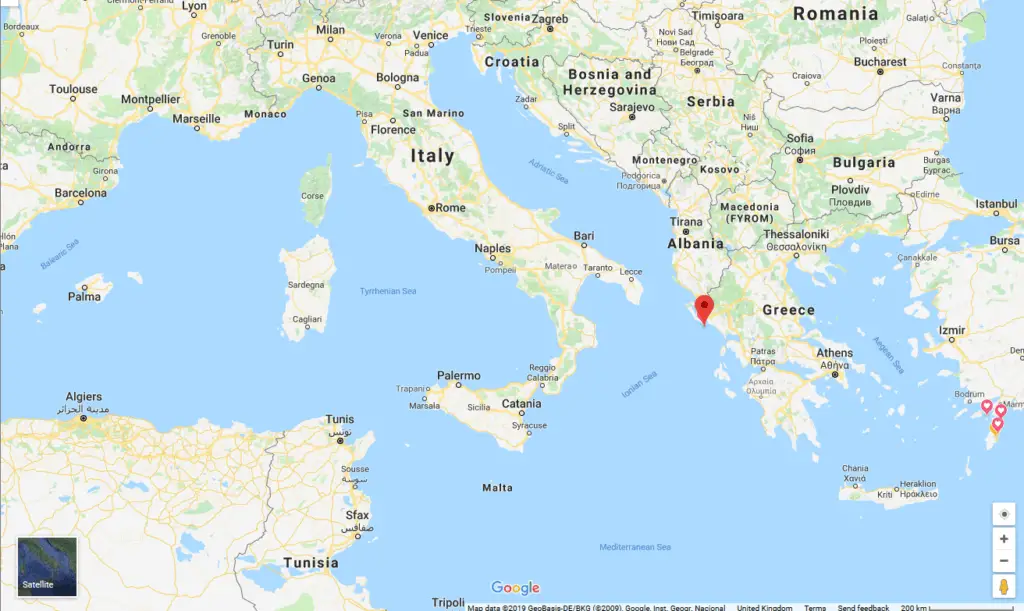 3 – What is the weather like in Paxos?
Nice and hot and sunny in the main holiday season which is May to September. There is a chance of rain in the summer, but this doesn't last for long normally – often it is caused by the hot weather which creates thunderstorms – brief but dramatic! Or not as is the case on this video taken from this balcony at Hotel Bastas.
4 – When is the best time to visit Paxos?
Well I have written a separate post about this which you can get to here – no point repeating myself!
5 – How do I get to Paxos?
Again, such a fundamental question this deserved a dedicated post titled Paxos – How To Get There. How do I come up with these titles??
6 – What about Paxos airport?
There is no airport on Paxos! That is part of the charm. I had to write a post called Paxos airport – everything you ever need to know guaranteed! I just could not resist this! The nearest airport is on the neighbouring island of Corfu, and you can find all about the actual airport in this post.
7 – What is the currency of Paxos?
The Euro. Love it or hate it, that is the currency on Paxos and all parts of Greece. I say love it or hate obviously because I am in the UK, and we do not have the Euro!
8 – Is Paxos expensive?
Holiday prices are not cheap – it is a small and therefore relatively exclusive island with low volumes of travellers. But these things are all relative.
And once you are there we have found that the prices are pretty average and as expected. We ate expensive meals costing well over 100 Euros, and also had full meals including drinks for less than 40 euros. And the cheaper meal was much, much nicer! As with all these things it depends on so many things.
9 – What is the food like?
Very good. We had a couple of not great meals, but they were the exception. As Paxos gets a lot of Italian visitors there is a strong presence of Italian food, as well of course as traditional and contemporary lovely Greek food. I actually had some very nice Italian meals on Paxos and enjoyed beef stifado four nights running.
10 – Are the drinks expensive?
I like a beer, and beer prices were similar to anywhere else I have been. And my top tip is to drink the house wine in carafes – we have only had one bad carafe of house red wine on Paxos – every other time the wine has been really nice. I can't vouch for the white wine though I'm afraid.
11 – What is there to do on Paxos?
Relaxing first. It is a really chilled island perfect to taking it easy and relaxing.
And after a few days of that there is plenty to see and do.
The three main towns are Gaios the capital, Lakka and Loggos. These are all well worth a visit – chances are if you go there you will be stopping at one of them or near it. And you can get the bus from one to the other and back to your hearts content.
There are lots of things to see and do which I will be writing about in future posts on my website dedicated to Paxos.
12 – Can I rent a car on Paxos?
Yes, you can rent a car. I did and I absolutely loved it. I got my rental car from Hotel Bastas where we were staying. You can read all about renting a car on Paxos on the blog post titled Paxos Car Rental – Everything You Need To Know.
13 – What are the roads like?
Absolutely fine – find out more in the post I mentioned above.
14 – Where is Antipaxos?
South of Paxos, and a short boat trip away. Another event well worth its own post titled Should I drive a hire boat to Antipaxos from Paxos?
15 – Can I get Wi-Fi and data on Paxos?
Yes – again such important information that I have written separately about this called Paxos Mobile Phone Signal – And What About WiFi?
16 – What is the capital of Paxos?
Gaios, located on the eastern coast of the island about 2/3rds down. Here it is on the map. I have also marked Lakka and Loggos on the map.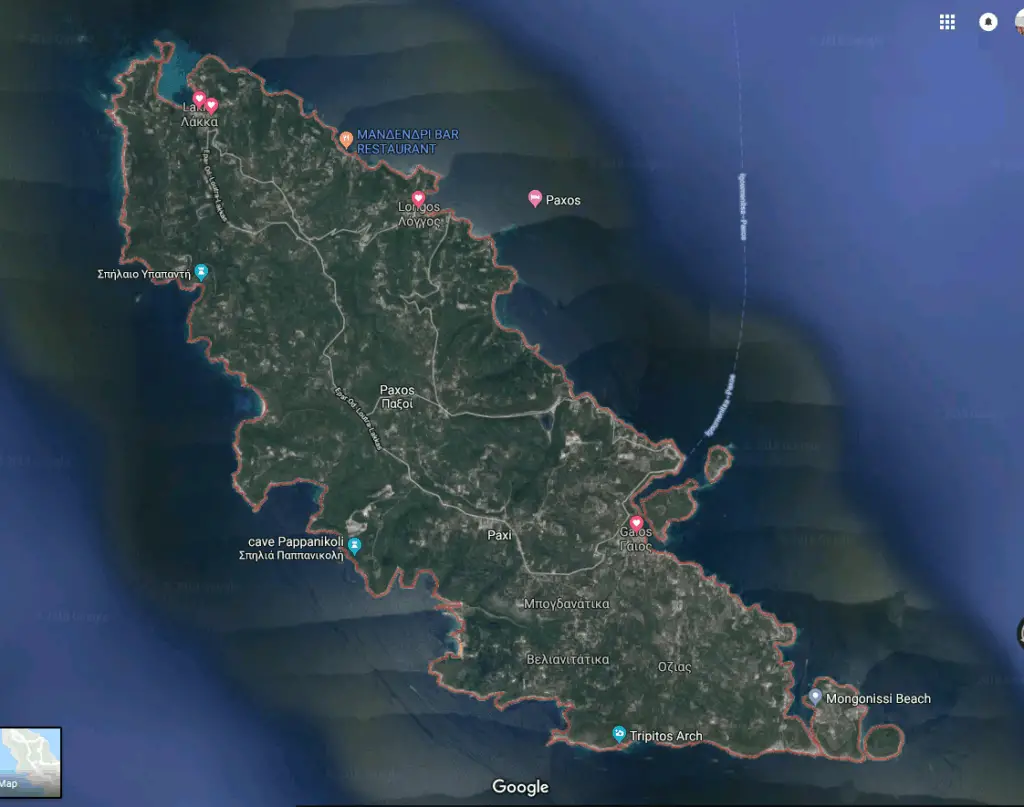 Gaios is the largest town on the island by a long way and is where the port is located which brings holidaymakers in who have flown into Corfu Airport. And takes them away again…
17 – What are the main towns on Paxos?
Gaios, Lakka and Loggos. All worth a visit as I have said before.
18 – Which tour operators go to Paxos?
And you can of course go independently. If you go independently don't forget you have to book the ferry to and from Corfu, as well as getting to and from the airport to the ferry on Corfu and from the port on Gaios to your accommodation. We did this and it all worked just fine so it is not a problem.
19 – Are there plenty of places to stay on Paxos?
Yes – there are hotels, aparthotels, villas and apartments. I will not list them all here as they are easy to find through an internet search. I will mention the hotel we stopped at both times, Hotel Bastas. The biggest recommendation I can give to a hotel is that we returned there the next year, this time knowing the actual room number we wanted!
20 – Have you been to Paxos?
Yes, we have been twice, and loved it both times. We have found with many places that going back a second time is a mistake. But with Paxos we enjoyed it more the second time. And whilst we might not be going back to Paxos in 2019 I hope that we will be back there soon.
And I enjoyed it so much that I created this website all about this wonderful, chilled Greek Island.
Check out the video that accompanies this post
I have recorded a video titled "Paxos FAQ – Quick Answers to The Questions Everyone Asks" which you can find on my Paxos Travel Guide You Tube channel which accompanies this post.
Summary
I hope that you have found my Paxos FAQs page helpful – if you have any other questions please check out the rest of this website, and if you can't find an answer get in touch with me via the contact page and I will gladly answer any questions you may have.
Want to know more about Paxos?
I hope that you have found this helpful. If you would like to find out more about Paxos then please head over to my home page where I go through all the pages on this site with links so you can straight get to the stuff you want to.