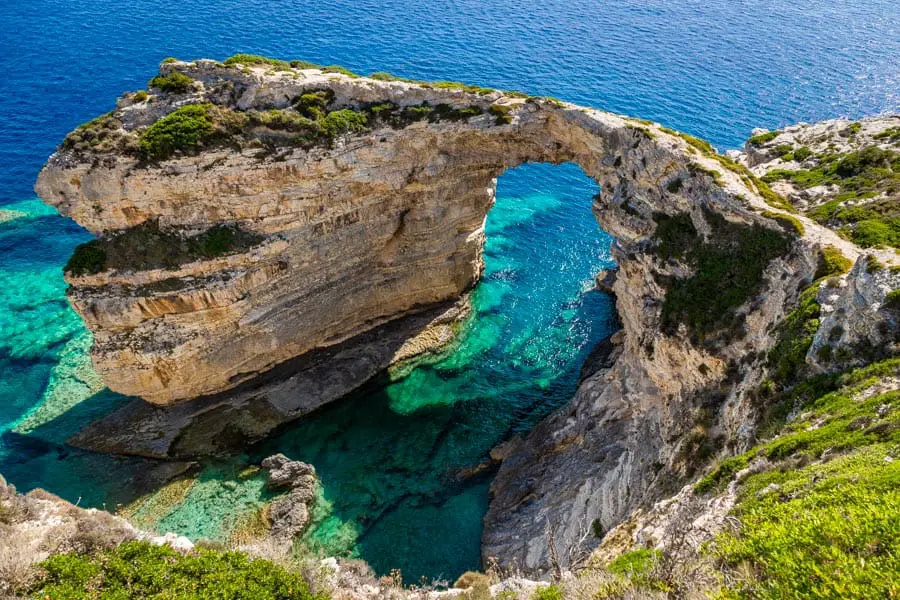 Hello and welcome to my website Paxos Travel Guide. Very nice to see you here. Depending on the time of day where you are when you arrived at my website I would like to say kalimera, kalispera or kalenita to each and every one of you.
What is this website all about then?
This website is all about the Greek Island of Paxos. It is called Paxos Travel Guide for a reason, as that is what it is. It is a travel guide to this wonderful Greek Island based entirely on my own personal experiences.
It is my hope that this website tells you everything you need to know to make the most out of your holiday to Paxos. And if you were thinking of taking the plunge and booking a holiday to Paxos I hope that I have inspired you to do just that.
A bit about this page on my website
I decided to write all this good stuff on my home page, where I tell you what you can find on the rest of my website.
Look at this as an extended contents page with links to all the other pages. I hope that this helps you get to the pages that you want to quickly – I understand that some of you might just be after a quick bit of info about one thing relating to Paxos.
Hopefully though while you are here though you will find lots of helpful stuff on my website – please browse the pages at your leisure.
Why did I create this website?
Simply because I wanted to share everything that I have learned about this wonderful Greek Island that I have loved visiting so much. This website is based on my own personal experiences as a paying customer, and tells you all the things that I wish I had known about Paxos years ago that would have encouraged me to visit the island sooner.
I feel like I have missed out by not discovering Paxos sooner for myself!
This website is all my own words and all my own photos. And I have created the website too so yes, I am proud to say that this website is all my own work!
How did I find out about the island of Paxos?
We were on holiday in Corfu. We first came across Paxos on a day trip from Corfu to Parga and Paxos. This was enough to convince me to go back the next year. And the year after that.
Yes a single day trip, that also included Parga on mainland Greece, was enough to get me hooked on this very special and very small Greek Island.
OK – so who am I?
I am Rick McEvoy. I am a photographer, freelance writer, blogger, website creator and also construction consultant. I am based in the lovely south of England. You can find out more about me on my website.
My wife and I love to travel, and my websites are created from our experiences on our travels. I refer to my gorgeous wife Nickie, as Mrs M, which has been shortened to M in places on this website!
And I write in the "I" context (as I have done all the writing!), but all of my travels are very much a "we" experience – it is just some of the stuff when we get there that I do on my own.
What can you find out on this website?
Hopefully everything that you need to know about Paxos. On my website I will share with you everything that I know. As I said before, everything is based on my/ our experiences – if I mention a place that I have not been to I will say so.
And I hope that my passion for this island shines through in everything that you read.
Am I paid to name restaurants, bars and hotels?
No – everything I write is based on my personal experiences as a paying customer. At the time of writing this no-one has paid me to say anything. So everything you read is my personal opinion based on my own experiences paid for with my own money.
Book with TUI
If you book a holiday to Paxos using my TUI affiliate link I do get a commission. This and the adverts are the only income that this website generates.
My photography gear
I am a photographer, and I am displaying my best photos of Paxos on my own website – of course I am.
On my photography gear page you can find a list of the gear that I own and used to take the photos that you will see on this website, which all contain affiliate links, mainly to Amazon. The photos in the gallery were all taken with my Canon 6D, with lots of the photos within posts and pages being taken with either my Canon 6D or iPhone.
But this is not a photography website, so enough about that.
So what is in it for me then? Why have I gone to so much time and trouble to create this website?
Simple. If I create the best, most informative website about Paxos then people will visit my website and read stuff. And if I create content which people find interesting they will stay on my website for longer. And if people really like my content they will share it with other people who will also read it.
And the more people who visit my website and stay on my website for longer the more income I can generate through adverts on this website.
That is the completely honest truth – creating travel and photography websites that make money is my business now.
I am finally doing what I love doing for a living!
Oh yes, before I forget, please check out my other website Photos of Santorini, and also my photography business website Rick McEvoy Photography.
I am creating a business and websites that combine my two favourite things, travel and photography.
Ok – enough about that – lets get stuck in to what you can find on my website Paxos Travel Guide.
The pages on my website
Here are the pages that you will find on my website, with a brief description of each of them and a link to each page.
I will start with the blog, which is where all the good stuff is. You can access the blog here.
And then there are my other pages.
About me
Yep a page all about me. Well it is my website after all so why not? And I hope that you are going to be spending lots of time on my website, so I think it is nice that you know who I am.
Buy My Photos Of Paxos
This is the page where I will publish the best photos that I have taken on Paxos. I take all my own images and process them myself – I am a professional photographer after all.
And this page gives you the opportunity to buy one or more of my photos of Paxos, which are not available for sale anywhere else.
Contact
How you get in touch with me. No more to say!
Home
This is the page you are on now.
My Photography Gear
A list of my photography gear, used to take the photos that you see on this website.
Paxos Photos
A gallery of my best Paxos Photos – coming soon!
A list of useful links giving you more information about Paxos.
Anything else?
I am a photographer, and I have a very active presence on a couple of social media channels.
Pinterest
I have a Pinterest account, and on it a board about Paxos and nothing else. On this board you can see lots of photos taken by not only me but many other people that I am happy to share.
I will be posting all the photos I have taken, and all the videos that I have created (see below).
You can get to my Pinterest page here. Please follow me on Pinterest for lots of good travel and photography stuff.
YouTube Channel
I have a number of YouTube channels. There is one dedicated to Paxos where I will eventually upload all the videos that I have made.
Now these are not the best videos granted, but they do give you some great insights into the island.
So that is a bit about me, as I said you can find out more on the page just about me. Thank you
Finally the legal stuff
This site is owned and operated by Rick McEvoy. Paxostravelguide.com is a participant in the Amazon Services LLC Associates Program, an affiliate advertising program designed to provide a means for sites to earn advertising fees by advertising and linking to Amazon.com. This site also participates in other affiliate programs and is compensated for referring traffic and business to these companies.
All words and images on this website are copyright Rick McEvoy Photography
Oh yes – and this is me in Lakka!!