I love to get the most out of going on holiday. So apart from sunbathing what can you do on Paxos?
If you are looking for something to do on Paxos then these are my favourite Paxos activities – yes 21 things to do on Paxos. And some of them are sunbathing and relaxing! Enjoy this light-hearted post giving you 21 things to do on Paxos, which is more than one thing a day on a two week holiday but don't worry, like I say it is not all action packed stuff!!
1 Sunbathe
Obvious I know but Paxos is a great place to sunbathe. In the summer that is. But make sure you wear sunscreen. I now wear sunscreen every morning before I leave the room! Apart from when I forget, like for the entire day on the boat from Lakka. I know – I should know better.
My favourite time of the day to sunbathe is late afternoon/ early evening, the time when a couple of cool beers are in order and a final relax before showering and dinner.
2 Swimming – water everywhere!
I use the hotel pool to cool down, and the sea to swim and snorkel. The sea in the summer months is lovely and warm, and also very clean and clear.
And being such a small island you are never far from the coast.
I have a few favourite snorkel locations, including a place I know off Manadentri Beach. Head down through the restaurant to the beach and turn right. Walk to the end of the land and you will find some rocks that you can dive on off which I love to do.
The other excellent place is Antipaxos in that aquamarine blue sea water. I went for a solo snorkel off the Captain Hook 2 boat (on the day trip from Parga to Antipaxos) and found myself in splendid isolation – just me and a load of fish.
3 Explore the island
I spend a few days doing nothing and then get off my lazy backside and get out and about. I cannot travel all that way to somewhere and not explore it properly.
Paxos might be a small and quiet island, but to really discover it get onto the side roads and see where they take you.
I found amazing churches, olive groves and views of both sides of the island at the same time doing just that. All things that you will not find in a guidebook of the island.
4 Get the bus from Lakka to Gaios
The bus goes from Lakka to Loggos and the on to Gaios. It is a great experience, especially as you are much higher up than in a car or taxi so you can see so much more.
And going through Loggos is a real experience!! There are tables on the side of the road that the bus has to squeeze post – this truly is a most excellent site both on the bus and having just got off it.
And the faces of the people sat at the tables is an absolute picture!
I have written a post about the bus service sand timetable called Paxos Bus Timetable 2019 – What Is The Bus Service Like? which tells you all about this.
5 Hire a boat
Hire a boat for circa 50/ 60 Euros (plus fuel cost payable on your return) and you can please yourself for a day. We did that and went from Lakka out of the harbour and turned left down to the Blue Caves, the spectacular rock stack then down towards the bottom of the island.
Having stopped en-route to marvel at the Tripitos Arch it was a quick sail over to Antipaxos for a quick beer at Captain Spiros Taverna before returning to Paxos and lunch at the Mongonissi Beach Bar. Next stop was Gaios before visiting Loggos then returning to Lakka for a prolonged pootle around the harbour taking photos and videos.
A long and thoroughly excellent day it was too!
6 Hire a car
I had a Peugeot 108 for two days, meaning 2 sunrise shoots in the car, which were in Loggos and on the hills overlooking Gaios and the sun rising over mainland Greece.
Apart from that I got right into the middle of the island and found lots of excellent stuff.
Car hire is not too expensive, and there are plenty of places to get cars from on the island.
Check out the post Paxos Car Rental – Everything You Need To Know
And best of all you can get from Lakka at the top of the island to Mongonissi at the bottom of the island in about 20—30 minutes!
7 Hit the open spaces on foot
This is my favourite thing to do. I basically just get my walking boots on and get out and about and find stuff. This is normally how I find sunrise locations that I have not seen photos of before. This is how I find my photo locations.
I do not use Google Maps or any other clever stuff like that – I just get out on my own two feet and explore.
When I have a car I will drive to the end of the road and get out and keep going on foot.
8 Rent a bike
You can rent pushbikes on Paxos. This is not really my thing to be honest – I am not a big cycling fan.
I prefer to get out and about on foot.
However due to Paxos being so small cycling is a great way to explore the island, and the more I write about it the more I want to do this next time I am on Paxos!
So there is job number one for my next return to Paxos sorted.
9 Day trip to Antipaxos
We have done this from Corfu, from Parga on the mainland and also from Lakka on a rented boat.
And we have always had a great time. I think that one thing I want to spend more time doing next time we go to Paxos is to spend much more time on Antipaxos. I want to explore the bottom of the island, getting beyond Vrika and Voutoumi beaches which are the only places most people ever get to.
I want to see and photograph all the beaches and check out the water on the lesser-known beaches to see if it is as bright and blue and vivid as it is on Vrika and Voutoumi.
And I also want to see if we can spend a night there – there are places to stay on Antipaxos.
Another thing for our next visit to Paxos!
10 Spend a day in Gaios
Gaios is the biggest town on Paxos, and has the most shops, bars, and restaurants, well everything really. Although it is the biggest town on the island it is small and easy to navigate, with a long stretch of shops, bars and restaurants along the waterfront.
Great for a day, next time we go to Paxos I want to spend an evening there though, which rather ridiculously we have not done yet!
11 Tripitos Arch
Just check out the post I wrote about the Tripitos Arch – no need for me to repeat myself here.
Tripitos Arch Paxos – My Number 1 Thing To Do On Paxos
12 Blue Caves
The Blue Caves are on the west coast of the island, and are spectacular caves that you can get a boat in. I parked the boat and swam into the caves – I was not too keen on damaging the boat and being stranded! The water is a magnificent blue colour, hence the name.
Watch out for the day trippers though who descend on these natural wonders in their hundreds.
13 Erimitis Beach
One for next time. We drove down there in the hire car, couldn't find anywhere to park so left. I could not get up the hill in the Peugeot 108 so that was not good. We had words. But we got out of there eventually with the clutch just about intact!
Apparently it is nice, and somewhere for next time. Although this time I will park the car up the hill and walk down!
14 Watch the sunrise
Get over to the west coast to watch the sunrise. I have photographed the sunrise on Paxos from Gaios and Loggos, as well as from rocks around the corner from Lakka.
Having photographed the sunrise I also got some great early morning shots from Lakka Beach looking back towards the sun over the hills of Lakka.
Here is a sunrise photo taken from Loggos – how utterly lovely!
15 Watch the sunset
I have not photographed a sunset on Paxos, other than the one that you can see from the Romantica Bar in Lakka.
This is the next thing that I want to do when I return to Paxos, get over to the other side of the island for sunset magic.
This involves driving though at the time when I am normally enjoying a beer/ cocktail/ wine! Maybe the bike will come into its own here!
16 Go diving!
There are a couple of dive centres – one I walked past every evening on our way into Lakka for dinner. The dive centres are called
17 Paddle boarding
Yes this looks like a wonderful thing to do. You can rent paddleboards at Manadentri Beach. Just be careful about the passing boats and their wakes, which have caused me to rapidly topple over on attempts to paddleboard in other locations.
There are plenty of other places to get paddleboards from which I will list in a separate post.
19 Canoe
A bit more stable than a paddleboard, and something that I am going to do on my return to Paxos.
You can get canoes at the places above where you can rent paddleboards.
Obviously with a canoe you are able to get further around the coast and explore the wonderful coastline and have a place to put a bag and a stable enough base to take photos and videos from.
20 Relax
Yep, just take it easy and get into the swing of things. Forget about work, have a digital detox and switch off.
21 Seriously relax
No I really mean it. Paxos is the most relaxing Greek Island that I have even been to. The first time we went after a couple of days we felt like we had left the evil real world ages ago, and on the two-week stay I almost got to the point where tying shoelaces sounded like an horrendous reality to be avoided at all costs!
But there is so much to do!
Blimey – so much to do when we return! I am going to have to spend much less time on my proverbial and more time out and about doing stuff! That could be the mornings, leaving the afternoons to do nothing.
Want to know more about Paxos?
I hope that you have found this post helpful, informative and even a little bit entertaining! To find out more about my favourite, wonderful Greek island all you need to do is click here and I will take you straight back to the start of my Paxos blog. Nice and easy!
Oh yes, I hope that you enjoy the next postt.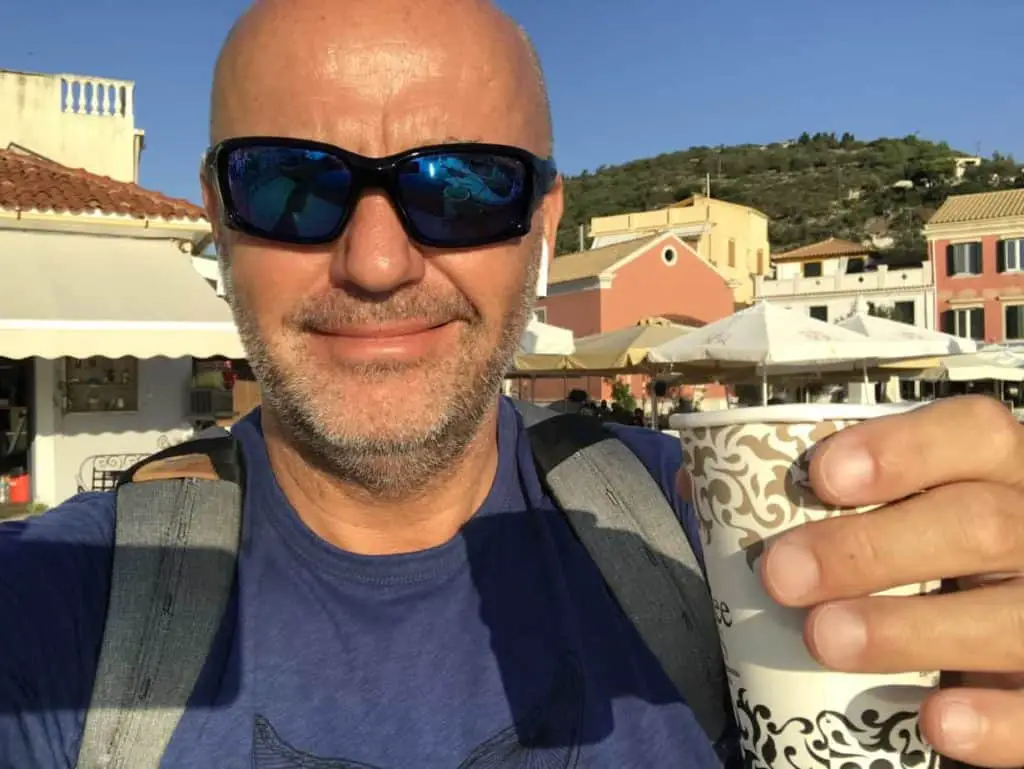 Rick McEvoy Paxos Travel Guide