In this post I want to tell you all about my favourite place on Paxos – the Tripitos Arch
The Tripitos Arch is a naturally formed rock structure located on the west coast of Paxos at the southern end of the island. It is over 20 metres high and has magnificently clear waters around it's base. In this post I will tell you everything you need to know about the Tripitos Arch, where it is, how to get there and what it is like walking over the arch.
I have included photos and videos to help describe the best free attraction on Paxos to you.
What is the Tripitos Arch?
The Tripitos Arch is a magnificent naturally formed rock structure on the west coast of Paxos at the southern end of the island.
It is over 20 metres high, and has magnificently clear waters around it's base. Here it is.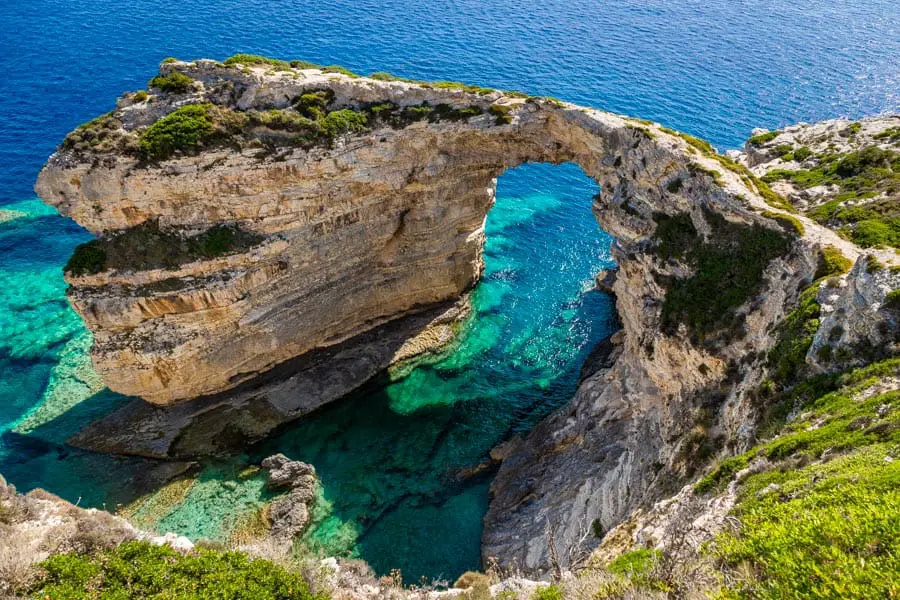 How was it formed?
The Tripitos Arch is the remains of what was once a sea cave. Knowing that makes perfect sense when you are actually there.
As to when it was formed no idea. A long old time ago to be sure. If anyone finds this out please let me know!
I can picture myself in that enormous sea cave, like the ones that you can see on the west coast of Paxos on a boat trip from Lakka down to the arch and onwards to Antipaxos.
Where is the Tripitos Arch?
Here it is on a map. Along with everything I have learned getting there!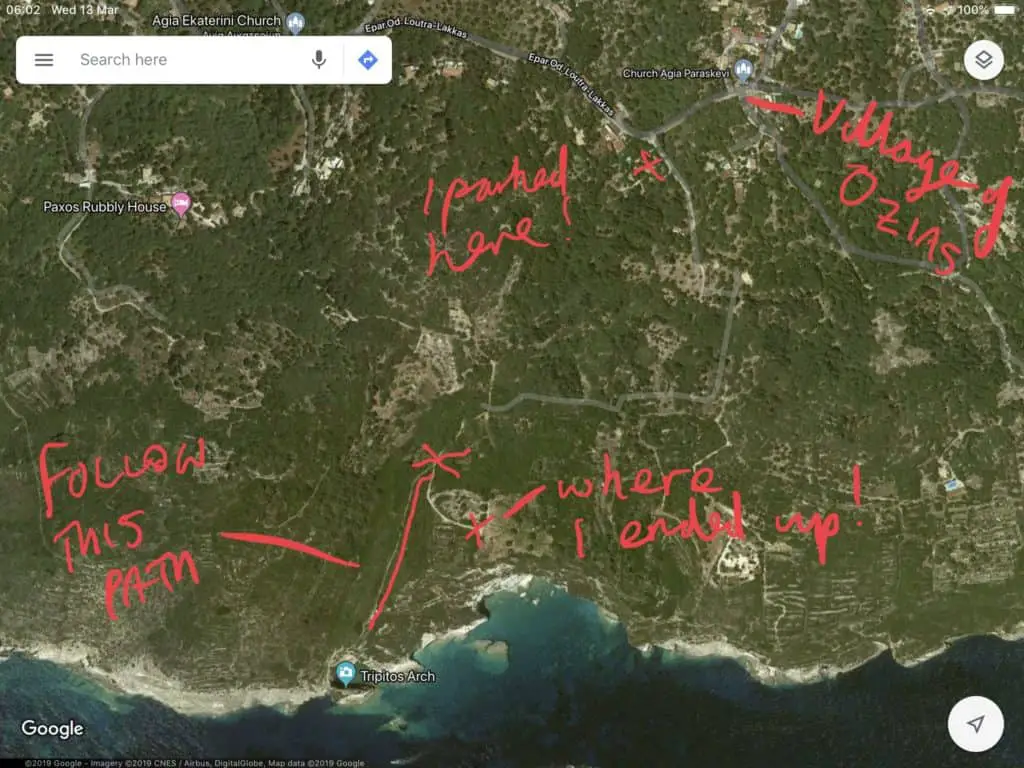 It is located on the west coast of Paxos, right down at the bottom.
What are the roads like getting there?
The roads are ok. You run out of tarmac road some time before getting there, so take it nice and slow to avoid punctures and damage to the suspension, but the roads to the parking are perfectly navigable. This is a video of the road you drive up (beyond where I parked) to the arch.
How do I get to the Tripitos Arch?
You can get to the arch by car and walking, and also by boat. If you are taking the west coast route down Paxos to Antipaxos you will come across the Tripitos Arch just before you make the crossing over to Antipaxos.
By car you drive through the village of Ozias, and park as close as you can. I have marked on the map Ozias, and also where I parked, and the path that I took to get to the arch.
When I say you can get there by boat you can get close to it by boat, but I would not risk getting off a boat and onto the rocks to be honest.
Not that I thought of this when we passed the arch in our hire boat earlier on in the fortnight.
You can get pretty close on a boat though, and look up at the marvellous rock formation – just be careful navigating the boat.
Is there parking?
Yes, there is free parking close by. There is no car park, you just have to get as close as you can and then navigate your way there.
I have marked on the map where I parked (rightly or wrongly).
How much does it cost?
Nothing. There is no one there to give any money to. It is completely free. There was no one there at all when I was there.
There is no hut with someone sat there selling tickets and souvenirs- just a path to the arch.
Is it easy to find?
Sort of. I am an experienced walker and map reader and I got lost the first time I tried to find the arch. Once I knew where I had gone wrong it was easy though to be fair.
So yes and no! Hopefully this post will help you get there.
And the signage getting there is not great either. Not great at all.
If you look at the map the red cross shows the final path that you have to take down to the arch. It is up to you how you get there, depending where you park. This is the critical bit that I missed with no real directions and no phone signal.
I have also marked on this map above where I went wrong, losing the view of the sea with the earth down below.
There are not that many paths, the difficult bit is describing where I parked and the first path I took from the car. If you get to the main path it is fine to find the arch.
What is the terrain like?
Rough but manageable with care. Once you get out of the car the paths are firm but with loose rocks so I recommend good quality walking shoes with proper gripped soles and ankle supports.
The path is fine to walk on, but there is a bit of gentle scrambling down the path to get to the arch. Anyone in good physical shape should be able to get down to the arch but make sure you take care going up and down the steep bits, and also take care not to disturb rocks which might fall on someone below.
I am afraid that there is no safe way down for people in wheel chairs or with restricted mobility.
Check out this video on my YouTube channel Paxos Travel Guide which I took walking down that last bit of path. This is the bit from the last turning before the scramble down which I did not film.
And this is what you get at the bottom of the path – The Tripitos Arch!
I am a climber and former mountaineer so I found the path and scramble very enjoyable – if you are less experienced though please take care as the drops from the cliffs and the arch are significant.
Can you really walk over the arch?
Yes you can.
Don't be scared. Read my real world review of the Tripitos Arch later on in this post and you will find out what it is really like. All I need to say here is that it is bigger than you might at first think, and certainly bigger than it looks from a boat.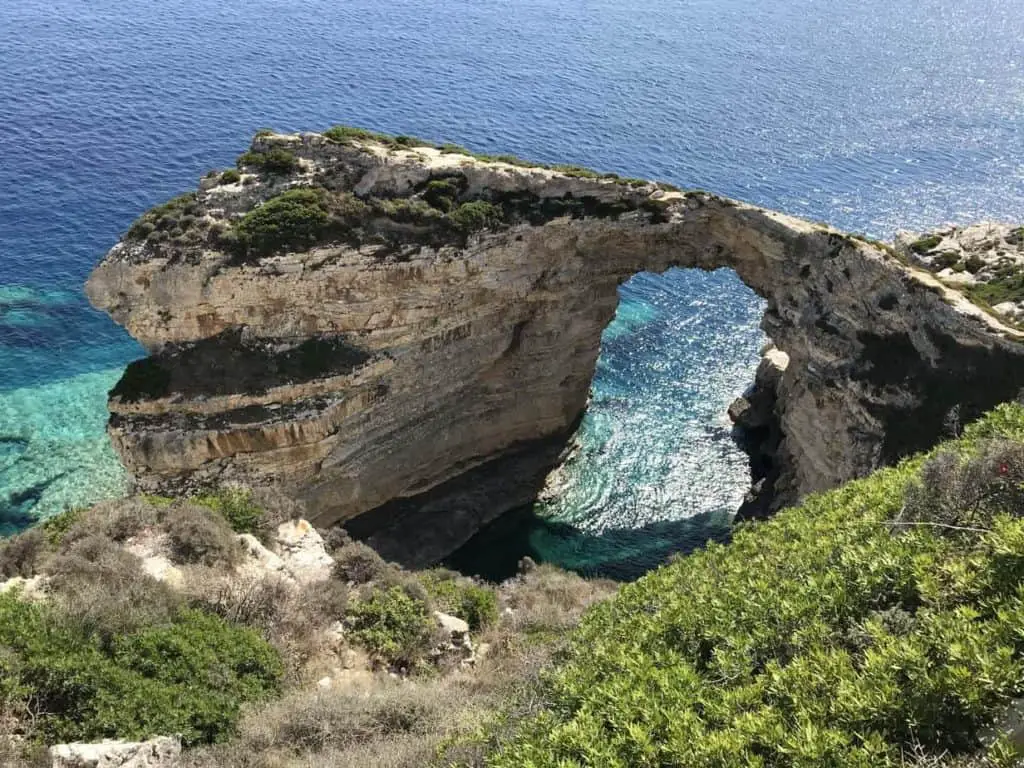 So unless you have a serious fear of heights you are fine to walk over the arch to the other side where you get great views looking back to the coast and also the other way to Antipaxos.
I will say it again though – please take care on the high bits as the drops are big and the consequences of a fall very serious.
Can you climb down to the sea?
I do not think that you can safely climb down to the sea and then get back up again. I managed to get some way down the rocks but did not continue down to the sea.
I was on my own and did not want to take the risk. I am planning on returning though so will give this a go – in fact I will take a waterproof bag and swim around the arch – now that does sound exciting.
Is there a phone signal there?
No. This is how I got into problems finding it. I was relying on the phone signal on my iPhone to navigate there.
I got so far and then lost my phone signal. I therefore recommend getting good directions.
I will try to describe how to get there, although this is difficult as you need to get to the parking which is a tad vague to be honest.
Is this really my favourite thing to do on Paxos?
Yes, it was. I love exploring, travel and photography. I love landscapes and natural structures. And the fact that I was sat on the top of this magnificent arch all on my own was a real treat for me. So, yes, this was my favourite thing to do on Paxos. The boat trip to Antipaxos was a very close second.
If you like this kind of thing you will love it – if not you will wonder what I am going on about!!
Is there anything else near the arch?
There is a disused windmill not far away – a 10-15 minute walk. Here it is.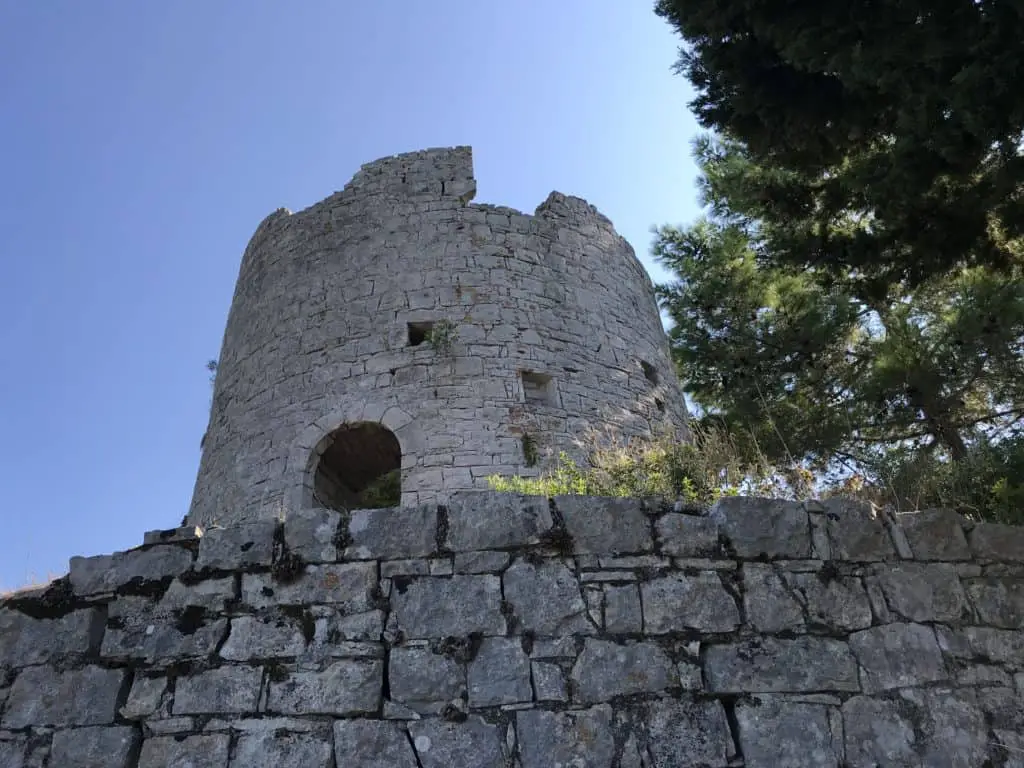 My visit to the Tripitos Arch
OK – that is all I need to know about the Tripitos Arch – but what is it really like?
I should have called this post 10 reasons why you should visit the Tripitos Arch. But I didn't. 
A great sunset location – I would imagine!
This really was my favourite location to visit, and one that I would love to come back to at sunset. It is on the wrong side of the island for sunrise, but sunset there would be pretty stunning.
I do not have any sunset photos of Paxos, as the time the sun sets impacts on social time with Mrs M.
Getting to the Tripitos Arch
As I was saying in another post, we were on a day trip around the island in our hire car. We had visited Gaios and Mongonissi, and decided to call in at the Tripitos Arch on the way back to Lakka.
And that was where the fun started.
I parked the car where I thought I needed to be, and set of walking. Nickie decided to stay at the "car park" and have a break, so it was just me and my camera gear.
No, no water.
I know.
I set off walking, following Google Maps on my phone. And I have marked where I got to on the map – no arch anywhere to be seen.
I walked around a bit, conscious that Nickie was sat on her own in the car. I quickly gave up and headed back to the car which I thankfully found without a problem.
Nickie was sat there getting some sunshine.
We went back to Hotel Bastas, and I took further advice from Sam, our Olympic Holidays rep.
Trip Advisor – always helpful
Whilst we were sat at the pool Nickie found some advice on how to find the arch on Trip Adviser, which filled in the missing link, namely the path down to the arch that I missed earlier on.
Armed with that gem of information and the advice of Sam I got back into the car and headed back to Ozias and beyond!
Tripitos Arch Take 2
I know I have said this before but I find driving in a foreign country very enjoyable and liberating. It is a great way to get to know a place. So I had a very pleasant 20 minute drive from the top of the island to virtually the bottom of the island.
I stopped en route to get some water. There is a shop on the road from Lakka before you get to the village of Magazia. I bought two small bottles of very cold water and treated myself to an ice cream which I ate in seconds as it melted in front of my vey eyes in that sweltering afternoon heat.
I have made the mistake too many times of not taking water with me – not today.
The drive including stopping at the shop and eating the ice cream takes me 20 minutes.
Yes Paxos is that small.
Arriving at the car park.
I drove on from where I parked for my first attempt. One problem I found is that there is no indication of where to park. This is not England – signs, restrictions, warnings and ticket machines.
No this is Paxos. There is nothing. No indication of where you can park, or even should park. But then again there are no restrictions, or indeed other people.
In the end I decide to turn round and park where I did before.
And now lets get to that arch!
It makes such a difference knowing where you need to go. I knew exactly where I needed to go, and found the right path straight away this time. I was walking with purpose and conviction, as though I had done this journey a thousand times.
Not the headless chicken wandering up and down the wrong path looking for an arch!
It was a longer walk than expected, possibly after the lies sat nav told me earlier.
Here is my turning!
I find the critical path. This is where I went wrong before. X marks the spot on the map above.
And I have even taken a video of this section of the path which you can find earlier on in this post. Oh ok then here is another link to that same video on my YouTube channel Paxos Travel Guide.
And finally I am at the magnificent Tripitos Arch
I walk down the path and come across a level piece of path and wow what a view. This is it. I am looking down on the Tripitos Arch, the thing I have been looking forward to visiting most on Paxos.
And I am not disappointed.
This is the view I am looking at. Absolutely stunning. Really stunning.
What are the top three things to do on Paxos?
Well, when I started writing this the Tripitos Arch was the number three thing to do in Paxos. I have just checked back that page on Trip Advisor and the arch has been promoted to number 2.
According to this page on Trip Advisor Vrika Beach is the number 1 thing to do on Paxos. I disagree.
Firstly, Vrika Beach is not even on Paxos!
No sorry Tripitos Arch is my number one thing to do on Paxos.
Getting down to the arch
This truly is a stunning view. I take shots on my iPhone on the way down, and am going to take photos on my Canon 6D on the way back.
This is how I work on such a trip. iPhone photos and videos give me immediacy, and the photos taken with my Canon 6D give me the best possible quality.
I shoot a couple of videos, basking in the glory of actually taking some water with me this time. And my Salomon walking boots are just the best for scrambling over rocks.
Water everywhere and a drop to be had.
Here is a video of me drinking water. Yes it is such a signficant event, me actually remembering to take a bottle of water, that I had to make a video.
Yamas!
And now it is time to walk over the Tripitos Arch
I think I mentioned this before – on our boat trip from Paxos to Antipaxos, which you can read about in this most excellent post titled Paxos Boat Hire – Do Your Own Trip From Paxos To Antipaxos we sailed past the Tripitos Arch.
And I have to say it didn't look as though you could walk over it from the boat.
But when I actually walked down to it I realised how stupid I was. I walk over the arch – it is much bigger than I thought it would be so that is fine, and sit down and just take in the views.
Once I have gone as far as I can on the arch I go north to the lower rocks where I get a great view of the arch with the sun illuminating the rock face. I would like to be able to go back there in the morning, well I would like to spend an entire day there as the light moves around the magnificent natural arch structure. Maybe another time.
Yes I really could spend a whole day there, from before sunrise to sunset. Just me and my camera. And some food. And a lot of water.
OK – sunrise and sunset and pop in a few times in the middle would be fine.
When is the best time to photograph the Tripitos Arch? Find out in this video!
Taking photos of Tripitos Arch
I am a photographer. An architectural and travel photographer. So things that do not move are my kind of subjects. Things that do not move and scenes that have no people in them.
I have happily photographed the arch, and taken lots of videos, so decide it is time to head back to the car.
And then I think no – when will I be able to come back here? We are going home in a couple of hours.
Lets explore
I decide to climb down the rocks and see what other views I can get of the arch.
I am equipped for such scrambling, which I find myself often doing when I am trying to find a sunrise location, so this is normal business for me.
I carry all my gear in a Peak Design Everyday Backpack, giving me both hands free at all times, apart from when I have my camera in my hand that is.
Climbing down the rocks is great fun. I stop before I get all the way down to the sea – I am after all on my own and there is absolutely no signal down here.
And I have not see a boat pass for a good while.
I am looking down at the spectacular shades of blue in those crystal clear Ionian Sea waters.
Here is a photo of the Tripitos Arch, taken with my Canon 6D and processed using Lightroom and Photoshop.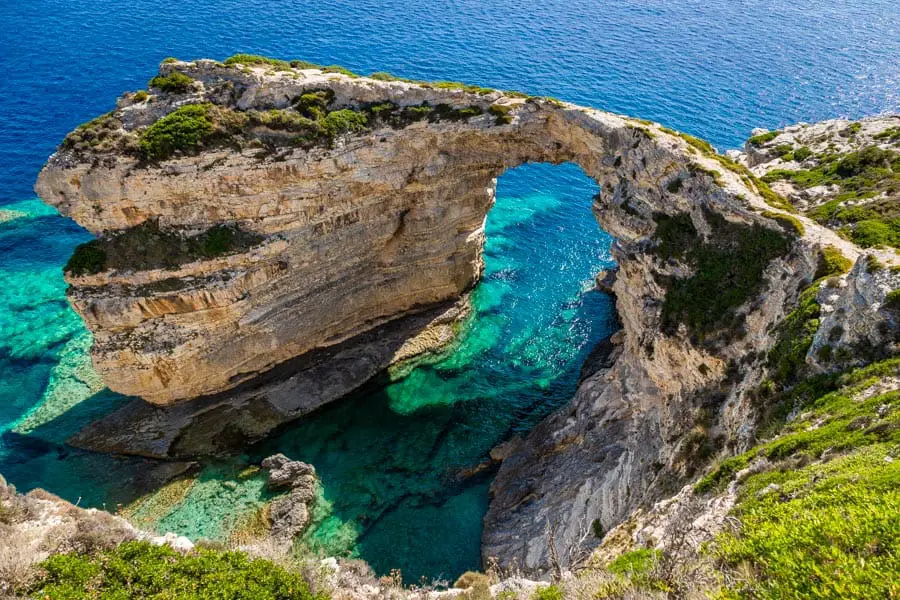 When I have finished writing articles for this website the last job is my reward for completing all the hard work – I am going to process my favourite photos of Paxos. I have no idea how many photos this will be, but they will be placed into a single gallery.
I have done this for my other travel photography website Photos of Santorini.
Time to leave
And now I am happy that I have seen as much of the Tripitos Arch as I want to it is time to move on.
Blimey – other people!
Two Italians appear – I have not seen anyone at all for a couple of hours now, so that was a bit of a shock. I know they are Italian as I hear them speaking in Italian. They appear from a path to the north of the arch, and walk past the arch stopping quickly to take photos before moving on up the path and out of view.
They must be in a hurry!
Meanwhile lucky old me has all the time in the world to take in the last view of this magnificent arch before I climb up the path and head back to the car.
Wait a minute – there is something else around here
Yes, there is a disused windmill. Now I am a photographer. I photograph buildings for a living. I cannot resist a disused windmill then can i?
I head back towards the car and then turn left in stead of straight on and follow the path in roughly the right direction.
A sign. Wonderful.
Back the way I came for the Tripitos Arch and this way for the windmill – sorted!
Now I am in the olive groves the temperature has just shot up noticeably. And I am now it of water.
Still it is all good stuff and what I love doing so no problem.
I head off and in 5 minutes I am there. I am really high up here, and can actually see the sea on both sides, which is rather confusing until I remind myself just how small the island is.
This is what the windmill looks like.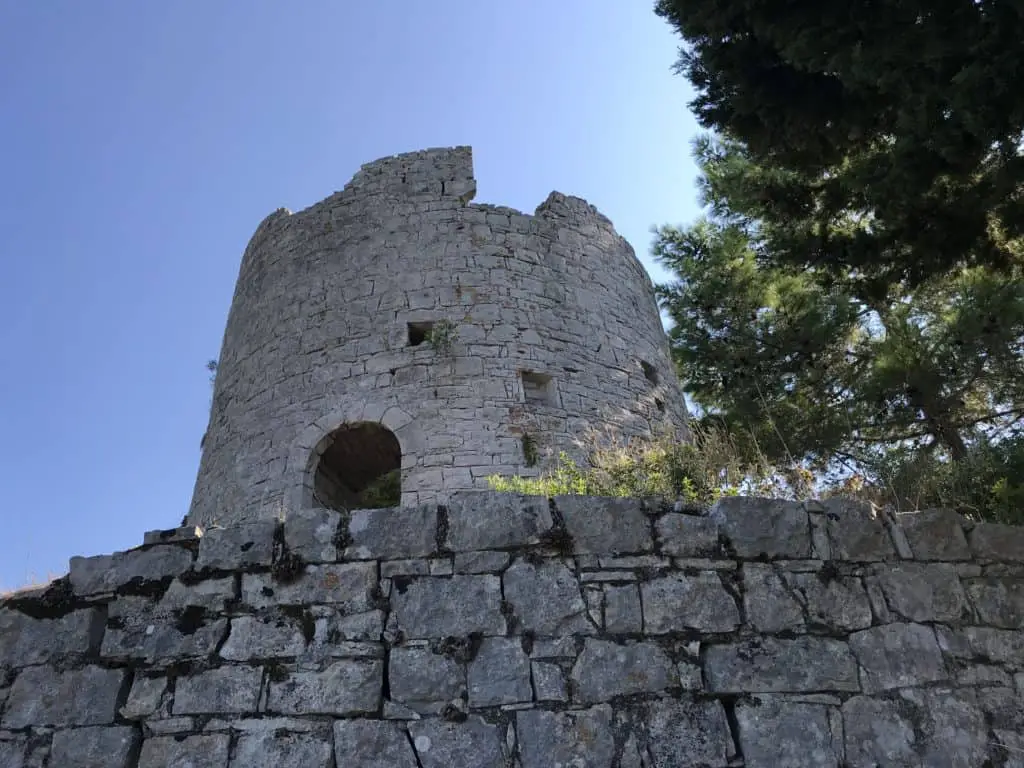 It is quite a long and hot walk but I am back at the car soon enough.
And with that I am back at the car.
What does the arch look like from the sea?
We went on a day trip from Parga to Paxos and Antipaxos. We passed the Tripitos Arch on the way to the Blue Caves.
This is the video I took which is on the Paxos Travel Guide You Tube Channel – Tripitos Arch filmed from the Captin Hook 2.
No one else noticed the magnificent arch. It does get a bit lost to be honest amongst the cliffs, so if your first view of the Tripitos Arch is from the sea do not be put off – it is well worth a visit!
You can read that post here – What Is A Day Trip From Parga To Paxos Really Like?
Summary
The Tripitos Arch was a stunning, spectacular natural landmark, and definitely the best thing that I have visited on Paxos.
I recommend anyone who is fortunate enough to find themselves on the lovely Greek Island of Paxos visits the Tripitos Arch. I don't want to sound like like a nanny here but I will say this one more time – if you do go down to the Tripitos Arch make sure that you are appropriately equipped and physically capable, and that you take care and enjoy the experience.
Want to know more about Paxos?
I hope that you have found this post helpful, informative and even a little bit entertaining! To find out more about my favourite, wonderful Greek island all you need to do is click here and I will take you straight back to the start of my Paxos blog. Nice and easy!
Oh yes, I hope that you enjoy the next post.
Rick McEvoy