We have just returned from a wonderful holiday in Paxos. It was so good I want to share it with you right here.
Here are 11 reasons why you should book Villa Afroditi in Paxos
The villa is quite simply stunning
The swimming pool is brilliant
The outdoor spaces are very generous
The interior is lovely and comfortable with everything you need
It truly feels like home
You can watch the sun rise from the balcony
Any problems get fixed straight away
The location is brilliant
It is amazingly quiet
It is the most relaxing place
Paxos is a wonderful and very safe place to go
OK – that is my headline 11 reasons which I will expand on now. But first a bit of info on how to get there.
Who did we book our trip with?
We booked our holiday with TUI. I am a TUI Affiliate, so if you book a holiday using my affiliate link I get a small commision and you get a virtual thank you from me. These affiliate links help me to provide the information on this website.
What is the actual name of the Villa Afroditi?
You will see various spellings of Villa Afroditi, but I am going with the TUI version.
More on this post to follow very shortly, but for now here is a photo taken on my iPhone of the pool at sunrise!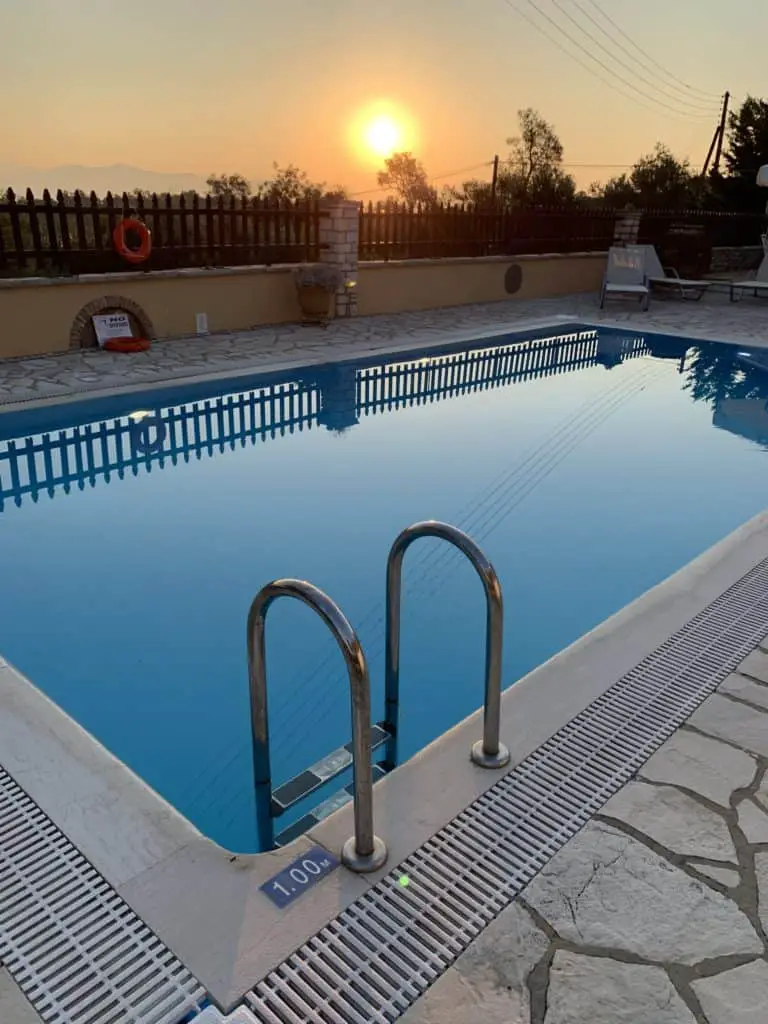 Oh go on then, here is me by the pool as well. See I really did like it here!
1 – The villa is quite simply stunning
We had a problem with our booking. Two days before we were due to fly out we had a phone call saying that the villa that we had booked was not available. We had to take the Villa Afroditi or lose our holiday.
And we are so glad that we did.
We had a quick look at the photos and agreed that the pool looked stunning and the villa was lovely so quickly agreed to the switch.
And we were so so glad that we did. Villa Afroditi is much much better than the original villa that we had booked.
Someone was clearly smiling on us. This holiday was after all to celebrate our 10th wedding anniversary.
So the villa is stunning – I will back this up more for you in this post.
2 – The swimming pool is brilliant
A decent sized swimming Pool (9m x 5m) with a nice depth range of 1m – 1.7m.
Not heated, but you do not need that especially in August in Paxos.
On the hotter days it was lovely and when the wind was strong it nearly approached refreshing.
The pool is immaculate and lit up at night which is fine unless you are trying to photograph the sunrise! Check out my other website for a blog post about this.
I have to be honest I did not swim much, using it mainly to cool down,
And for the ultimate relaxation lie on a lilo in the pool – I did that and fell asleep so do not do this if you are on your own. I had adult supervision (Mrs M) to keep an eye on me!
3 – The outdoor spaces are very generous
There is so much space around the villa. There is a lovely balcony With sofas, armchairs and a coffee table all overlooking the pool with great views of mainland Greece and the sea. And this is where the sun rises. And an outdoor dining table with the same lovely views.
There is a terrace beyond the pool with tables and chairs and an outdoor barbecue! We didn't use it to be fair, we could have probable just placed food on the glass top table and it would have cooked nicely.
There is loads more space to the front and other side.
And there are lovely trees, shrubs and vegetables growing all over the place.
The outdoor spaces are lovely to be in, and give you plenty of sun and if you prefer plenty of shade. Or a bit of each which is what we went for.
4 – The interior is lovely and comfortable with everything you need
We really had everything we needed for a two week stay. The interior included
Fully working kitchen
3 bedrooms
2 bathrooms
Lounge/ dining area
Dishwasher, washing machine and lots of drying space outside.
And a TV. We did not even turn this on.
Things that you need to take?
As well as toiletries of course take some dishwasher tablets and washing up liquid. You will need to replenish loo roll and toilet flushes are a good thing to take.
But apart from that you are good to go.
5 – It truly feels like home
Well it is a home. The owners live in the villa in the winter, living close by in the summer. So a true home from home.
And as you will have found out by now everything that you need for a stay so different from staying in a hotel.
We stayed in and cooked four out of the fourteen nights, which is not an option available when you are stopping in a hotel.
6 – You can watch the sun rise from the balcony
7 – Any problems get fixed straight away
8 – The location is brilliant
When our villa was switched (from the outskirts of Gaios) I was concerned that we were going to be stuck in the middle of nowhere. I shouldn't have worried though.
The villa was 500m from Magazia, and 300m from Fontana. These are two lovely villages which unbelievably have everything that you need pretty much.
And being so close we ate out in both on the nights when we went out. Well we had two nights out in lovely Loggos (£18 euros return in a taxi), 4 nights in and everyone other evening in one of these two tiny, charming villages.
And we did not have a bad meal or carafe of house wine anywhere.
The location gives spectacular views, and is a 6 minute drive to the port, 8 minutes into Gaios and 10 minutes to Lakka and Loggos.
So as it turns out the best possible location!
9 – It is amazingly quiet
Paxos is a very small, quiet, overly island. In the villa the only sound was the occasional passing car and the constantly changing natural sound of the crickets.
I became a bit obsessed with this noise, noticing that the crescendo moved from area to area. I even recorded the sound in an olive grove on a video.
10 – It is the most relaxing place
If you are looking to go out clubbing do not go to Paxos. If you want to relax go to Paxos.
It is that simple.
The times to avoid the crowds are when the day trippers arrive in Gaios from Corfu and the mainland.
11 – Paxos is a wonderful and very safe place to go
We thought long and hard before returning to Paxos during the pandemic. And we are confident that we made the right decision.
Paxos is a very safe place to go, with very little crime.
There are two policeman on the island who we have seen a couple of times over the course of many weeks on this wonderful Greek Island.
Paxos really is special and even though it is so so small on our third visit we are just scratching the surface finding lots of new things to do and explore. New places to eat and drink.
Paxos is small enough that you can get to know it intimately over the course of many many wonderful visits.
Summary
OK – that is my personal recommendation for the Villa Afroditi in Paxos Greece.
Sure there are plenty of places to stay, but Villa Afroditi is a wonderful villa in a great inland location close to 2 lovely villages.
The villa is actually a fully equipped home with plenty of space, enough for 6, lovely grounds, views and that swimming pool.
Wherever you go enjoy this special, wonderful Greek Island.
Rick McEvoy – August 2020