There are lots of places to eat and drink, even on a small island like Paxos.
What are my 11 best places to eat and drink in Paxos? They are Romantica Café Bar, Averto Day and Night Yard, Mongonissi Beach Bar, Gyros Ton Paxon Grill House, on the rocks (anywhere!), Captain Spiros Taverna, Pounentes, Roxi Bar, La Rosa Di Paxos, Stasinos Garden Restaurant and Sette Venti. In this post I will tell you why these are favourite places to eat and drink in Paxos, where they are and a bit about them.
I will also mark each of the places on a map so you can find them nice and easy!
This is not a food critique, this is me telling you about the places that I have been to that I like the most. I will include photos of places where I have them.
This is also not me doing an internet search and telling you which are the best 11 please to eat and drink on Paxos based on other peoples' reviews – this is all my own work based on my own experiences!
And these are all places that I look forward to going back to next time we are back on this wonderful Greek Island.
Where we stopped in Paxos
We stayed at Hotel Bastas in Lakka. We ate dinner every evening in Lakka, which is why the dinner locations are all in Lakka. We did venture out of Lakka during the day though, exploring most of the island, so there are places from all over Paxos in this post.
But for the evening we always returned to base to enjoy the lovely chilled vibe that Lakka provides.
Ok – lets start off with our evening ritual!
1 – Sundowners at Romantica Café Bar on the waterfront in Lakka
Probably our favourite place on the island for pre-dinner sundowners. I am not a cocktail person it has to be said, but I quickly got into Mojitos before trying a drink I have not had before, a Bloody Mary. That was good and came with an extended slice of cucumber – see drinking can be good for you!!
Here are our cocktails with a side serving of healthiness!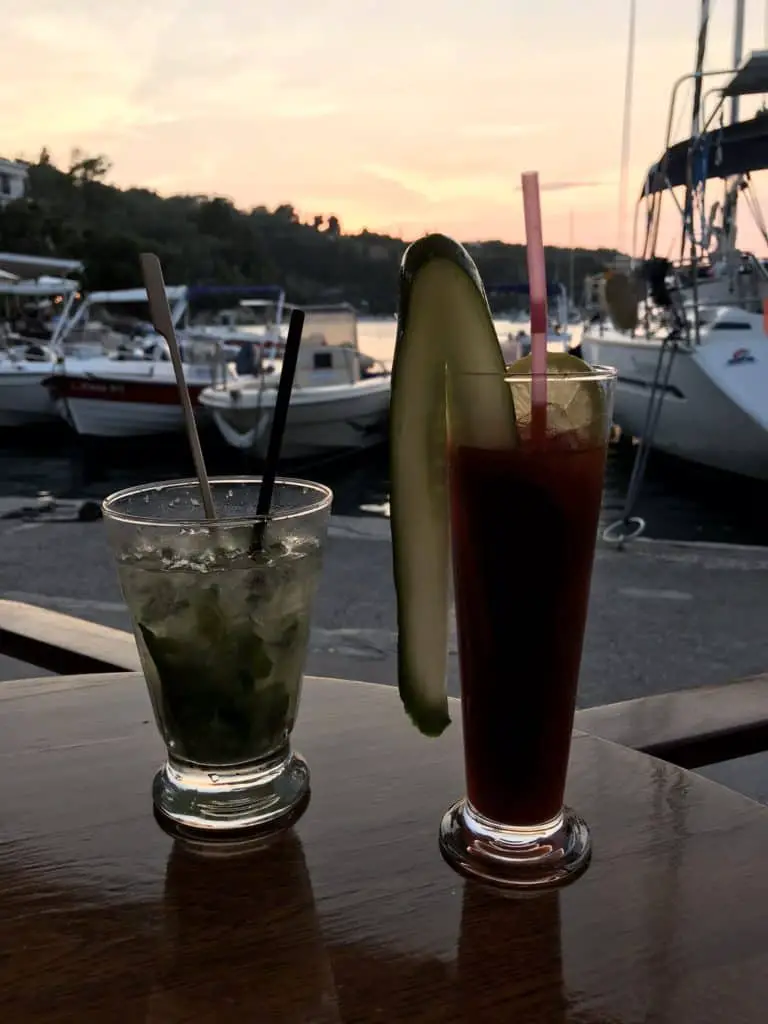 This is where you can find Café Bar Romantica in Lakka.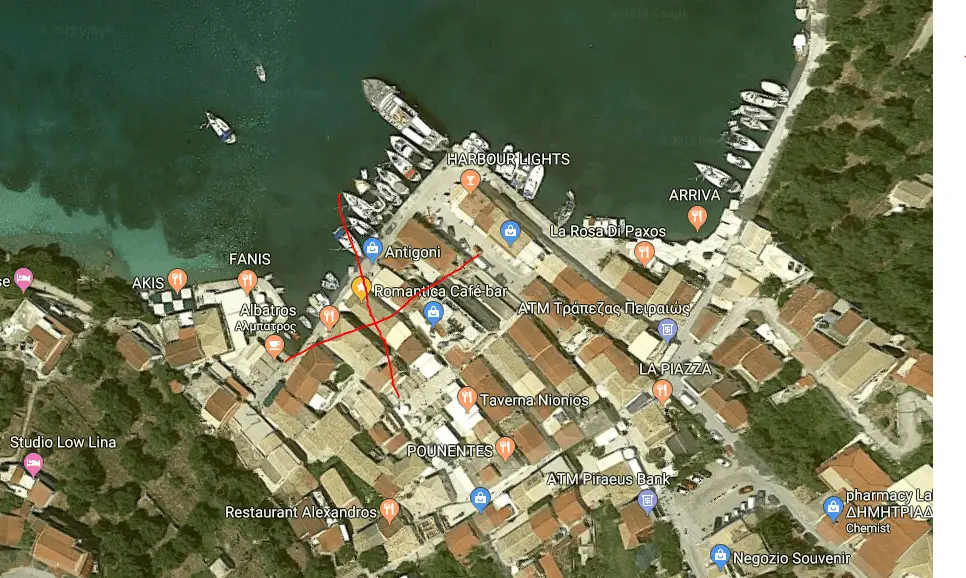 You can sit on the front at watch the world go by, but even better if you time it right there are two tables on the balcony above which give you an excellent view of the harbour and all those lovely white boats.
The sun sets over the hills to the left and there are some lovely skies to be seen.
As a photographer I will tell you right now that Lakka is not the best sunset location, but it is hard to beat as a place for a lovely relaxed drink evening drink with Mrs M. Not that you will be having a drink with my Mrs M that is!
Oh yes I nearly forgot – what is across the footpath from those tables on the front? Only the boat that we hired to go to Antipaxos! You can read more about that in the post titled Paxos Boat Hire – Do Your Own Trip From Paxos To Antipaxos https://paxostravelguide.com/paxos-boat-hire/where we took Lady Diana 765 on a most excellent day out.
Here is the boat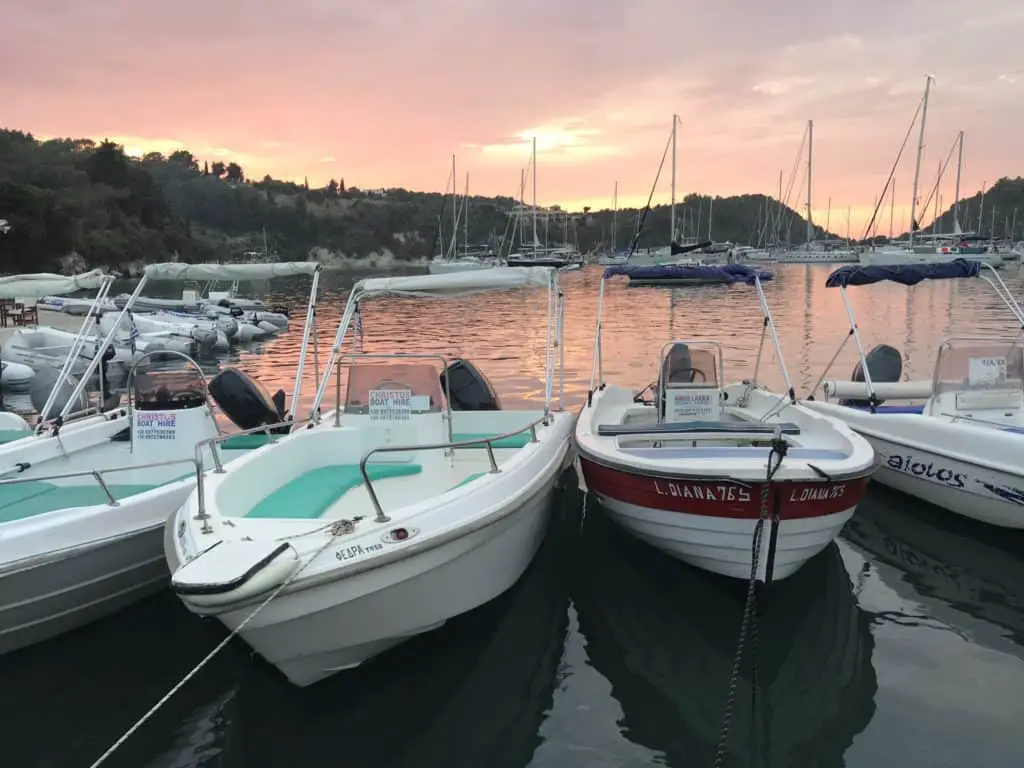 And if you look carefully from the balcony you can actually see mainland Corfu!
Here is the view from the balcony

2 – Breakfast at Averto Day and Night Yard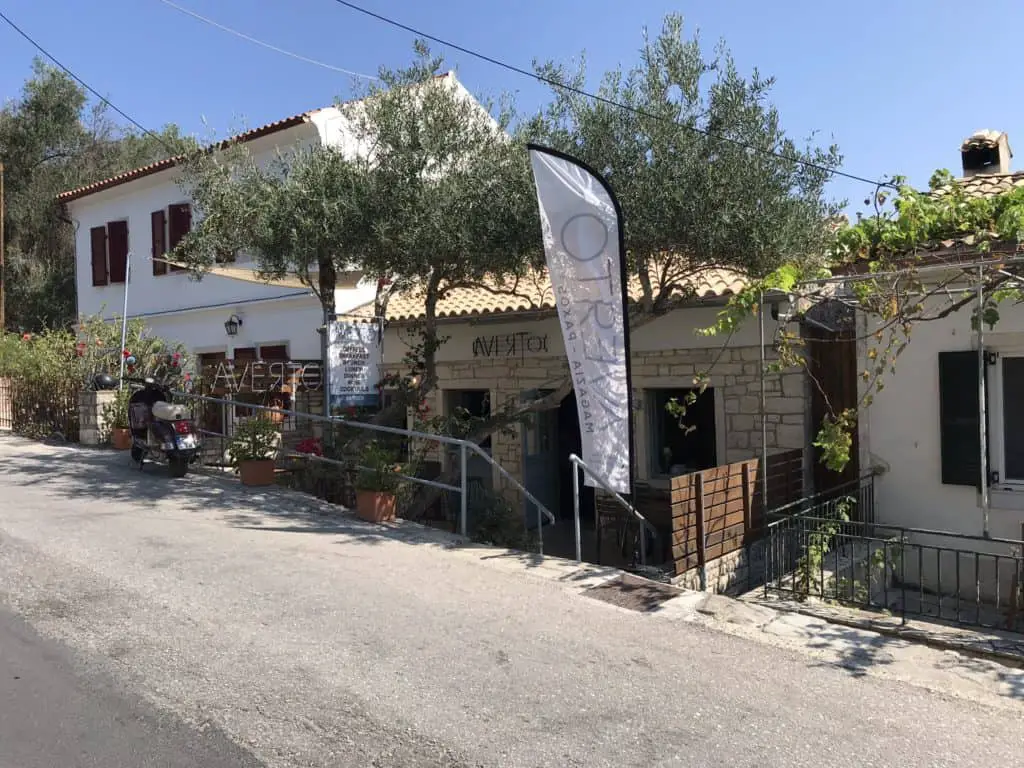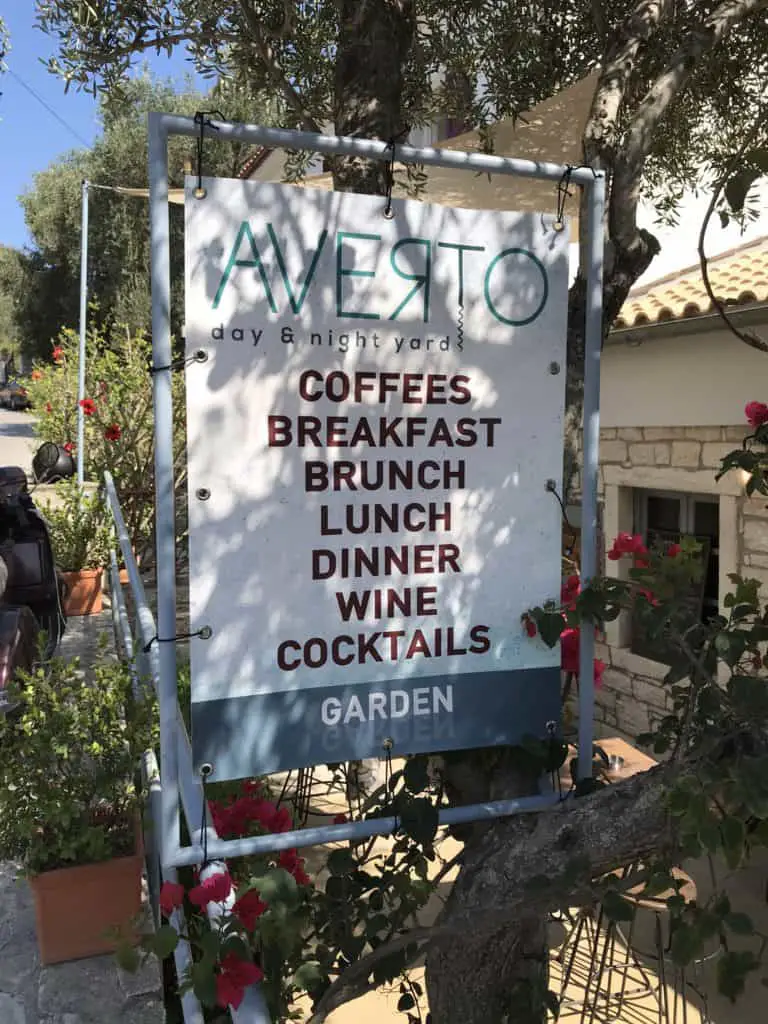 Averto Day and Night Yard is located on the road from Lakka to Gaios in the very small village of Magazia.
Here it is on the map.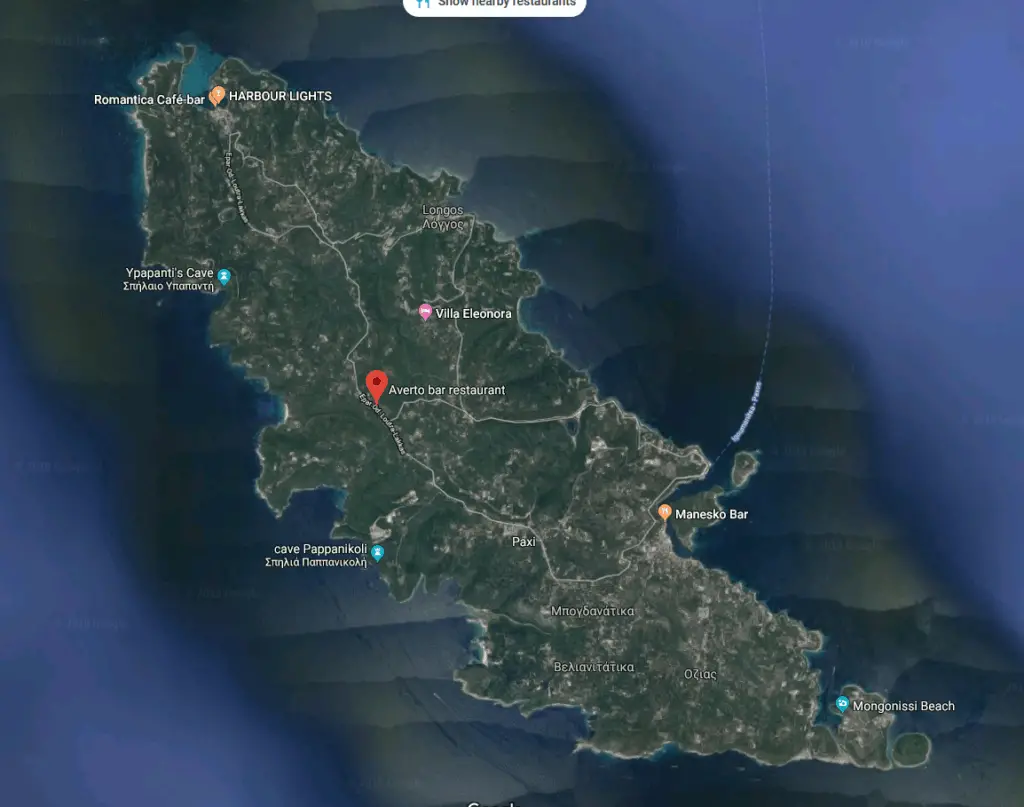 In a straight line it is 3km from Lakka and Gaios. It is up on the top of the island, so car/ taxi/ lift/ large goat/ donkey is recommended to help you get there and back.
We visited Averto on the day we had the hire car. You can read all about my hire car experiences on the post Paxos Car Hire – What I Did In 48 hours – days 12 and 13.
Averto has splendid views of the island from the terrace, and really comfy chairs which you can relax in and take in those lovely views.
Nickie did just that whilst I disappeared off taking photos.
These are the chairs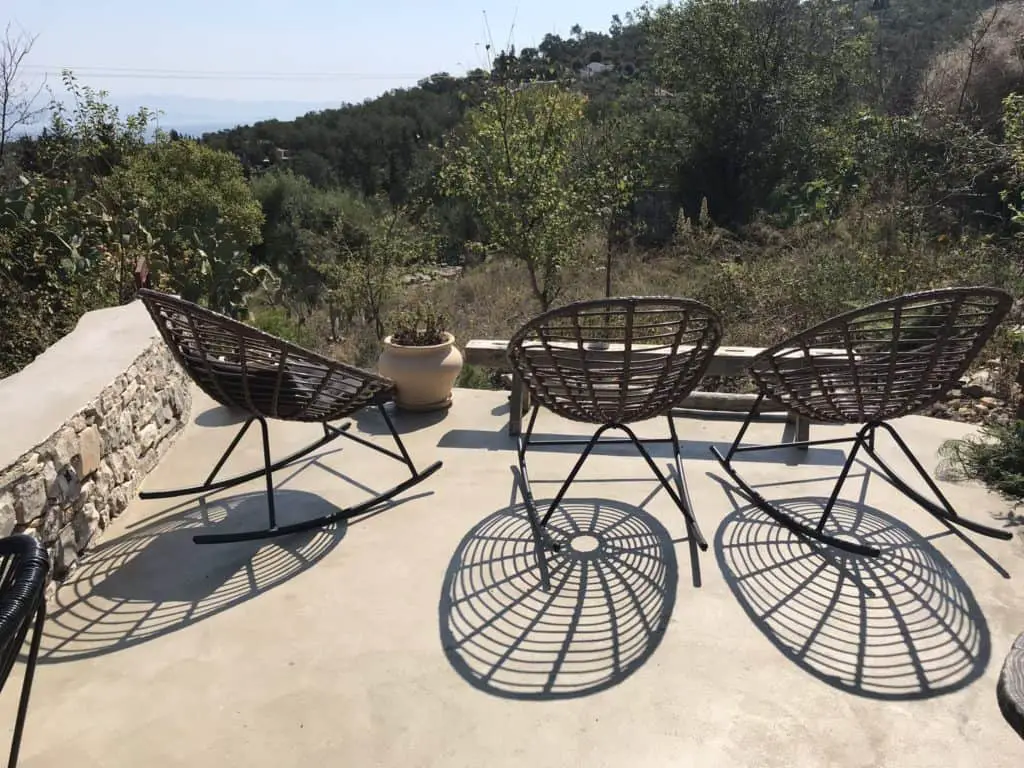 And this is the view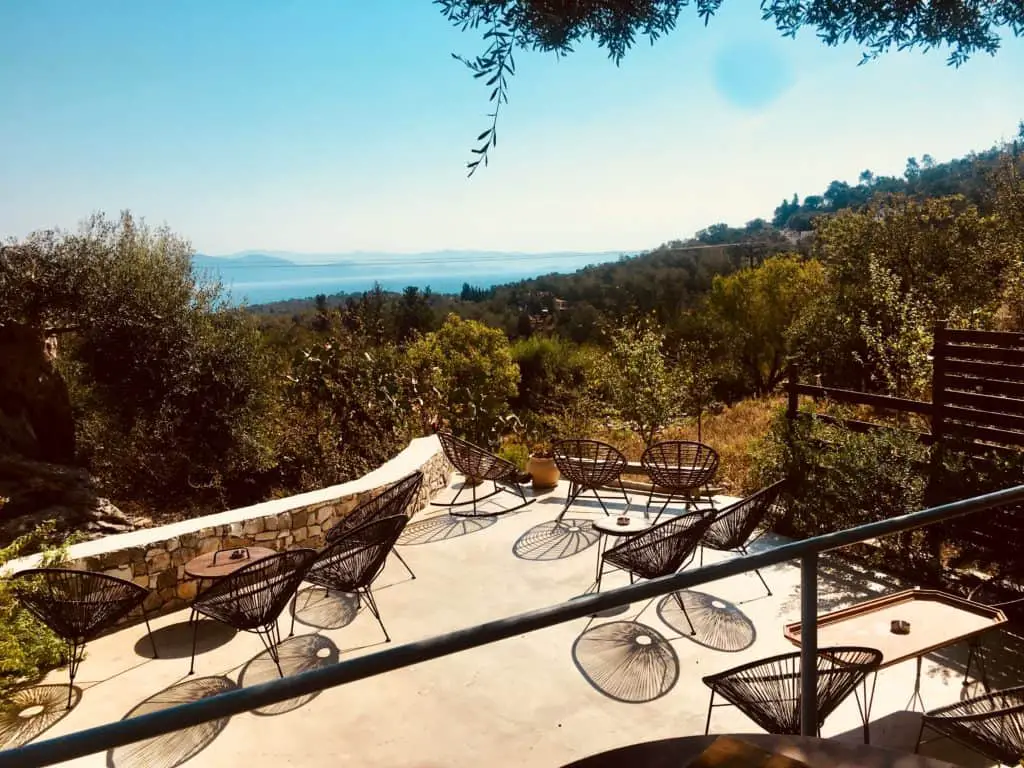 For breakfast we both have two poached eggs on toast – very, very nice it was too. I had a coffee and Nickie had a freshly squeezed orange juice. We were also given an unusual bottle of rather earthy (sustainable) water, which I quaffed. Even at breakfast time it is rather warm on Paxos!
Here is my breakfast.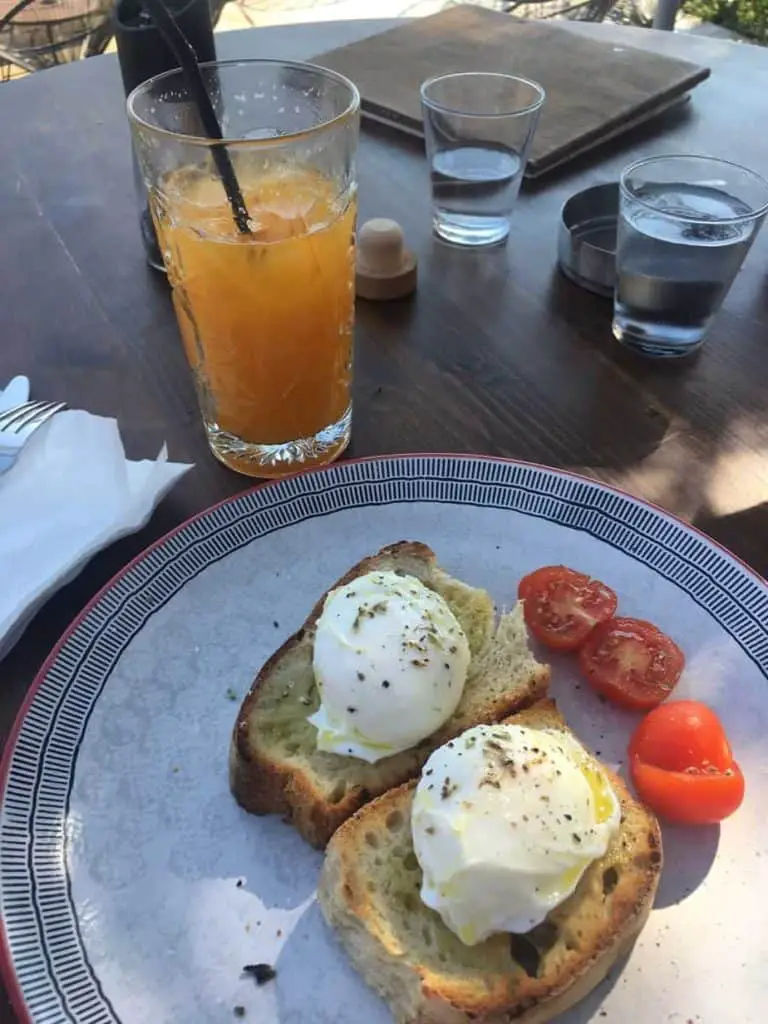 It was all lovely, very nice food, good service and a lovely laid back feel to the place. I cannot remember how much the meal cost to be honest, but I remember being happy with the price. Happy with everything.
3 – Brunch at the Mongonissi Beach Bar
The Mongonissi Beach Bar is way down at the bottom of the island (max 30 minutes from Lakka at the top of the island!). We have already been here by boat. After sailing back from Antipaxos to Paxos you pass the opening to the bay in which you will find Mongonissi Beach. The first thing of interest is the island of Kaltsonisi, next up is the entrance to Mongonissi Beach.
Here it is on a map.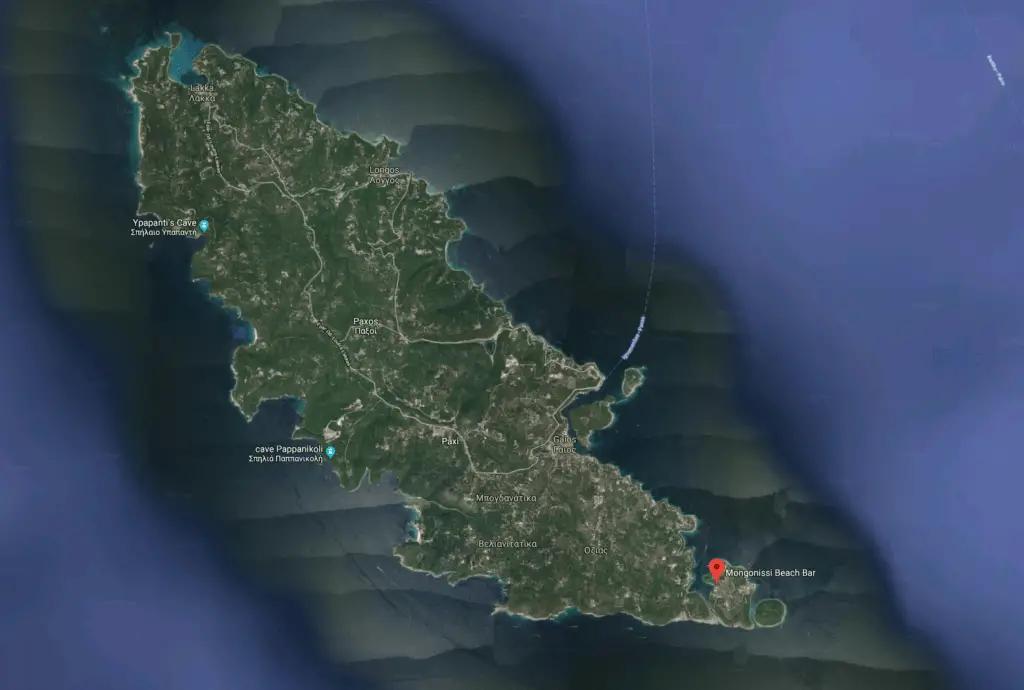 This time we arrive by car, and there are no t-shirt incidents. We have driven all the way down from the top of the island in Lakka. A long trip (8kms as the crow flies) taking much less than half an hour!
Here is the beach taken using the Pano feature on the iPhone.

We get these in time for breakfast/ lunch which is very nice. I have breakfast. Here it is. Well part way through!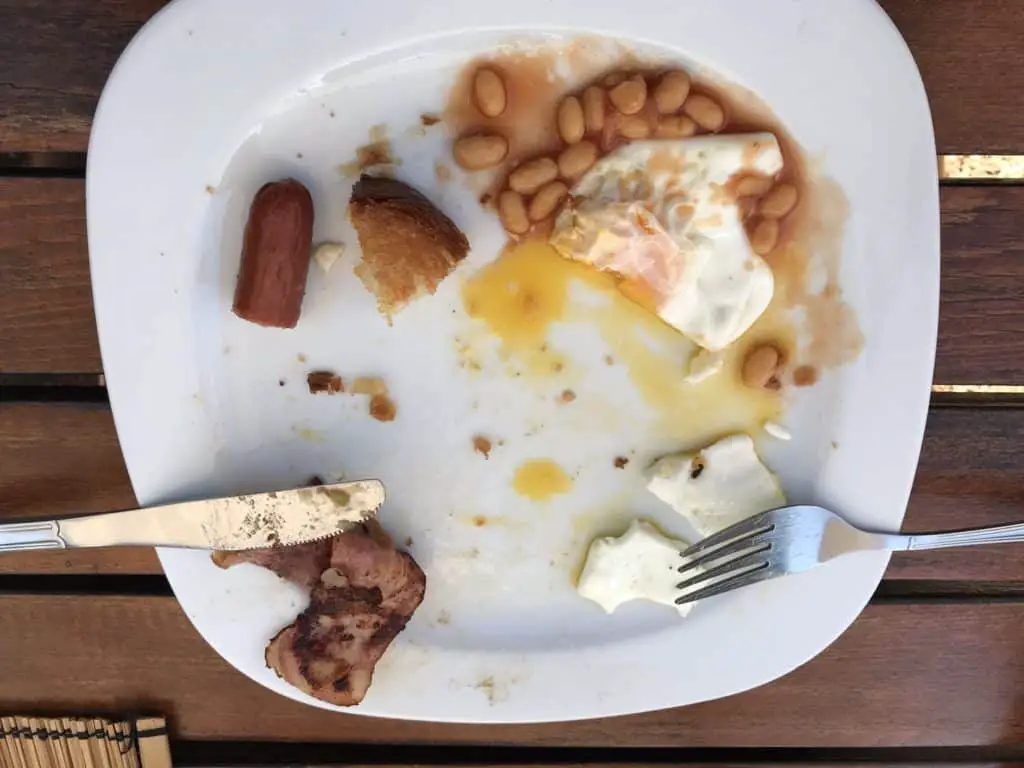 I decided to go for the full English breakfast, well why not? Nickie just had a fresh orange juice. €7.50 euros for a cooked breakfast with juice, coffee and bread is pretty awesome. And the food was all lovely too so all good.
And my breakfast even came with the thickest sliced bread I have ever seen, which was a complete bonus.
Mongonissi Beach Bar is a lovely place to visit, and Mongonissi Beach can easily be made into a day out, with an actual sandy (if small) beach which is unusual for Paxos!
We have had breakfast and lunch at the beach bar, and both were very nice indeed.
4 – Gyros In Gaios at Ο ΓΥΡΟΣ ΤΩΝ ΠΑΞΩΝ
I think that this place is called o Gyros Ton Paxon Grill House. Well that's what the napkin says?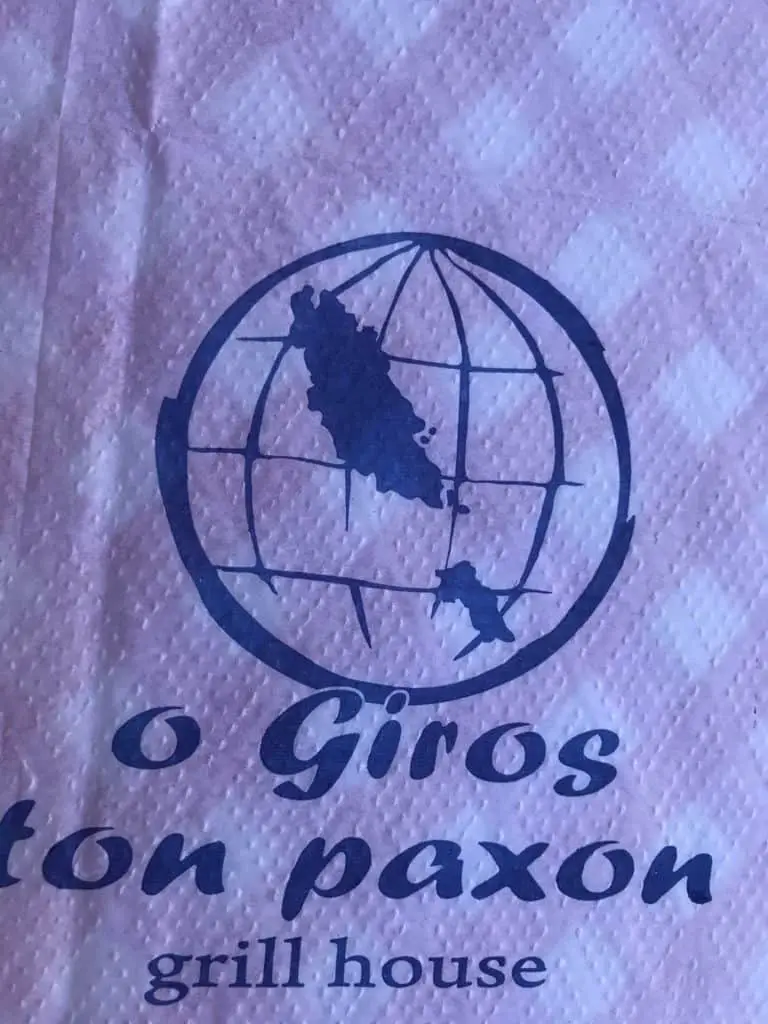 I guess that is not important.
What is important is that at this place right behind the Church Analipsi you get great chicken gyros for €3.50.
Here it is on a map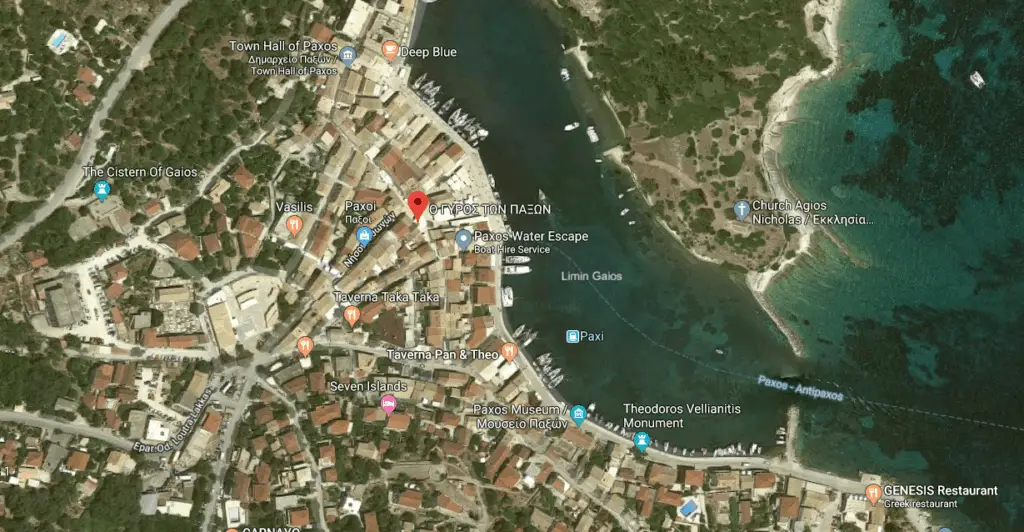 Here is the menu.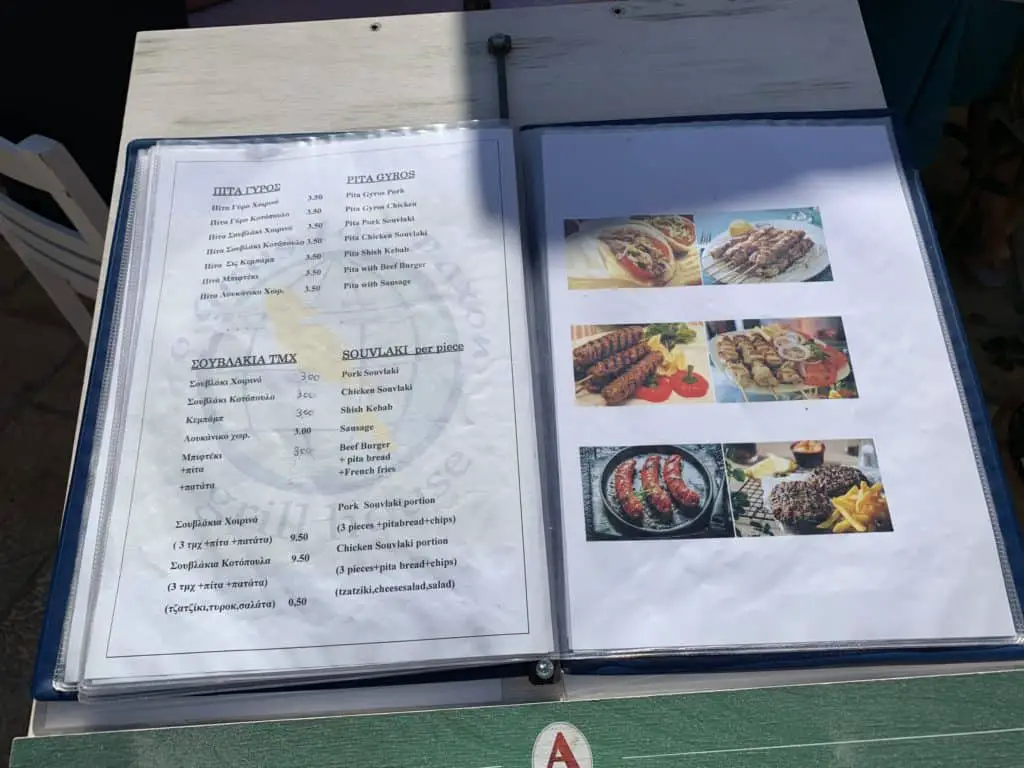 And here is the chicken Gyros
Sorry, this is the restaurant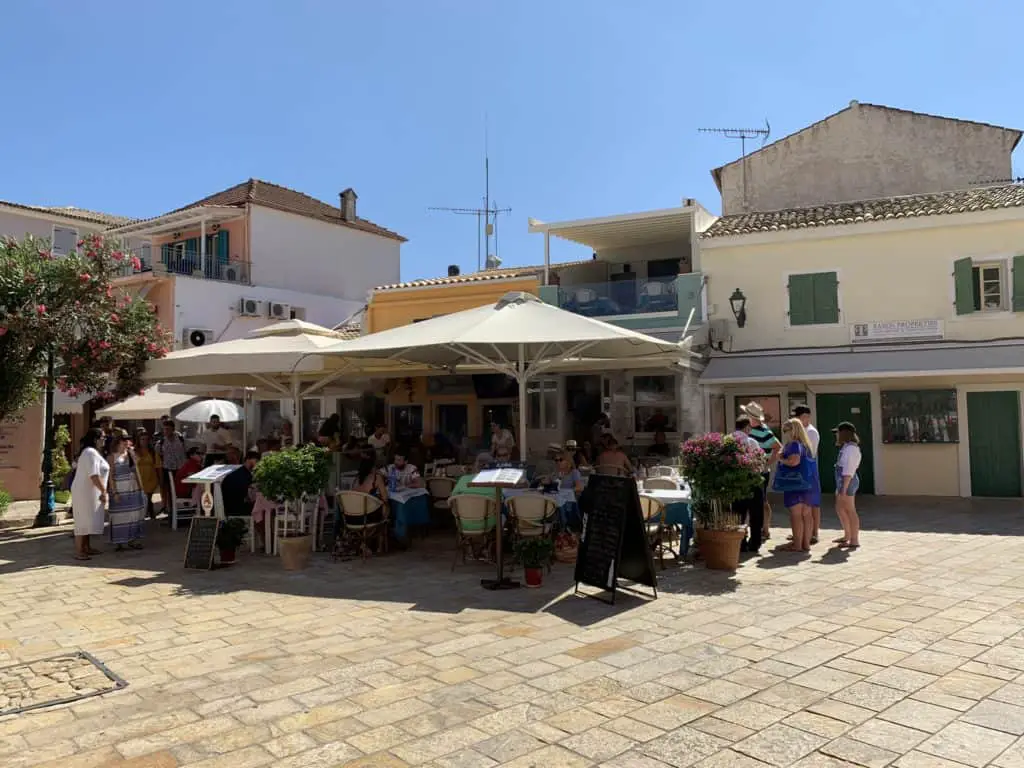 This is a very popular place for people arriving on the day trip boats. When a boat arrives it gets a bit manic until everyone settles down so getting a table is sometimes interesting. To be fair the staff are used to this and find tables remarkably quickly.
If you sit on a table at the front be prepared to have people stood right by your table wearing swimwear though!
It is pretty hot here, so they rather cleverly have jets of cold mist that cool you down – a really nice touch.
Service is pretty quick, and the chick gyros is just excellent. I am sure that they do other things there, but we have been quite a few times and always have the gyros – it is that good. Accompanied by a cold pint (half litre does not have the same ring to it) this is always a great place to grab a quick something to eat.
These folks know that most visitors to Gaios are there for the day on a boat, so time is short, and they get and respect that.
But don't hurry too much – the food needs to be enjoyed.
5 – Sunrise on the rocks – literally!!
This is my thing that I love doing. When I go out to photograph the sunrise I love sitting on the rocks when I am all set up and ready to take photos.
Here is one of my favourite places not far from Lakka.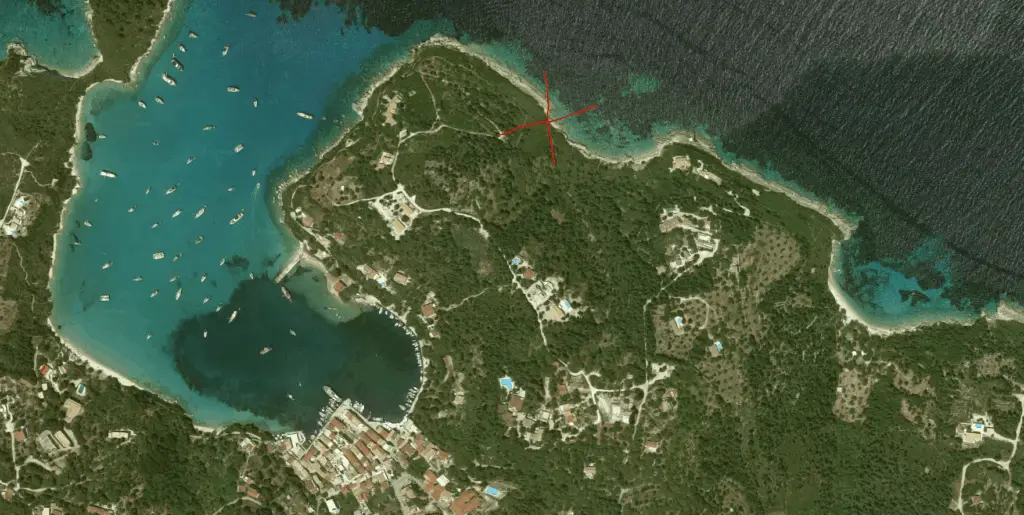 I always get myself ready well before the sunrise, and these days set up my iPhone on a tripod so I can record the happening of the sunrise.
And this is another place that I liked in the early morning solitude.
This is a lovely video of six minutes of peace and calm on Lakka Beach
Seriously though getting up super early and catching sunrise with no-one else around is a fantastic thing to do. I normally take a coke and water with me – too early for a Mythos after all!
There is something special about witnessing the start of a new day, especially if you get in the right place so you can actually watch the sun rising. I am fortunate as a photographer to have done this many times, and still absolutely love doing this.
Here is a video of me describing the scene as I am about to photograph the sunrise!
And for completeness here is a sunrise photo taken on the beach in Loggos.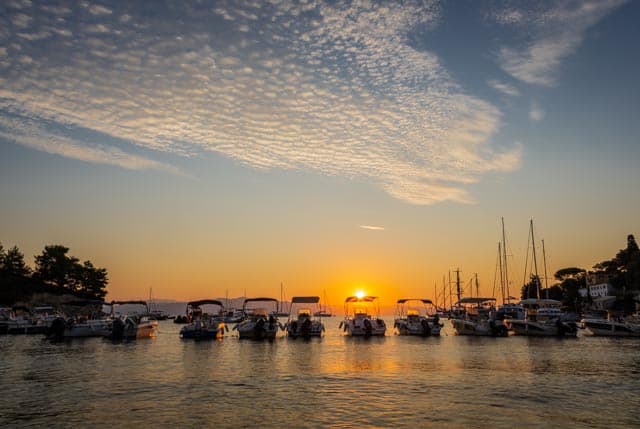 6 – Lunchtime libation at Captain Spiros Taverna on Antipaxos
Chances are that if you are holidaying on Paxos that you will go to Antipaxos, normally on a day trip from Gaios. That or you drive your own boat there – we have done both. Well actually we have also done a day trip from Parga to Antipaxos and Paxos which you can read on my other website, Rick McEvoy Photography.
You can read all about a day trip from Paxos to Antipaxos in my post Paxos Boat Hire – Do Your Own Trip From Paxos To Antipaxos, and you can find out more about Antipaxos in the post Antipaxos Greece – Everything You Need To Know.
Anyway, when you get to Antipaxos you normally go to one of the two main beaches on the island, Vrika Beach, which is the first beach you come across when sailing down from Paxos, and then Voutoumi Beach.
We like Captain Spiros Taverna, which is on the right hand edge of Vrika Beach when looking from the sea.
Easy to get to – just walk to the right hand end of the beach, up some steps and you are there.
This is my beer!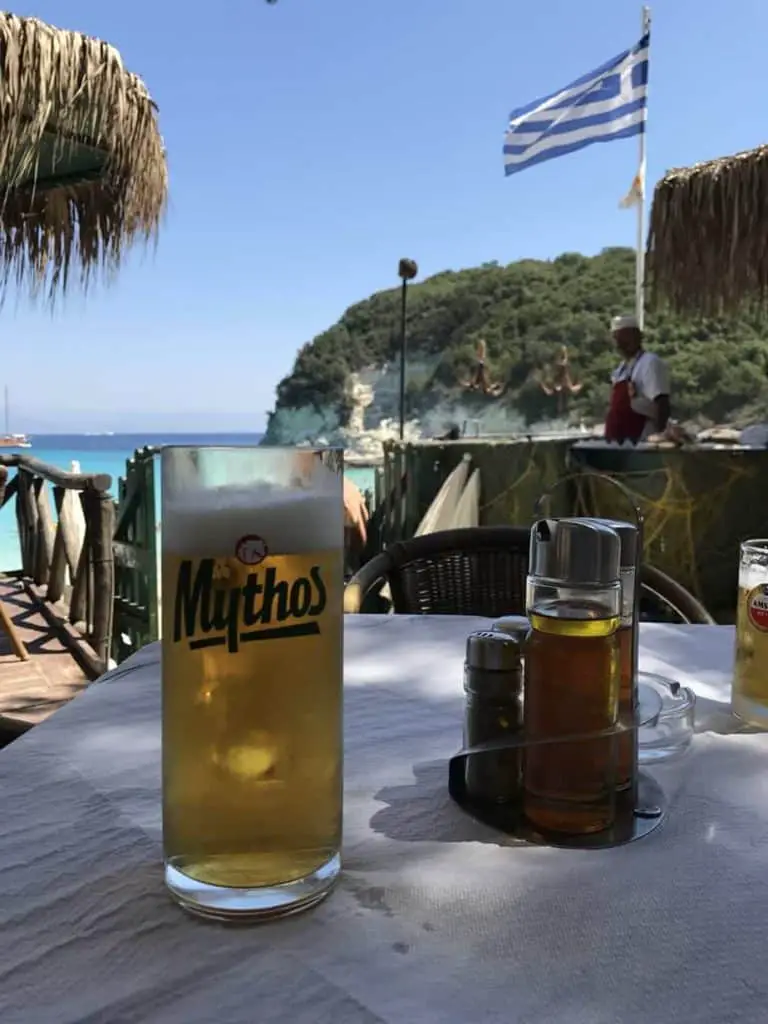 And here is the meal. Excuse the bad crop but there was an old person (older than me even) in the background wearing a swimsuit which hardly added to the ambience of the scene ha!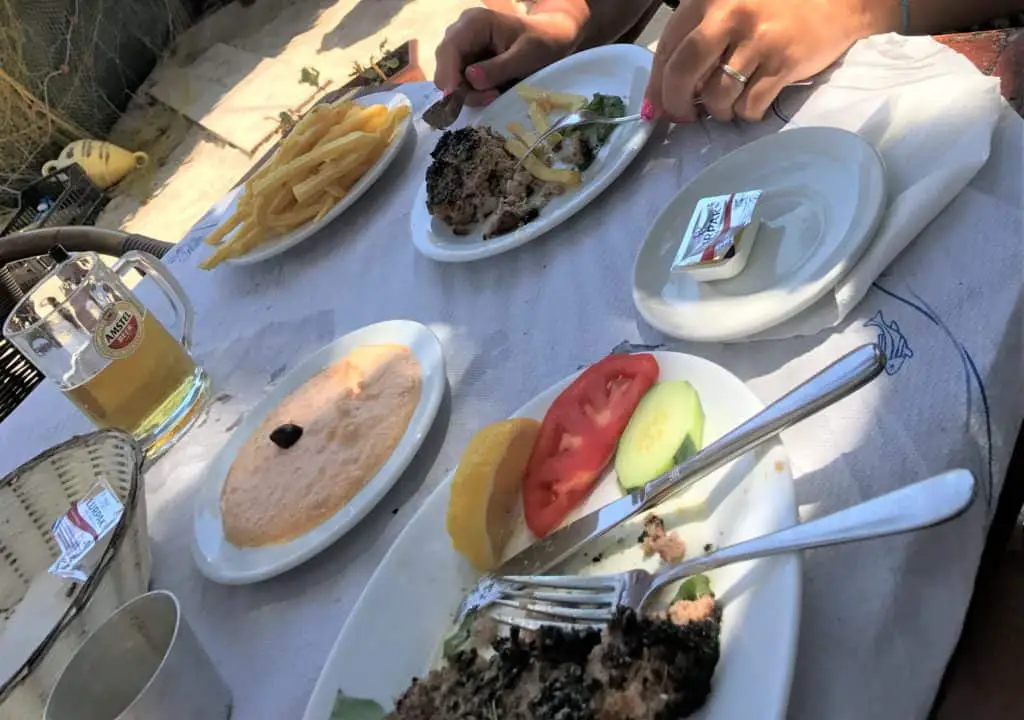 And here is the map showng where it is – nearly forgot!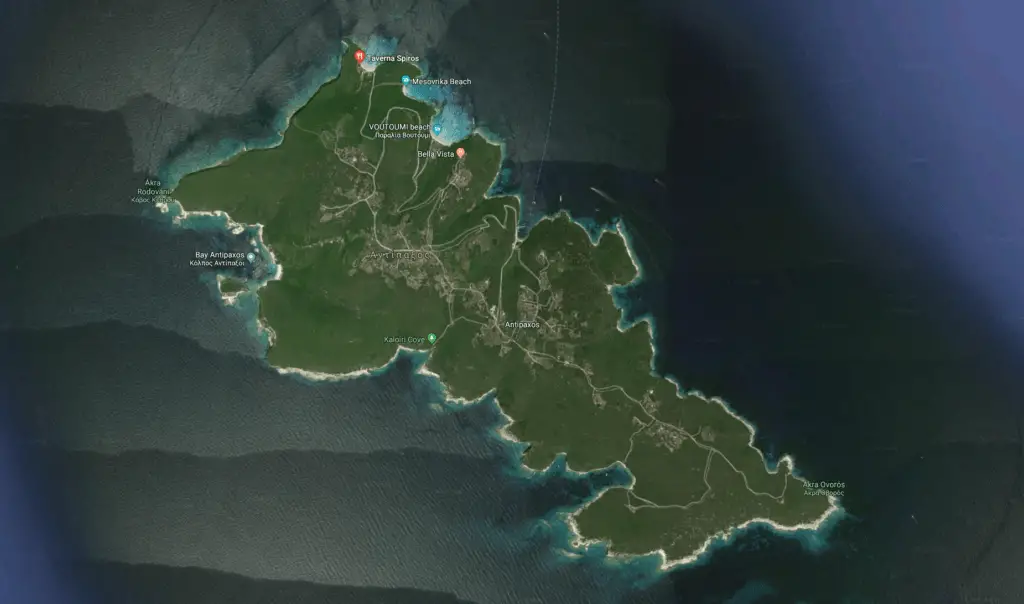 7 – Pasta at Pounentes in Lakka
Pounentes ended up being my favourite restaurant in Lakka.
Here it is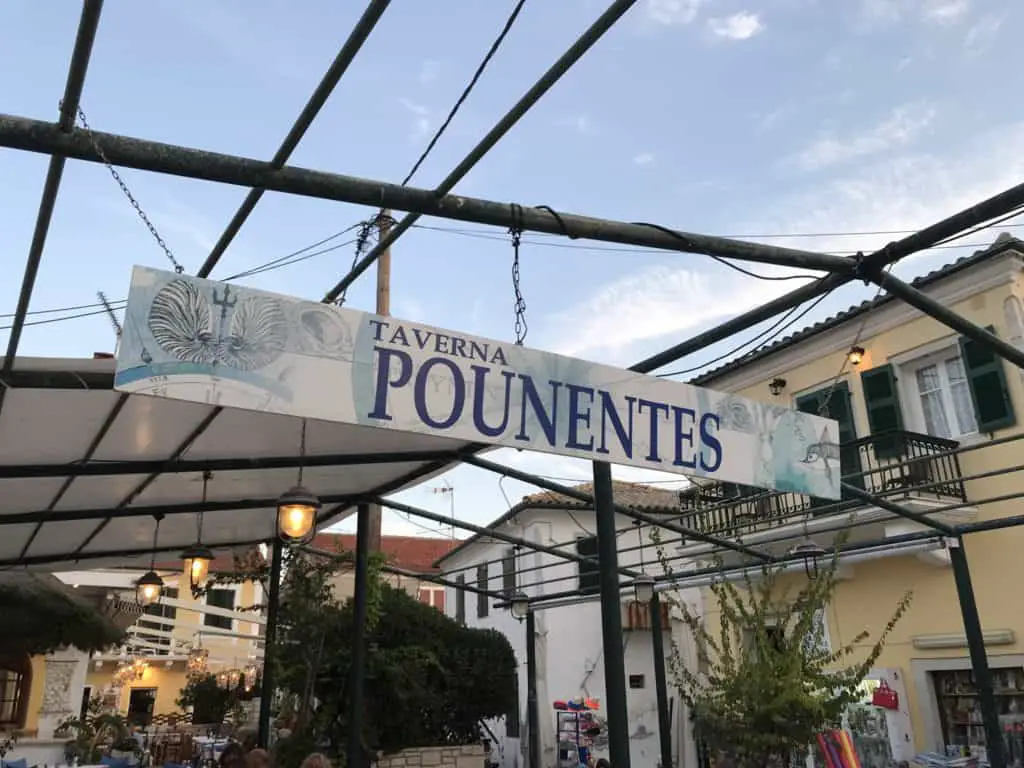 We ate there quite a few times, and on the last evening we were welcomed like celebrities by the man running the show. Seriously he recognised us as we had been there a few times. We approached the restaurant and he saw us and rushed over and welcomed us with massive hugs!
The people sat down eating all seemed to stop and watch, and I am sure they were asking each other who we were. People were looking at us throughout our meal – is this what it is like to be famous?
Anyway back to the food.
Here is the menu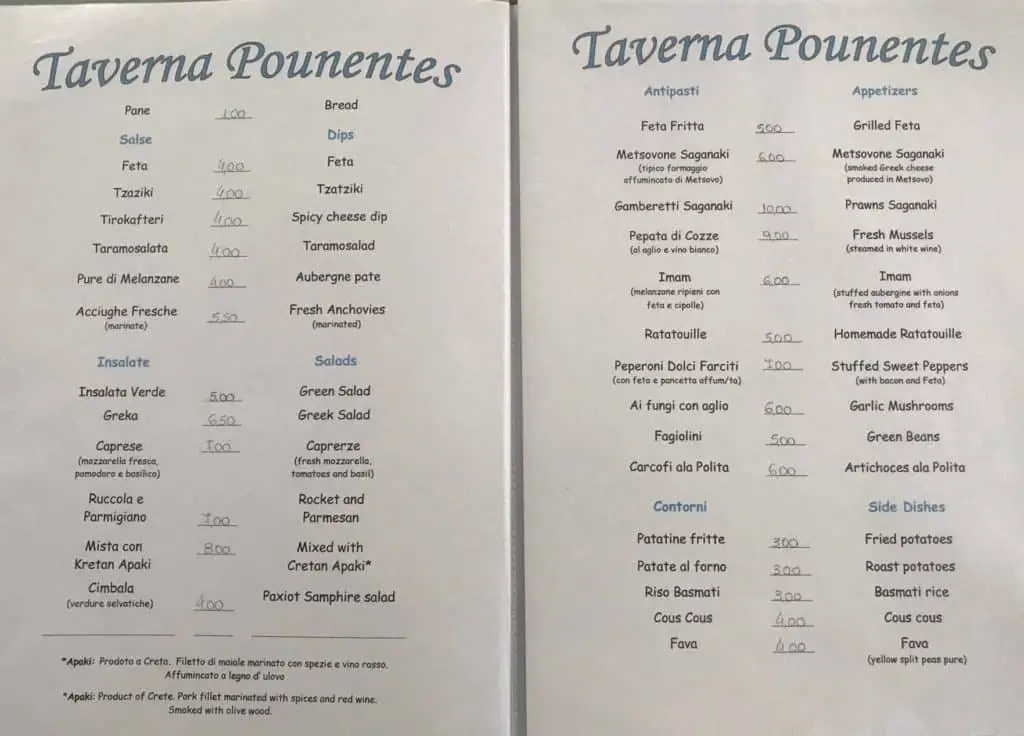 My favourite meal was the last one (not last on the menu!), and the one that was not my choice. I wanted spaghetti Bolognese, but the lovely head waiter convinced me to have pasta with a chilli sauce. Not really my thing but I went with and it was, I have to say, absolutely stellar!
So good I did not take a photo of it!
Every time we ate there we had an excellent time, so this place is highly recommended by me.
8 – Drinks by the water at Roxi Bar in Loggos
The Roxi Bar is in Loggos, a lovely small village between Lakka and Gaios.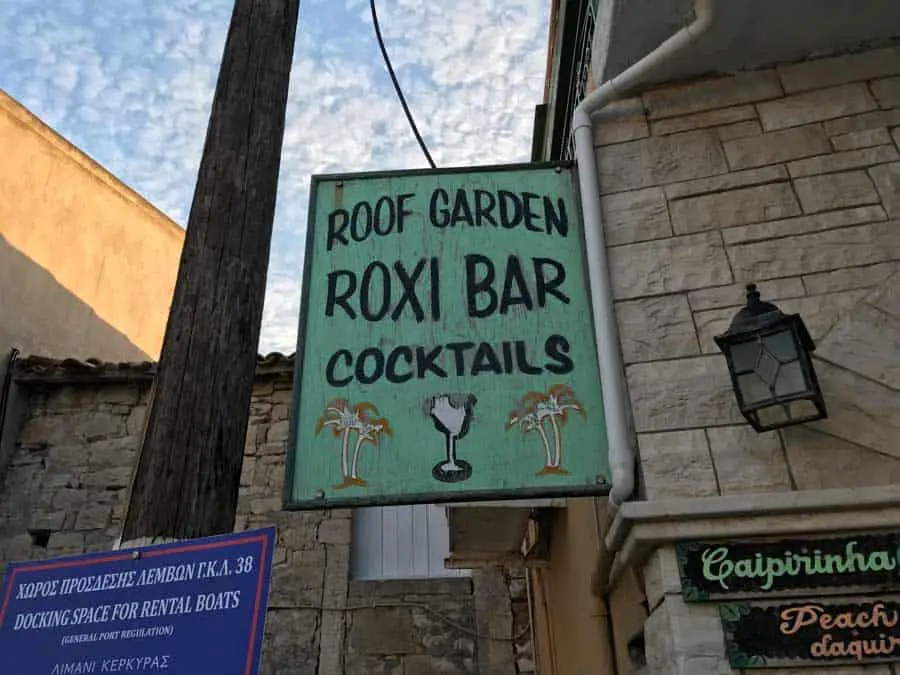 I didnt know it had a roof garden!
The Roxi Bar is special because of its location, and the particularly nice chap who always provides a very warm welcome and very charming service. Read the reviews and everyone says the same – one of the genuinely nicest men you could ever wish to meet.
Here is the bar viewed from the boat as you pull into Loggos bay.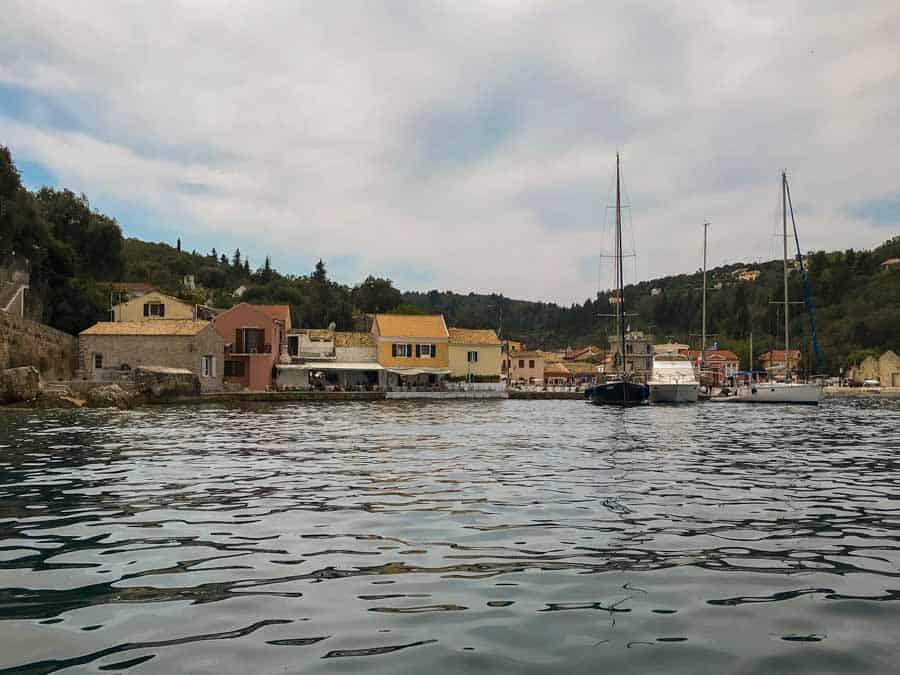 Best seats are round the back, where you get tables right by the water.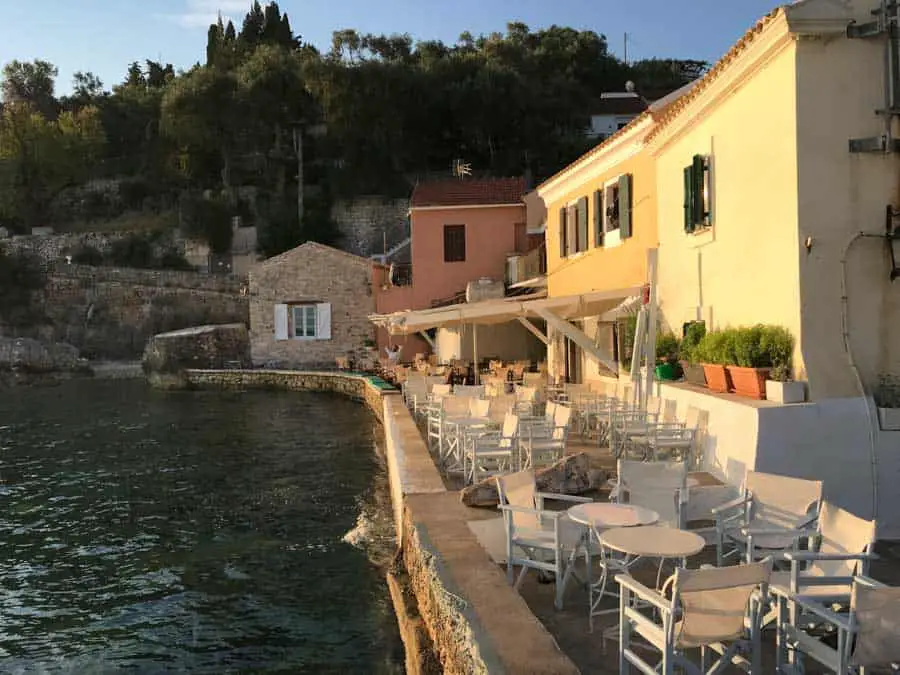 I often find myself down there after a sunrise shoot waiting for the bar to open. Having been there a few times I have managed to get a coffee well before they opened and sat there all by myself staring at the sea.
And this is what it looks like inside.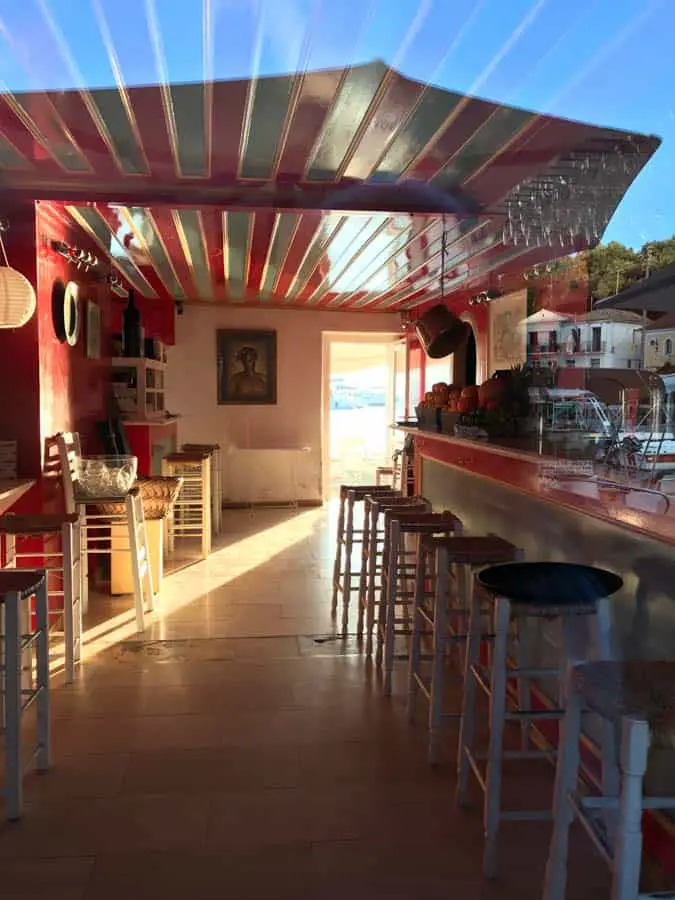 What can you get at the Roxi Bar? The usual selection of drinks and as for food – well they don't mind if you bring food from the bakery next door which is very nice indeed.
Sorry – here it is on a map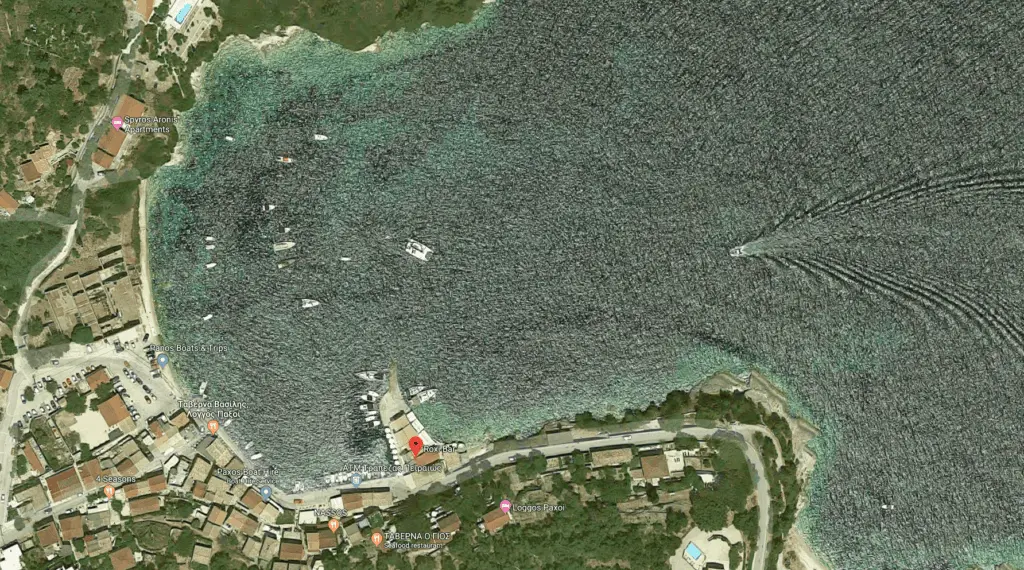 9 – Dinner by the water at La Rosa Di Paxos in Lakka
It was our second to last night, so we ate at La Rosa di Paxos. This lovely restaurant is located right on the waterfront of Lakka. Get there early to reserve a table right next to the water, which is always special.
This is where it is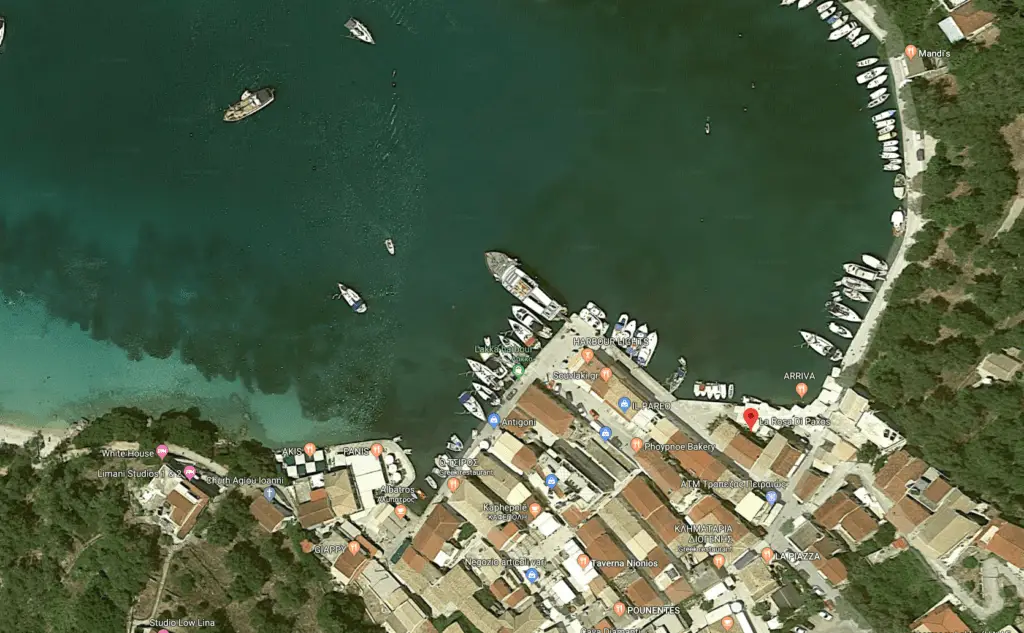 This is the menu cover – how lovely is this?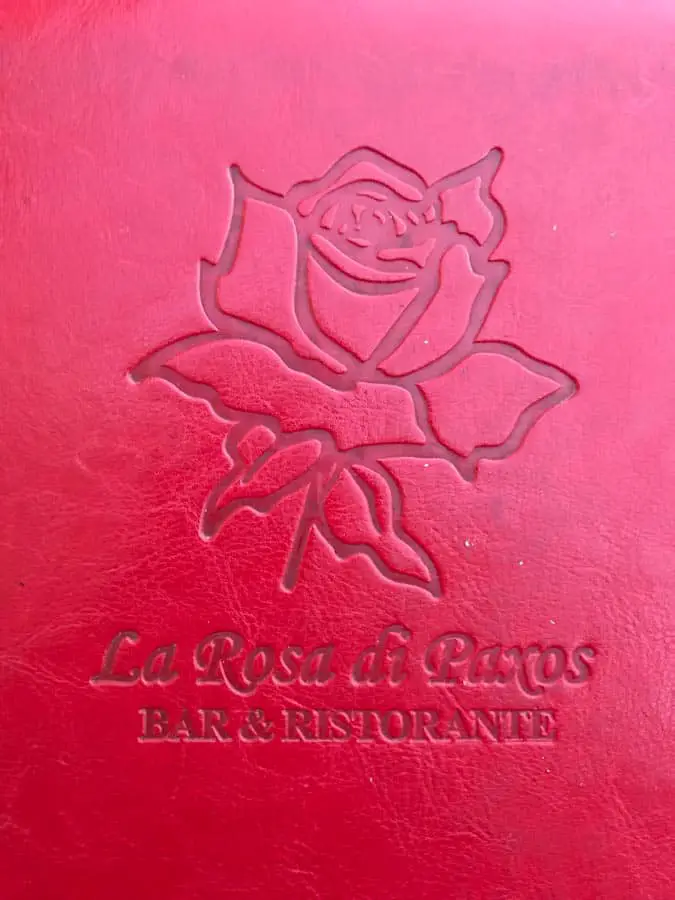 And this is my lobster and pasta dish, which was rather excellent I have to say.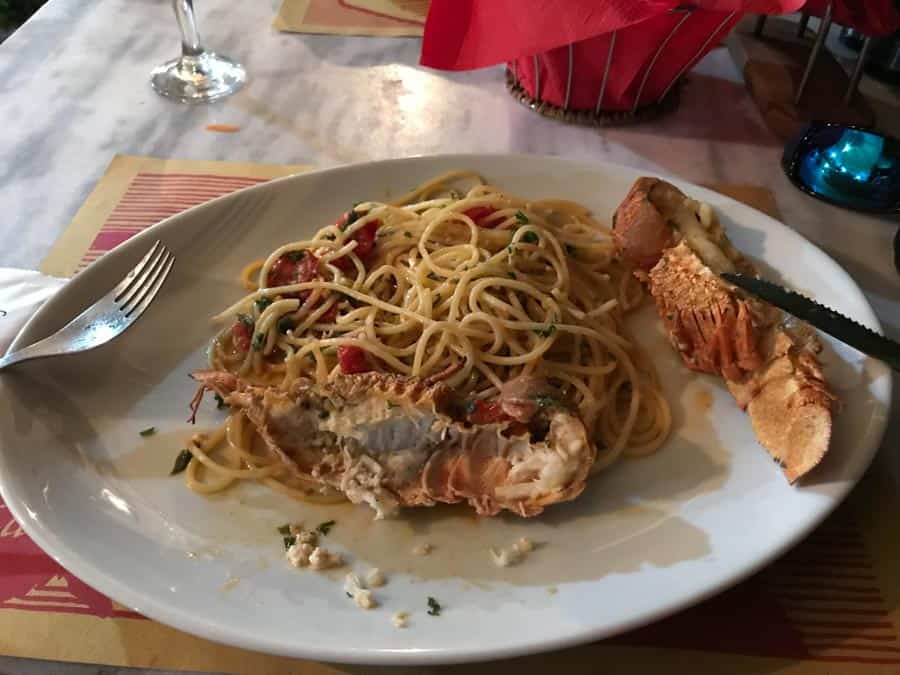 Yes the perfect second to last evening, with pre-dinner cocktails, a table by the water, great service, lovely food, great wine.
The only regret was not eating at La Rosa di Paxos more often.
10 – Stasinos Garden Restaurant in Lakka
Another restaurant in Lakka, Stasinos is located a few streets back from the waterfront. The restaurant has a lovely courtyard where you can sit and relax.
This is where it is in Lakka.
We have eaten here a few times, and always had excellent food and excellent service.
Here is the menu cover.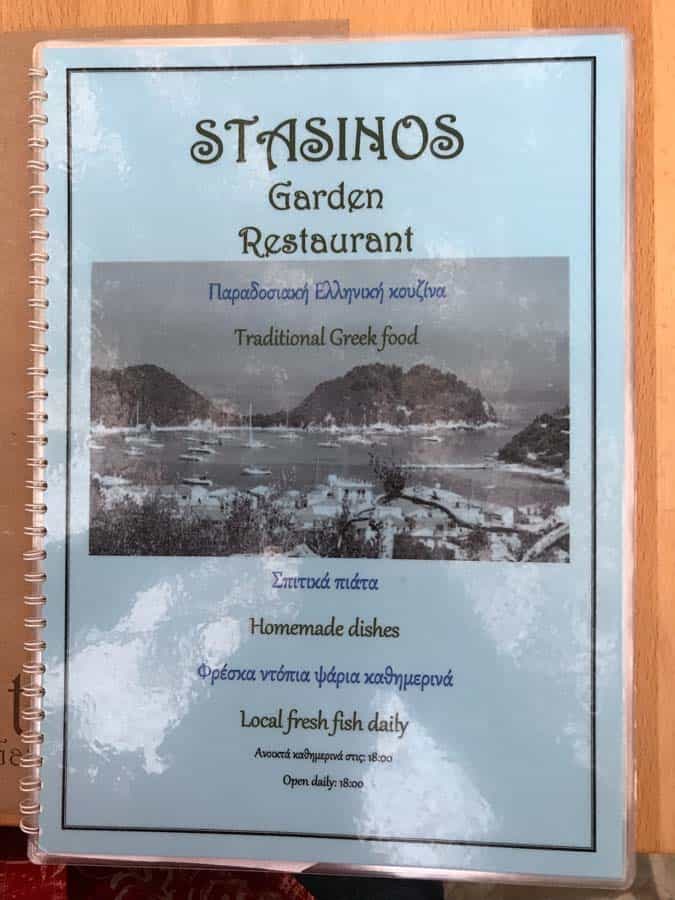 We are seated at a nice quiet table by a very friendly and enthusiastic waiter. We order a carafe of red wine (which I have to say has been excellent everywhere apart one place where we managed to swap it for a bottle).
We have eaten here before on this holiday, and also last year, and it has always been very good.
We went for a Meze starter as we haven't had one for a while. This is the pre Meze olives.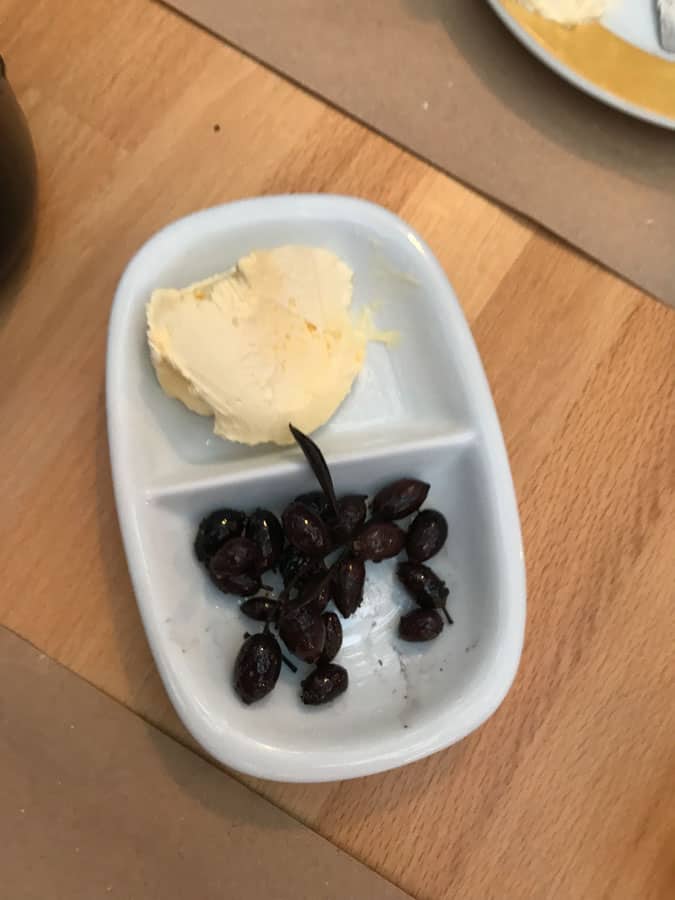 Nickie went for Moussaka again – this is it.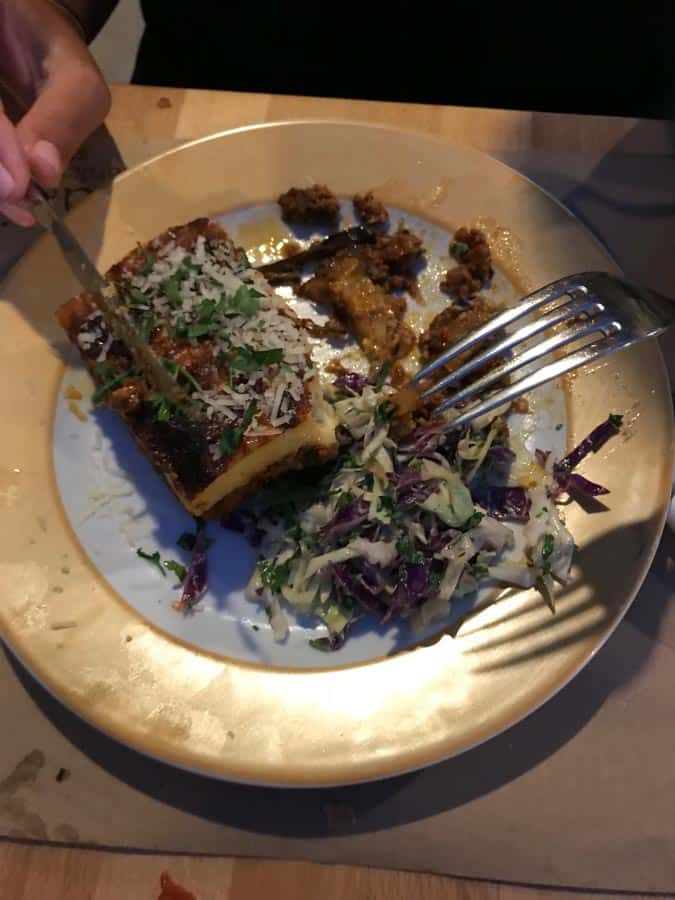 I went for the P beef dish similar to but not Stifado. I still cannot remember the name. Like I say it is definitely not beef stifado!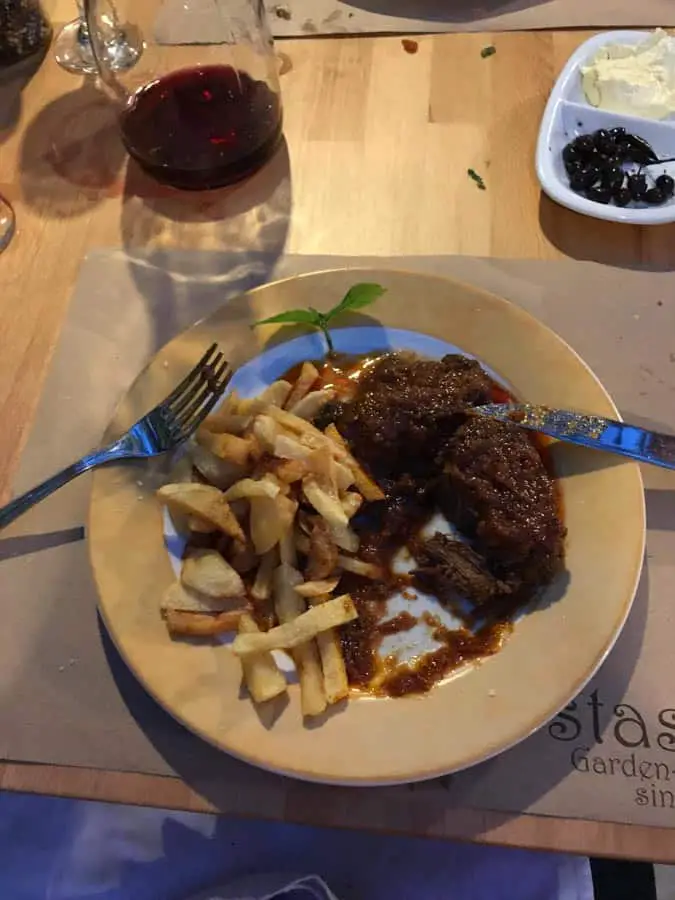 Honest it is not Stifado. We also had a lesson from our waiter in how to pronounce not only my main course but also stifado – turns out we have been saying it wrong up till now.
I can't remember the name of the meal that I had – lets stick with the P beef dish.
As on previous visits everything I am delighted to report was perfect. The food was lovely, the service was better than most other places, with such a charming and informative waiter. The timing of delivery of meals was spot on, and the atmosphere was lively but not too loud – all good.
11 – Sette Venti at Corfu Port
I know, this is not on Paxos, but for most people travelling to Paxos this is a place where you will spend some time waiting for a ferry or a flight. Yes I said waiting for a flight. It is much nicer waiting here at the port than at the airport.
This is what it looks like from the outside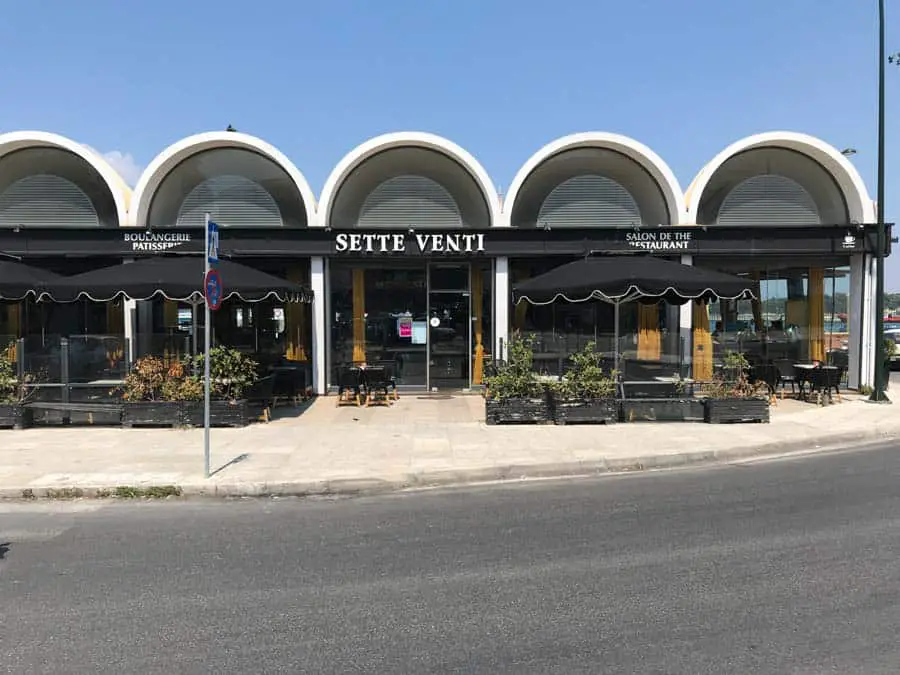 Here it is in relation to Paxos.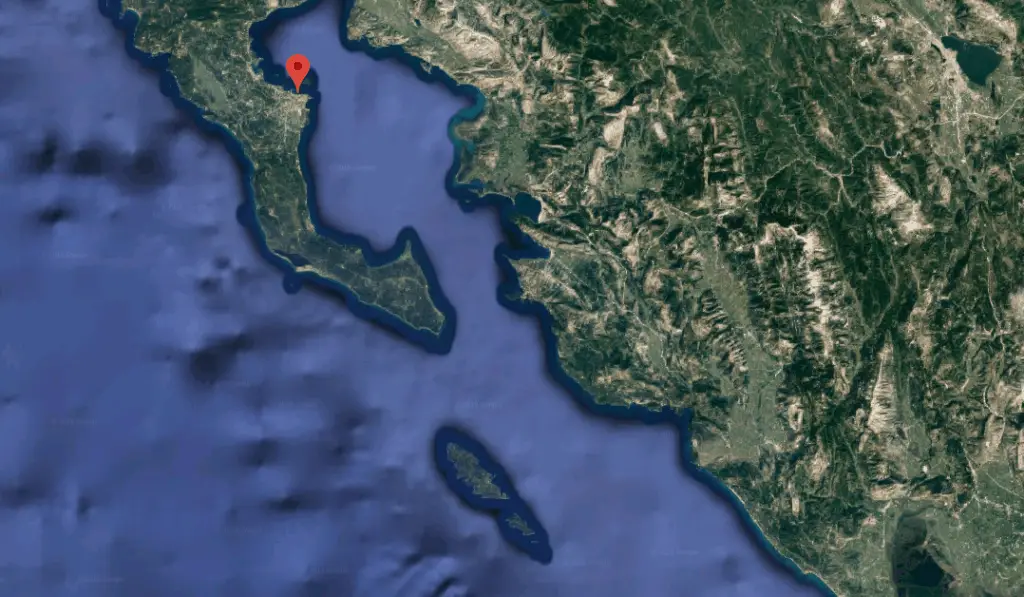 And here it is in relation to the airport and the centre of Corfu Town.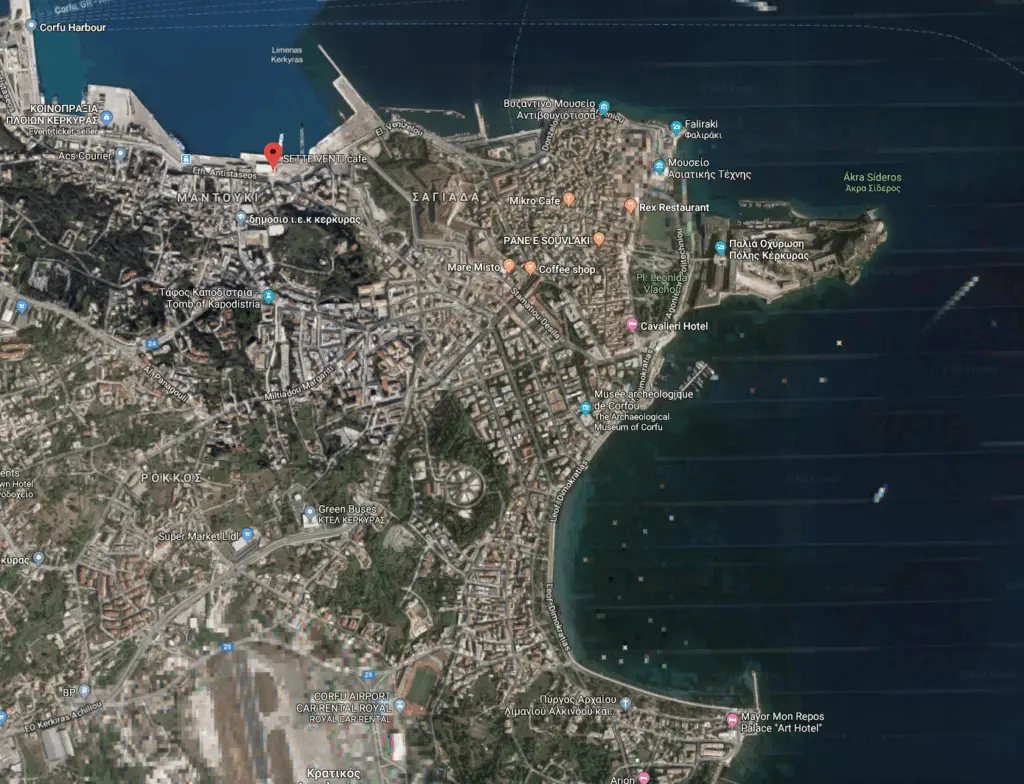 And this place is not on Paxos anyway!
So what is the food like?
It is very good. We have had breakfast and lunch here a few times now and always had a thoroughly nice meal
And this is the chicken gyros meal which was excellent.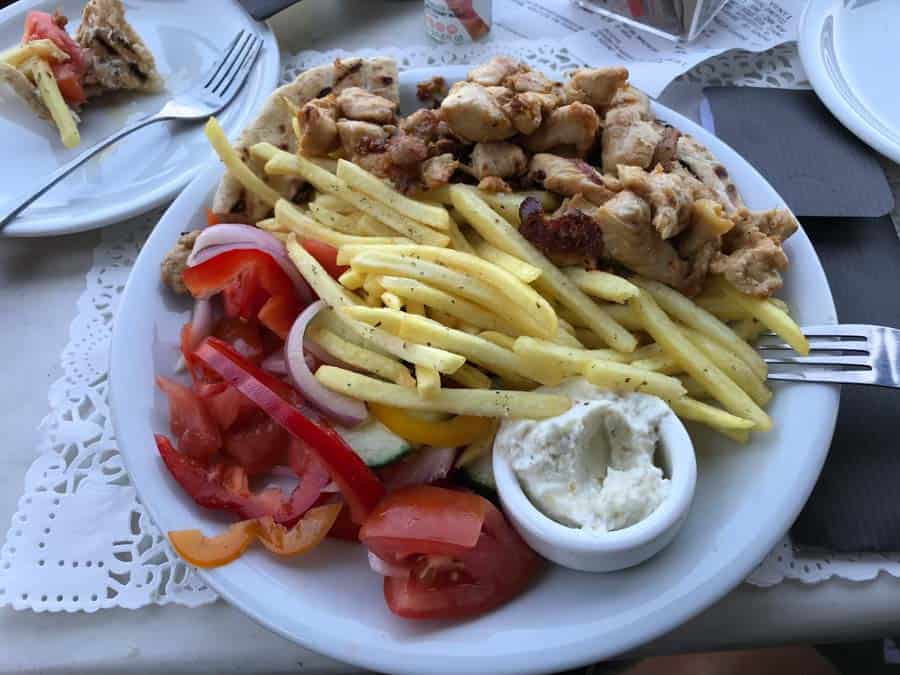 And the prices, which could let's be honest be much worse in such a location are actually fine.
Once you have got your luggage get in a taxi and get over to Sette Venti.
You can sit there and watch the boats come in and out of the port and look at those enormous cruise liners parked up for day trippers to Corfu Town.
Want to know more about Paxos?
I hope that you have found this post helpful, informative and even a little bit entertaining! To find out more about my favourite, wonderful Greek island all you need to do is click here and I will take you straight back to the start of my Paxos blog. Nice and easy!
Oh yes, I hope that you enjoy the next post.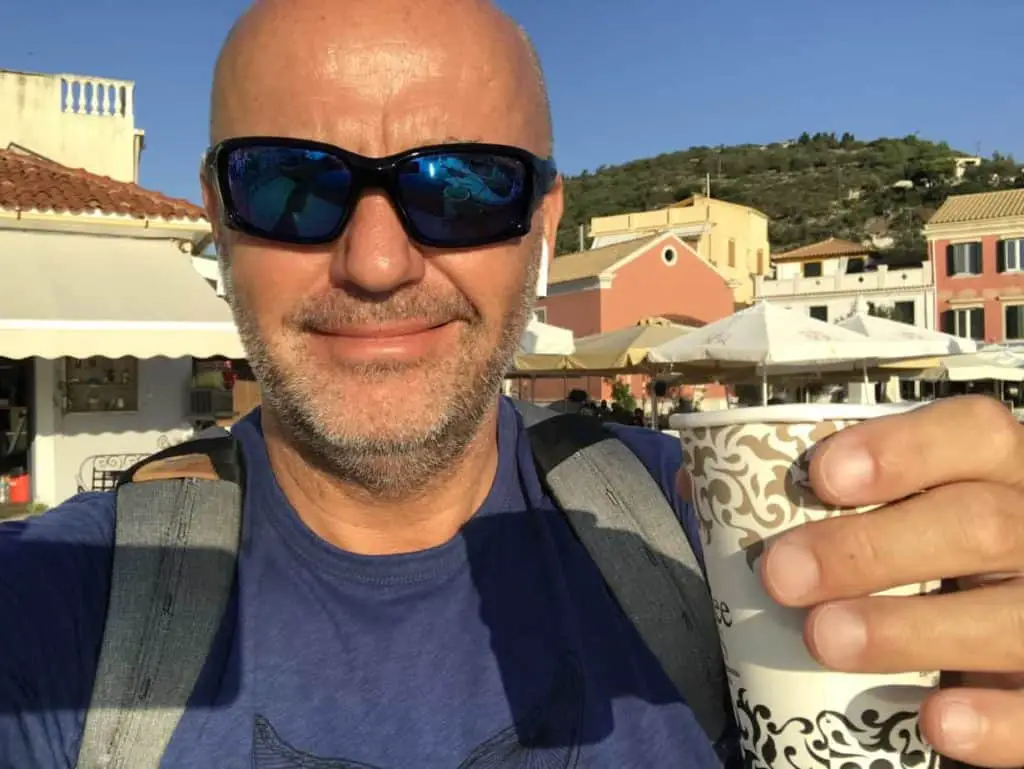 Rick McEvoy Paxos Travel Guide