You have decided to visit the wonderful Greek Island of Paxos. Great decision, but there is a very important question that needs to be answered.
When is the best time to visit Paxos? It really depends on what you want to do and get out of the island, but our favourite time to visit Paxos Is August, where we have enjoyed long, lovely hot summer days. In this post I will share my experiences of visiting Paxos in August, as well as give you my thoughts on the problems holidaying out of season in Paxos.
What is Paxos like in August?
Hot. Lovely and hot with nice long days. It might be a touch too hot for some people, and sometimes it can be a challenge getting ready in the evening to go out for dinner. If you like days lounging about by the pool reading and taking in some sun August is perfect.
And I loved it going out and exploring and taking photos.
In August I could go out well before sunrise in just shorts and a t-shirt and be absolutely fine. And when I went out at noon to find other locations to photograph whilst I got hot and sweaty I was fine as long as I had water.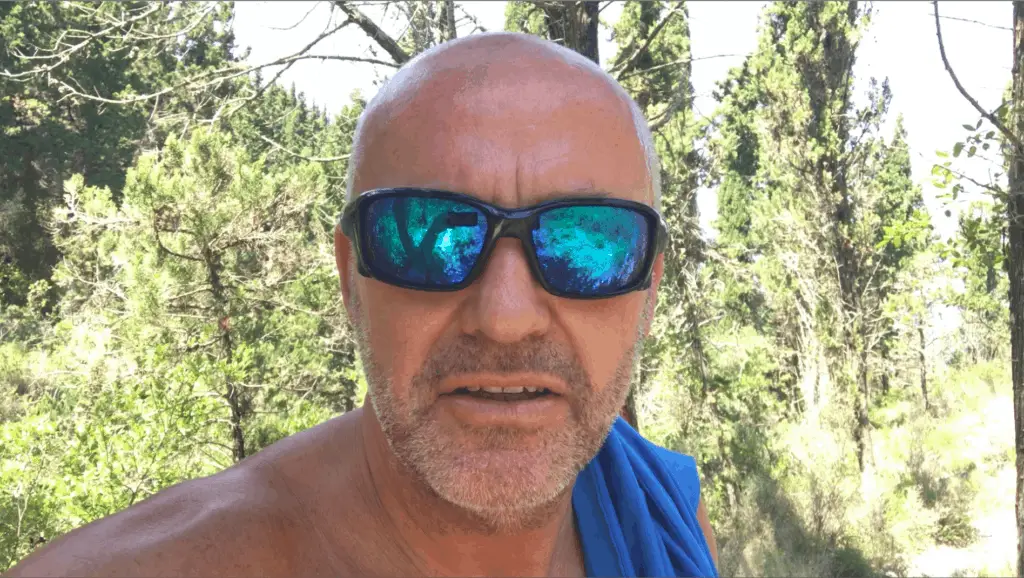 OK not the best look granted but I survived!!!! And here is the video!
I managed to do my writing when we got back to the room each day later afternoon sat on the front balcony of our room at Hotel Bastas – the upper floors did provide some air movement which gave a bit of respite.
We did witness a bit of rain which was interesting – it was all over in an hour though – check out the video on my YouTube channel.
And the hire boat trip to Anti-Paxos was a complete joy, a sunbathing delight. You can read more about that in a future post.
So, we love going to Paxos in August, but are looking forward to going back out of season for a completely different island experience.
OK – that is my take on holidaying in Paxos in August – now for some facts which will help you decide which is the best time of year to visit Paxos.
Average Air temperature
According to the website Holiday Weather website these are the average air temperatures
January – 10° C
February – 10° C
March – 12° C
April – 14° C
May – 19° C
June – 22° C
July – 25° C
August – 25° C
September – 22° C
October – 18° C
November – 15° C
December – 11° C
That only tells you part of the story. The high/ low temperatures in say August are 31/ 19° C. I don't remember experiencing 19° C at any point in our two visits to Paxos to be honest – it felt much, much warmer than that even at night. Bearing in mind that I was often up at 4 in the morning to go out and photograph sunrise.
Average sea temperature
January – 17° C
February – 15° C
March – 15° C
April – 17° C
May – 19° C
June – 22° C
July – 25° C
August – 25° C
September – 25° C
October – 23° C
November – 20° C
December – 18° C
Very, very nice indeed. 25 degrees is a sheer joy to swim, snorkel, just immerse yourself in. And pick the right spot and the waters are crystal clear.
Average hours of sunshine
January – 5 hours
February – 5 hours
March – 6 hours
April – 7 hours
May – 9 hours
June – 10 hours
July – 12 hours
August – 11 hours
September – 8 hours
October – 6 hours
November – 5 hours
December – 4 hours
July and August for me – I go to Greek Islands for all that lovely sunshine, amongst other things of course!
That the facts – what about getting there out of the main season?
OK – so we have established that the sea temperature is lovely all year round (I can say this as a qualified scuba diver living in England!), and that the air temperature is lovely and warm May to October.
How about getting to Paxos out of season?
You can read my post all about getting to Paoxs here, but what about getting to Paxos out of season?
Getting flights to Paxos airport. Sorry – Corfu Airport.
Read more about Paxos airport in this not so serious post "Paxos airport – everything you ever need to know guaranteed!" Seriously now, Corfu International Airport is a major international airport.
Flying from Bournemouth International Airport
At the time of writing this (January 2019) to fly to Corfu right now involves stops at Alicante, Frankfurt and Athens! I did find a flight with just two stops, but you get the point – this is not peak time of year.
Flying from London
Flying from London is a tad easier out of the main season, but you still have to change in Athens. Off season flights from the UK to Paxos are therefore via Athens. I am sure that there are alternatives, but this is the conventional way of getting to Corfu.
Ferries
OK. Two/ three stops later we are at Corfu International Airport. Now how do we get to Paxos? Well this is a bit of a problem.
According to the website Paxos Greece there are three ferries from Corfu New Port to Gaios, Despina Passenger Boat (Kamelia Lines), Christa Passenger Boat (Kamelia Lines) and the Ilida II.
They do not start running until June 18th and stop running 30th September. Well the Christa runs on an extra month, stopping it's service October 31st.
So that is a bit of a problem.
Getting to Paxos outside of the main holiday season
You can get a ferry direct from Igoumenitsa to Paxos off season. You can check out the timetable here.
Where is Igoumenitsa? It is on mainland Greece – here it is on the map.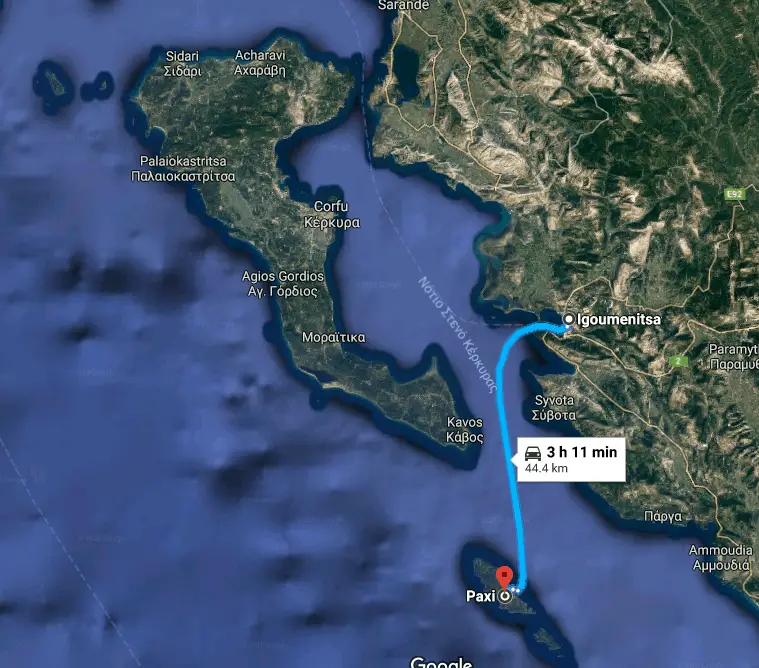 At the time of writing there is one service to Paxos departing at 11.15am. Return ferries depart Paxos back to Igoumenitsa
I have finally got to Paxos – now what?
Hotels
Most of the hotels in Paxos close down for the winter. We stopped at the lovely Hotel Bastas in Lakka. Hotel Bastas is open from 1st May to 30th September – this is typical of the tourist hotels on Paxos. If you want to stay off season your best bet is to find a hotel in Gaios, the capital of the island. The choice is rather limited though I have to say.
It will take a bit of digging around on the internet through the usual hotel booking sites.
Apartments
If you contact owners direct you might get an off-season bargain – try Owners Direct.
Restaurants
Same thing. Gaios is your best bet out of season, the smaller towns are pretty much closed down out of season and most people are on the mainland of Corfu or other places off Paxos.
Summary – when is the best time to visit Paxos?
As you will now have gathered the best time to go to Paxos is when everything is open! The main season is May to the end of September. Out of these times it is possible to stay in Paxos, but your choices of transport to get there as well as places to eat and drink will be limited.
And it can be cold, wet and windy.
But it will be very, very quiet.
It is my ambition to have an extended holiday in Paxos out of season, and I am thinking October. It is still nice and warm, even though the days are shorter, but this quiet Greek Island will be significantly quitter immediately out of season. I am thinking the first week in October maybe?
So, to get back to the original question, when is the best time to visit Paxos? Anytime between May and September – it really depends on the temperatures that you are comfortable with and what you want to do.
If you want to go walking the early months will be better, but if you want to lie in the sun all day then July and August are the best months.
Check out the video that accompanies this post
I have recorded a video titled "When Is The Best Time To Visit The Greek Island Of Paxos" which you can find on my Paxos Travel Guide You Tube channel which accompanies this post.
Want to know more about Paxos?
I hope that you have found this post helpful, informative and even a little bit entertaining! To find out more about my favourite, wonderful Greek island all you need to do is click here and I will take you straight back to the start of my Paxos blog. Nice and easy!
Oh yes, I hope that you enjoy the next post.
Rick McEvoy