So, you are thinking of going to the Greek Island of Paxos? And you want to know all about the airport at Paxos?
In this post I will tell you everything that you need to know about Paxos Airport. Once you have read this post I can guarantee that you will never need to ask a question about Paxos Airport ever again! I know – such a grand claim but one that I can make with confidence!
How do I know that?
There is no Paxos Airport. There is no airport on the Greek Island of Paxos.
That is how I know.
Forgive me but I really could not resist this post. In my research for this website I have seen a number of searches for Paxos airport. And it appears to be a legitimate search query in Google. Well hopefully you have found this web page at number one for that particular query.
So how do I get to Paxos?
Most people travelling to Paxos fly to Corfu and get a boat over to Paxos. You can read more about how to get to Paxos on my post imaginatively titled Paxos – How To Get There – This Is How We Did It On Our Own.
The fact that Paxos does not have an airport is part of its charm. To get there you have to put in a bit more effort than you do for the Greek Islands which have their own airports. This makes Paxos different in a very good way. Travelling to Paxos is more of an adventure. You have to build into your travel plans the boat trip to and from Corfu, or mainland Greece if you prefer?
Paxos is a lovely, quiet, laid back relaxing Greek Island. We found a week so relaxing there that we went back for a fortnight. And as I said the fact that there is no airport just adds to the charm and ambience.
Now that I have got that trick question out of the way I will tell you a bit more about the nearest airport, Corfu Airport.
A bit about Corfu Airport
The airport is officially called Ioannis Kapodistrias Corfu Airport. Here is a link to the official website.
It is also called CFU International Airport
Its airport code is CFU.
The airport is situated on the edge of Corfu Town, and you get a great view of the island and town as you come into land, circling round and landing right next to the lagoon right next to the runway. The airport has been in operation at this location since 1949.
You can see where the airport is on the island of Corfu on this extract from Google Maps, as well as Paxos and Anti Paxos down at the bottom. Lakka is the town with the red mark on it – this is where we stayed.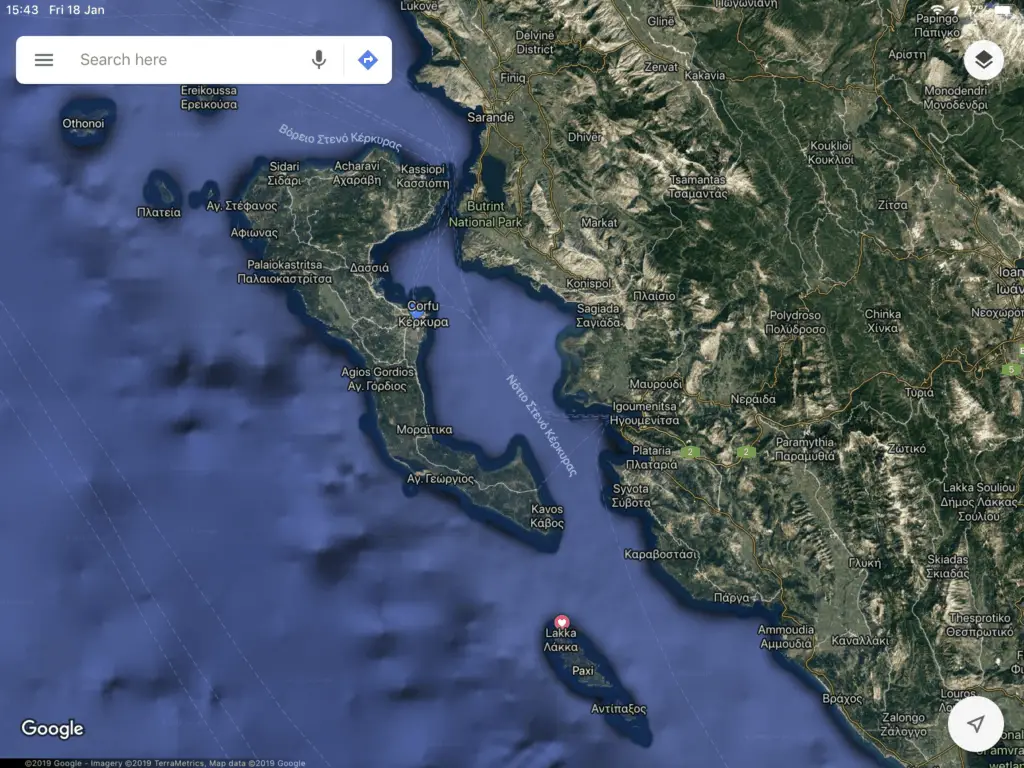 Corfu International Airport has all the things that you need in the way of shops and facilities.
You can get food in the departures lounge before going through security, and once through security there is the usual range of shops and eateries. One thing that we have noticed is that there appears to be a shortage of seating, espceially in the main food place which can be found at the end after turning right when you come out of security.
Food and drinks are reasonably priced, pretty typical for an airport. There is a decent range of shops and the usual duty free section.
It is basically a pretty well equipped if busy aiprort with everything you need for a couple of hours – just remember to bag a seat quickly if you want to sit down and keep hold of it!!
And it is dead handy for getting to the New Port where the boats to Paxos deaprt from. All you do is walk out of the airport and cross the road where you will the taxi rank with lots of taxis waiting.
The fare from Corfu Airport to Corfu New Port is a fixed fare of €15. The journey to the ferry takes 15-30 minutes depending on the time of day and of course the traffic.
Once you get to the port you will be dropped off at Sette Venti, which has a really good restaurant. We have spent a few hours there waiting for either a flight back home or for the ferry to Paxos, and have had nothing but excellent food. Like this really nice chicken gyros, which was washed down with a lovely cold beer.
Back to the airport and the awful grim reality called going home. This is what departures looks like from the outside.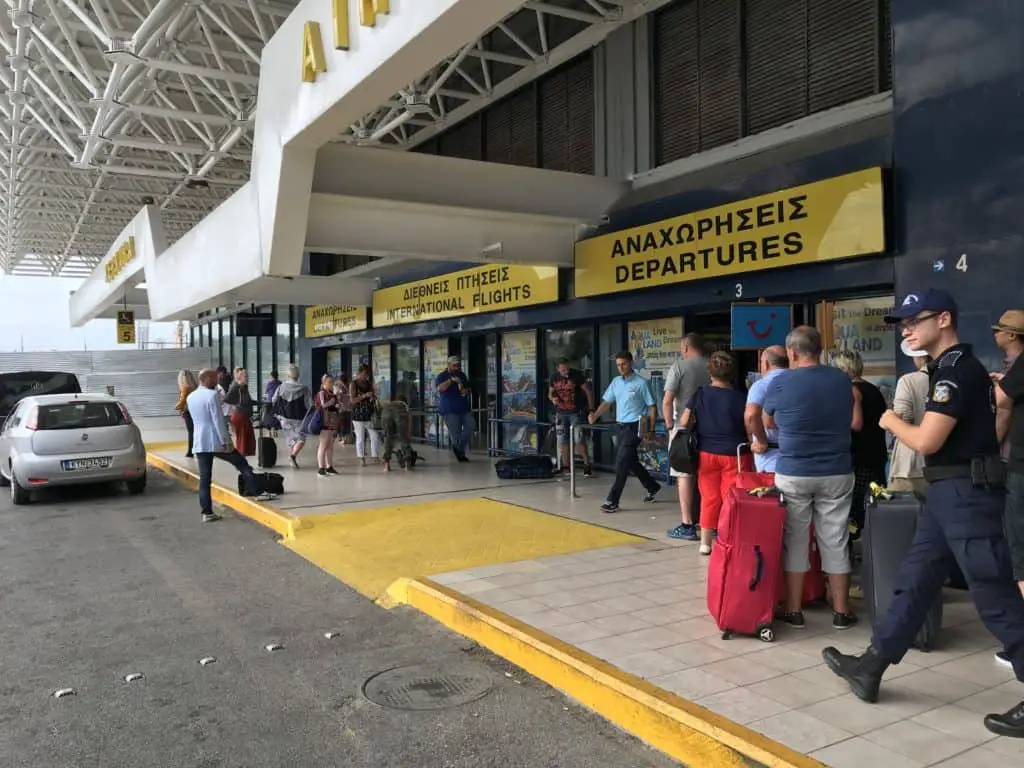 And this is what departures looks like on the inside. Yes there is a queue from check-in through to security – be prepared for a wait but it is not as bad as it looks honest!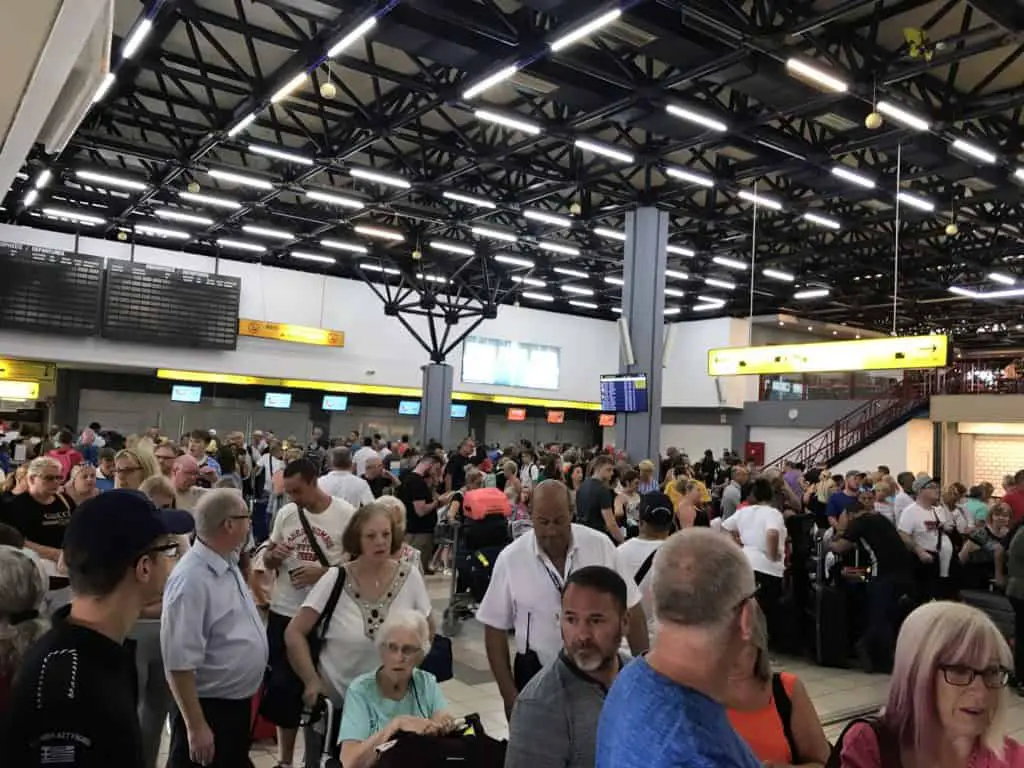 I hate going home, especially from trips to lovely places like Paxos. It is not that I do not like home – I just like being on lovely hot Greek Islands more!
OK that is enough about Paxos Airport! The next post will be a tad more informative I promise, and is titled When is the best time to visit Paxos?
OK before I go check out the video that accompanies this post
I have recorded a video called "Paxos Airport – everything you ever need to know guaranteed!" which you can find on my Paxos Travel Guide You Tube channel which accompanies this post.
Want to know more about Paxos?
I hope that you have found this post helpful, informative and even a little bit entertaining! To find out more about my favourite, wonderful Greek island all you need to do is click here and I will take you straight back to the start of my Paxos blog. Nice and easy!
Oh yes, I hope that you enjoy the next post.
Rick McEvoy