Ok. You have decided you want to go to Paxos. That's an excellent decision by the way.
So having decided on Paxos the next question is this. How to get there? Most people fly into Corfu airport and catch a ferry to Gaios, the capital of Paxos. The other way of getting to Paxos is independently by boat. I will tell you everything I know in this post.

So it's a plane to Corfu Airport, then a quick ride across Corfu town to the New Port – this is how you get to the lovely Greek Island of Paxos.
Paxos Airport
There is no airport on Paxos! That is part of the charm. You cannot fly to Paxos unless you are extremely wealthy and have your own helicopter (I would imagine – I have never checked to see if there is a helipad to be honest). Maybe next year……
No, us mere mortals have to fly to Corfu and find a boat transfer to the island.
When can I fly to Corfu?
You can fly direct to Corfu airport during the main holiday season, which is from May until late October. Outside of these times you will have to fly via Athens to Corfu. The flight time from Athens to Corfu is circa 1 hour.
Where can I fly to Corfu from?
You can fly to Corfu from many countries including
The UK and Ireland
USA
Italy
France
Germany
Mainland Greece
Other Greek Islands
And many other countries.
What is Corfu airport like?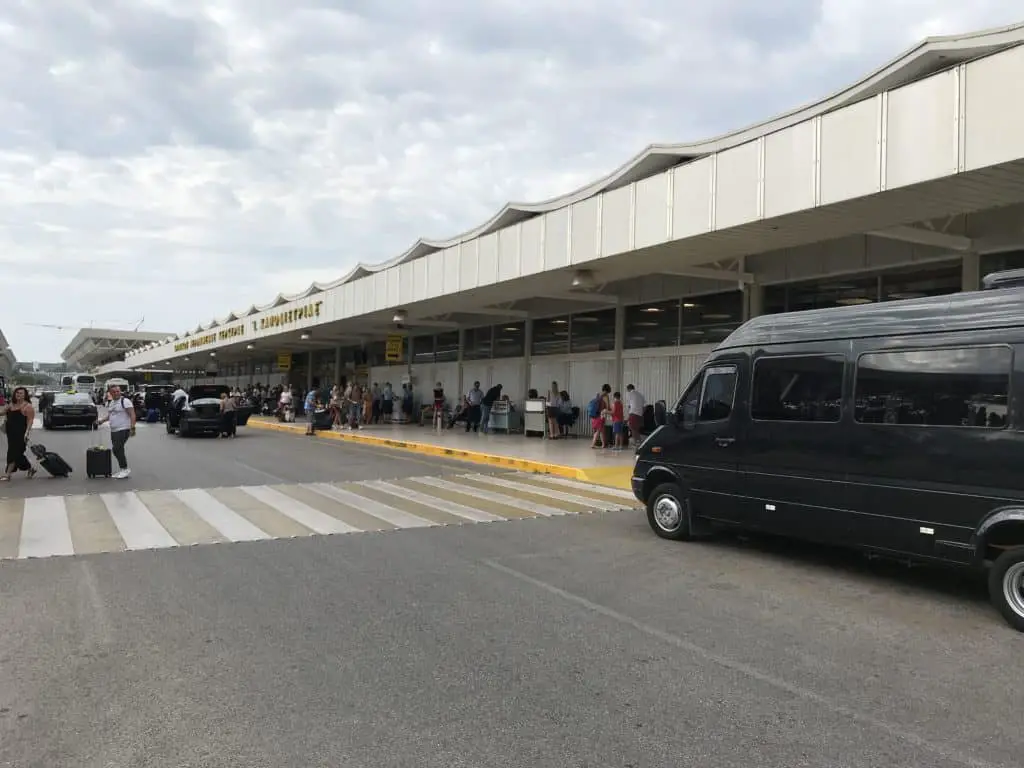 Corfu Airport is a relatively small, and rather busy airport. At peak times you might have to queue outside the departures terminal building, especially when there are multiple flights from one tour operator going out around the same time. You can get food and drinks while queuing though before going throuh security, and the wonderful world of airside.
Rather bizarrely last time we were in the queue for security I saw Cornish pasties for sale!
On arrival to Corfu from overseas passage to the terminal from the plane can be super quick, passport control is usually not a problem and your luggage can arrive surprisingly quickly – we have been out of the airport within half an hour of landing!
Corfu Airport might not be the most modern airport but I have to say I like it.
Going home the airport has very good facilities airside – the hard bit is finding somewhere to sit down! There is the usual range of shops, bars and places to grab some food. Everything you need to be honest.
And being a small airport when you are waiting in departures you are pretty much at the gates, which I love.
How do I get from Corfu airport to the New Port in Corfu Town?
Easy. Just walk out of departures, cross the road and head to your left and you will find taxis waiting at the taxi rank. The cost of a taxi from Corfu Airport to Corfu New Port is fixed at 15 Euros (2018 prices). Corfu Airport is on the outskirts of Corfu Town, with the port being on the other side of town, not too far away.
The taxi ride takes 10-20 minutes depending on the time of day and traffic.
The driver will drop you off at the roundabout outside Sette Venti, where you will find the various ticket offices, or if you already have tickets on the port side.
What is the New Port of Corfu like?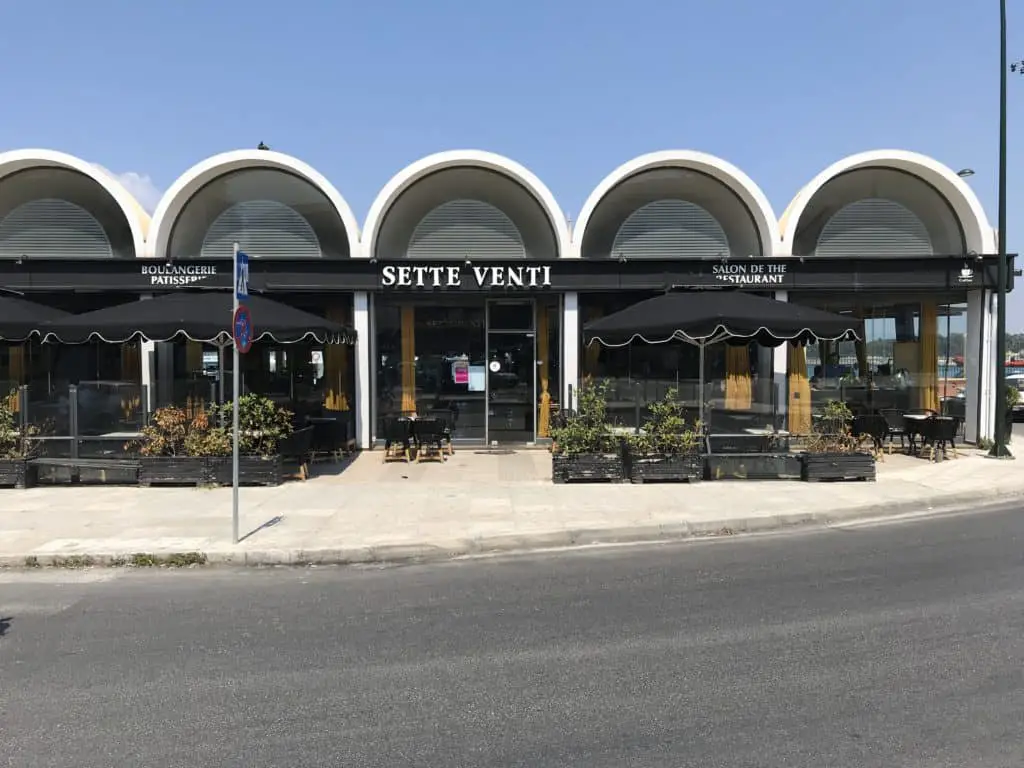 Thankfully there is a restaurant at the New Port called Sette Venti. When you get dropped off by the taxi all you need to do is find a table. You can actually walk through from the roundabout to the cafes waterside bit – you don't need to go all the way round in a taxi but it is a fixed fare so not a problem either way.
What you do next depends how long you have to wait.
You can either sit down and eat, drink and relax, which is what we have done in the past. And guess what – the food is excellent! Really good quality and value.
If you have longer to wait you can leave your luggage at the port (there is a left luggage desk inside the concourse where you get to the restaurant) and then head off to the lovely old town of Corfu. And it really is a lovely town. If I had a couple of hours to kill I would head straight to the cricket ground and Liston for a lovely relax and a drink.
Ferries from Corfu to Paxos
The conventional way of getting to Paxos is on a ferry from Corfu. There are three ferries that run,
The ferries from Corfu all arrive at the New Port in Gaios, which is the capital of Paxos and the main town on the island. Booking is recommended, as the ferries do get full, especially in the high season.
The crossing takes about an hour – check out which boat you have booked as this will determine if you are going to get an early blast of sunshine on the hour crossing or if you will be inside. I always prefer being sat out in the sunshine, but that is more of a day trip thing!
The crossing is nice, and you get views of mainland Greece on one side and the island of Corfu on the other.
I nearly forgot to say – you get great views of Corfu Town from any of the ferries to Paxos. And this is what a it looks like from the back of Ilida 2!
You can also get ferries from the following ports on mainland Greece.
Igoumenitsa
Parga
Perdika
Where do ferries arrive on Paxos?
Ferries arrive at the New Port in Gaios. The New Port in Gaios is at the entrance to the channel, and about a 15 minute walk along a good level waterside path into the centre of Gaios.
The New Port is in effect a concrete structure that boats pull up alongside.
Travelling onwards from the port
I strongly advise that you pre-book a transfer to your onward destination. If you are stopping in Gaios itself then you will be fine walking along the waterfront – the path is level, flat and smooth so no problems wheeling luggage.
We have always booked our transfers – last time Babis from Hotel Bastas was there to greet us and get us over to the hotel in no time at all.
You can pre-book a taxi, or just turn up and phone for a taxi – there are five taxis on the island, and there numbers are as follows.
Haris +30 697 4135660 Gaios/Loggos
Haris (alternate) +30 697 3795813 Gaios/Loggos
Tasos +30 697 6648486 Gaios/Loggos
Christos +30 697 7472747 Gaios/Loggos
Costas +30 697 4002236 Lakka
Vasilis +30 697 6121923 Lakka
Can I get to Paxos from Parga?
Parga is on mainland Greece, and is about an hour away. There are no ferries from Parga to Paxos – all you could do is catch a day trip from Parga to Paxos and not come back! Obviously you would have to tell the captain, and you would of course have to make your own arrangements for onward travel.
So basically you get to Paxos from Corfu.
Unless you have a boat! Talking of which….
Sailing to Paxos independently
If you are sailing to Paxos you will find the months of July and August particularly busy. Outside of these times anchorages are much less busy. The main locations of anchorages on the island are in
Gaios
Loggos
Lakka
Mongonissi
And of course Anti-Paxos
But sailing to and from Paxos is another story for another time.
Check out the video that accompanies this post
I have recorded a video titled "How To Get To The Greek Island Of Paxos Independently – find out in this video where I tell you" – which you can find on my Paxos Travel Guide You Tube channel which accompanies this post.
Want to know more about Paxos?
I hope that you have found this helpful. If you would like to find out more about Paxos then please head over to my home page where I go through all the pages on this site with links so you can straight get to the stuff you want to.
Summary
You get to Paxos by boat. And this is part of the charm of Paxos – there is no airport. And when you get there all you need to do is phone a taxi, and one of the five cars will pick you up as soon as they can – how cool is that?
I hope that this post has given you the basic information you need know to help you get to the wonderful Greek Island of Paxos – please get in touch via the comments box with any questions you may have.
Want to know more about Paxos?
I hope that you have found this post helpful, informative and even a little bit entertaining! To find out more about my favourite, wonderful Greek island all you need to do is click here and I will take you straight back to the start of my Paxos blog. Nice and easy!
Oh yes, I hope that you enjoy the next post.
Rick McEvoy