Paxos might well be a very small Greek Island but there are lots of things to do.
In this post I will tell you about 15 free things for you to do in Paxos Greece. Most of these things I have done myself, and the ones that I have not done I cannot wait to get back to Paxos to enjoy. And all of these wonderful things to do on Paxos are completely free, and all very enjoyable too.
I hope that you enjoy this post and that my ideas help you to enjoy your holiday on the wonderful Greek Island of Paxos just a little bit more.
1 – Visit the magnificent Tripitos Arch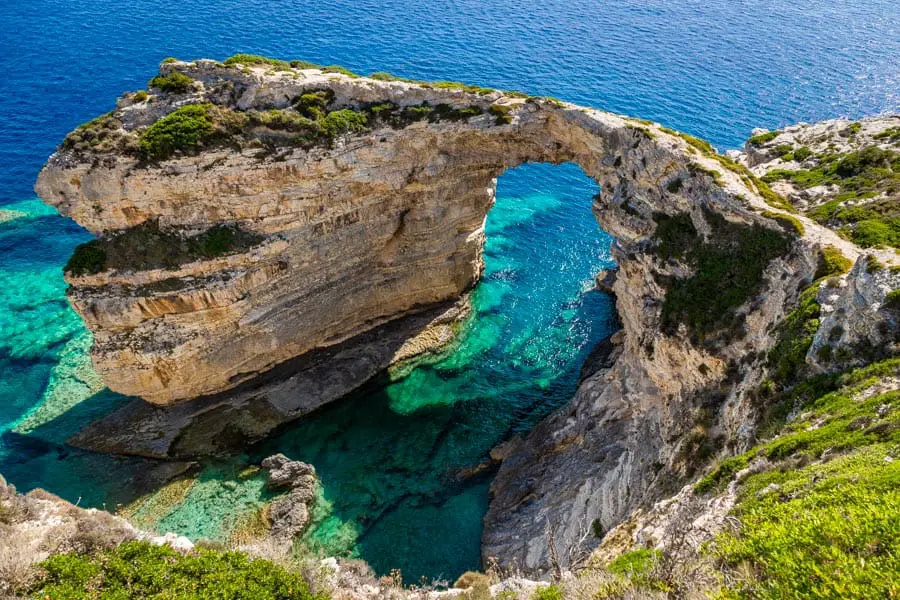 The Tripitos Arch is a magnificent natural structure which can be accessed for free on foot. The arch is a collapsed sea cave and can be found on the southern coast of Paxos.
There is a bit of a walk down to this magnificent, vibrant colourful arch but the effort is well worth it. I will never forget walking down the path to the arch and it appearing right in front of me.
There is nowhere to pay for entry, you put in the effort to get there yourself and are duly rewarded.
The views from the hills above the arch are breath-taking, with that crystal-clear blue water surrounding the base of the structure. And you can see the even smaller Greek Island Antipaxos off to the south, with boats going to and fro. If you want to know more about Antipaxos check out my post imaginatively titled Antipaxos Greece – Everything You Need To Know.
You can walk all the way down to the Tripitos Arch, and all the way over it, but please be careful.
I spent a good afternoon at the Tripitos Arch, taking in the views and exploring the rocky coastline. Just make sure you take plenty of water.
I enjoyed the Tripitos Arch so much I wrote a separate blog post all about it called Tripitos Arch Paxos – My Number 1 Thing To Do On Paxos which tells you everything you need to know.
One thing – don't rely on our phone to get there – the signal drops before you get to the critical turning where you take the path down to the coast!
2 – Visit the Lessianitis Windmill in Tranakatika
After the Tripitos Arch it is a quick walk through the countryside to the derelict Lessianitis Windmill.
Now granted this is not the most interesting derelict windmill that you will see, but there is lots to see along the way and when you get to the windmill you are high up on the island and can see the sea on both sides, which I had never done before.
Here is the derelict windmill.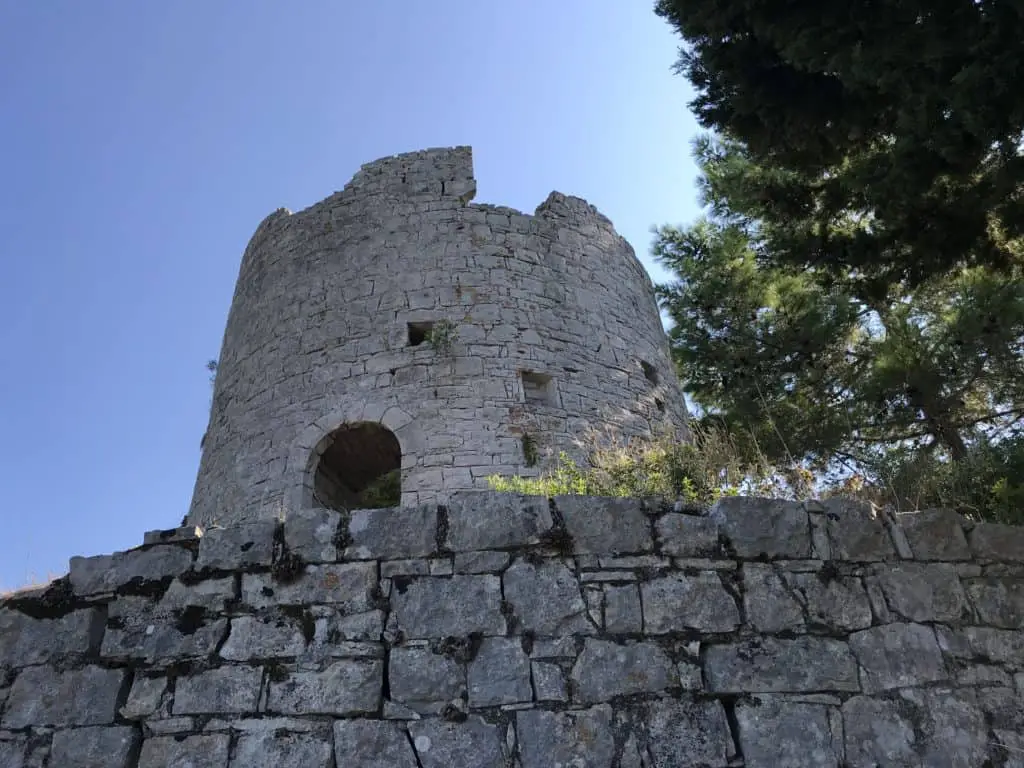 And it does get hot when you are out of the breeze believe me – I did not take enough water really for the amount of exploring that I ended up doing!
3 – Walk along the waterfront of Gaios
So much to see here. From anywhere in Gaios the waterfront is easy to reach. You can walk from one end to the other on a nice wide level path.
I like to walk up to the new port at the end of the channel, looking at all the boats along the way. This should be easily recognisable as this is where you get off one of the various ferries to Paxos on arrival at the island.
Many people get off their boat and are shuttled off to their hotels without experiencing this wonderful walk.
From the port you just follow the path as far as you want to. If you are not in a rush, which let's be honest on Paxos you should not be, then this can take a couple of hours, popping into various shops, bars and restaurants along the way.
I know this bit costs money but the walk itself is free.
You walk past the main square in Gaios, where the ever so small and lovely Church Analipsi can be found. Just off here is one of our favourite lunchtime spots where they do excellent chicken gyros by the way.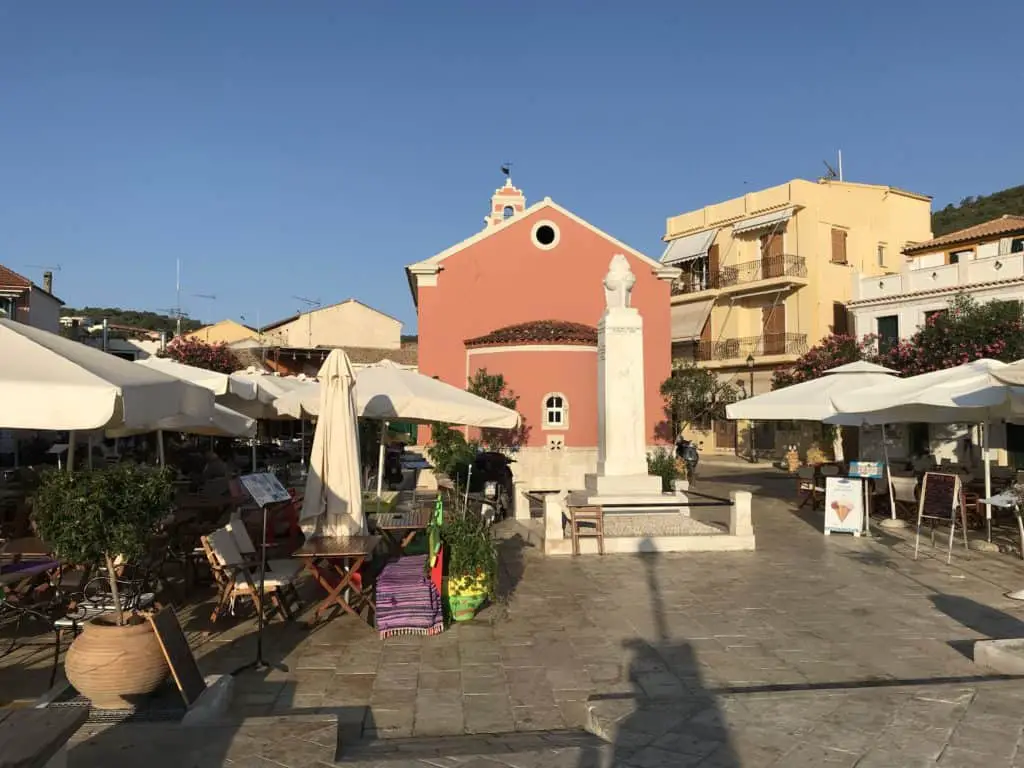 Keep walking and you will see the boats that take you on a day trip to Antipaxos, the other way of getting to this even smaller Greek Island. That is the other way rather than hiring a boat and taking yourself there, which you can read about in another post I have written titled Paxos Boat Hire – Do Your Own Trip From Paxos To Antipaxos https://paxostravelguide.com/paxos-boat-hire/
If you keep walking you will end up at the magnificent Statue of George Anemogiannis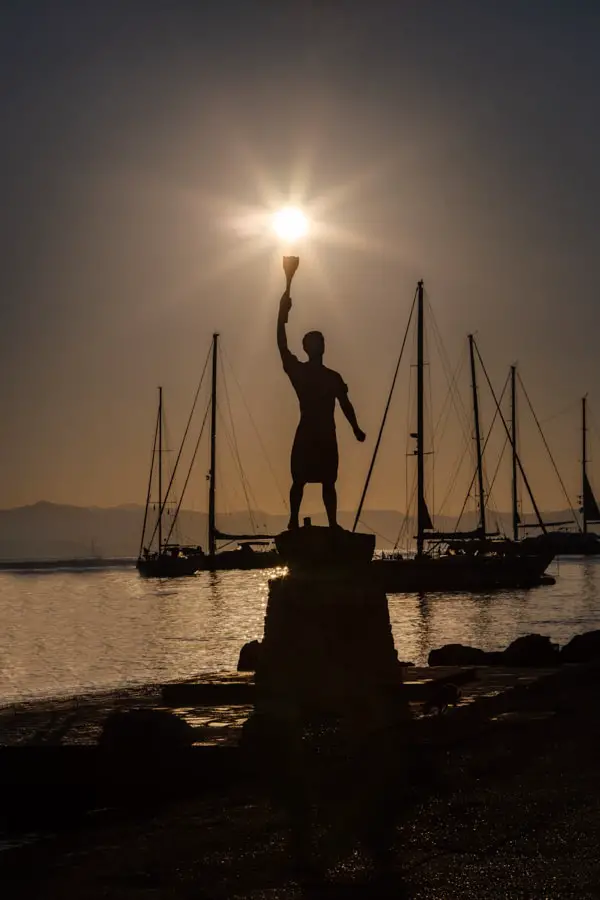 This bronze statue was created in 1966. George was a Greek sailor born in Paxos who fought for the cause in the Greek War of Independence. He was captured in Nafpaktos at the frightfully young age of 23 during an attack on the Ottoman navy and was duly executed.
And here is the plaque under the statue.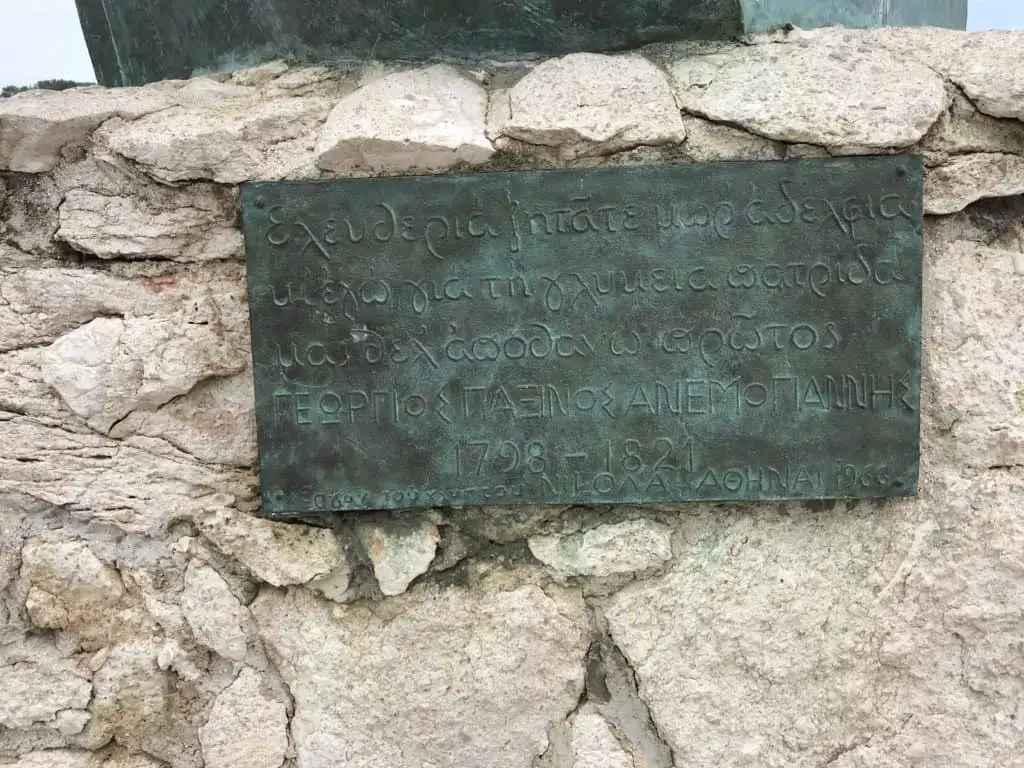 I took the photo of the statue after a sunrise shoot. What you will not know is that there was a person to the left of the monument who just would not move out of the way. It was obvious that I was taking photos, but they seemed determined to stay in shot so in the end I took this photo and removed them in Photoshop!
If you keep walking after the statue you go past one of the smallest beaches you could wish to see. Normally at this point though people head back into the town of Gaios to explore the side streets, shops and bars.
4 – Enjoy the sunrise in Loggos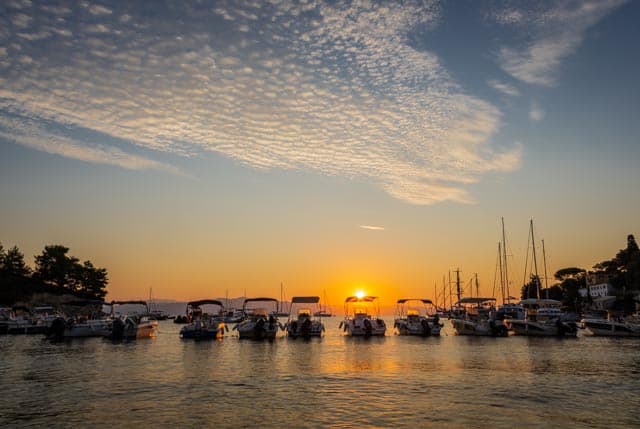 Probably one of my favourite sunrise locations. This is one of my sunrise photos of Loggos.
The beauty of sunrises on Paxos is that they are nice and early, and relatively quick, so you can catch a stunning sunset and get back to bed all warmed and comforted by the daily natural miracle that is sunrise.
Obviously you need to be on the west coast to get the best of a sunrise, which thankfully Loggos is.
I am a photographer, so I get there early and stay long after the sun has risen making the best of that wonderful morning light.
This photo was taken from the beach right in front of the bus stop. Apart from a couple watching the sunrise from the balcony it was just me out there taking photos, which I love.
In this photo I am looking towards mainland Greece, with the boats giving the foreground interest, with the sun breaking above one of the boats. I love the colours of the sunrise reflected in the calm morning waters.
Check out my photography gear page where I list all my photography gear – if you are interested in photography that is!
5 – Taking in the sunrise in Gaios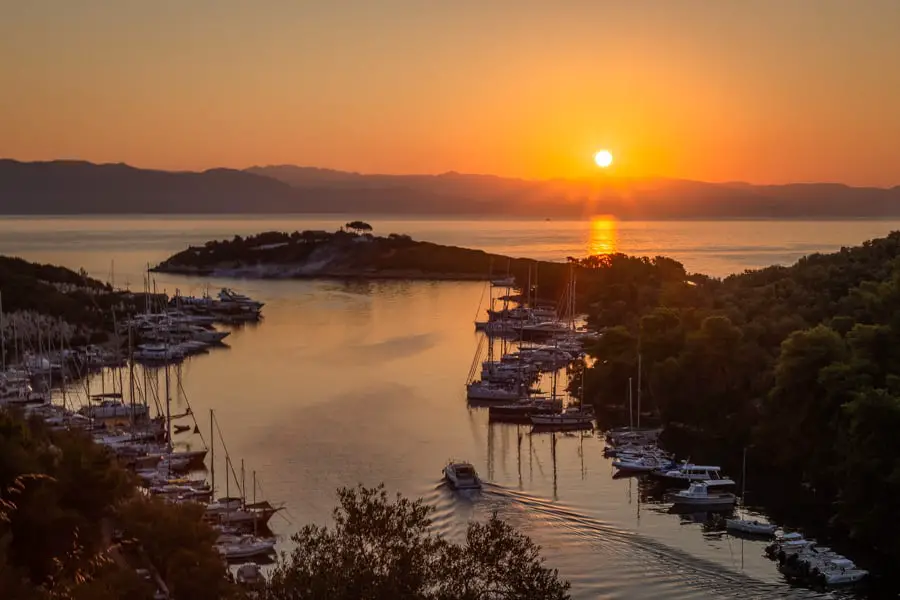 OK. Another sunrise. But you are on holiday – why would you want to get up at stupid 'o'clock in the morning?
Well it might just be me, but I love watching the sunrise in the morning. Check out this photo, looking down on Gaios and the main channel. Gaios is just down the coat from Loggos on the east coast of Paxos, so the sun is rising over mainland Greece which is circa 10 miles away.
In this photo of mainland Greece my camera was pointing in the rough direction of Sarakiniko, with Parga not far down the coast (to the right).
You can read about my exploits whilst out and about taking my sunrise photos on other blog posts, including this one describing taking this photo Did we discover Paxos Greece? Yes, but now it's time to go!
This is another one of those picture postcard locations, and to be honest it is dead easy to get to. You drive down towards the port and just before you get to the port itself you turn off to the right, drive up the hill and pull in a t the first parking bays on your left.
This is where I took this photo from, accompanied by two chaps talking loudly and smoking, somewhat affecting the ambience!!
This parking bay is one of the best sunrise spots in Paxos would you believe!
And this photo I took just up the road from that sunrise shoot – the lovely morning light caught my eye.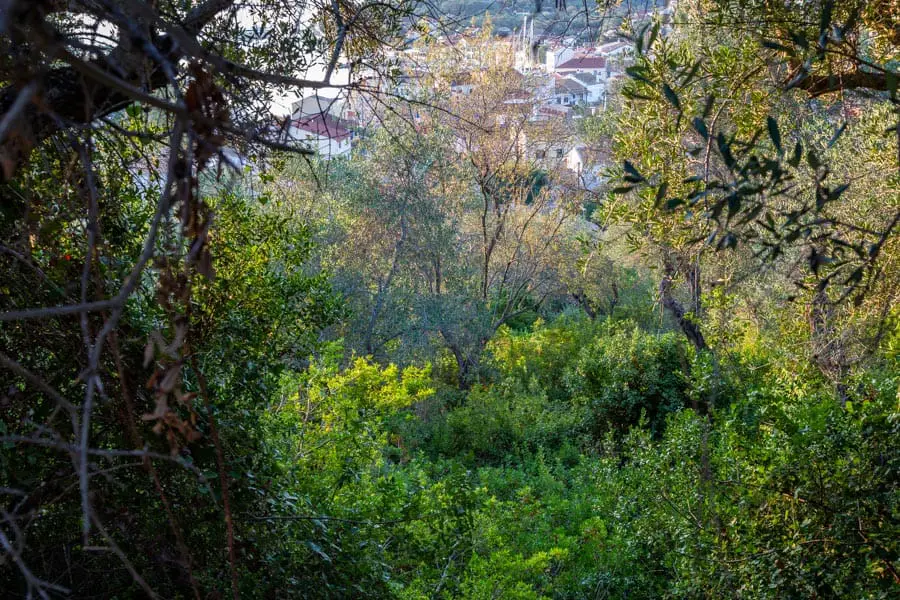 And this is me treating myself to a lovely morning coffee in the square in Gaios.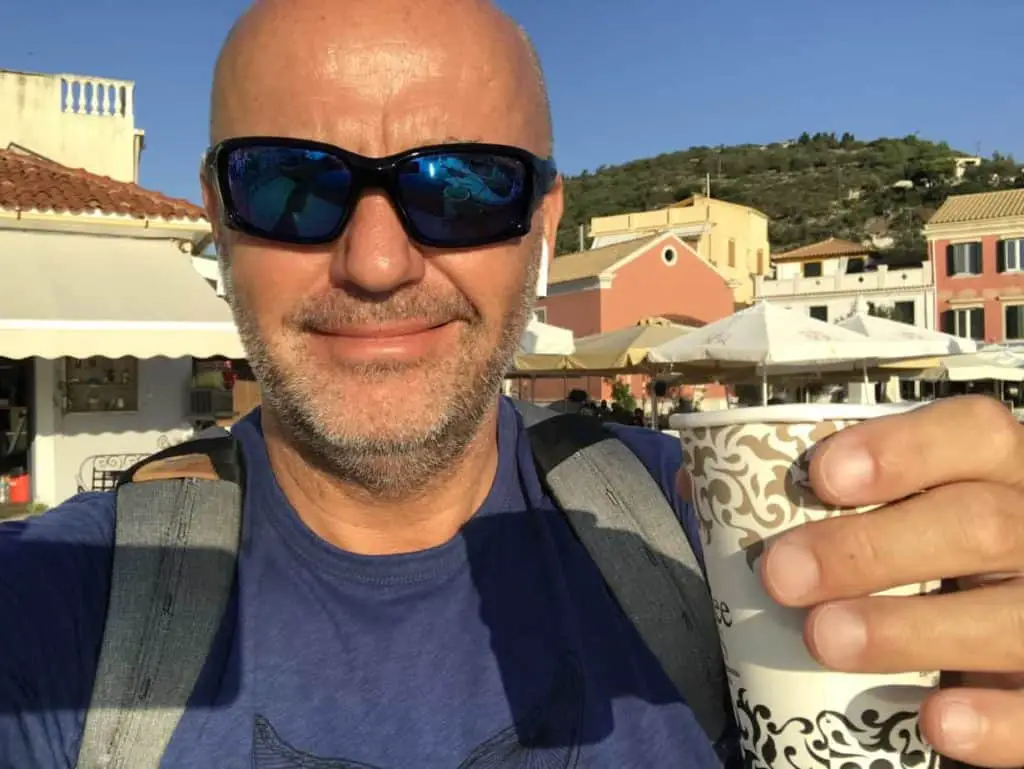 6 – Explore the hills around harbour of Lakka
This was one of my favourite things to do. I like a few days of switching off and doing nothing, and then I get itchy feet. I need to get out and explore.
Thankfully these days I am well prepared for clambering about all over the place, taking proper walking shoes and having a backpack for my camera gear with side pockets for lots of water.
So I am ready to explore.
You need to get up into the hills around Lakka if you want to really appreciate those picture postcard brochure shots of the wonderful village on the northern tip of Paxos.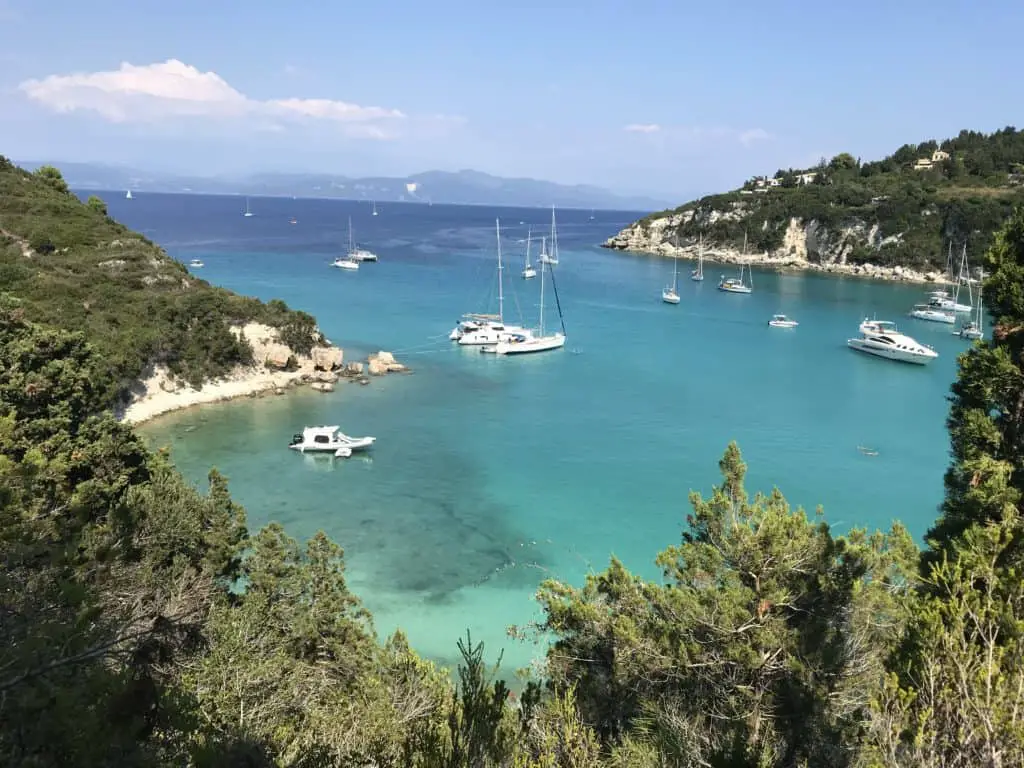 From these hills you can see not only mainland Greece but also the foot of Corfu, 8 miles to the north.
There are various paths around the hills of Lakka, and I think I found most of them, if not all. To the west the path takes you up and over to the harbour entrance, passing a secret beach with no name along the way.
There are ruins of a church, Church Agiou Thoma nestled in the midst of all the greenery.
But for me it is the views of Lakka Harbour that make this walk to the west, the lovely aquamarine blue water and all those shiny white boats illuminated by the bright Greek sunshine with a backdrop of greenery on the hills around.
Just stunning.
And if you take the paths to the east you obviously get the opposite view, but his path takes you around the edge of the island an onto the east coast.
Following a recce one day I came across a sunrise location which would provide complete isolation being on the coast in quite literally the middle of nowhere.
Well that is what I thought.
Imagine my surprise when two Greek gentlemen, older than me, appeared, happily shouted kaliméra then stripped off and jumped into the sea for some early morning skinny dipping!
Still the photos I got were pretty good. And I would not have found all these places if I had not got off my backside and got out there exploring!
And on another day I found another path down to a beach which is not even on the map!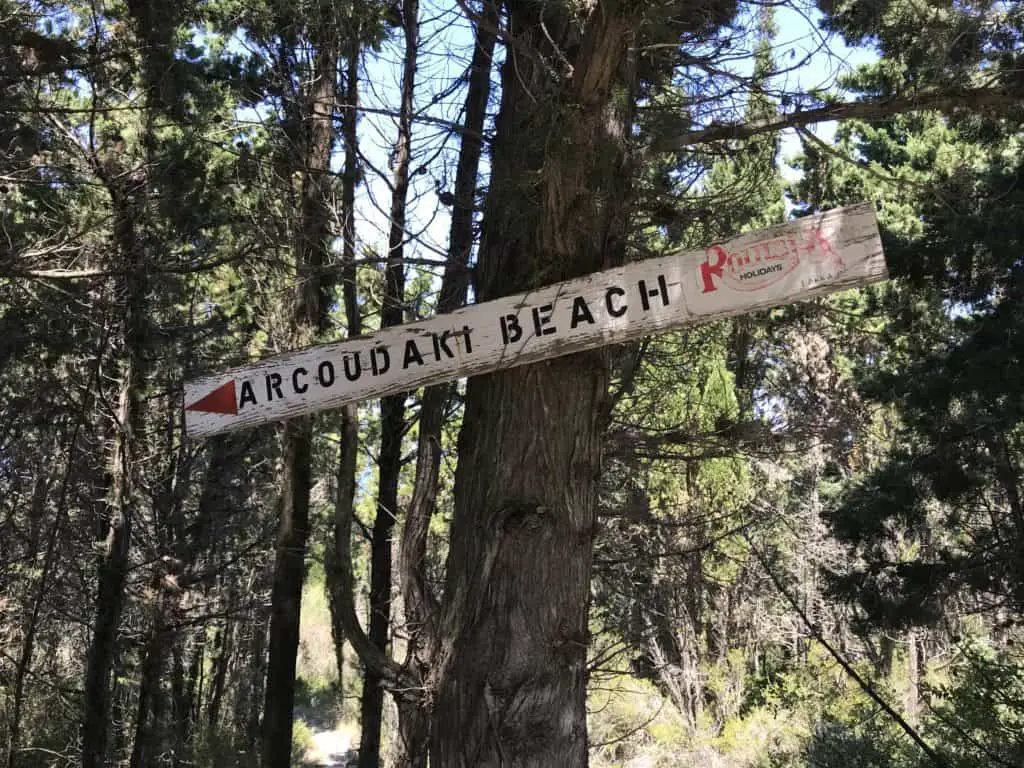 Check out the video I took on this path – another day when I went out in the August Greek heat without any water at all!
Seriously I love exploring the lesser known parts of the Greek Islands – I get to places that others have never heard of let alone been to.
7 – Explore the middle of the island on foot
Talking of which, there is the middle of the island to explore. The bit that everyone else travels through on a bus or in a car without stopping to have a good old look.
Paxos is roughly 6 miles long, and less than 2.5 miles wide at its widest part, so getting into the middle of the island is not hard. Just walk down the main road running down the island from Lakka to Gaios and onwards to Mongonissi, and take a side road, or a path, and just explore. I love doing this with no plan, but lots of water and some decent snacks!
You can drive from Lakka at the top end of the island through Gaios and down to Mongonissi in less than half an hour.
So exploring the middle bit of the island is dead easy. I was fortunate enough to have a car, but you can easily explore the middle of the island on foot. There are lots on interesting things to find, including endless amounts of olive groves right by the side of the road.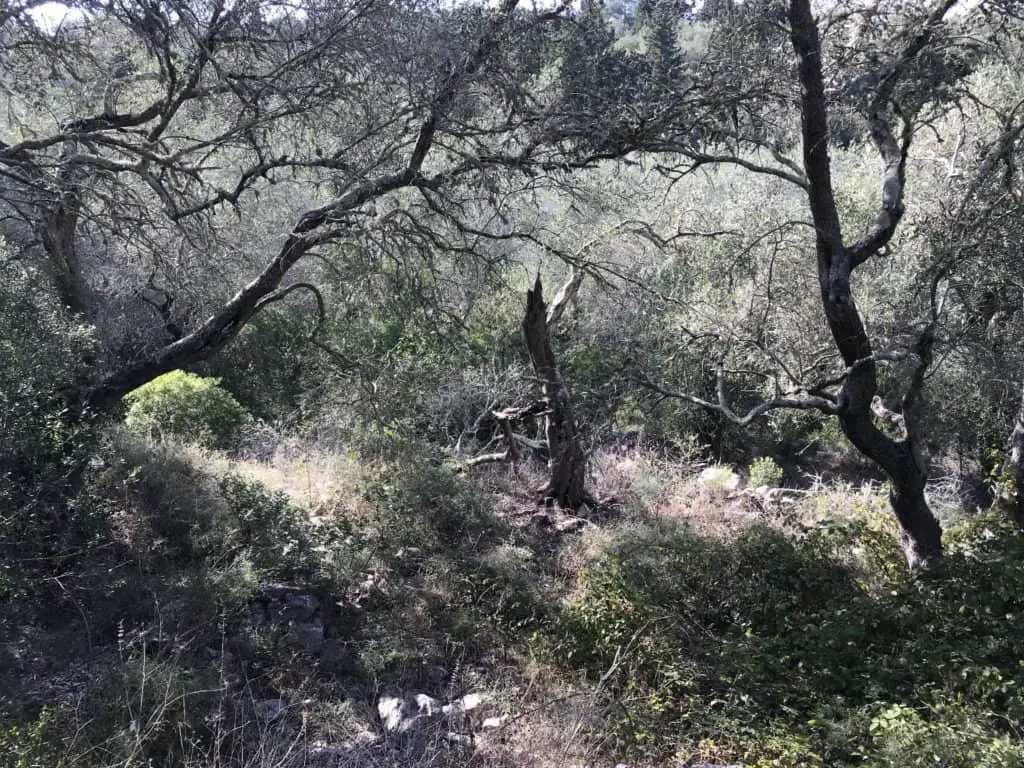 I would have never found this by using Trip Advisor or a book!
Getting out there and finding things for myself gets me to all sorts of interesting places.
8 – Explore the beaches of Paxos
I have written a separate post titled Paxos Beaches where I list, well all the beaches on Paxos.
So if you want to know more about the beaches of Paxos please check out this comprehensive post. I will mention a couple of beaches that we have been to though in this post.
Here is a photo of Lakka Beach though.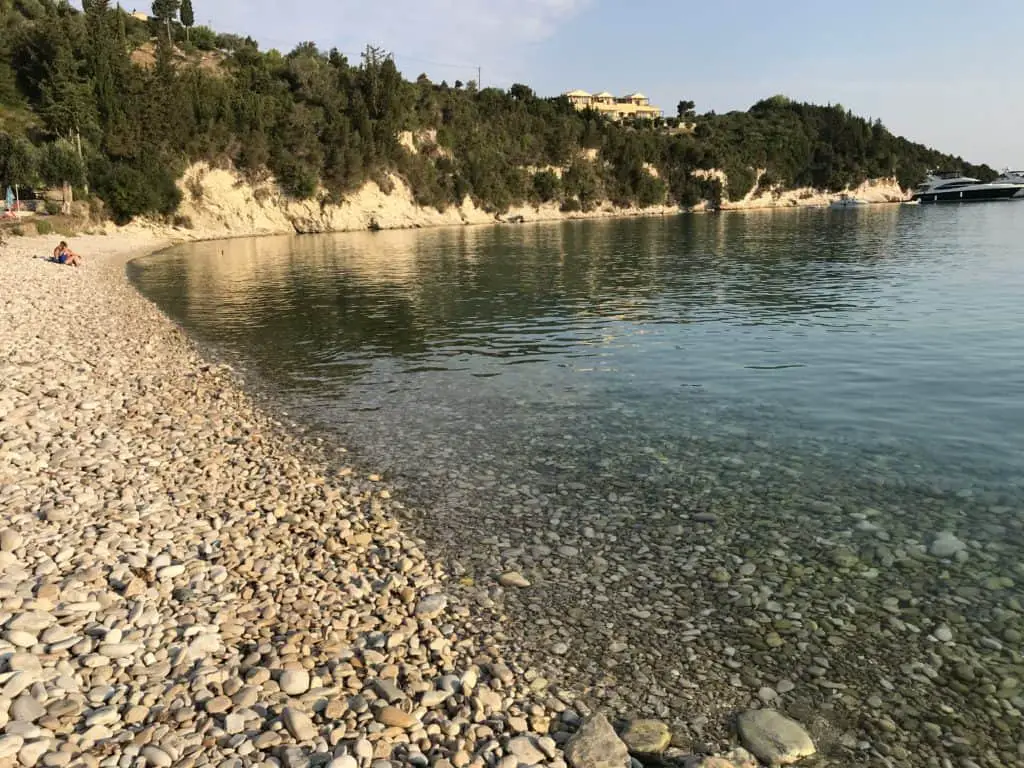 9 – Orkos Beach
Not far from Lakka is a lovely beach called Orkos Beach. It is a long walk down to this beach to be fair, but don't let this put you off making the trek.
I was walking down there in my proper walking shoes behind a family with a small child happily navigating the path and vegetation wearing flip flops and carrying a large inflatable on her back.
And then an octogenarian couple passed coming back up the hill away from the beach.
So whilst the paths are a bit challenging they are perfectly manageable, including the path down to Orkos Beach.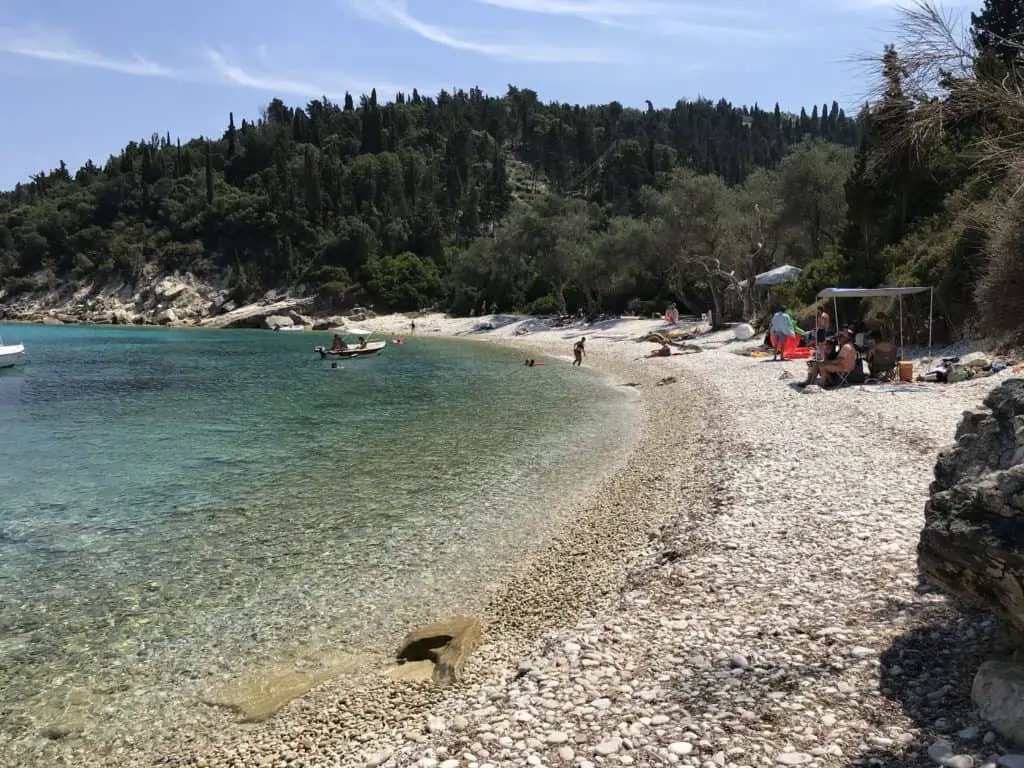 When you get there you will find a house on the beach which is owned by a famous former footballer called Bruno. The house looks more like a restaurant than a house, and when I was on Orkos Beach there were so many people inside the grounds of the house that I thought I could just walk in for a drink!
There is a sign that says Private House on the open gate.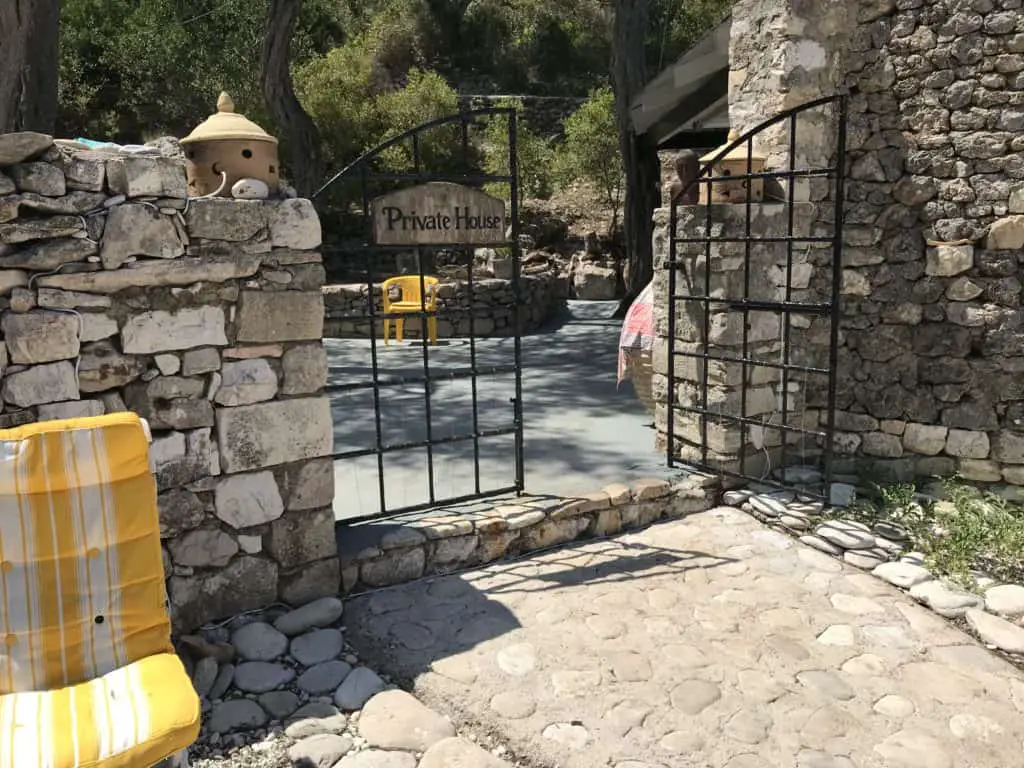 All very confusing.
The beach is pebbly with no facilities at all. When I was there I was accompanied by what looked and sounded like the cast from a Hugh Grant film!
But the beach is lovely, and the sea is perfectly lovely and clear.
Here are some photos taken on my iPhone.
10 – Manadentri Beach
Apologies for another beach near Lakka but let's not forget that the island is tiny, so it is easy to get around.
We stopped at the Hotel Bastas. The hotel run a free shuttle bus to this beach every morning at 10am, returning at 5pm which is very nice of them.
When you get there you have to walk through a bar to get to the beach. Once you have made it through the bar without spending any money you are on a lovely pebbly beach.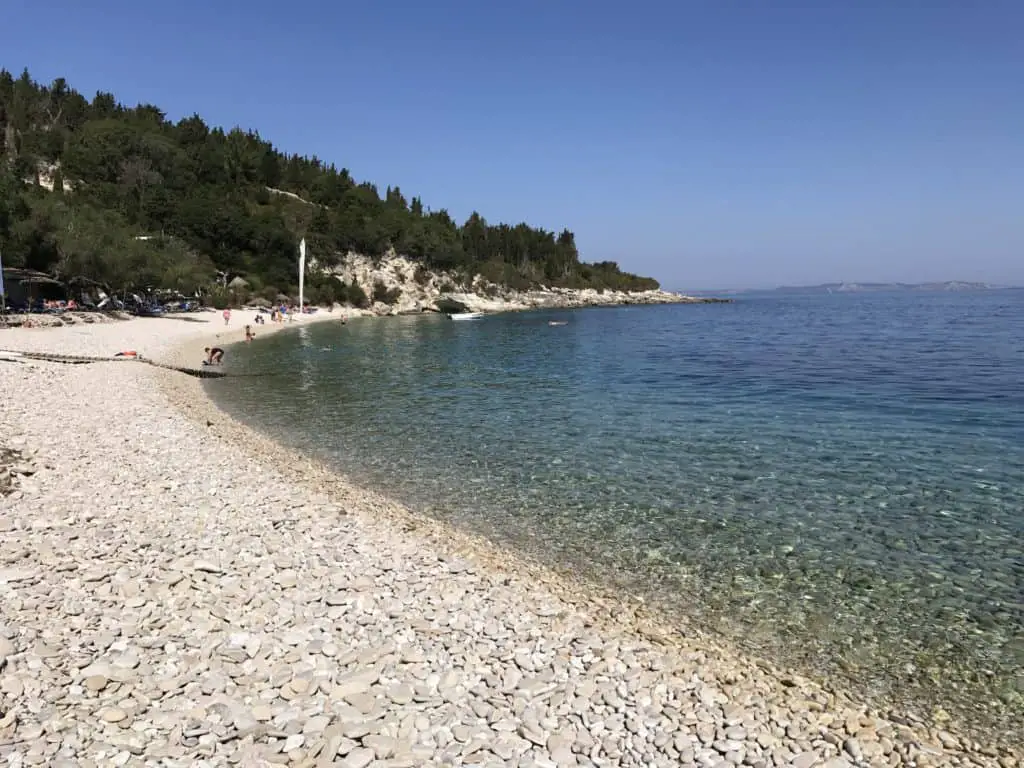 To use the facilities at the beach bar you do have to buy something, and quote right too.
The water is lovely, and here is a top tip if you like snorkelling.
As you are looking out to sea from the beach, enter the water on the right-hand side, and swim around the headland to the next beach, which is deserted. And on the way you might see some stunning boats moored in the bay of this isolated paradise.
And there are some rocks just below the surface of the water which form an excellent base for some nice snorkelling diving my style. I only wear a pair of swimming goggles when I am snorkelling – I can't be doing with a mask and snorkel.
11 – Sunset at Eremitis Bay
To view the sunrise you need to be on the east coast. And to view the sunset you have to be on the west coast.
Disclaimer – I have not seen the sun set at Erimitis Bay, but I am told that it is spectacular.
I tend to like a drink at sunset when on holiday, and as I never drink and drive sunsets have to be viewed from a bar, which in our case was the Romantica Bar in Lakka.
This is why I am a sunrise person; I am a sociable chap and spend the evening with M, my gorgeous other half.
Sunset at Eremitis Bay is apparently well worth checking out, other who have been there have told me, and we will definitely do this next time we are back on Paxos.
12 – Explore the goat tracks
You will find abandoned villages and all sorts of interesting stuff by getting off the beaten track and exploring the old goat tracks.
I recommend getting a good old-fashioned map, especially if you are going to venture towards the coast, as whilst there is an excellent phone signal on much of the island the drop offs in signal are unannounced and quite dramatic!
Like at the Tripitos Arch, which I was navigating my way to using Google Maps on my phone. Until the signal went. And yes I got lost.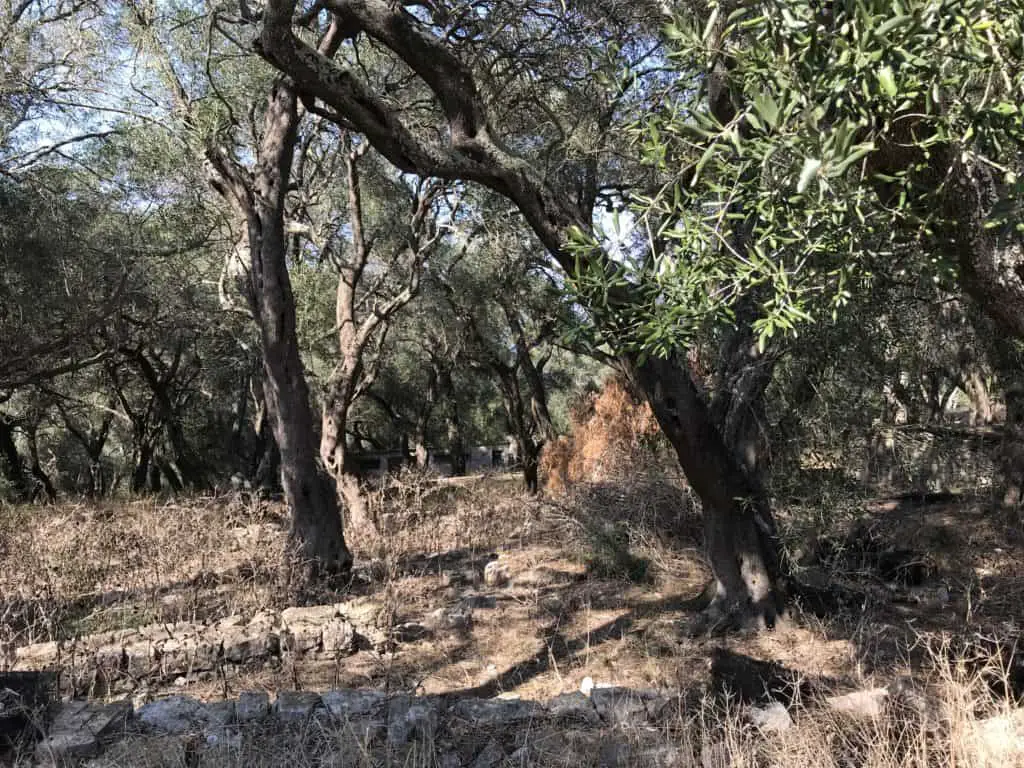 So get a map, some good walking shoes, a camera and lots of water and get out there!!
And here is another thing that I do. After visiting a popular site like the Tripitos Arch I will explore the area around, as you never know what you will stumble on. Don't just go for the main event, look at the bits around the edges too!
13 – Paxos Churches and Chapels
There are many lovely churches and chapels on Paxos. Lots of them are very small, and lots of them are very hidden. You have to get off the beaten track to find them.
Most of the population of Paxos are Greek Orthodox, founded by Constantine the Great in the 4th century. The churches are not that old (i.e. not 4th century), with most dating back to Venetian times.
There are two ancient ruins, Agios Stefanos and Agia Marina which are believed to date back to the 6th century AD.
Some of the churches you will find have been built by families as a thank you to God for his/ her protection.
The chapels are whitewashed buildings which are only opened on the day in the year of the saint to whom the chapel is dedicated.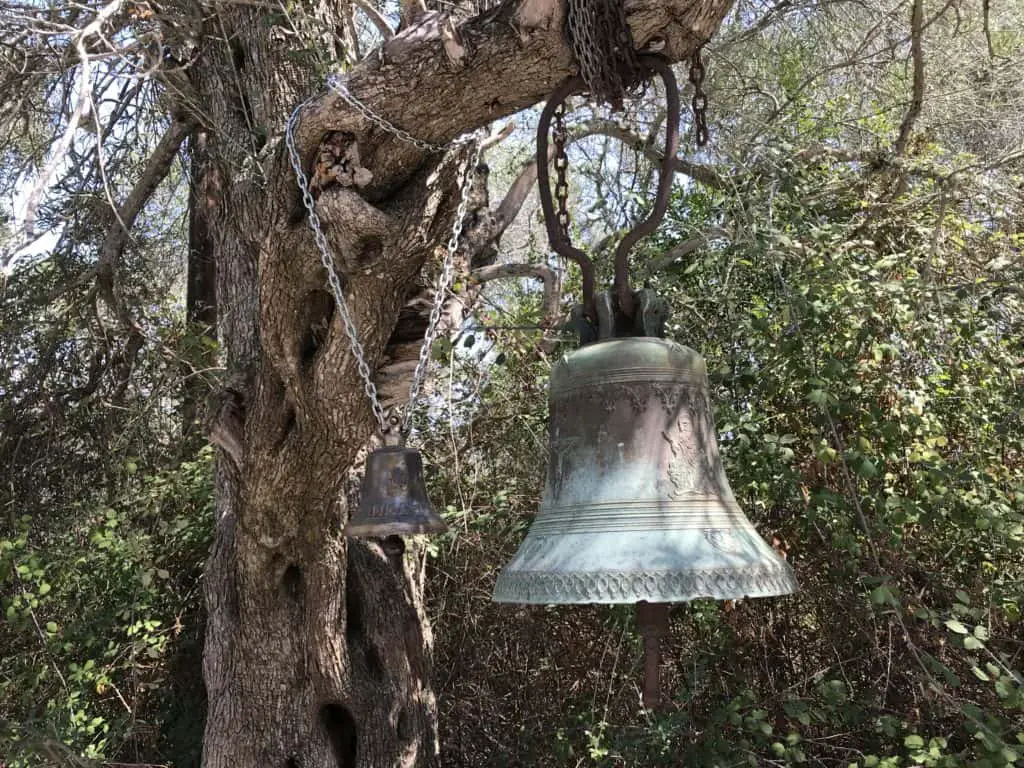 14 – Paxos Music Festival
The Paxos Music Festival provides a variety musical and artistic events. The festival is mainly funded by charity, donations and sponsors from both Greece and overseas.
The first festival was held in 1986 in the garden of a long-standing Paxos resident, John Gough. The music festival has grown year on year since its inception and is now an annual event attracting people from overseas to the island.
The 2019 programme starts on 26th June with an Oboe and piano concert.
You can find out all about the Paxos Music Festival on the website http://paxosfestival.com/
15 – Just relax and enjoy the atmosphere
Paxos is a relaxing place. I found the feeling and the vibe of Paxos to be incredibly relaxing. If you are after a Club 18-30 experience then this is not the place for you I can assure you.
There are many ways to relax on Paxos. I found that I could very quickly get to places on the coast where there were no people whatsoever, naked swimmers aside that is!
And I find the sea very relaxing. Being so small you are never more than a mile (ish) from the sea which is wonderful. And you are never far from complete silence either.
Lakka and Loggos have a lovely laid-back feel to them – obviously Gaios being bigger is busier.
Even Gaios has its quiet times though. When the boats arrive there are mass movements of excited tourists, so if you like peace and quiet these are easy enough to avoid.
I love the early mornings and have walked along the front in Gaios completely on my own.
And then there are the boats. Seriously, I find watching boats very relaxing. I can sit for a surprisingly long-time watching boats. Best places to watch boats are Gaios and Lakka, where you will find a steady movement of boats in and out.
And then there is another of my favourite things. I like to plonk myself on the beach and just vacantly stare out to sea, listening to those gentle waves lapping on the shore.
And the pool at Hotel Bastas is a place we have spent days and days just relaxing.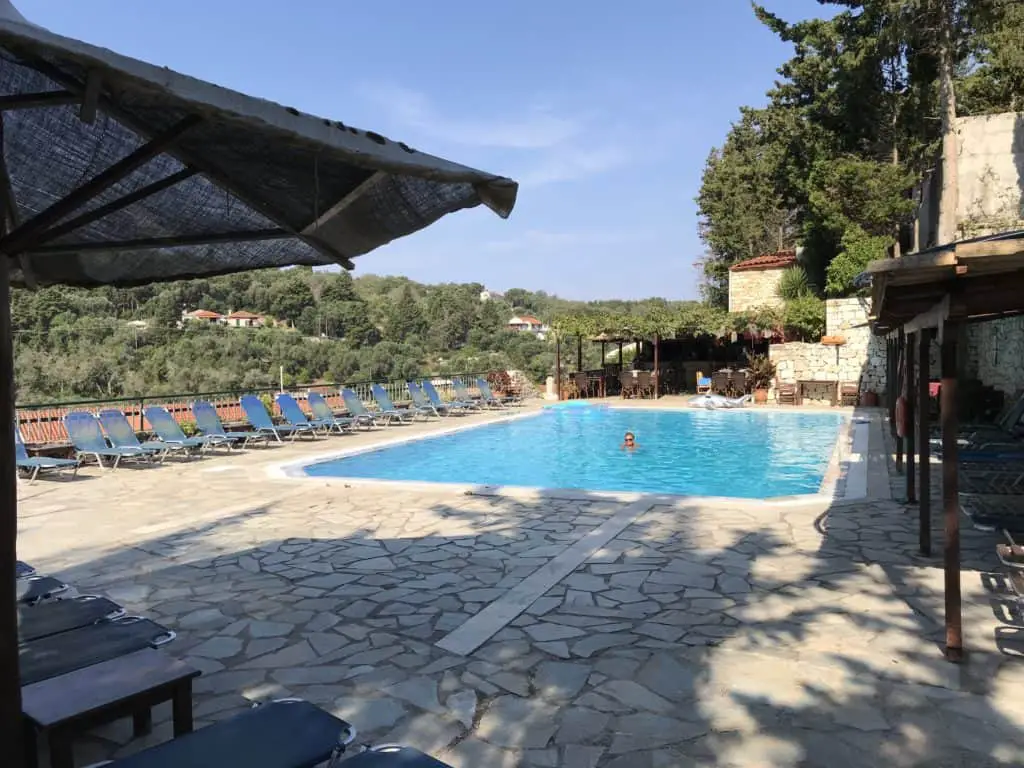 Summary
I hope that you have found this post interesting, and that you will embrace my free things to do on Paxos and enjoy them for yourself.
Please check out the other posts on my website which tell you everything I know about this wonderful Greek Island.
A good place to start is my post simply titled What Is Paxos Like – Simply A Stunning Greek Island
Want to know more about Paxos?
I hope that you have found this post helpful, informative and even a little bit entertaining! To find out more about my favourite, wonderful Greek island all you need to do is click here and I will take you straight back to the start of my Paxos blog. Nice and easy!
Oh yes, I hope that you enjoy the next post.
Rick McEvoy