Well it has been a great experience being in Paxos for two weeks, but sadly this time is coming to an end.
Did we discover Paxos? Yes, we did. In this post I am going to describe our last full day, going home and then reflect on the things we discovered on this wonderful Greek Island which you might want to discover for yourself?
Day 14 Thursday – the last full day
I have the car till 10 am this morning. This means sunrise photography time. One more sunrise. And this morning I am going to go to the location I found the other day overlooking the capital of Paxos, Gaios. I know where the sun will rise following my wrong turning/ recce the other day.
Another early morning.
I get up at 5.40. Well I set the alarm for 5.40 but get up at 6.00. I get my stuff which is already packed and good to go and shoot off down to Gaios.
I know exactly where I am going thankfully, and also know that I have enough time to get there before sunrise. I get an extra 10 minutes (ish) time as the sun has to get over the Greek mainland across the Ionian Sea.
I drive to Gaios from Lakka in the Peugeot 108.
Breakfast?
No – I haven't got any food – just a can of Pepsi. I grab a bottle of water and a coke – that will have to do. I can always grab something in Gaios.
And today I remembered my wallet which is good!
The last drive to Gaios
10 minutes and I am there in the layby overlooking Gaios. I get my gear out of the car and set it up. I won't bore you with any photography stuff in this post, I will just share the view from my iPhone, and one photo taken with my Canon 6D.
This is the iPhone photo of the view.
And here is that same view taken with my Canon 6D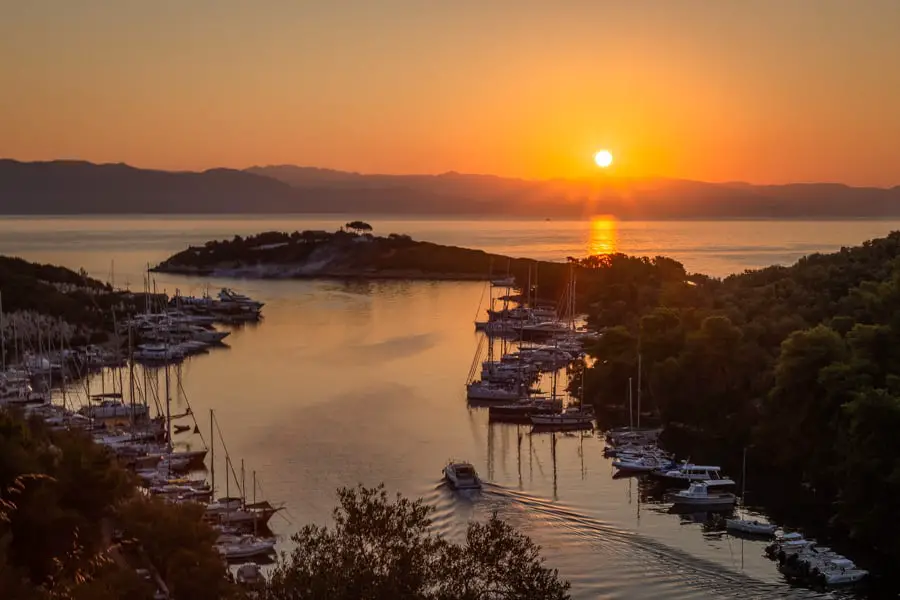 And then I have company
I am stood there staring through the viewfinder of my camera. The sun is about to rise over the hills. I am ready with my camera for stills and my iPhone for video.
And that is when two enormous camper vans appear. A man gets out of one of them and tells me that I must move my car. I point to the sun and my camera and say sorry, I need to get this.
He looks at me, grunts and then walks off in disgust, the stench of a continental gasper polluting the fresh morning air.
Here comes the wife
A woman from the camper van walks over to me and tells me very rudely to move. She points her finger and all sorts of rudeness.
Now I am not having that. I plug my headphones in and turn my back on her. On all of them. There are six of them stood there watching me.
The funny thing is that there is plenty of room for them to park.
My morning sunrise experience is accompanied by two camper van engines running, 6 people talking loudly in foreign accents and the constant reek of foreign cigarettes.
I hold my ground
I was there first, I am photographing the sunrise and that is that. I carry on until I am done, then jump in the car and drive away. They just glower at me.
Sunrise overlooking Gaios done – now what?
Time for a coffee!
Maybe not. I leave the layby and pull in about 300 meters up the road – the morning light filtering through the trees has caught my eye. I stop and take some more photos.
This is what I am talking about.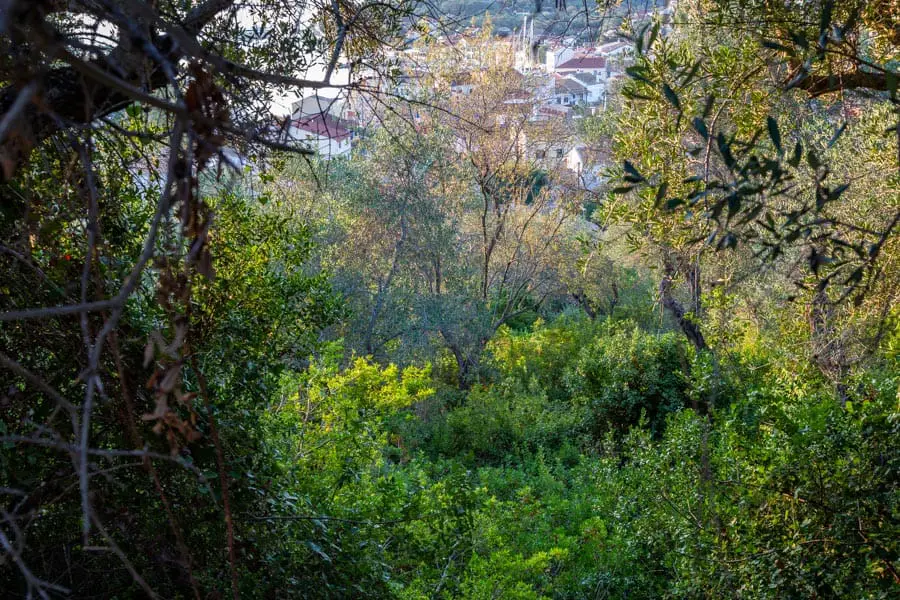 And then it is time to get down to that wonderful waterfront in Gaios to take some photos in that lovely directional early morning light.
I take lots of photos and videos which you can see on my YouTube Channel Paxos Travel Guide.
And then I drive past the memorial called Anemogiannis Monument, which I take "proper" photos of with my Canon 6D. I had to Photoshop out the person who refused to move by the way, but you would never know!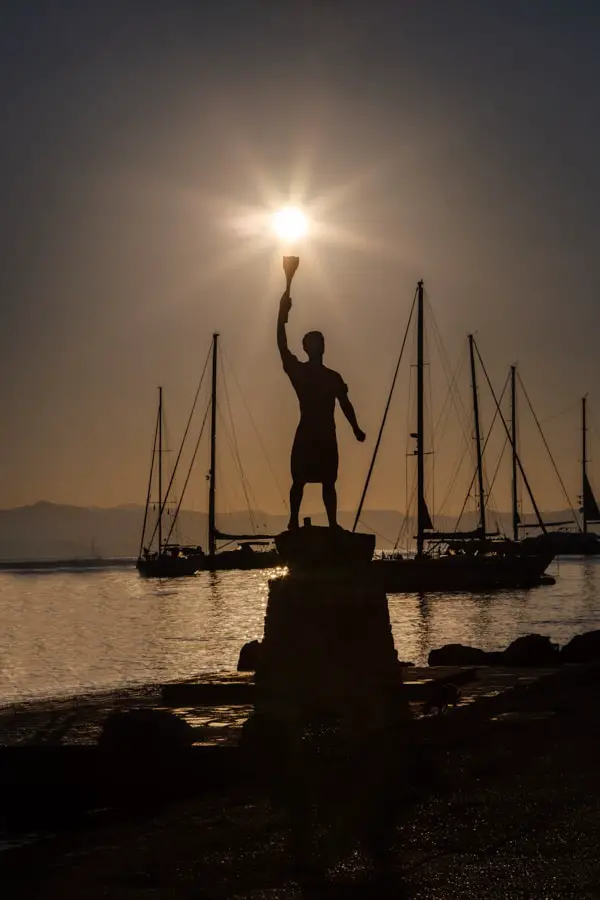 After getting lots of lovely photos of the morning sun in Gaios it is time for a well-deserved treat.
Yamas – here is me with a coffee!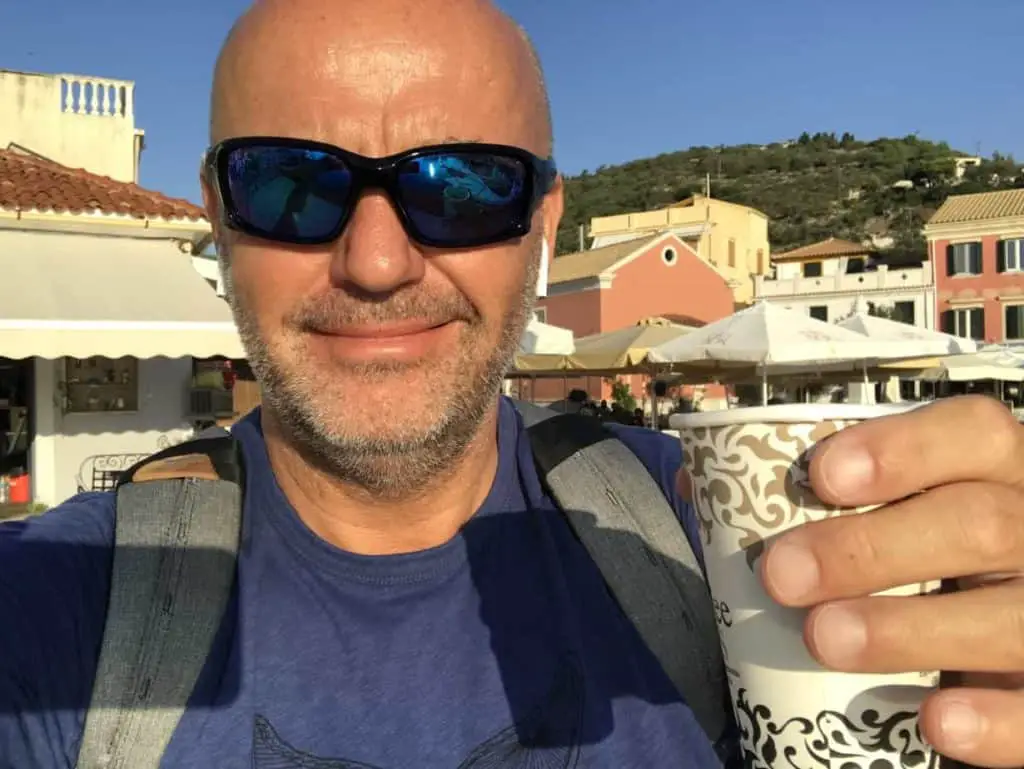 I needed that. Gave me the caffeine boost I was after.
And after that it was time to head back to Hotel Bastas.
Our final day on Paxos
As it was our last day, we did what we are very good at doing on holiday – nothing. We spent a lovely relaxed day by the pool, having lunch there and drinks.
Our last meal in Lakka
It is our last meal in Lakka – where to go? Well we always go back to what has been our favourite restaurant during our stay. We have our final cocktails at Café Romantica and discuss where we are going to eat.
It is a bit like the bit in the Apprentice when Lord Sugar sends the contestants out of the room!
We are sat opposite our hire boat with the sun setting over the hills of Lakka as we enjoy our final cocktails on Paxos – such a lovely end to what has been a fantastic holiday.
Which is our favourite restaurant in Lakka?
Taverna Pounentes. We have eaten there two times already on this holiday and had a lovely time, so we return there one last time. Our host greets us like royalty and makes us feel very special.
People are looking at us wondering who we are to receive such a welcome.
Here is the menu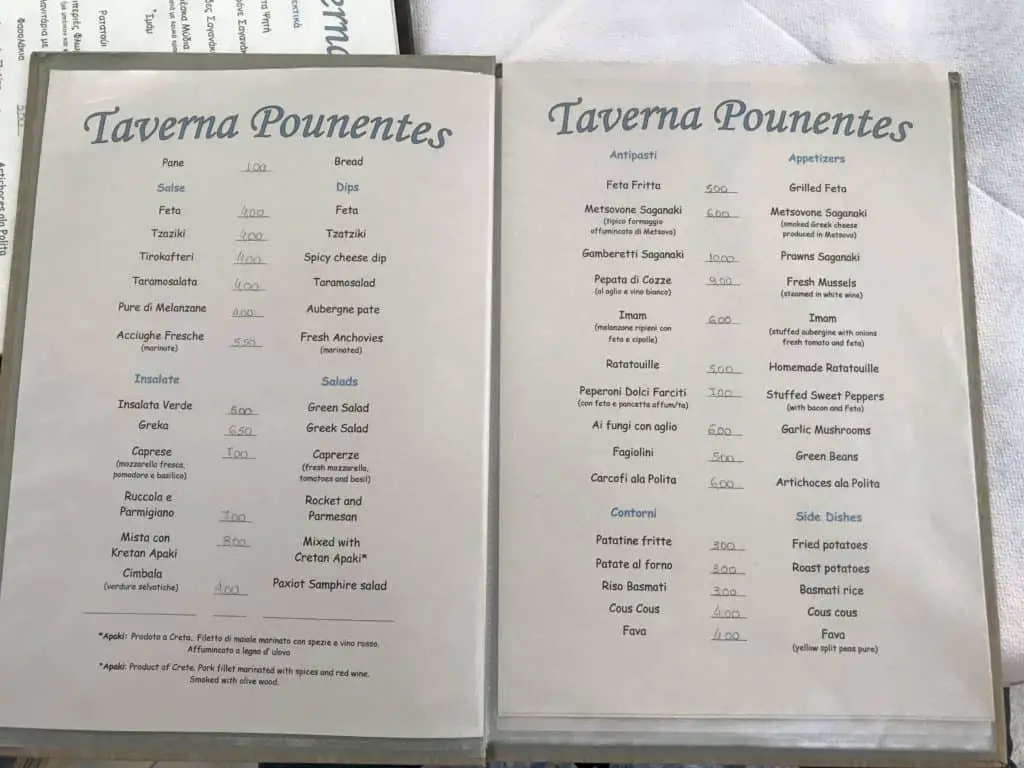 And here is my starter. Well evidence of a starter which I demolished. All gone.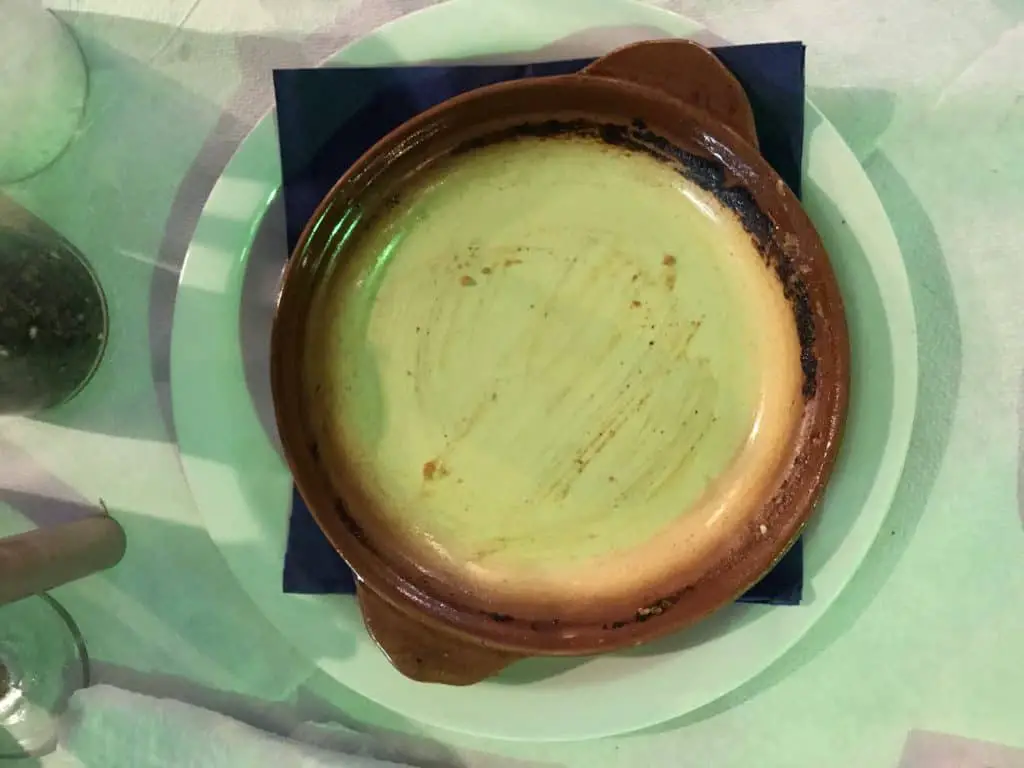 And here are our mains.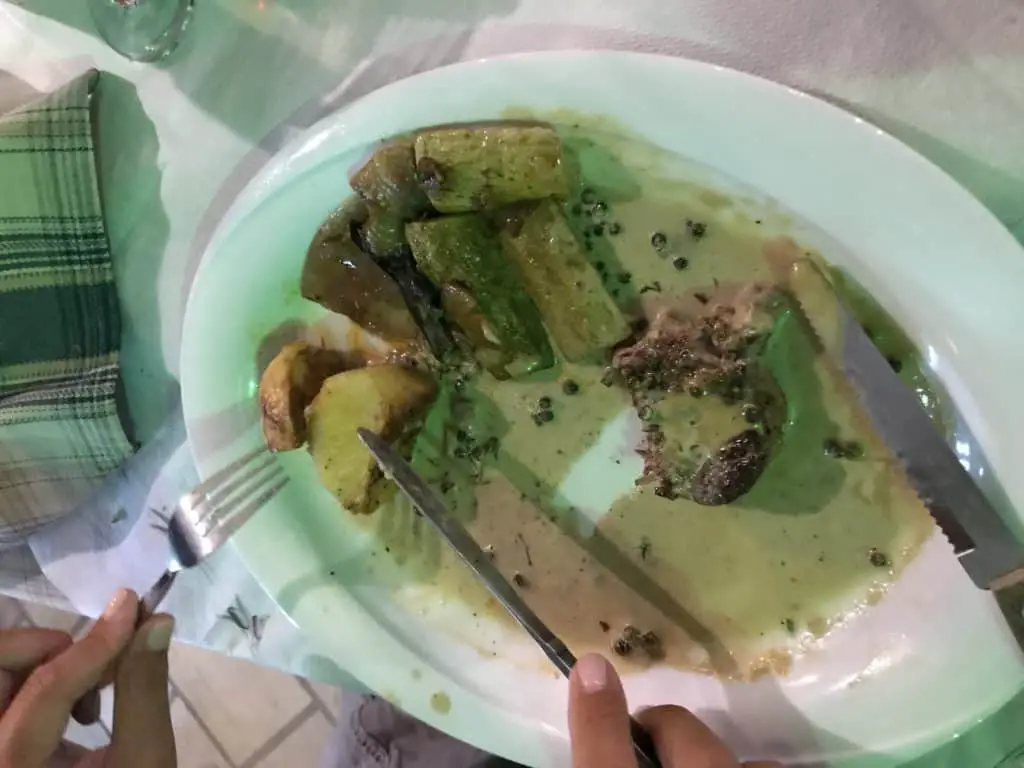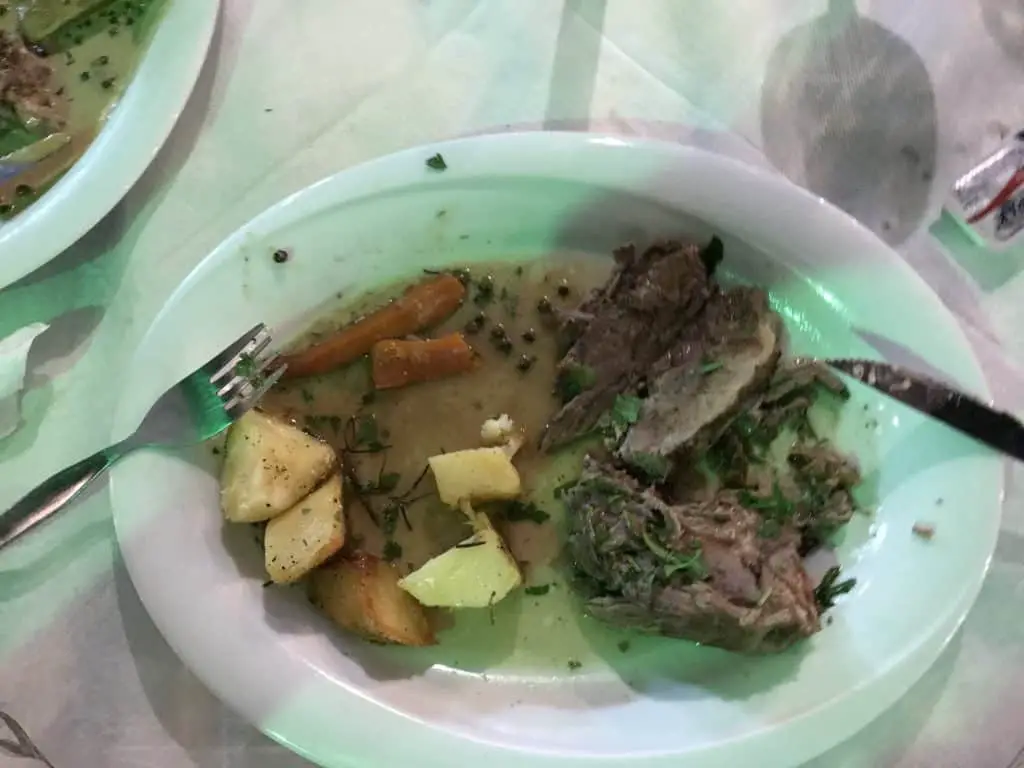 Yes, I have finally got into the swing of this travel writing stuff, photographing my food for social media sharing! Or not.
We finish our food and drinks, pay the bill and sadly say farewell to the restaurant and all the lovely staff there.
It was incredibly busy at Taverna Pounentes this evening, but the service was just as we like it. Not too quick but not too slow. Our host checked on us nicely but not too often – a lovely balance of attention and privacy which is a delicate balancing act.
Dinner over
Our last meal over we shuffle back to Hotel Bastas via the cake shop with our final snacks which we eat on the balcony with the last of the Metaxa.
I have taken some photos from the balcony at night which are these – this is one of them – nice eh?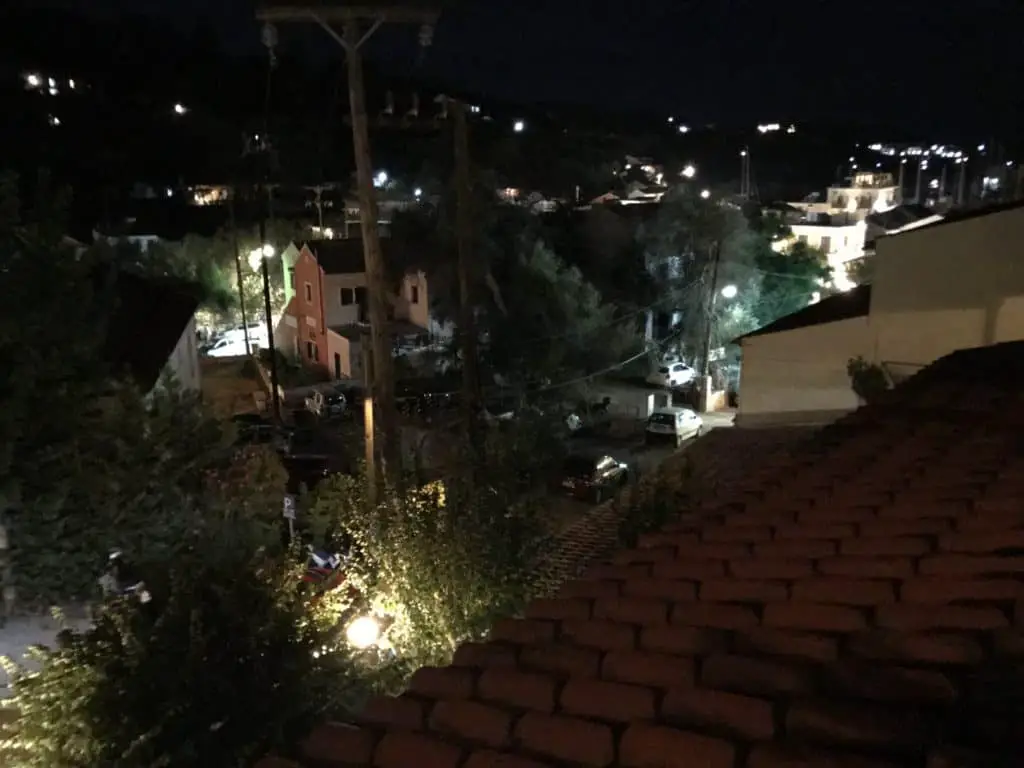 With that it is time for bed – an early start and day travelling tomorrow. And it is weird to think that tomorrow night we will be sleeping back at home in the UK!
Day 15 – going home – early…
5.30. Alarm goes off. Kettle goes on. It's dark.
I get back into bed for a minute. We throw the last-minute bits into our suitcases and drag everything down the two floors and leave the bags outside.
Babis is due at 6.30am, and promptly arrives at 6.35, which is perfect timing for us.
Leaving Lakka for the last time – for now
We load up the minibus and sit quietly drinking tea on the way to the New Port in Gaios.
We get there nice and early and say farewell to Babis and get in the queue for the ferry.
I hate this bit.
Well I hate the going home bit to be honest. Sure, there are lots of things for us to look forward to when we get home, but I still hate this bit.
The ferry back to Corfu from Paxos
Our boat is called the Ilida 2 – aka the flying dolphin. The ferry takes an hour – the only incident was an Italian chap who turned the air con up to 27 – it was lovely and cool in the front seating area up to that point.
Thankfully one of the crew walked in and knew straight away that something was not right – he turned the air-con back down to 21 and we all resumed our peaceful morning travel.
A quiet boat journey for once
No cats, dogs or loud people having FaceTime conversations at full volume – just nice and quiet. We
get to the New Port at 8.15am and have a couple of hours to kill as we do not need to leave for the airport until 10.
Breakfast at Sette Venti in the New Port of Corfu
A surprisingly excellent breakfast with lots of food is served up by the very grumpy and then completely cheery waiters. There are lots of pigeons about which is not good. The background noise is a working Port and lots of chatter from Greek blokes. We are quite safe as there are a couple of coppers sat down chewing the fat.
Getting back to Corfu Airport from the New Port
We get a taxi back to the airport for the same €15 fixed fare. At the airport we check in too early and get sent to the back of the queue!
And then we queue again and by the time we get to the front it is time to check-in.
What is Corfu International Airport like?
Corfu Airport is busy today – very busy.
After checking in you have to take the hold luggage to a scanner where you say goodbye to the bags with all your belongings in for a few hours.
And then it is another queue for security.
Basically, on a busy day the queue for security starts where you drop the bags off.
The joys of airport life!
Through security – what is there to do at the airport?
The first thing to do is try to find a couple of seats. I have to wait for 10 minutes to get seats at the café. Once these are secured, we can take it in turns to wander around the airport and enjoy a final meal in Greece.
The final meal – a sad time
I always find the last meal of a holiday is a sad thing – it is the last thing before getting back on the plane to reality!
It was a cheeseburger and some crisps…..
We don't buy anything of any significance at the airport – we just eat, have a drink and get on the plane.
The flight home.
No dramas. We are back in Bournemouth in no time and before we know it in the Airport Cars taxi back to home.
Late afternoon we are home, which always feels weird. That morning we were on Paxos, now we are home!
All that there is left to do is unpack and get back to normal life.
Oh yes, and create this website!
It's the weekend!
We came home on a Friday. So, it is the weekend! How cool is that!
Reflections of Paxos
Here are some random thoughts that I captured and held back until now.
Sat here on the balcony writing on my iPad Pro wondering why those felt pads you put under the feet of chairs are not mandatory in all hotels in the world! Every time someone moves a chair there is a hideous noise – us included to be fair.
And you know that horrible noise you get when the people in the room above appear to be rearranging their room – same thing.
Just saying.
And as I write on my iPad I am thinking about getting an external keyboard to get around the WordPress woes that I experience from time to time.
These are the trials us travel writers have to go through!
Where I wrote the content for this website
I did most of my writing on my iPad Pro either sat on the table on our balcony in the morning or sat in the shade by the pool. This is a daily journal of 14 days in Paxos, which I am making central content of this website.
Photography stuff
I realised that I was shooting RAW and JPEG. This is because I forgot to change the settings after writing an article on Improve photography about RAW and JPEG.
This did give me a thought though – maybe I can use the JPEG images on the new website, as they will have the baked in processing as well as the adjustments I apply on import into Lightroom. That might work. And then I can edit the images that I want to put in a gallery for sale – that is a great idea and might be a huge time saver.
And on that subject, I have started shooting more video with my Canon 6D, as well as shooting loads more videos on my iPhone. I love the convenience and quality (of course) of the videos I take with my iPhone – the quality is really quite remarkable, and in 4K as well. I have not worked on any videos taken on my Canon 6D yet – this is going to be a winter job. I don't have a clue where to start to be completely honest.
What did we discover on the Greek Island of Paxos?
I will expand on this in another post, but these are the things that jump out at me as I write my last daily journal and reflect.
Relaxing
It was a vey relaxing holiday in a very relaxing place.
The hotel
It was nice returning to Hotel Bastas, knowing the staff and what was where. We will go back again, which is the highest recommendation we can pay!
The atmosphere of the island
Slow paced, laid back loveliness. That is the best way I can put it.
Being on a small island
So small that I got to see virtually all of it.
Getting around all of the island
I did not manage this the first time we visited Paxos, so was pleased to be able to do this by car, boat, bus and walking.
Boat trip to Antipaxos
Driving our own boat was the best day ever.
Tripitos Arch
One for me, and my favourite thing to do on Paxos.
Eating in Lakka for a fortnight
We had a couple of not great meals but other than that every night the food was excellent. I cannot remember an evening where we weren't impressed by the service, care and attention.
The freedom of car
Real freedom to get out and about any time of day or night. Or in my case before sunrise – that is real freedom for me
Sunrise on Paxos
I witnessed sunrises in Lakka, Loggos and Gaios. And managed to get back to the hotel in time for breakfast so there was no impact on our precious days together, other than the odd nap by the pool.
The people of Paxos
The people are lovely.
OK – that is the holiday over and done. I hope that you have enjoyed discovering Paxos with us, and I also hope that I have inspired you to go there yourselves.
Want to know more about Paxos?
I hope that you have found this post helpful, informative and even a little bit entertaining! To find out more about my favourite, wonderful Greek island all you need to do is click here and I will take you straight back to the start of my Paxos blog. Nice and easy!
Oh yes, I hope that you enjoy the next post.
Rick McEvoy