In the last post I described getting to Corfu from the UK.
And now we are onto the interesting bit – Paxos Greece Holidays – Part 2 Day 1 – Corfu to Paxos. This is the bit about getting from the New Port in Corfu to Paxos, and on to the hotel. And I might get into some day 1 holidaying if I have space.
First thing is getting on the ferry, Ilida 2
Getting on the ferry is interesting. All the luggage is loaded on first and then stacked about 8 cases high. I am sure this is what happens at the airport, the difference is that here you can see it!
Of course everyone is very keen to be first on the ferry to get the best seats, so everyone gets in the way of this process making it take longer.
Once all the luggage is on people jostle for position to get on first, You show your tickets and then on you go.
Unfortunately the Iliad 2 is a closed ferry apart from what is best described as a corridor between the enclosed parts. This is the only fresh air you can get onboard. I say fresh air as it is the only place that people can smoke!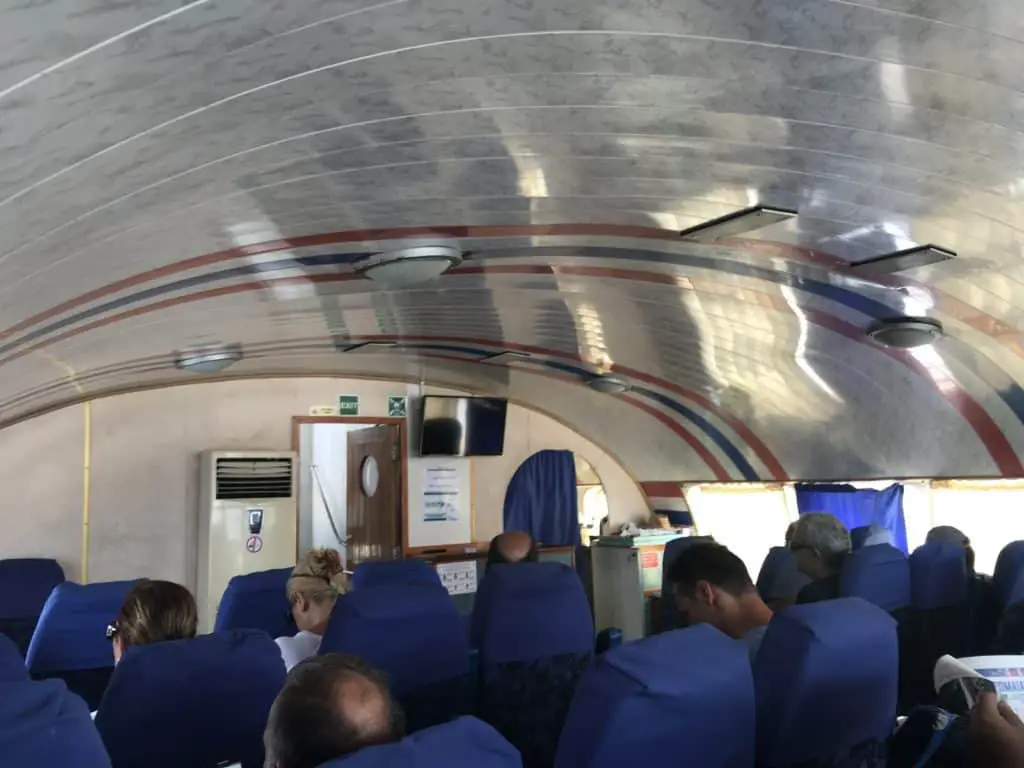 We had an eclectic mix of fellow passengers, a woman with a cat in a basket crying all the way (the cat not the woman), an Italian man face timing someone with volume turned up to 11 to compete with the noise of the engines. There was a woman with a dog, and a local who knew all the boat crew it seemed.
As I said you have to sit inside on this boat, but I spent most of my time standing at the open rear door while Nickie tried to get some rest, which was virtually impossible in that blistering heat.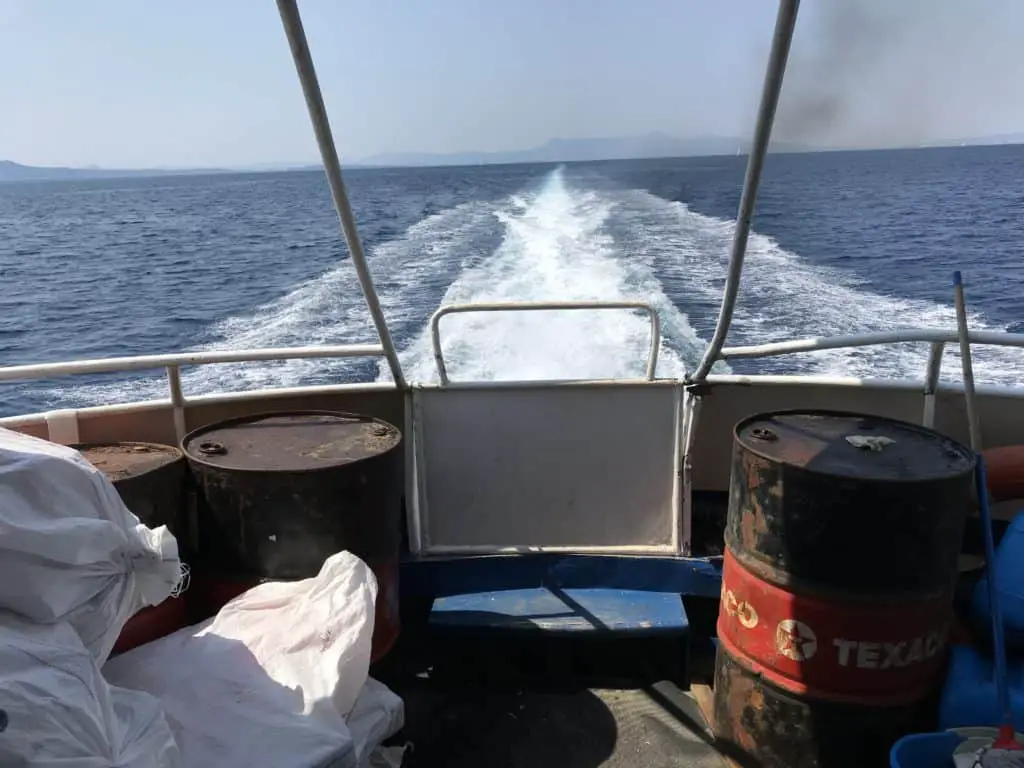 The back of the boat is gasper alley for the crew, and also a place for them to take a well earned break!
You get lovely views of the island of Corfu as well as mainland Greece as the ferry speeds its way south.
And then we arrive at Gaios
One hour later we are in Gaios, where we are met by Babbis from the hotel, with whom we had pre-booked a pick up from the ferry. A very pleasant 15 minutes drive later, with lots of house-keeping things being sorted on the drive, and we arrive Hotel Bastos.
Cold water is provided en route which is a very thoughtful touch.
Back at Hotel Bastas
Check-in takes minutes, and then we go to room 26, on the second floor at the middle of the front of the hotel. It has a lovely balcony, great for evening sun. Having stayed at Hotel Bastas the previous year we knew which room we wanted when made the booking, which was direct with the hotel this year.
And this room was bigger than the one that we had last year, which was the corner one closest to the sea but on a corner making the room much smaller.
Our room this year had a much larger balcony with a table and chairs.
OK – are back at Hotel Bastas, and it feels very good to be back.
About our room
The rooms are not luxurious. Lets get this out of the way. The rooms are basic and a tad rustic, but are absolutely fine for a two week stay.
There is a bathroom with a sink, loo and shower. The bathroom is compact, and there is a knack to showering without the shower curtain clinging to you!
There is a tiny kitchenette arrangement, consisting of a fridge, sink, kettle, toaster and basic cutlery and crockery.
Most important thing here is the fridge of course, for water and beer.
And there is a corkscrew.
The bedroom has a small TV – no idea what the picture is like or what channels you can get as we never turned it on. There is a nice bed, plenty of storage space and an air conditioning unit above the doors to the balcony.
So that is the room. As we had just arrived we unpacked quickly and then headed down to Lakka to get supplies in.
Unpacking
We unpacked straight away, then headed down to the shops for essentials.
The walk to Lakka sea front
It takes a couple of minutes. Barely worth a heading. There are three shops in Lakka (that I am aware of), and we tend to drift from one to the other. The initial supplies are the essentials
(More) Wine
Beer
Metaxa
Washing up liquid
Crisps
Chocolate
Water
Milk
These provisions are not cheap, but when you are on holiday and spending with Euros it tends not to register. The reality of the cost of living abroad hits me the first time I find that I have to go to the cash machine. And moreso the second time! When you know that you took out £250 in Euros two days ago and it has all gone is a bit of a reality check!
Shopping done – just got to carry it back!
Having done the initial shop it is time to get back to the room. As we always buy bottled water in packs of 6 I end up having to walk in flip flops up two floors of the hotel with 9/ 18 kgs water to weigh me down nicely.
Not easy especially when the sun is still kicking out later afternoon rays of glorious sunshine!
Which is why I often do a water run in the morning before the sun has risen over the hills to he east of the hotel.
Then it is back to the room all jobs done and now it is really time to kick into holiday mode.
We start with a quick drink on the balcony adjusting to the sweltering heat, have quick showers and the walk down to the waterfront of Lakka.
About the waterfront at Lakka
It is absolutely lovely. There are bars, restaurants and shops along the waterfront, and the is littered with lots and lots of lovely boats which all have lights on the top of their masts – I will come back to that at another time when I share one of my favourite photos of Lakka.
We stopped at the Harbour Lights bar which does 2 for 1 cocktails. We each had a lovely refreshing mohito and sat there chilling out and enjoying just being together and back in Paxos.
And now its off for dinner
The problem we often find is where to eat? Well for our first night we chose the fish restaurant called Akis. And it was not the best meal. I think that this may have been down to your meal choice to be fair to the restaurant.
We are not fish lovers, so why did we go to a fish restaurant? Because it looks lovely and is located in one of the best spots on the waterfront in Lakka.
I am sure if you are a fish lover that you will have a fantastic time.
And with that our rather long day was over. Having woken up in Bournemouth we went to sleep on Paxos.
Day one over and time for sleep.
The only decision to be made here was balcony doors open or closed with the air conditioning on. We went with the air-conditioning on to give us a chance the next day to get acclimated.
And at 3am it was freezing.
Time for plan B – doors open and air con off. 
That worked just fine, as being on the second floor we benefitted from a gentle cooling breeze which took the edge off the heat just enough to be comfortable.
Day 2 – Saturday – the art of doing nothing.
10.10 we woke up naturally – no alarms required on the first full day on Paxos. 
We had a meeting planned for 10.30 to book all the things that we wanted to do -we didn't make that of course.
Instead we drank tea and came round slowly. Talking of tea, the Yorkshire Tea we brought from home had a funny taste to it. It was called Breaktime tea – not Breafast tea. It turns out this tea has flavors of orange and lemon, not that great but better than nothing. Why would you do that to a decent tea?
We got up so late we didn't bother with breakfast –we just got ourselves sorted and shuffled off to the pool.
The pool at Hotel Bastas
Hotel Bastas has a great pool. It is located above the hotel to the back nestled nicely in the side of the hill. You are serenaded all day by the sound of crickets, which helps to mask the noisy people.
I have even written a post all about hotels with pools on Paxos so inspired was I.
Armed with sun cream, water and Kindles we clamboured up the steps and over the bridge to the pool which was nice and quiet.
Brunch consisted of a Greek pizza and a tuna salad, washed down with a couple of beers.
The rest of the day was devoted to day one holiday essentials
Lying down
Cooling down in the pool
Reading
Listening to the cricket
Dozing
Recovering
Slow beer drinking late afternoon
And now it is time to rejoin the human race!
After showers it was back down for some cocktails. This time we went to the bar called Romantica, where I had a Bloody Mary and Nickie had a Mohito. Our bar of choice – Romantica.
This bar is right on the waterfront, well there is the path in front of it but you are looking directly at the sea. And even better this bar has an upstairs balcony, which is great for catching the sunset which takes place over to the left behind the hills.
There are three hire boats moored directly opposite the bar – more on those later on in another post.
And the staff are really friendly and helpful so all in all our favourite place for drinks, which are always served with a bowl of crisps.
Are the sunsets any good in Lakka?
No not really is the brutally honest answer. Well that is me speaking as a professional photographer here.
It is all to do with the topography. Lakka is obviously down at sea level and surrounded by hills on three sides. This tends to take the edge off sunrise and sunset – you don't get that bit where the sun and the horizon meet, which is where the magic happens.
I will be writing plenty more about photographing the sunrises on Paxos in other posts, as well as sharing some of my sunrise photos taken oat other locations on the island.
I am more of a sunrise photographer than a sunset one – sunset impinges on a more sociable time.
But sitting on the balcony at Romantica sipping a mojito with my gorgeous wife is an absolute joy – such a lovely time.
Time for snacks
So nice we had another round of cocktails before getting some food from the bakery and eating on the balcony drinking Metaxa and taking it easy.
There is a lovely bakery in Lakka right down in the centre of the town. I say town – it is more like a village than a town.
The lady who served us barely spoke to us the first night, but don't worry we broke her and she ended up being lovely to us on return visits!
We always try the local food in local bakers – there are some lovely local foods that you can get such as spinach pies and cheese pies.
I am not a sweets person but I did enjoy some of the takeaway sweet stuff that we had.
Supper on the balcony
The evening temperature was still pretty hot but sat there and enjoyed our snacks and Metaxa before turning in for the night. What did we have planned for tomorrow?
Nothing.
The same as today. Only more of it!
This is how we roll!!
A word about the climate in Paxos.
I wanted to mention here the climate in Paxos in August, and also the environment in and around Hotel Bastas. I hace actually written a separate post titled When Is The Best Time To Visit Paxos? which tells you more about this.
Our room was on the front of the hotel. In the morning it is in the shade, and a lovely place to sit and have morning coffee. As long as the neighbors aren't chugging away on gaspers that is. Next door had three cigarettes in half an hour which was pleasant for us.
So, the mornings are lovely and cool in our room in the morning. At some unknown time the sun works it way round to the front of the hotel. I say unknown time as who in their right mind would be n their room on a Greek Island around noon?
When we get back to the room there is one decision to be made – in with the air -on or out on the balcony in the blistering evening sun. I go for out in the blistering sun every time.
And that is one of the two places where I wrote this diary of our holiday. Everday I would sit down for half an hour and write about what we had done that day using my iPad.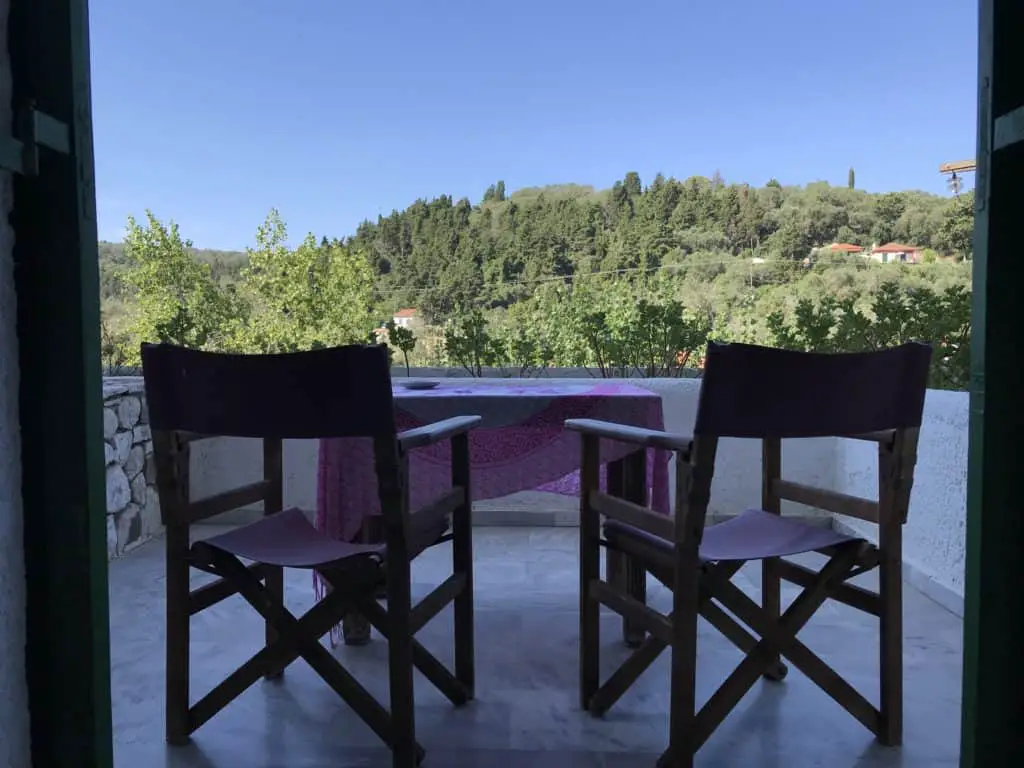 I did this with a beer of course – the only problems I had were
Sweat running in my eyes
My fingers getting sticky with sweat
The sun being so bright I could not actually see anything on my iPad
My beer getting warm much too quickly
Problems, problems I know.
Why was I writing when I was on holiday?
I knew I was going to be creating this website, and wanted to capture everything that we did on a day-to-day basis. This would save me time later and also mean that I did not forget anything. 
Want to know more about Paxos?
I hope that you have found this post helpful, informative and even a little bit entertaining! To find out more about my favourite, wonderful Greek island all you need to do is click here and I will take you straight back to the start of my Paxos blog. Nice and easy!
Oh yes, I hope that you enjoy the next post.
Rick McEvoy