Day 6 is on us before we know it. Nearly half way through our holiday.
What are holidays in Lakka Paxos really like? Well in todays post I will describe days 6 and 7 of your holiday in Lakka Paxos. And these are two days dedicated to one thing – relaxing. I originally titled this post "the art of relaxing" – this is how we relax on holiday.
But I changed the title as I want visitors to my website to be able to find out what it is really like holidaying on Paxos – not from a travel guide but from people who have actually been there – people like us.
Day 6 – our wedding anniversary
We are quiet people and have a lovely quiet day by the pool. Cards exchanged, tea drunk and off to lax by the pool. That was the plan. To work on the art of relaxing.
We did not have breakfast – some mornings on holiday we skip breakfast and have an early(ish) lunch.
So no breakfast – no it was straight up to the pool with our travel coffee mugs. We got there nice and early and adopted our usual position in the corner.
The art of relaxing – getting comfortable
We are definitely creatures of habit, and always go for the same corner of the pool. If you get one of the corners you get more space and are less close to other people.
Now this might sound a bit anti-social but as I said we are quiet people and we just want to be left alone to relax.
Together that is.
A question of personal space!
Corner secured, the next job is the slight rearranging of the furniture to maximise our space whilst subtly moving other people further away.
Does anyone else do this?
Or is it just us?
Some people don't seem bothered by being shoe-horned next to strangers – no not us.
Now we are settled it is time for the usual relaxing activities, which this morning are
Dozing
Kindle reading
Dozing
Repeat as necessary
And that is it.
And before we know it time for lunch!
Blimey – such a busy morning. And now it is time to walk the length of the pool for lunch. And time for a nice cold one from the bar.
We are not that hungry so we share a cheeseburger and chips, which was very very nice indeed.
Food and drink done it is time to get back to the hard graft of relaxing.
The afternoon by the pool was lovely and quiet.
The importance of celebrating
We stayed at the pool till quite late, and celebrated our anniversary with a lovely bottle of Lanson. Milestones like this should be celebrated – we face lots of challenges in our life together which face head on and jointly.
Off down to Lakka
We walked down to the waterside in Lakka, and reserved a table at Arriva, a lovely restaurant right by the water.
This is one of those things that I love about Lakka. It is so small you just walk down to the front and browse the restaurants. We rarely have trouble getting a table – possibly as the Italians tend to eat later than us and with them being in the majority we are fine with our preferred dining time.
Having booked a lovely table by the water we headed back to Harbour Lights for an anniversary cocktail.
Enjoying dinner at the restaurant by the water called Arriva in Lakka
After our cocktails we were sat down at 8pm (as usual). We had a lovely table right next to the water with lovely views across the harbor of Lakka as the sun faded away leaving all those lovely bobbing boats and the activities of a small harbor.
A lovely carafe of red wine was brought o our table, which we drank slowly while we perused the menu.
We shared a lovely starter of giant beans accompanied by fresh bread which was excellent.
For our mains I decided to have stifado (for a change), with Nickie choosing the ravioli.
All the food was lovely, the service was great, attentive and not rushed.
A lovely way to finish our lovely wedding anniversary day on the island of Paxos.
Day 7 – Thursday – its raining!!
Halfway through the holiday and guess what – its raining in Paoxs?
We were woken up by thunderstorms this morning. Yes thunderstorms in Paxos. Not just rain.
It has clearly been raining in the early morning, as the table on the balcony is covered with water
And this is the balcony.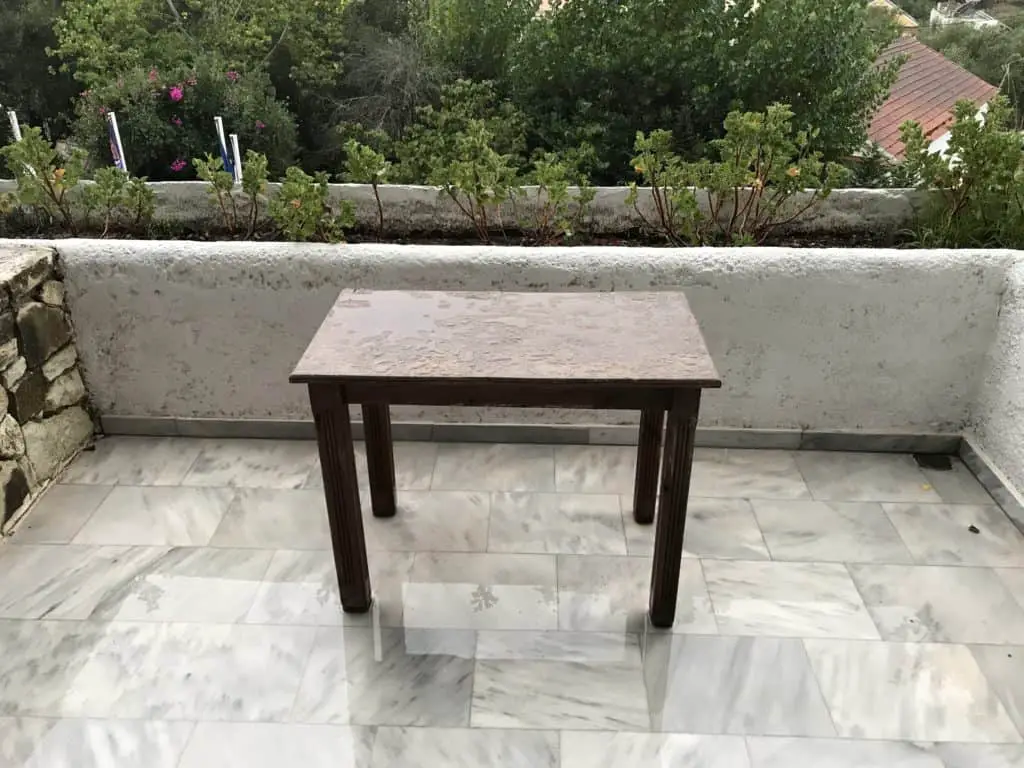 I decide to do the decent thing and get rid of the water on the table so we can use it.
I slowly and carefully move the table to the planters on the front of the balcony to tip the water gently into the planter. I get this disastrously wrong and pour all the water all over my legs. Not good.
I hate having damp feet – thankfully even in rubbish weather like this it is quite warm and I dry out quickly enough.
Morning tea storm watching
It is time for a cuppa and to watch the storms – good old fashioned thunder and lightning with bouts of light/ heavy rain. I have never seen such weather certainly not in Paxos – here if there is a cloud in the sky this is considered a disappointment!
Check out the video "Rain in Paxos Greece" of this from my YouTube channel!
The weather forecast is showing the storm will continue until 11am/ 12pm/ 4pm depending on which weather app we try. I tend to try all the weather apps and go with the one that gives me the news I want to see!
I know – my choice of weather app will not influence the actual weather but it makes me feel better. And I really cannot accept rain till 4pm!
Breakfast
Breakfast is the stuff we bought from the bakery last night on our way back after our lovely meal – biscuits with cream and a thing that was a rustic version of a cherry bakewell. All rather nice with a coffee.
We were planning on eating these snacks last night but couldn't manage all of them so they were welcome breakfast snacks.
What to do when it is raining on Paxos?
Well there is no point rushing to the pool, even though I am sure that this weather will clear up in no time.
It stopped raining at 11am so we ventured out into a rather soggy Lakka full of people milling about all looking rather confused. Nickie went shopping. I went for a beer. And here it is!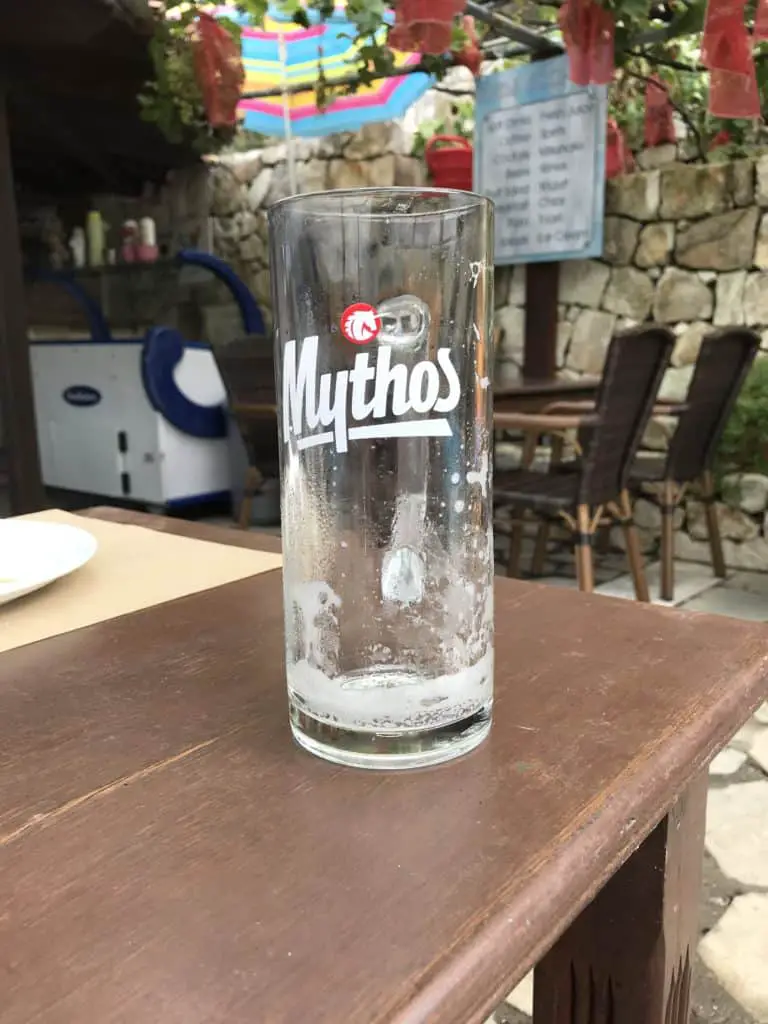 Ok here it was!
Well it was a slow day so why not!
We reunited at the hotel and made our way up to the pool for another busy day of reading, eating and dozing.
Lunchtime already
Lunch/ brunch today consisted of a club sandwich and sausage on toast, both with chips which we ate at the bar at the pool – the tables and chairs had already completely dried out.
People gradually drifted in over the course of the afternoon leaving it full when we left at 5.30 for drinks on the now completely dry balcony.
A word about doing nothing
We both need time to recharge our batteries. This is one of the reasons we are in Paxos. To relax and take it easy.
This is very easy to do in Paxos, and especially stopping in Lakka. Everywhere is easily accessible on foot, and there is plenty of choice of places to eat and drink.
Basically Paxos is a lovely place to relax and unwind.
And with this it is time for dinner
Another busy day, the only thing left to sort is where to eat tonight. We deliberate on this weighty decision, perusing the menu at Mandis Bar, which is off to the right of the bay in Lakka, giving great sunset views, and is also quieter that other locations with less people walking by.
Weather update
Oh yes, the weather. The sun came out, the temperature increased like an oven being slowly turned up and when we left at 5.30 it was hot but the clouds had come in to seal in that heat nicely for the evening.
But no more rain.
Back to downtown Lakka. When I say downtown that is a tad of an overstatement.
It is overcast, which means there might not be a sunset tonight. We head over to Romantica for more drinks, and manage to get a seat upstairs. Not only do we get a seat upstairs, there is no one else up here so it is just us and the lovely relaxing scene in front of us.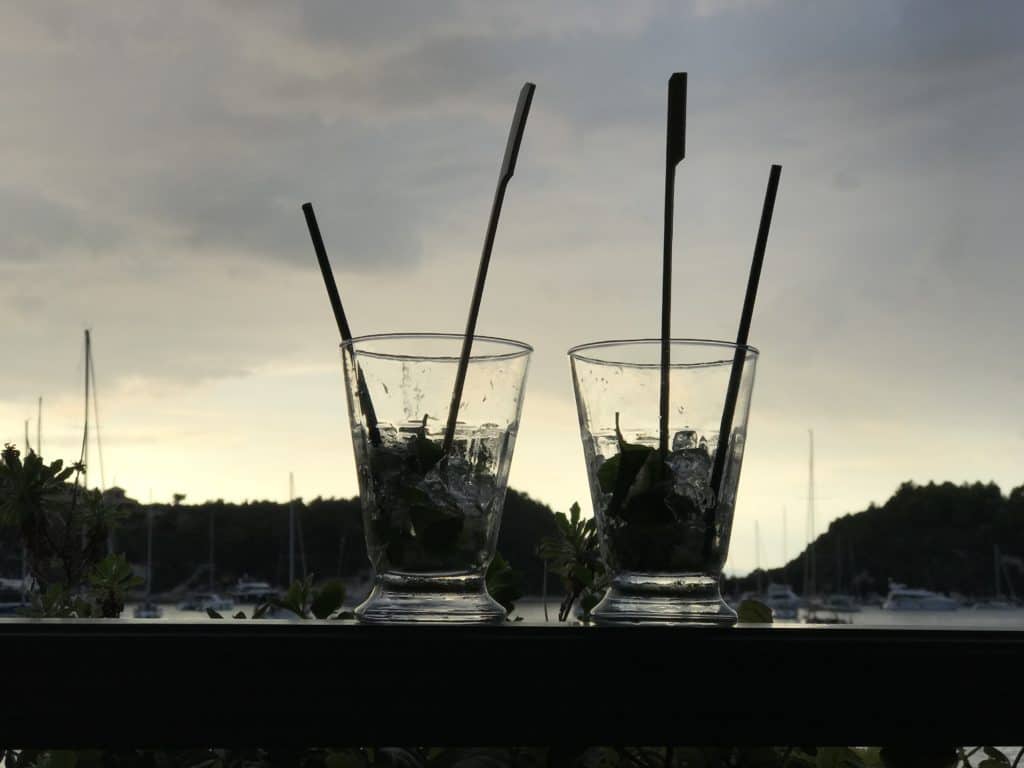 And this is when I realise for the first time that you can actually see the mainland of Corfu from the first floor of this bar. I must check to see if I can see the mainland from ground/ sea level – I don't remember being able to, which is quite unusual for me.
Being a photographer I am always looking out for views and always need to know what I can/ cannot see.
We have a Mohito each and sit there looking at Mandis Bar, all sad in the cloud and the shade. We have a change of mind and decide to go to one of the restaurants in the square – we might as well take advantage of the cooler weather and light breeze. And Mandis Bar is the prime spot for sunset, so we might as well go there when there is an actual sunset to see.
Dining out at Stasinos Gardens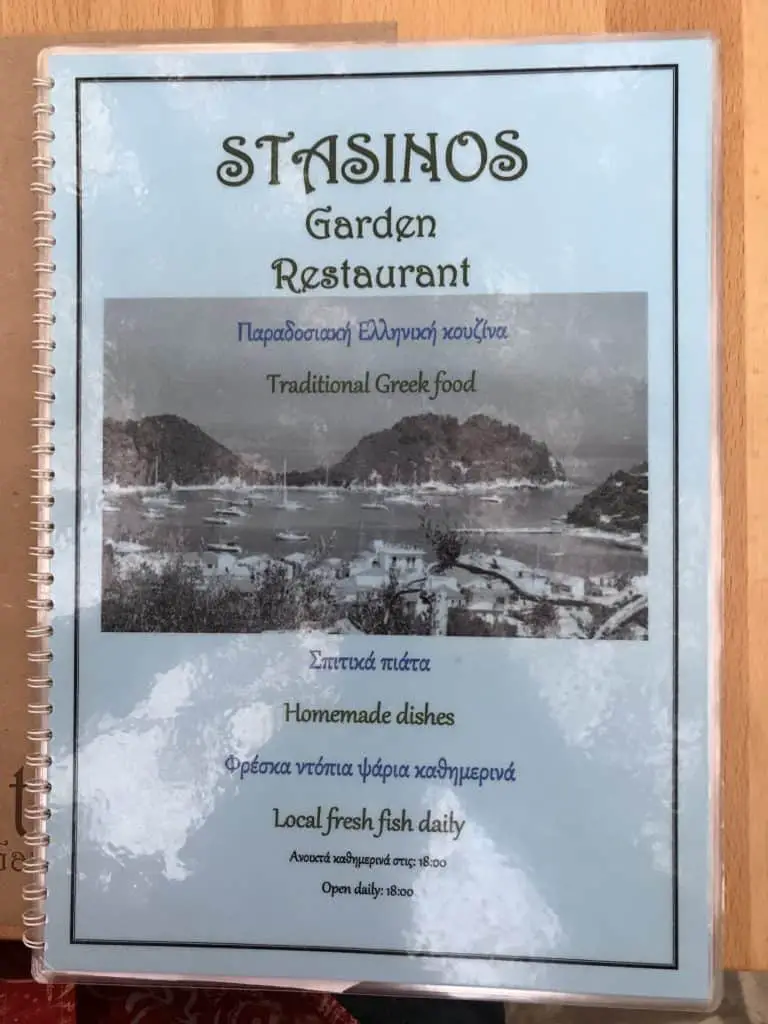 We walk round Lakka checking out the restaurants, and end up in the restaurant called Stanisos Gardens, where we are seated to a nice quiet table by a very friendly and enthusiastic waiter. A carafe of red delivered (a large one it has to be said) we ordered our food.
We have eaten here before last year and it was very nice.
We went for a Meze starter as we haven't had one for a while. Nickie went for Moussaka again, and I went for the P beef dish similar to but not Stifado.
Honest it is not Stifado. We also had a lesson from our waiter in how to pronounce not only my main course but also stifado – turns out we have been saying it wrong up till now.
I cant remember the name of the meal that I had – lets stick with the P beef dish.
I am delighted to report that everything about the meal was lovely – the food, the service, the timing, the atmosphere – all good.
How much does dinner cost in Lakka?
Starters, mains and drinks all for €48. That is excellent value for lots of lovely food, drinks and really friendly and efficient service.
Definitely somewhere to return to.
Tipping on Paxos
A quick word on tipping here. I tend to tip 10% if I have experienced good service and good quality food. If I am not happy I expect every cent of change. If I am really unhappy I try to get a reduction on the bill.
I of course round up my tips, so for this meal rounded up to $55, which we were still more than happy with.
And now for dessert
On the way back to the hotel we stopped at the bakery and got some sweet snacks to have with our Metaxa and also some cereal bars for breakfast.
No, we are not ones for staying out late drinking – we are far too old and boring for that. It was an early night for Nickie, whilst I stayed up on the balcony for a while trying to fathom out my other website photosofsantorini, which will be all sorted by the time you are reading this.
I had it in my mind that I needed to do stuff, and was really not tired, so a late night working for me.
And that is what Paxos does
I have switched off in 7 days on Paxos. I have managed to relax and refresh my head and my body. So much so that now my mind is beginning to start working again.
Going to Paxos is like rebooting a computer – I have been reset and am thinking clearly again.
Blimey, I did not expect that!
And with that it is off to sleep with the holiday just about turning the corner of half done, which is a disappointing fact what feels like being too soon after arriving.
What else have we go to look forward to then?
Now that there has been some serious relaxing it is time for me to get out and do some stuff. Nickie will join me for some of it but some of it I will do on my won.
Photographing the sunrise on Paxos
I am going to get up early three or four mornings and go and photography the sunrise. I have a pretty good idea of my locations of choice.
Sunrise is my favourite time of day, when I am all alone out and about watching the dawning of a new day.
This is a special time for us photographers – a rare time alone to concentrate on taking one photo. Sure, I take more than 1 photo, but that is all I am after.
You can read more about this on the post How To Get Sunrise Photos Of Paxos Greece.
What else is planned for the rest of the holiday?
We have got a hire car booked for two days, and most excitingly a rental boat which we can use to go all around the island of Paxos and also head off down to the lovely tiny island of Antipaxos.
This will be such a great day out, and the perfect antidote to the days of doing not a great deal.
Relaxing vs doing stuff
We can't travel all the way to Paxos from the UK and just lie by the pool for a fortnight. And neither can we spend two weeks going out and about doing stuff.
To be fair on Paxos that would be a challenge in itself.
No – there is a balance to be sought, which we have perfected that works for us both together and individually.
The art of relaxing on Paxos
Paxos makes it easy to relax – it is the natural consequence of being here. And we both take our rest and relaxation seriously.
Tomorrow it is time to get back to being a travel photographer – I am going to head off on foot with my trusty Canon 6D and find stuff to photograph – join me on this post which will contain photos taken in and around Lakka.
Want to know more about Paxos?
I hope that you have found this post helpful, informative and even a little bit entertaining! To find out more about my favourite, wonderful Greek island all you need to do is click here and I will take you straight back to the start of my Paxos blog. Nice and easy!
Oh yes, I hope that you enjoy the next post.
Rick McEvoy