Over half way through the holiday, now and its looking like another tired day.
Apart from one thing – my sunrise photos. Do want to know how to get sunrise photos of Paxos Greece? Today I will tell you how I plan taking sunrise photos. Planning is essential to ensure that you know where you are going, how you get there, where the sun will and what else will make up the composition.
Planning is the key to how to get sunrise photos anywhere to be honest, and planning is what I do well!
And you never know in the next post I might actually publish one of those lovely sunrise photos.
Before that, another day on the wonderful Greek Island of Paxos is to be enjoyed. My scouting trip I will come back to as I get to that part of the day.
The weather is back to normal
Sunshine is restored. It is another lovely morning on the balcony of room number 26 at Hotel Bastas.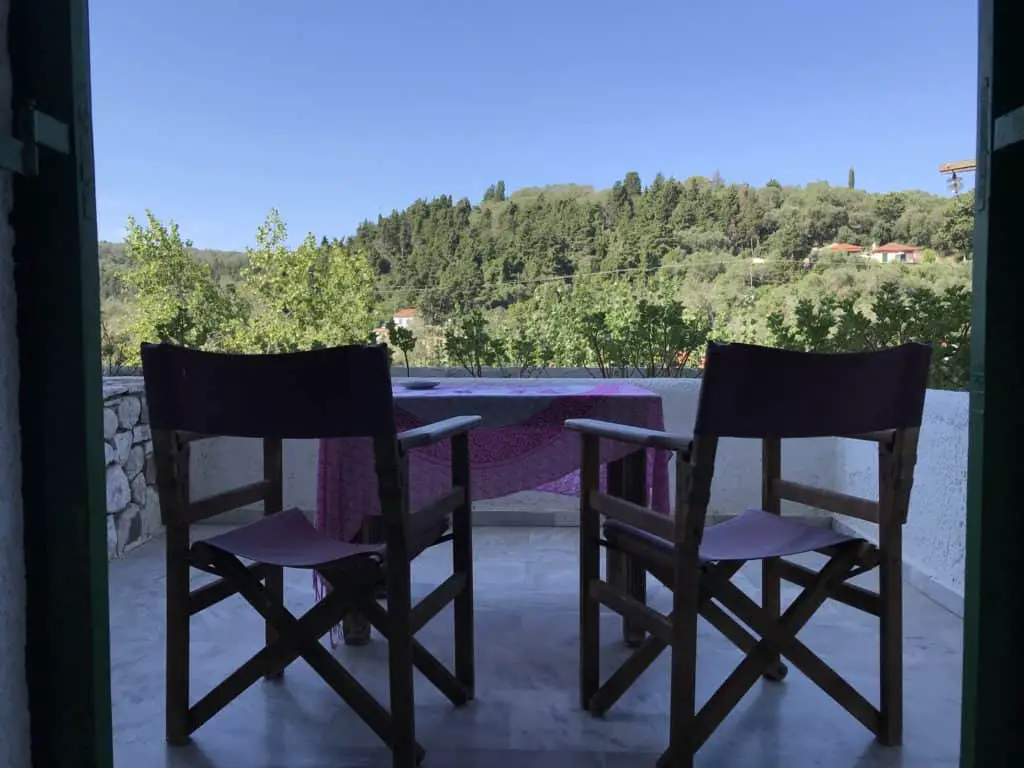 It is nice and quiet this morning. There are no dogs barking. There are no neighbours in adjacent rooms chugging away on gaspers.
I am awake early for some reason. Mrs M is sleeping soundly.
Basically all is good in the world of holidaying on Paxos.
What is the plan for today then?
Are we going to have a busy day today? I don't think so to be honest. Today at the moment looks like being another day of living life like sloths.
This is the routine
Get up
Drink tea
Drink coffee
Come round
Drag ourselves up to the pool
Lie down
Read
Doze
Have a beer
Eat
Lie down
Read
Doze
Sleep
and before you know it is time to go back to the room for drinks!
By 8.30ish we are both up and having our customary morning cups of tea. We are still drinking that that funny stuff from Yorkshire Tea, using our travel cups.
The idea was to use our travel cups to take a coffee up to the pool, but they are doubling  up now as essential morning cuppa vessels as well.
We don't need any more cups! 
We were going to buy some cups for tea from a local shop, but we agreed that as we already have enough cups at home to start a small crockery shop that this would not be a good idea.
And we would have to try and get the crockery home in one piece.
No that is a hassle I can do without.
Travel cups
It took five days to make the quantum leap from using the tiny cups in the room to our large travel cups.
Tea over, Nickie makes a coffee and leaves me to sit and type at the table on the balcony in the shade.
Time for a bit of writing
It is a good bit cooler this morning which is a bit of a relief. Not that we are complaining at it being hot on the Greek Island of Paxos in August – of course it is!
I have a productive hour writing on my iPad and drag myself up to the pool where we eat the cereal bars we bought from the bakery last night – very nice and will see us nicely though to brunch by the pool.
The Russia House
I forgot to say yesterday – I managed to complete The Russia House – a marvellous story by John Le Carrie with a fascinating prologue. A fascinating if demanding read. It was a bit complicated to be honest, and possibly more challenging than was advisable for me to tackle in Paxos.
Time for some proper holiday reading
Yes it is time for something lighter to read. Something which is nothing to do with photography, websites or business.
I plump for a book called Bricking It by Nick Spalding, a nice light humorous novel. I downloaded this at the pool using the miracle that is the Kindle and the iPhone as internet gateway device – using the personal hotspot.
This might sound like a strange thing to say but I am till in awe of the technology that allows me to order a book though my Kindle which instantly downloads using the signal on my phone – all whilst being sat by the pool on the Greek Island of Paxos.
It's great when technology just works like this.
And not that long ago we would not have even thought of being able to do this!
It is time to breakout of the Hotel Bastas complex!
I have decided today to do a bit of exploring, and am going to scout my first sunrise location for tomorrow morning. After all I bought my Canon 6D and a couple of lenses mainly get some sunrise photos of Paxos. More on that in the next post.
Lunchtime first though
After a lunchtime libation of a Mythos each it is back to the sun loungers for an hour before we share a Greek pizza no less and a tuna salad at the pool bar – another excellent lunch courtesy of Hotel Bastas.
And now it is time to explore Paxos
After lunch I head off armed with my iPhone, Apple Airpods and my Oakley sunglasses.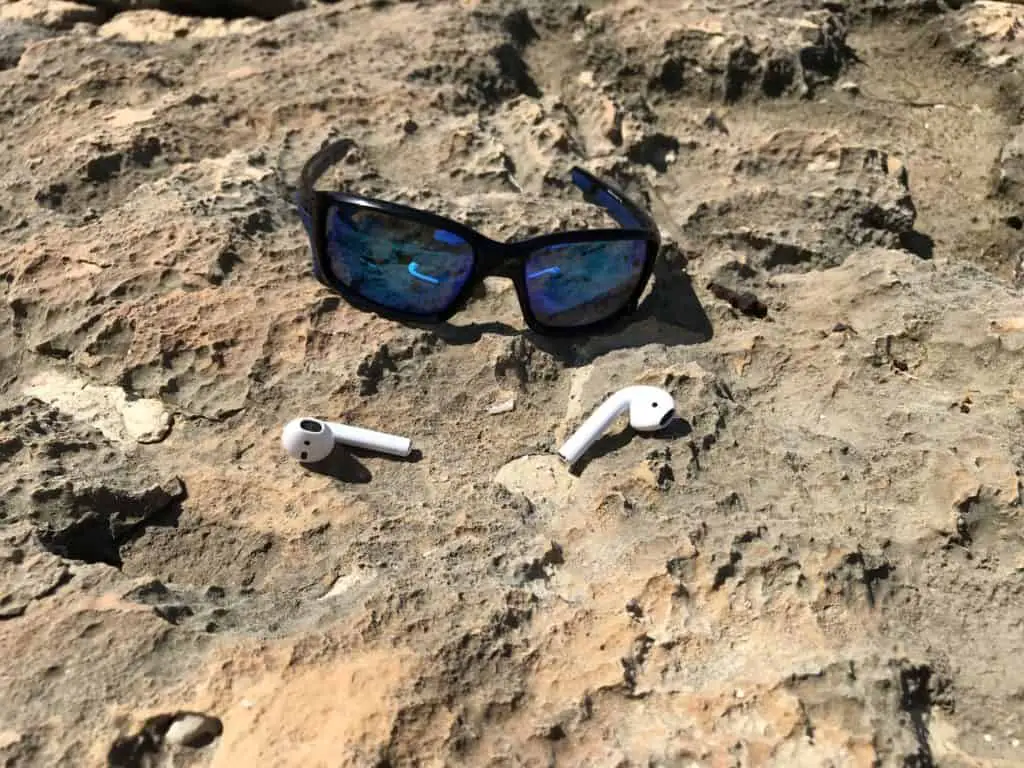 There is a gate at the back of the pool bar kitchen which takes you straight to the hills to the side of the bay of Lakka.
I take that path, and then realise that this will be no use to me in the dark of the morning as it will be locked.
Oh well I will work this out on the way back.
Off I go on the high path, and am soon in familiar ground having put the connecting paths together.
I follow a good a path around the headland and end up back at Arcoudarki Beach – the beach I was at the other day.
My first sunrise location is sorted, and I have found a better path there navigable in the dark.
At my destination I use one of the excellent tools on my iPhone, The Photographers Ephemeris. I use this to ascertain exactly where the sun will rise. Using this tool I have the exact location of the shoot sorted.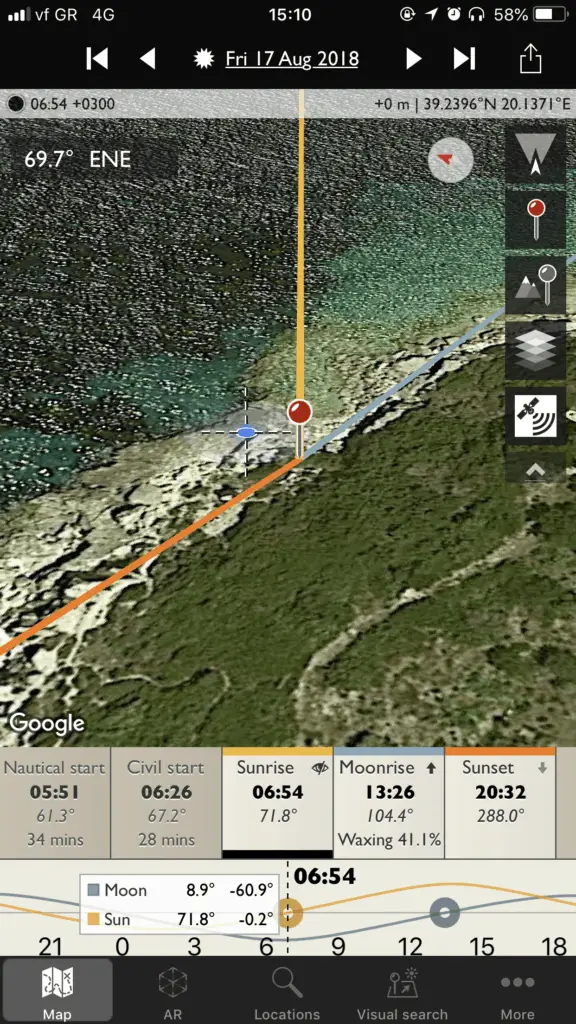 Another thing this excellent tool tells me is that the sun will rise at 6.53am tomorrow. This is the planning I was talking about.
And I know how long it took me to get to my preferred location – I reckon I will be able to get these in the dark in 15 minutes, so need to remember to pack my bag and get my walking shoes out for the morning. I will set the alarm for 5.45, with the intention of being on my way at erm 5.50am.
Planning determines the time I have to wake up – very important.
I want to be up in good time but not too early!
That will leave me time to get prepped and watch a new day dawn in Paxos – and I cant wait!
Me and my sunrise photography
I get a lot out of sunrises, with shots of my minimalist camera set up, videos of the sun rising and also videos of me taking the photos themselves. There are lots of great views on the way back to, not sure if they will work though due to their location. I am going to come back a different way, taking in the beach to that I visited the other day – the one with absolutely nothing there.
I will out talking photos for an hour tops, and will get a lot of material out of this hour.
And as we are on holiday I can catch up on any sleep on a sun lounger!
No water
I regret again not taking any water with me, and further regret going out in the stifling heat straight after lunch and a beer – not great planning! I am back within the hour though and cool down in the pool before having a recuperating bottle of water before having an even nicer cooling beer.
Don't worry – I don't drink this often when I am at home!
When in Rome as they say.
And it is time to get back to my holiday
Back to the usual position, reading on the sun loungers in the corner by the elevated pool of Hotel Bastas.
I have said this before – we are creatures of habit, and have our preferred spot which is as quiet as we can get. We of course have no influence over who sits next to us – it does baffle us how sometimes people insist on sitting virtually on top of us when there is loads of room elsewhere.
The pool has been lovely and quiet during the day, but it fills up so we head back to the room to get ready for another assault on Lakka. OK a couple of hours.
More essential shopping
We have to get supplies. It is time for a big shop! This evening we are low on water, milk, and more importantly wine and beer!
I hate carrying water back to the room in the scorching afternoon heat!
And the weather today has been Scorchio as they used to say on the Fast Show.
Another evening dining in Lakka
Where to eat tonight is the eternal question we are now pondering over a nice G&T back at our room at Hotel Bastas.
Decision not made we slowly down to Romantica in the baking evening heat for a nice refreshing Mojito each, and get treated to the balcony views looking down on the boats and sky disappearing over the horizon.
Lovely as ever!
Taverna Pounentes – a new restaurant to us
We walk back to the square, and choose the restaurant called Taverna Pounentes, which is next door to Taverna Nionios that we ate at the other evening. Nickie spotted some staff from Neilson eating there, which must be a good sign.
They wouldn't be there if it was rubbish!
A very warm welcome at Pounientes
We gave it a go, and are very charmingly greeted by the chap who appeared to be running the restaurant. We had a nice table, instant service of drinks along with plenty of time to peruse the menu.
Very good early signs indeed.
What did we eat?
Starters – we pushed the boat out and had a starter each. I know, this doesn't happen often and there might be a price to pay later for this early meal gluttonous decision!
Nickie had a hot cheese dip, whilst I went for smoked cheese saganaki. Different but very cheesy.
I have to sat that it was not my favourite saganaki – not the restaurants fault – this is how they do it and I have had it lots of times cooked another way that I prefer. No this is down to meal choice, and my taste.
It was still lovely.
The cheese thing was good as well – so good that we bought some back and plonked it in the fridge.
Main courses were also really nice.
Nickie had the meatballs in a sauce with vegetables, and I had a fillet steak in a pepper and Metaxa sauce with, wait for it,
ROAST POTATOES!
I know – how completely bizarre, but also utterly fantastic is that. And even better they were crunchy on the outside and soft on the inside – just how I like them at home…..
I will say it again – I am sat in an Italian restaurant on the Greek Island of Paxos in August in the baking heat eating steak with ROAST POTATOES!
Rehydration
Sensibly I ordered a bottle of still water, having spent another day not drinking enough water, which I know is stupid but I never seem to learn. And to accompany all that lovely grub we share a large carafe of red wine.
A very satisfying meal with excellent service – just the job. A very enjoyable evening, and another restaurant that we will definitely return.
Remember in another post I said that there were plenty of places to eat and drink in Lakka. That is in part as all the really good places I always want to go back to.
Off to bed without any Metaxa tonight – it has been a long day, and I need me sleep!
Before I go to sleep – my camera bag
Oh yes – one last thing – I have to pack my camera bag for the morning. This consists of getting the Tupperware box of the stuff that goes in my checked luggage and putting it in the bottom of my bag, putting my camera on the top of my bag, and that is gear done.
And at this point I remember that I have not actually taken a photo with my Canon 6D yet – day 8 and not a shot. I have been happy with my iPhone to be honest.
I have actually bought my Salomon walking shoes this time – no flip flops or red pumps for me – no I am properly geared up for clambering over rocks and stuff.
And my snacks – tomorrow they will be a can of actual, full fat coke and a pack of original Oreos.
Healthy I know.
But this is what I have to put up with when I am venturing out to photograph the sunrise in Paxos.
My Paxos Photos – what am I going to do with them?
I am going to publish my Paxos Photos in a separate photo gallery of my – this will be the last job of creating content for my website, and I am saving the best till the very end.
Photo editing – I love it. I will be publishing 50-100 fully edited photos taken and processed all by myself. 
Want to know more about Paxos?
I hope that you have found this post helpful, informative and even a little bit entertaining! To find out more about my favourite, wonderful Greek island all you need to do is click here and I will take you straight back to the start of my Paxos blog. Nice and easy!
Oh yes, I hope that you enjoy the next post.
Rick McEvoy