Antipaxos is a very small Greek Island. Small but stunning and we have loved both our visits.
Antipaxos Greece – as I said a stunning, very small Greek Island that we visited twice, and absolutely loved each time. In this post I will tell you what it is really like going to Antipaxos for the day and provide information on everything that this wonderful tiny Greek Island has to offer.
At the end of the post are links to related things on my website that I think you might find of interest.
So if you have already booked a holiday to Corfu or Paxos, or are thinking about it, and fancy a day out somewhere different then why not add Antipaxos to your plans?
If you hear about comparisons with the Caribbean and Caribbean-esque beaches and translucent blue, green and turquoise seas then this is true – I have been to both and Paxos really does compare.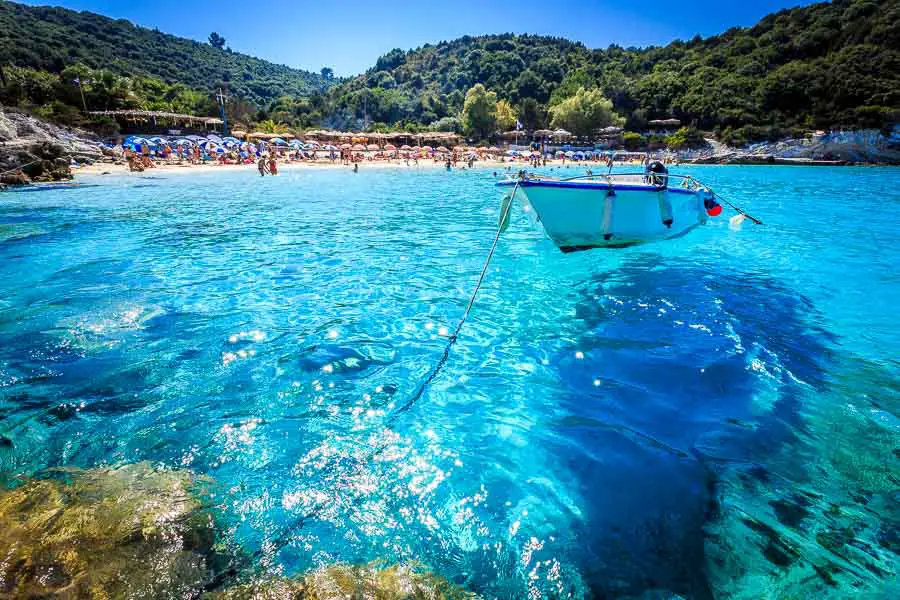 Why should I go to Antipaxos?
Well why not? Antipaxos offers stunning beaches with stunning crystal-clear aquamarine waters.
Where is Antipaxos?
Here is a map that shows mainland Greece, Corfu, Paxos and Antipaxos. Antipaxos is just under 2kms to the south of Paxos in the Ionian Sea. The trip from Gaios to Vrika Beach is longer of course, but the 2km is the extent of the bit of open sea between the two islands.
How big is Antipaxos?
Small. Very small indeed.
From top left to bottom right Antipaxos is 3.90km long, and at its widest point is 1.68km wide. That equates to just over 4km2.
That is pretty small isn't it??
And Antipaxos has a population of less than 100 in the high season, dropping as low as 30 in the close season.
30 people on an island – just think about that!
When is the best time to go to Antipaxos?
Well that is simple. Check out my post When Is The Best Time To Visit Paxos? which will tell you all you need to know.
The island of Paxos is quiet in the close season, and I would imagine Antipaxos is even quieter – I have never been there off-season so cannot say for sure, but I would imagine that Antipaxos is pretty much deserted on the close season. Certainly there will be a much-reduced boat service from Paxos to Antipaxos. And I can't see any of the restaurants staying open either.
Now I have to say that writing this makes me wonder if it is possible to go to Antipaxos outside of the main holiday season on Paxos.
It sounds like an exciting and different thing to do, which I fear I am going to have to look into and try to do!
The tavernas on Antipaxos may not even be open at the beginning of the tourist season in May, nor the end of the season mid to late September, giving a small window of opportunity. Off season does not look good.
Getting to Antipaxos
The only way to Antipaxos is by boat. Well unless you are a particularly strong swimmer that is! Or have a sea plane or helicopter. Ok I will stop there- you get the point?
There are day trips mainly from Gaios, as well as daily water taxis from Gaios to Vrika and Voutoumi Beaches which run from mid-June to mid-September. Water taxis only take 10-15 minutes to get you from Paxos to Antipaxos and back.
And if you are one of those lucky people sailing around the Ionian Islands you can moor up and hit the beach and bars whenever you want.
Other than that it you have managed to secure one of the few holiday resorts on this wonderful island your tour operator will get you to your accommodation.
Getting off the boat and onto the island
Let me share my experience with you here. Getting across the open water from Paxos to Antipaxos is not a problem.
Getting off the boat and onto the island can be though.
This is what I ended up doing – this is the bit you need to know – how to get quickly and safely on and off Antipaxos without annoying anyone.
You can read all about the trauma of my incompetent attempts to do this in the post Paxos Boat Hire – Do Your Own Trip From Paxos To Antipaxos.
I will spare you that tale of woe and cut to the chase. Take the boat slowly into the bay – you can't miss Vrika Beach and Taverna Spiros on the right-hand side.
Head to the right of the bay and you will see the platform where people get on and off the water taxis. Wait for the water taxi to leave, then quickly take your boat in and pull up at the landing. Holding onto the side drop off your passengers and all the bags, then turn the boat around and head of for the sand and drop anchor. It is a quick swim back to the beach, and everyone is on the island with no dramas.
And I will give you one more top boating tip that will help you – bring a small waterproof container that you can out the boat key in. Preferably something that you can attach to yourself that is brightly coloured and floats.
And don't take loads of stuff. I took my full camera bag with me which caused all sorts of problems!
What is there to do on Antipaxos?
Beaches
I have listed the main beaches elsewhere in this post. The beaches are lovely sandy beaches. Just go and enjoy!
Swimming and snorkelling
The water is stunningly clear. I like to just float in the water there to be honest. Get over to the rocks on the side an you never know what you will see – the beauty of that lovely clear water is the visibility when snorkelling is amazing.
Diving
There is a dive site on the even smaller island of Daskalia, which can be found about 900 metres south of Antipaxos. There are two dive centres on Paxos, Paxos Oasi Sub in Lakka, which I walked passed at least 6 times every day on holiday as it is just past the Hotel Bastas, and Water Planet Dive Centre in Gaios.
There is no dive centre on Antipaxos. Other than the tavernas there are no shops on Antipaxos!
Walking
Obviously the island is small but walking into the centre of the island is well worth the effort, and you can take in Bella Vista on your way! And who does not love a gentle scramble on the rocks of the coastline of these islands – I know I do.
But be careful on those rocky edges!
Driving
Yes you can drive on Antipaxos, but this is only if you are staying there and really feel the need to! If you walk at a reasonable pace of 4kms per hour you should be able to get from the top to the bottom in something like, erm 20 minutes! And getting from side to side will be even quicker.
So driving in Antipaxos? I don't think so.
And where would you get fuel from?
The beaches of Antipaxos
These are the beaches of Antipaxos.
As with my description of the beaches of Paxos, which you can read in the post imaginatively called Paxos Beaches, I will start at the top of the island and work round in a clockwise direction.
There are three main beaches on Antipaxos.
Vrika Beach
One of the two famous beaches of Paxos, Vrika Beach has the lovely soft white sand and that Caribbean-esque stunning water. Vrika beach has two tavernas which you can read about later on in this post. I am sure that there used to be three places to eat and drink on Vrika Beach but there only appear to be two now. Or am I imagining things?
Mesovikra Beach
This is the less well-known beach, the pebbly beach in-between Vrika and Voutoumi beaches. There are no bars, and the beach is pebbly.
So it is much much quieter, and if that is your kind of thing go for it and enjoy that lovely water and everyone going past on the boats to the busier beaches.
And it is a quick 5-minute walk to either of the other beaches with the facilities and all those people!
There are rocks at the ends of the beach which offer great snorkelling opportunities.
Meso means "middle, intermediate, halfway" by the way. And I guess Mesovrika is the middle beach of three.
Smile and wave and enjoy the peace and quiet of this lovely pebbly beach!
Voutoumi Beach
Voutoumi Beach is the largest beach on Antipaxos, and along with Vrika Beach is one of the most famous beaches in the Ionian Sea, and possibly further beyond.
Voutoumi Beach has that lovely white sand, and that ever so stunning blue water.
Other beaches
Apart from these beaches there are a number of smaller beaches which do not appear to have names.
I have to say that I have not been to these beaches, but they are (apparently) all accessible on foot, or much better by boat.
On the north west side of the island you will find Bay Antipaxos, which is a very quiet bay accessible from a small path or you can moor your boat in the bay and swim in the lovely crystal-clear blue waters.
Why is the water so blue on Antipaxos?
It is a combination of the nutrients in the sea, the depth of the water, the protection on the west coast of Antipaxos, the tides, prevailing winds and that lovely white sand that all combine to give the beaches of Antipaxos their stunning, crystal clear blue waters.
I have often wondered why the sea is so blue and having looked into it believe it is a combination of all these things leading to this natural phenomenon.
Staying on Antipaxos
You can stay on Antipaxos, but you need to bear in mind a few things
Shops. There are no shops on Antipaxos.
Tavernas. There are five tavernas which are open at lunchtime. I list these elsewhere in this post.
Hotels. There are no hotels on Antipaxos. No hotels!!
And that is pretty much it.
Bear this in mind – stopping on Antipaxos is going to be a different, secluded and quiet experience!
Where to stay on Antipaxos
There are places you can stay on Antipaxos – here they are
Simpson Secret – Simpson Travel Hideaway Bolthole
Check out this fantastic Simpson Secret.
You are provided with a Suzuki Jeep to drive around the limited roads on the island but remember how big the island is – I am sure that the bicycles provided will serve you just fine!
This really is a wonderful retreat which I am seriously thinking about for 2020 – it is pretty much fully booked for 2019 (at the time of writing this post in April 2019).
There also a small number of private rental villas on Paxos. Check out
Where to eat on Antipaxos
Taverna Spiros
This is one of the two main bars on Vrika Beach. Sat right on the beach this is our favourite taverna on Antipaxos which we have stopped at on both our visits to Antipaxos.
Now you might expect to pay a premium for eating and drinking on Antipaxos, but the prices are Taverna Spiros are just fine, the food is lovely, and the drinks are chilled.
Meat is cooked on a barbecue which you walk past as you enter the seating area which is up a few steps giving the taverna a slightly elevated position offering fantastic views of the beach, the bay and that stunning water.
Here you can sit and happily watch the world go by, and watch the boats coming in and out of the bay.
Of course at peak times in the peak season it can get busy, so make sure you allow yourself time – do all this and you will have a great time there.
We liked it so much we bought a t-shirt there happily advertising the taverna!! And talking it t-shirts this is were I left my t-shirt that time that I drove the hire boat – you can read all about that in the imaginatively titled post Paxos Boat Hire – Do Your Own Trip From Paxos To Antipaxos.
The end point of this story is that we had a chat with the people at the Mongonissi Beach Bar and were reunited with my t-shirt at Theo and Pepe in Gaios some days later!
And that is what Paxos is all about for me – a small, close community happy to help wherever they can.
I believe that Taverna Spiros is the most popular restaurant on Antipaxos and has the best reviews if you check out Google and Trip Advisor, edging out Bella Vista.
Bpyka Taverna- Bar
This is the other bar on Vrika Beach. This bar is down to the left as you look at Vrika Beach.
We have not been there to be honest, but I hear from people that I have spoken to that it is very nice and can be quieter than Taverna Spiros.
Voutoumi Beach Bar and Restaurant
Voutoumi Beach is the other main beach on Antipaxos. I have not been to Voutoumi Beach Bar – there is unfortunately only so much you can achieve in a day, especially if you want to have any relaxing at some point in the day!!
A lovely beach location with views of that stunning (I will use the term again) Caribbean-esque sea and sand combination!
Bella Vista
This is the restaurant a short walk up the hill with great views looking down on Voutoumi Beach. How many steps appears to be a subject for debate – I lost count but there are 200-220-300 who knows? steps.
One thing I can categorically say is that you walk up steps to get there.
Bella Vista after all means "beautiful sight".
You can get dinner there, but the service does not run late into the night, they often have the last service at 8pm. And reservations are recommended, especially if you consider the lack of alternative options.
At Bella Vista you will enjoy great food, a friendly service and also great music!
My photos of Antipaxos
My plan was to show all my photos of Antipaxos here, but the truth is that I have not processed them yet. I have included the photo of Vrika Beach in this post, and will post the rest of the photos once I have edited them
Related posts
I have written a number of related posts which I will provide links to you for
Should I drive a hire boat to Antipaxos from Paxos?
When is the best time to visit Paxos?
Paxos Boat Hire – Do Your Own Trip From Paxos To Antipaxos
And also please check out my Paxos Travel Guide YouTube Channel
Want to know more about Paxos?
I hope that you have found this post helpful, informative and even a little bit entertaining! To find out more about my favourite, wonderful Greek island all you need to do is click here and I will take you straight back to the start of my Paxos blog. Nice and easy!
Oh yes, I hope that you enjoy the next post.
Rick McEvoy