My alarm goes off at 5.40am. Why do I do this? I need sleep.
I am photographing the Paxos Island sunrise. This is what it is like. This is the reality of doing this crazy stuff. So, I will now stop complaining and tell you all about photographing the sunrise on Paxos and then also having a day's holiday!
OK I am up now.
I am up. I have only myself to blame. No one has asked me to do this have they? No this is all down to me and I just need to get on with it.
I get myself ready, kiss the sleeping Nickie goodbye then creep out quietly with my camera bag, snacks, shoes and socks.
Putting my shoes and socks on
I put my shoes and socks on outside the hotel. I have cleverly taken a t-shirt off the chair on the balcony, which I have only now realised is a tad soggy.
I can't get back into the room, as I don't have a key, so all I can do is crack on with a damp t-shirt!
I hope I have remembered everything? If not I am completely knackered as I can hardly wake Nickie up at 6am one can I?
And I then remember that I have absolutely no money with me, so no chance of buying a drink when I get back to Lakka from my destination.
So that's the planning I wrote about yesterday then!
Time to get moving
Thankfully I know where I am going. I still can't stop myself going over to the concrete wall forming part of the harbour – I really want a picture of all those boats in the dark with the lights on.
A bit about my Canon 6D
My Canon 6D excels at this kind of thing, extracting out every ounce of colour, detail and content from a virtually dark scene. My Canon 6D effortlessly focusses on the boats in the dark sky – quite miraculous really.
For all those people who criticize Canon for lack of innovation etc we all need to remember that cameras like the Canon 6D are workhorses – plain and simple. My Canon 6D has performed faultlessly ever since I bought it. Well apart from that time I dropped it on the hard-paved floor in the National Trust office at Corfe Castle that is.
My travel tripod of choice – the Manfrotto Pixi
I am using my mini tripod, the Manfrotto Pixi – seriously that is all I use for travel photography these days. I can get it to work with my Canon 6D and Canon 24-105mm lens – you just need to think about it.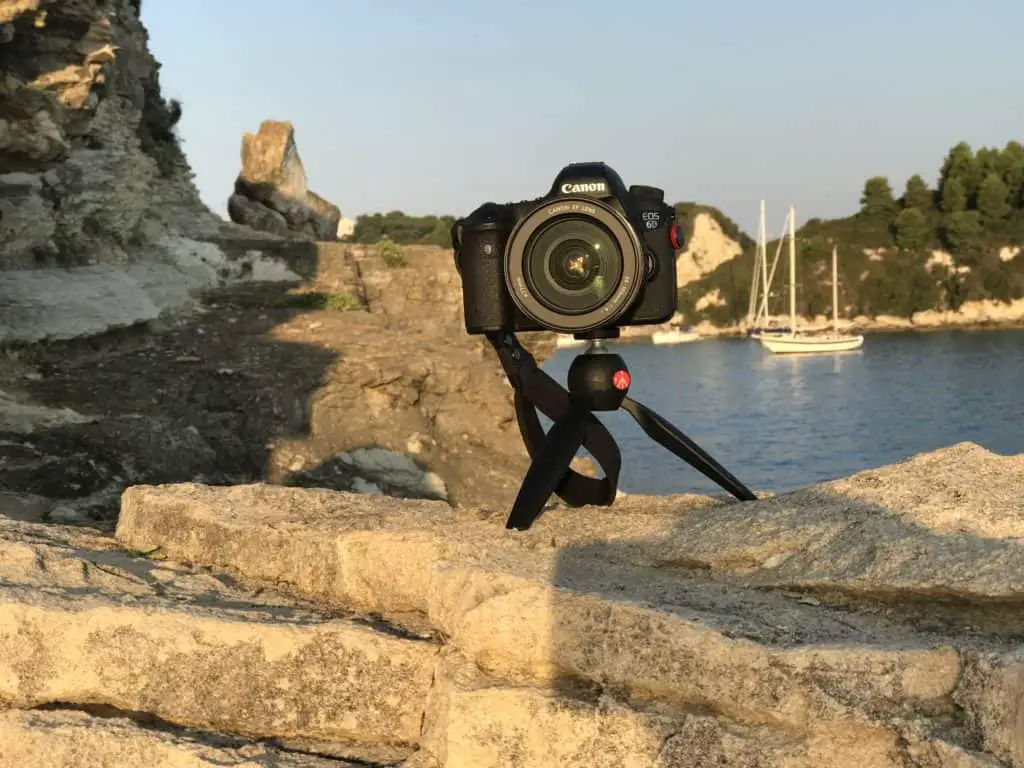 And the shots I get are perfectly sharp.
But you have to lie down/ sit down/ get down to the level of the camera to view the composition – this is the one downside. But I manage.
This morning I am placing the tripod on rocks by the water, composing using live view, focussing one third in using back button focus and then setting the 10 second self-timer off.
All nice and simple.
Here is a photo of my beloved bobbing boats before sunrise.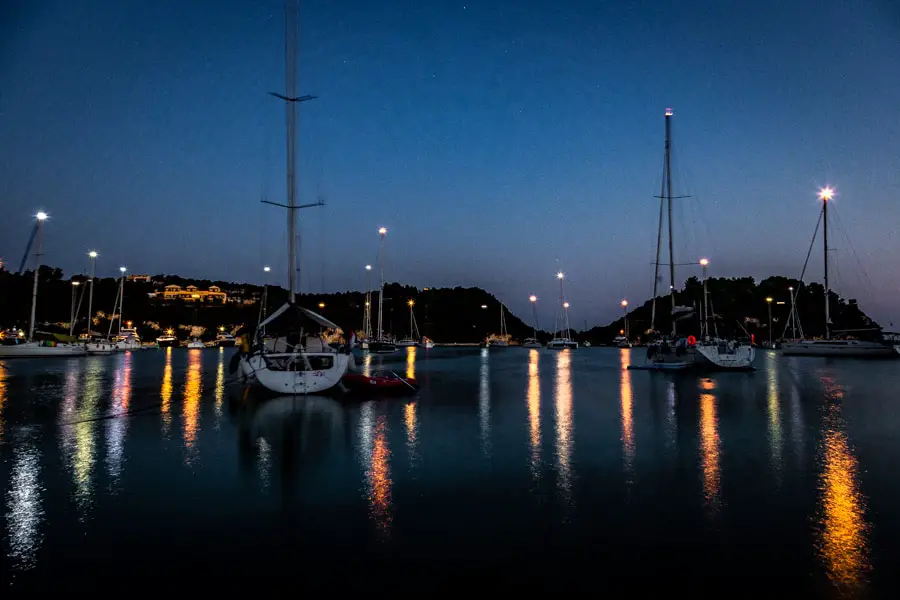 I get the shots I want here, and move around the harbour.
I find another location and start taking photos. Then as I am dragging myself up off my rock with my camera in my hand I catch a rock, and watch my lens hood falls off, bounces off a rock and the next thing there is a gentle plop as my camera lens hood lands in the water. It's still dark but I will show you this later!
Bugger. I don't have a spare.
I can see the lens hood down there in a convenient circular hole in the rock but cannot reach it. I decide to come back later and see if I can fish it out.
Meanwhile there is a sun still rising over to the east!
I get back to the path and walk quickly round to the spot where I am going to take my photos of the sun rising over the Greek mainland 24kms away. But I don't like the location, and sea level is a bit higher that when I was last here.
I take a couple of shots from an alternative viewpoint and decide to go to the beach I was at the other day, which is just around the corner.
Finding the right spot for sunrise
I get there with about 10 minutes to spare. Sunrise is 6.53am. Plus there is the bit of mainland for it to get over. I search around for a composition I like, and settle on this, with the bottom half of the frame filled with some water in a rock pool, with the horizon the upper third line, and the sun going to appear somewhere dead central.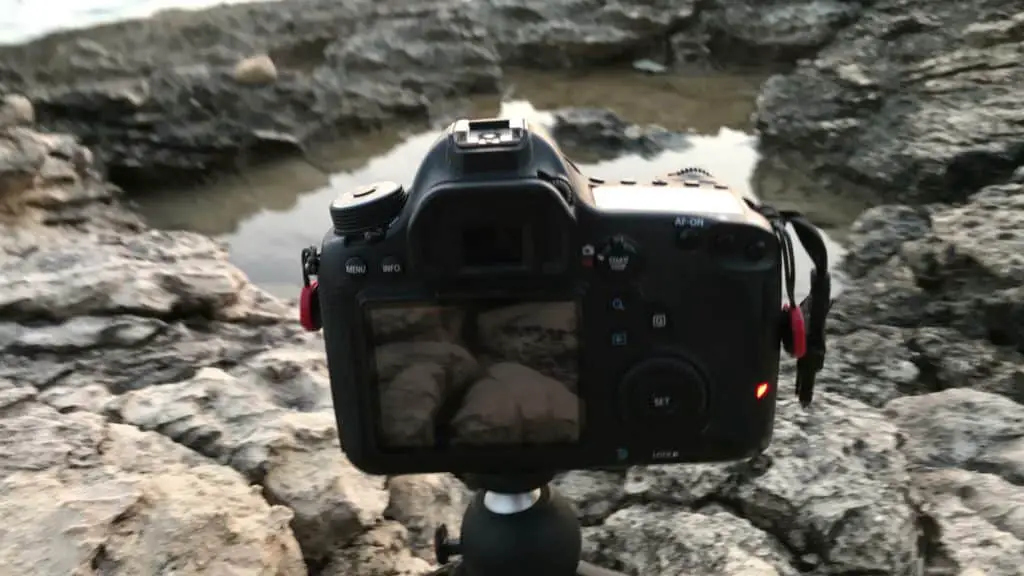 This is according to my App TPE (see yesterday's post for more info).
I sit there with my camera ready and take a couple of videos and behind the scenes stuff – I get so much material from a sunrise shoot. This is a 45 second video on my YouTube Channel Paxos Travel Guide.
Here comes the sun!
I see the sky go brighter, telling me the sun is about to appear. I am going to video the sunrise with my iPhone and take stills with my Canon 6d. All I need to do is press the shutter, wait the 10 seconds and that is an image done. I repeat this for the duration of the sunrise.
And here come the naked swimmers!!!!
Three minutes in I hear a voice say kaliméra, and a bloke who I can just see out of the corner of my eye stripping off his clothes and getting into the sea.
Seriously.
I am filming so can't turn around, thankfully. Another bloke appears and does the same. I can see them over to my right swimming.
I stop the video at 4 minutes as the sun is up. I decide to head back to the other location – I really need to pick my spots more carefully!!
Back to the original location
I take quite a few photos on the way back, sweating profusely as I go but enjoying my walking shoes which make me move like a mountain goat over all those rocks. Well sort of.
There are some interesting things I observe – I do notice that I see more on times like this when I have got the shot I was after, and can relax, walk back slowly and just look around me.
Sunrise might be up but there is still that lovely directional morning light to play with.
And a quick note of digression here – I am not one of those who only goes out at the best times of day i.e. around sunrise and sunset to take photos – I am a firm believer that there are great shots to be had at any time of day, even noon with that so-called hideous overhead light.
You just have to look around and find them.
And another digression
Another aside now that my head has gone back into photographer mode. I am always trying to find different views on things, I am not all about getting the headline shots that everyone seems to want to get.
What's the point?
If I want to look at them I can just stay in bed find them on the internet.
Back at the other spot, and I take a couple of shots of the scene I had planned to shoot and then move on, rather than taking the path back to Lakka I follow the coastline, which involves a bit of scrambling over rocks, and get to the end of the island and the entry into the bay of Lakka.
Is it a harbour? Or a bay?
I'm not sure. No matter.
Here I am greeted by all those lovely boats moored up, and here are lovely shimmering reflections off the water. I take a few shots, and even a video with my Canon 6D – unheard for me I know.
I also took some gear shots – these are really useful, and I am using these in my strategy to get some commercial partnership deals going.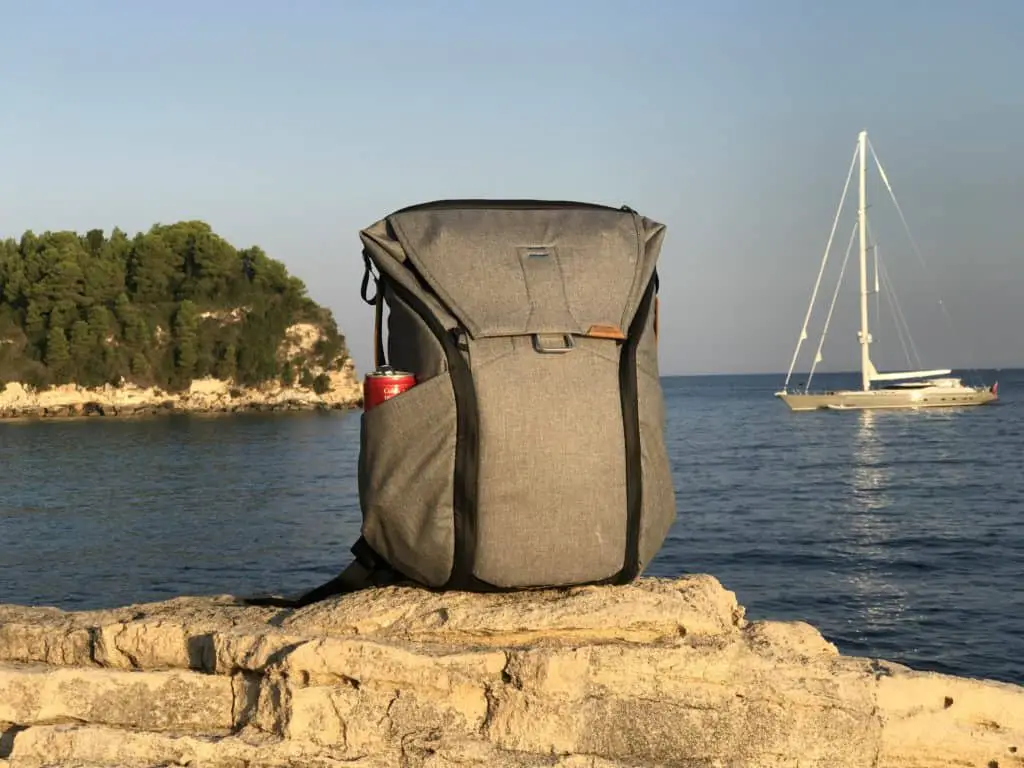 I take photos of my Peak Design Everyday Backpack and Manfrotto Pixi Tripod with my Canon 6D sat on it using the most excellent portrait mode on my iPhone 7 Plus.
Back at the jetty – where is that lens cap?
I get back to the concrete jetty – it is time to retrieve that lens cap. Here it is. I thought it was in a hole and wouldn't go far and thankfully I was right. It will be a lot easier to rescue this vital piece of plastic in daylight. I put all my stuff in my bag and put it on a rock. I lie my t-shirt down on the rock then shove my arm down the hole.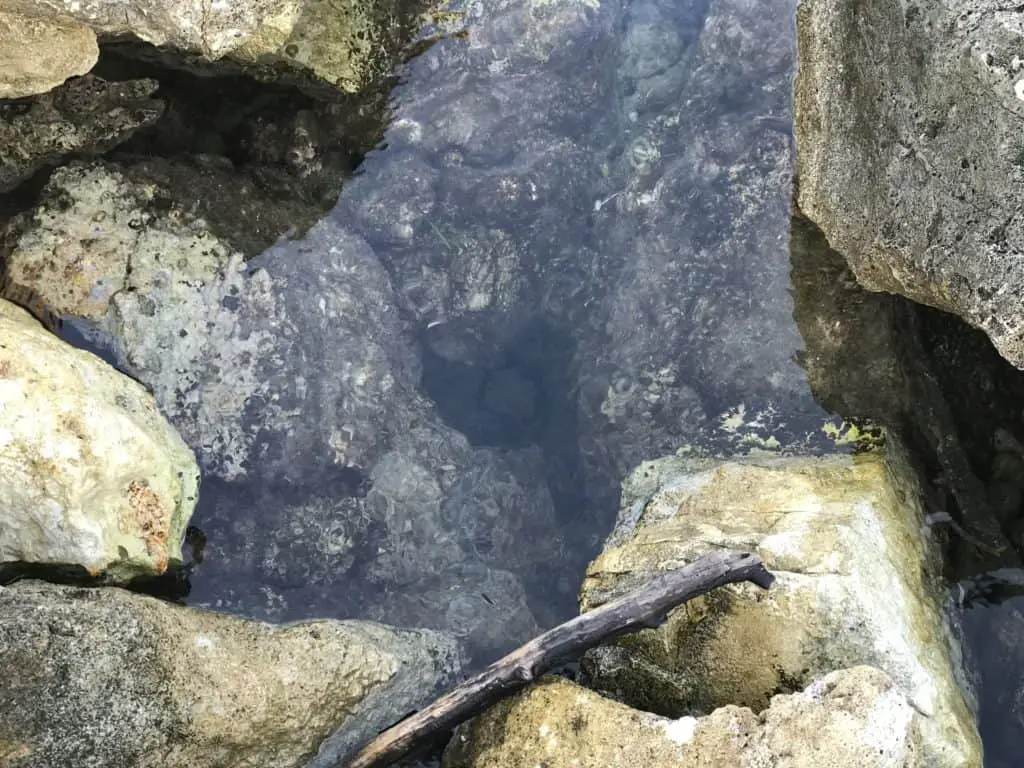 Too deep – can't reach it.
Thanks for the stick
Right next to me is a stick with a very helpful bobble on the end – I manage to efficiently hook my lens hood out of the hole in no time. I attach the lens hood to the outside of my bag using one of the many utility straps that you get with the Peak Design Everyday Backpack, keeping that salty water away from the inside of my bag.
I take a few more photos on the way back and decide that this is where I am going to come back to in the morning – there are so many potential shots to capture at this time in the morning.
And we can have a nice breakfast by the water too.
I love photographing the sunrise
I had almost forgotten how much I love going out on a holiday and doing these sunrise shoots – they really are a favourite photographic thing for me to do.
And they get me off my arse and moving!
I got back to the hotel about 9, desperate for a drink as I forgot my wallet.
Still not done with my work on holiday!
Breakfast – finally
Breakfast is toast and honey with a coffee in the room – the bread from last night's meal that we did not eat.
Once we are sorted I write my journal for the day and we head off up to the pool.
And it is already lunchtime
Luncheon is a very pleasant chef's salad and a mushroom omelette which we share. The omelette is somewhat spoiled by the cap falling off the pepper as Nickie was trying to sprinkle pepper onto the plate – situation recovered, and we have a nice lunch.
Lunch with a beer. Of course.
And now we have out rental boat sorted
We managed to source a boat from the Olympic Holidays rep Sam, which we received confirmation of later on that afternoon for the bargain price of €60 plus fuel cost.
And where was my wallet?
That is when I discover that I had my wallet in my camera bag all along, so I could have got that much needed drink in Lakka.
And with that it is back to the room for drinks and showers and dinner.
Another evening in lovely Lakka
Cocktails at Fanis this evening – they have got the mint in again. Nice Mojito but I think Romantica is our favourite, especially with that upstairs bar.
Dinner at La Piazza
After our cocktail (without accompanying snacks I am disappointed to say) we walk back to the square and choose La Piazza to eat at. The carafe of wine is not good, so we ask if we can swap it for a bottle of red, which is fine all round so no problem.
We share a starter, which ok I have forgotten,. I have chicken souvlaki and Nickie goes for prawn saganaki. Another case of prawns in shells served in a sauce. With nowhere to put the debris and no finger bowl. I'm sorry but you shouldn't have to ask for these things.
The food is ok, and we pay and go back to the hotel – a good two-minute walk.
I am shattered so am asleep in no time after a quick Metaxa. 
Day 10 – Sunday – up early for the sunrise on Paxos 
This is the last day of rest for a while before we embark on our hectic schedule for the next three days. I set my alarm for 5.40am and get up half an hour later. I wanted the lights on the boats in the darkness but am too late this morning – it is considerably brighter than it was at this time yesterday morning.
OK – I overslept.
I try a couple of shots back where the lens cap incident took place yesterday, and potter around the harbour not sure where to go next. It is not a great morning for taking photos to be honest, and then the sun lights up the clouds which reflect off the water and give a me a few things to photograph.
I have done about three laps of the harbour by now, with nothing really taking my fancy, and the sun is going to up soon. I decide to go to the opposite side of the bay to Lakka Beach and the beach bar which I believe belongs to the Amfitriti Hotel.
I have picked a great location
Now that was a good call. Complete silence. I take some photos on both my Canon 6D and my iPhone, and then decide I am going to shoot some videos of the lapping waves.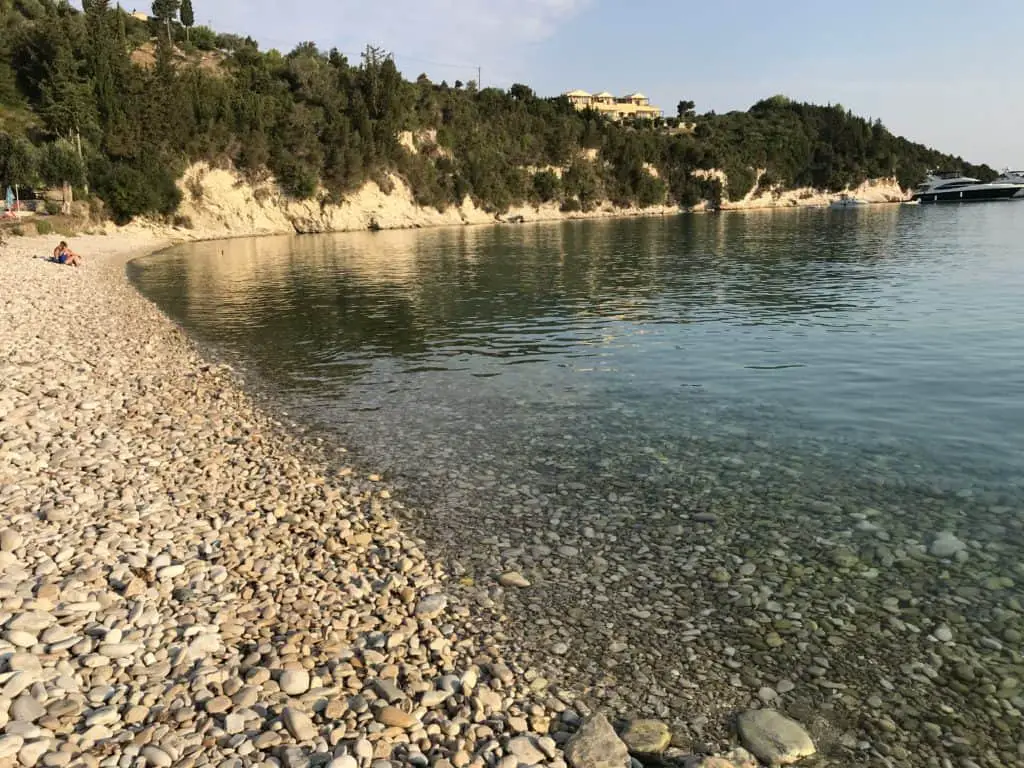 Now that was a good call. Complete silence. I take some photos on both my Canon 6D and my iPhone, and then decide I am going to shoot some videos of the lapping waves.
I set up my Canon 6D on the little Manfrotto Pixi tripod and get my composition framed up – I want a good 2 minutes of the waves lapping on the beach from low level.
That is when the leaf blower fires up at the beach bar.
Really????
I decide that I might as well just lie down on the rocks and wait, which his exactly what I do. I am by now too tired to get up, so I just lie there in the position to start my camera recording, which granted is not a natural position.
Thinking about it I must look rather odd, but thankfully there are no passers-by. Then a chap walks past and cheerily says morning to me – how can he tell from this angle that I am English anyway?
My natural tripod
I set up my iPhone using a variety of rocks – who needs a tripod eh? And I do a 6-minute video if the waves lapping on the shore, which I am have put on my Paxos Travel Guide YouTube channel – let's see what watch time that gets.
I took photos while letting this video run and did a couple of short videos with the Canon 6D before heading back to the hotel about 8.20.
And on the way back there is more to photograph
I took a few shots on the way back, that morning sun still giving some great directional light. And then I come across the creperie next to Akis – check out the lighting here reflecting off those bright shiny tables. Very cool.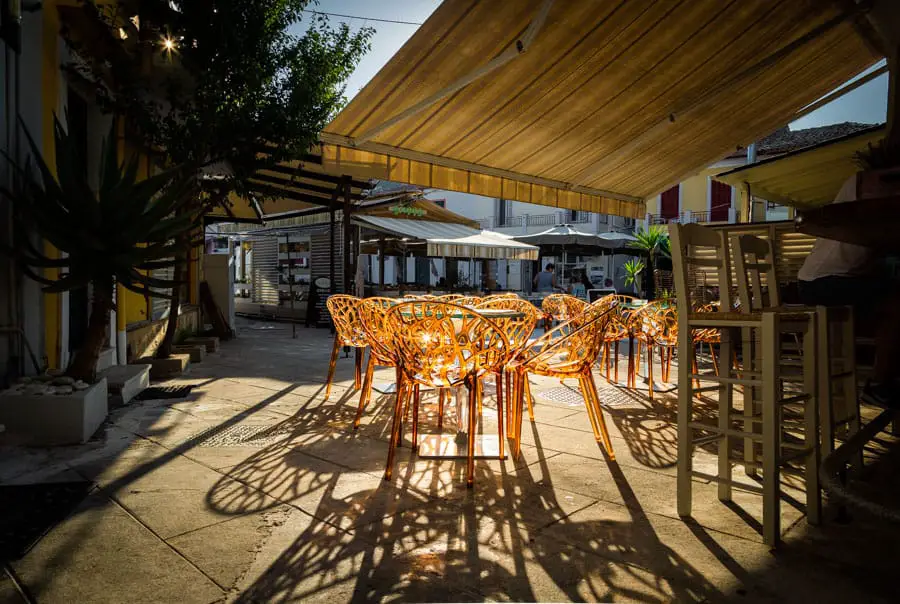 Back to Hotel Bastas
And that is me done. I manage to get a butter croissant and a chocolate croissant which I share with Nickie back at the hotel.
We have a busy three days ahead of us, so it is time to do nothing…… Nothing by the pool in that lovely sunshine.
Nothing but listening to the cricket and thinking to be fair, which is where I came up with the plan going forward for the rest of 2019 and hopefully beyond.
And with that I will say goodbye to day 11, the rest of which was final rest before the hecticness that is to be 
Monday – boat
Tuesday – car
Wednesday – car
Thursday – last day
Friday – going home
Want to know more about Paxos?
I hope that you have found this post helpful, informative and even a little bit entertaining! To find out more about my favourite, wonderful Greek island all you need to do is click here and I will take you straight back to the start of my Paxos blog. Nice and easy!
Oh yes, I hope that you enjoy the next post.
Rick McEvoy