OK – today is the day for the first trip out of Lakka since we arrived. If we can be bothered that is.
Gaios or Lakka – which is it going to be? Gaios it turned out was the venue of choice for day 5 on Paxos. We were both looking forward to returning to the capital of Paxos and having lunch and mooching round the shops.
Gaios is a lovely place to visit.
And as we are on day 5 and have not left Lakka yes I guess it was time.
The dilemma of being on holiday
There is dilemma when on holiday of doing nothing or not. Do absolutely nothing and you might as well stay at home – weather being the notable exception to this of course, especially in the UK. And of course the break from day to day life.
One day of doing stuff followed by one day of doing nothing other than relaxing works for us.
So today is our trip to the big city of Gaios. OK – hardly a big city, but Gaios is the capital of the island.
We decided to get the bus to Gaios from Lakka.
After our usual morning tea we got ourselves sorted and shuffled out of the hotel – it was already baking hot out there.
Missing the bus
The plan was to get the first bus which leaves Lakka at 8.50am. Not surprisingly we did not make it, mainly down to me and my morning lethargy. Well I am on my hols, apart from the work I am doing on this website of course.
We didn't make the 8.50 bus so decided to take it easy and get the second bus at 11am. 
Giving us time spare in lovely Lakka. 
Missing the first bus gave us time to have a morning mooch around Lakka and grab breakfast at the lovely café called, well I'm not sure!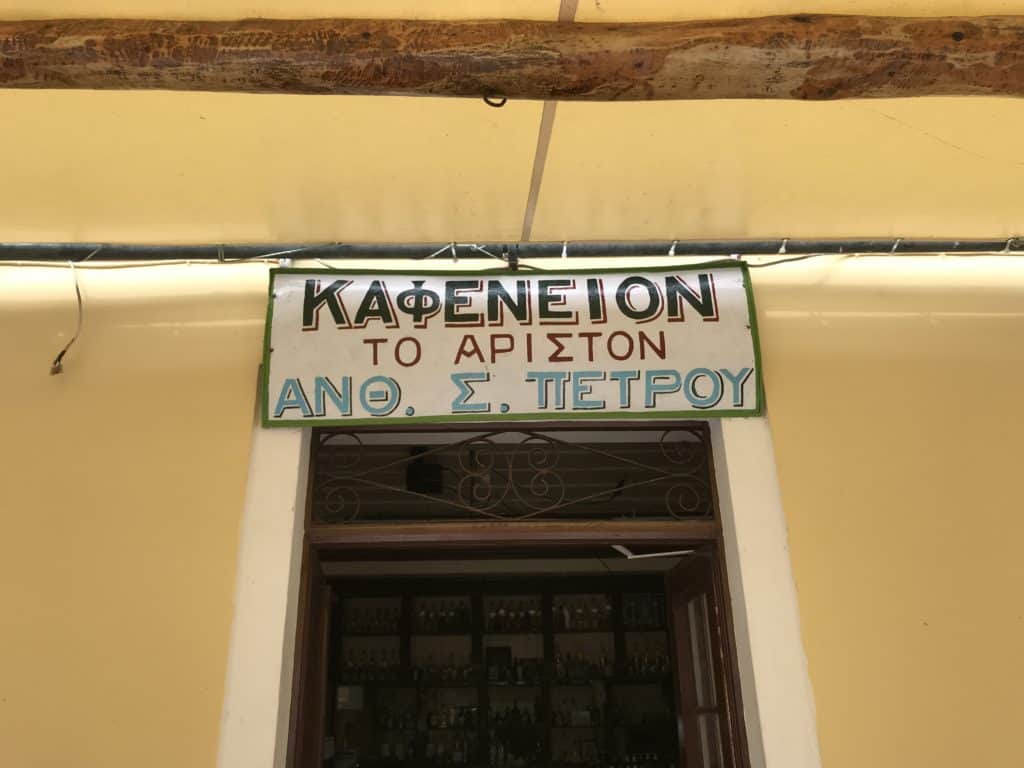 Breakfast consisted of a nice coffee and a cheese and ham toastie sat watching the world go by.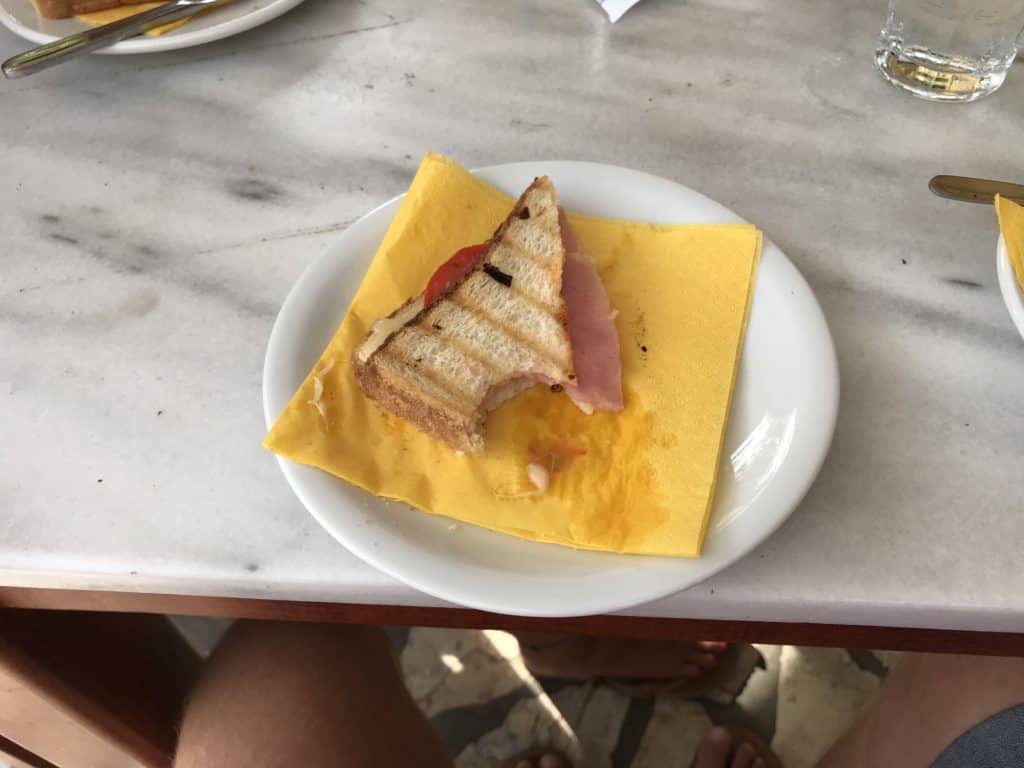 It is at times like this that I realise how seldom we take the time to sit down and have a coffee when we are at home – not often enough. Such a simple but enjoyable thing to do but something we do not do anywhere near often enough.
Having had a very nice relaxing breakfast we decide to book a table for dinner at a place we have walked past hundreds of times but never been in called Taverna Nionios in the square in Lakka.
After all that exertion it was back to the bus stop.
The bus was late!!
Yes – the bus was late – not a big shock but not a problem either. We had the luxury of not having any deadlines other than dinner that evening, so time just did not matter.
Well apart from having our first drink in Gaios that is! Should be beer'o'clock when we get there.
How much does the bus from Lakka to Gaios cost?
12 euros return for two – that's not too bad at all is it? You get on the bus and the lady comes and takes your money and gives you the tickets. The bus is old but perfectly fine and clean.
What is the bus journey from Lakka to Gaios like?
The local bus from Lakka to Loggos and then onto Gaios is an experience. There is one particular favourite thing of mine after departing the bus station at Loggos. Ok bus stop.
Loggos is a small town with shops and bars along the waterfront. And the road is just wide enough for cars to pass.
But not wide enough for a car and a bus to pass. It is barely wide enough for a bus to be honest.
The bus dominates the road and the entire scene, passing worryingly close to not only the harbours edge but also the tables and chairs on the other side of the road.
I did not take a video of this spectacle which is a regret – I was hoping to get the bus again just so I could film this incredible scene but did not get around to that. So I will have to go back!
We sat on the front seats on the bus, behind the driver and next to the lady who collects the money and issues the tickets, with the best view out of the enormous windscreen of the upcoming scenery.
And there was a local chap sat down at the front whose job appeared to be talking and smoking – not sure how he fitted in!
We have arrived at Gaios
The bus journey from Lakka to Gaios takes about 45 minutes. In Gaios you get off at the top of one of the main shopping streets, also by the main town supermarket, which is the biggest shop in the island as far as I am aware.
It was strangely cloudy in Gaios, and very humid making for hot and sweaty mooching.
Beer'o'clock in Gaios
We walked down the main shopping street straight down to the waterside frontage. Well we did not get that far before stopping for a beer at the bar we went to last year.
Such creatures of habit!
And what a lovely beer it was. The bar is called Cafe Kalimera and is in an excellent central location.
Shopping in Gaios
We continued our walk down to the waterfront, turned left then took the first street back into the centre of the town. Having just written that I realised that this is detail that you really do not need to know!
We bought some nice things in the shops, lovely t-shirts, a couple of pieces of Babylonian jewellery and some stuff for the house. All lovely stuff I have to say.
And fairly typical of our holiday shop. The important thing is that we buy stuff that reminds us of our travels and is also stuff that we can't get at home.
Walking along the waterfront of Gaios
When you get down to the waterfront from the bus, if you turn left and follow the path by the sea you will eventually end up at the port of Gaios, a rather low key but perfectly adequate facility. Can't believe I used the word facility!!
We walked all the way to the other end of the water frontage, stopping at Mediterraneo, an intriguing fish restaurant with tables dotted amongst the rocks, which must be lovely in the evening, not that we have been to Gaios in the evening!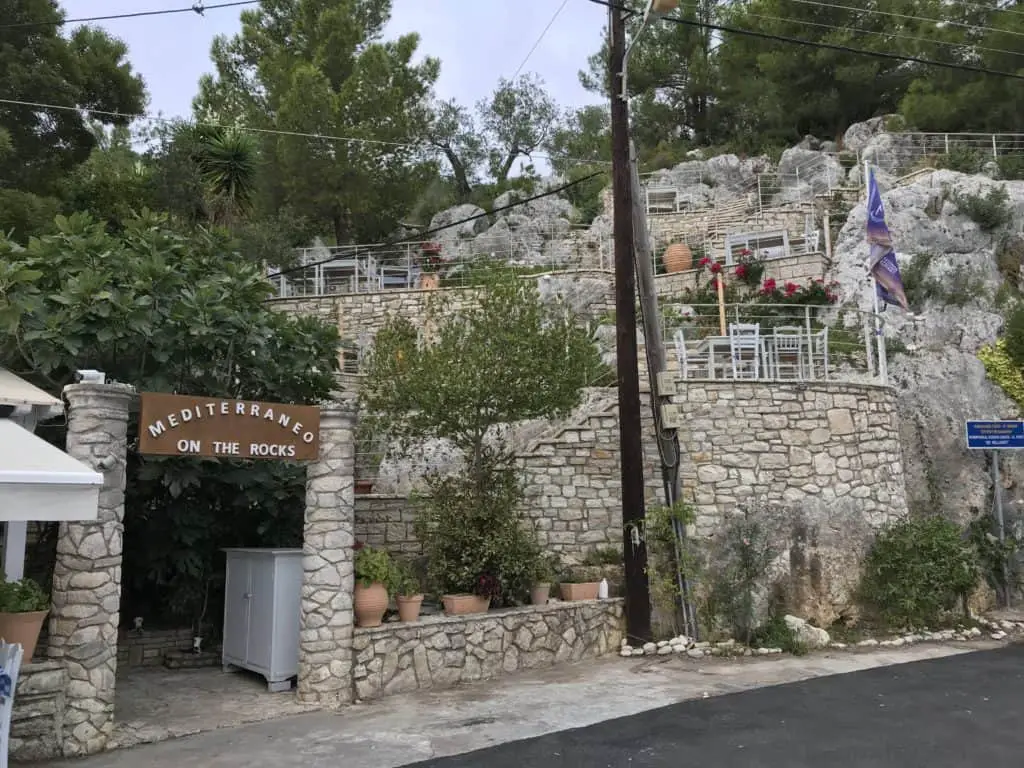 On the walk there are lots and lots of boats to look at, both moored up and passing through the channel. There are also lots of shops, bars and interesting buildings. It really is a very nice walk. And when you get back to the church at the foot of the main shopping street keep going past lots more bars and restaurants and you get to this statue called Anemogiannis Monument.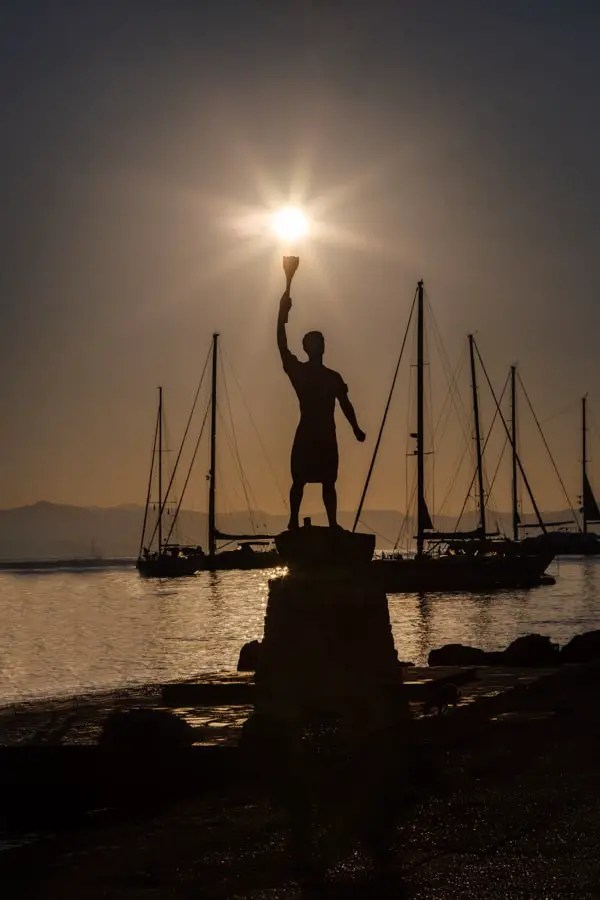 I will write a separate post all about the things to do in Gaios, along with a selection of my photos of Gaios.
And also about my taking photographs on Paxos (ok this was taken on another day).
Lunch in Gaios
We had the lunch in the main square at Piazza Massa, right next to the Church Analipsi, watching the world go by.
Lunch consisted of chicken gyros (with fries and salad) and a pizza washed down with a cold beer sat amongst the constantly growing crowds.
This might be basic fare, but this is seriously good local food. The best meal we had in Santorini was chicken gyros!
And then in came the boat from other islands, bringing masses of visitors. Our empty restaurant filled in minutes – a complete transformation.
The church is a tiny church that receives hundreds if not thousands of visitors every day – it is one of the first things day trippers see as they get off the day boats and hit the land.
Getting busy in Gaios
Gaios is fairly quiet in the morning until the boats start arriving from Lakka, Loggos and more significantly from Corfu and mainland Greece.
I have been in Gaios just after sunset when it was ever so quiet and lovely (see the photo above). Just be aware that if you go to Gaios at lunchtime you are probably hitting it at the busiest time.
And it stays pretty busy until the day trippers get back on their boats and leave from whence they came.
We have not been to Gaios in the evening – something for another time.
The streets were much busier, full of tourists shopping wearing swimwear which I always find rather odd!
Time to get out of this big bad city
By 3pm we had had enough and decided to get a taxi back rather than wait for the bus back, which was not until 5pm.
Getting back to Lakka from Gaios
We wanted to get back for the pool and some late afternoon sun. The taxi from Gaios to Lakka cost 10 euros which was absolutely fine. Taxis drop off and pick up at the bus stop by the supermarket in Gaios – the same place we got off the bus.
And it was nice being driven back to Gaios in a nice Mercedes.
Back at the pool at Hotel Bastas
By 3.30pm we were back at the pool, which was unusually quiet for that time of day. 
After a nice cool down by the pool it was time to have a lie down and a read, before completing a very pleasant day with a late sunshine beer.
I have to say that it was very nice going back to Gaios – the first time we visited was on a day trip from Corfu where we returned on the ferry laden with shopping and a bottle of prosecco. This was our third time in Gaios and each time we have had a very nice time indeed.
Back to the room to write this, and then time to get showered (with a bit of shower curtain gymnastics!) and walk back down into Lakka.
Lakka – where we spent every evening on holiday
We spent every evening of our holiday in Lakka. We did debate having dinner in Gaios, or even somewhere inland.
But we didn't. Lakka is so lovely, and we were so chilled that a big part of both of us just could not be bothered venturing into the unknown somewhere new. There is plenty of choice of places to eat in Lakka – having spent a total of three weeks in Lakka there are still lots of places to eat and drink that we have not tried yet.
There is nothing worse than going somewhere new and finding it rubbish – no we just stuck to the lovely small town where we were staying. If the food was rubbish somewhere we always knew of other places we could go to.
And with it being such a short walk down to the waterfront why would we go anywhere else of an evening?
A typical evening out in Lakka
We tended to leave the Hotel Bastas at around 7.30pm. It is funny that even with all the freedom of being on holiday and having no time restrictions it turns out we went out at virtually the same time every evening.
I guess we are just creatures of habit.
Drinks at Romantica in Lakka
Talking of creatures of habit, it was back to Romantica for your cocktails of choice, namely a mojito for Nickie and a Bloody Mary for me.
This is the view from our table. Remember the boat on the right!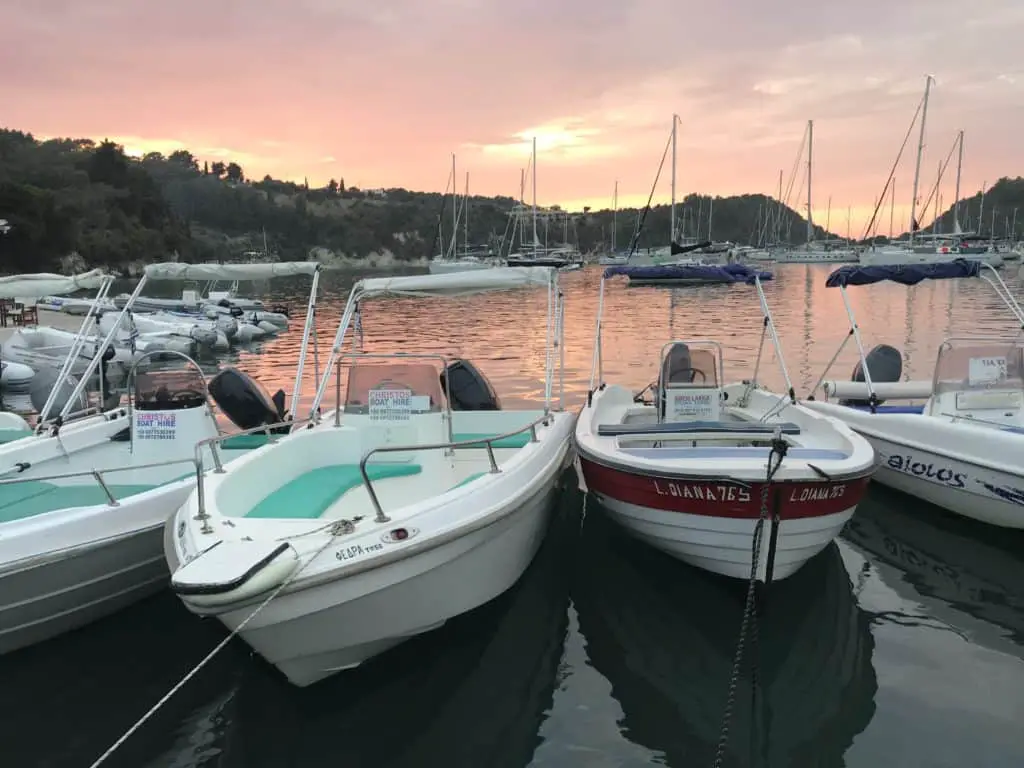 Now I have to say I have not had a Bloody Mary in years, but the ones they serve at Romantica are lovely.
We sat in the upper balcony and watched the sun disappear over the hill. Drinks finished, snacks eaten it is time for dinner.
Dinner at the Taverna Nionios
We ordered a carafe of house red wine which was chilled and not nice. We asked if we could change the order for a bottle of red which they graciously did.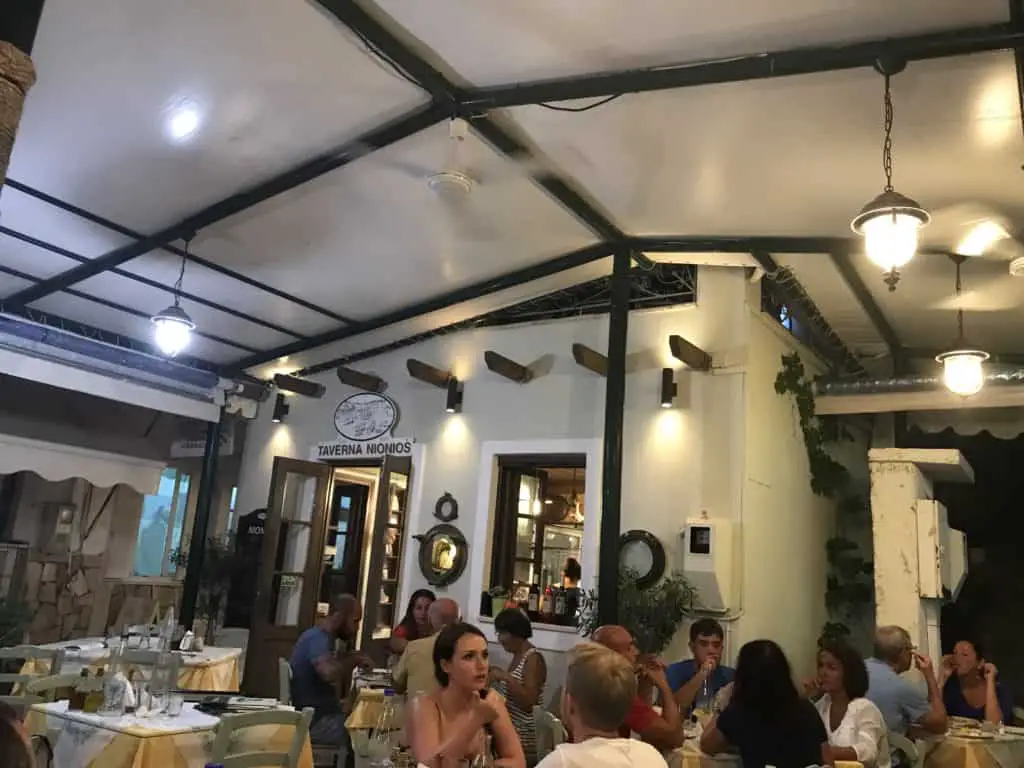 Time to eat something different
I had stifado. Rabbit stifado no less. An interesting choice, and I am glad that I tried it.
But not for me.
Nickie had a lovely authentic (well it would be!) Moussaka. Very nice food and very good service all round – a place we will come back to time permitting.
A word on us and desserts
You might have noticed by now that we don't have many desserts. We struggle between us to eat a starter and a main each to be honest, so dessert is rather unlikely. We often end up sharing a main course having had a starter each.
This is met by restaurants with a variety of reactions – we try to do this as nicely as possible.
And then there is the bakers in Lakka open late at night
Yes, we buy the odd sweet thing from the bakers in Lakka of an evening.
Which tonight was a macaroon and a very sweet but nice local cake.
We took our snacks back to our room and ate them sitting on the balcony enjoying a Metaxa night-cap.
Blimey – what a long and busy day – there is only one way to get over this – another day doing nothing.
What has five days on Paxos done for us?
I have switched off from reality pretty well now. There is of course the daily writing and my photography, but these are both things that I enjoy. If my job was doing this all the time it would hardly feel like work.
So, 5 days in Paxos has helped us to unwind and relax and be ourselves again. This happened last time, even though we were only here for a week, which is just not long enough.
5 days down and 10 days to go.
And having published our planned schedule of activities yesterday there is one thing that I have not mentioned yet which I have to plan into the remaining days.
My photography
I have not taken my camera out of the safe yet with the exception of that post lunch walk to Arcoudarki Beach.
And I have some sunrises to capture.
In Gaios today I was reminded of this, and also of the fact that I have yet to work out where to takes photos of the sunrise in Gaios.
I have worked out Loggos – that was dead simple. And for Lakka I know where I need to go – well there are a couple of possibilities to be fair.
But Gaios is the one that I am not sure about – will this be down by the waterfront, or somewhere else? I have some work to do here before I return to Gaios. And I only have the car for two days, and one of them is for Loggos, so I have one shot at this!
A job for tomorrow then is to research sunrise photography locations in Gaios.
Want to know more about Paxos?
I hope that you have found this post helpful, informative and even a little bit entertaining! To find out more about my favourite, wonderful Greek island all you need to do is click here and I will take you straight back to the start of my Paxos blog. Nice and easy!
Oh yes, I hope that you enjoy the next post.
Rick McEvoy