OK – who am I, and what qualifies me to create a website all about Paxos?
I am Rick McEvoy. I am a photographer, writer, website creator, part-time construction consultant and constant holidaymaker. And the creator of Paxos Travel Guide.
I am also a repeat visitor to Paxos, a paying customer sharing my own personal experiences of this wonderful Greek Island.
Oh yes, this is me on location taking photos.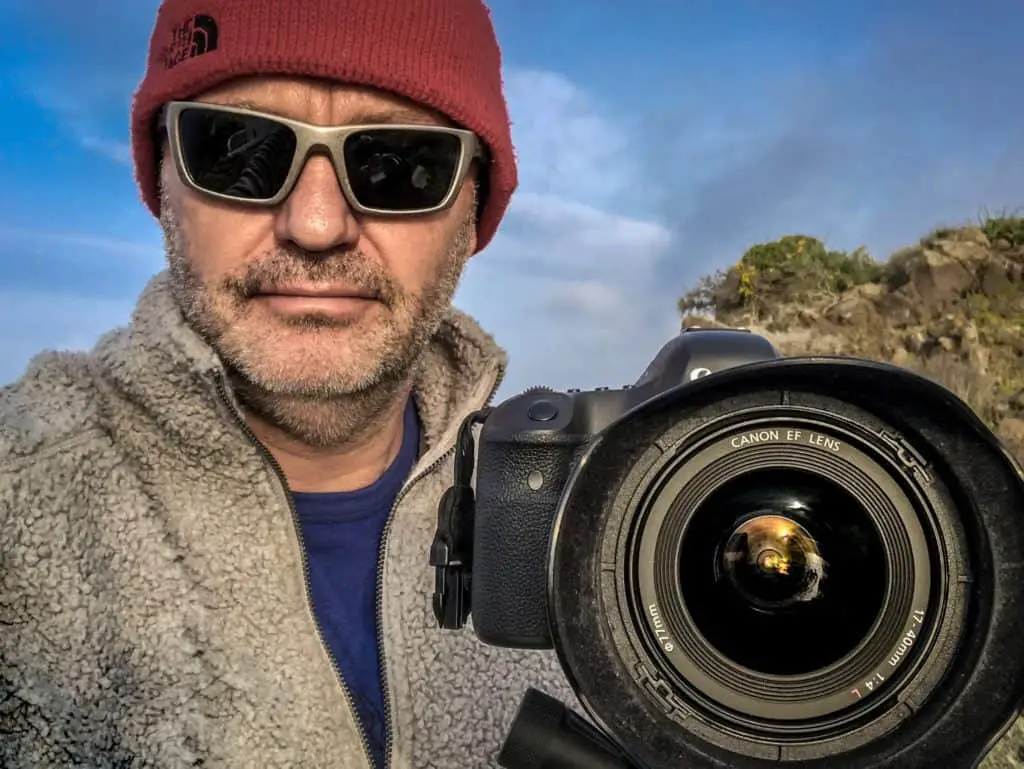 This website was created during our third visit to Paxos. Our third visit as paying customers that is.
How did we come across Paxos?
We were on holiday at the Nissaki Beach Hotel on the lovely Greek Island of Corfu. My Paxos thing all started with a day trip to Parga and Paxos.
The day trip from Corfu to Parga and Paxos
We booked the day trip and discovered two new places. Parga was ok, we went back there for a holiday, but I did not love it. Like I say it was ok, but two weeks there was more than enough for me.
Paxos was completely different though.
We liked Paxos so much from an afternoon there that we booked a week there the following year, and loved it so much that we went back for a fortnight the year after!
And it was on that holiday that I decided to create this website, Paxos Travel Guide.
Why create a website?
I have been wanting to create a travel website for ages. I have my own photography website, Rick McEvoy Photography, but that is more about my work. The things I am into are travel and photography. I already have a successful photography website so why not create a niche website about Paxos?
And that is just what I did.
Am I getting paid for this website?
Not yet no. At the time of writing I have not made any money from this website. I am enjoying a steady increase in traffic to the website but no money yet.
What is the content of this website?
My own personal experiences. Well our experiences, although some of them are just mine – my wife is less keen on getting up at 4am to watch the sunrise, which you can't really argue with!
This is not a website where I have sat in my office in England and researched stuff – this is based on our own personal experiences as paying customers taking time off from work and life at home. There was some research at home of course, but that was to add relevant information to posts to make them more helpful and informative.
What is in it for me?
When I get sufficient traffic I will be able to have adds on the website which will provide me with a passive income. I am completely honest about this.
And to do this I have to create the best, most helpful content that I can which people want to read, share and come back to.
So that is what I am doing.
I have also created a You Tube channel where I post videos of the island and also of me talking about a post on my website.
Have I really created this website myself?
Yes, the website is entirely my own work. All the text I have written, and all the photos are mine. Paxos Travel Guide is all my own work, and I am proud of what I have created I have to say.
Do I have any other websites?
I have three other websites at the moment.
My business website
Rick McEvoy Photography is my website all about my photography world. It is my online photography portfolio, and the place where you will find my weekly photography blog, which is getting more and more popular by the week.
And my first travel photography website
This is a website all about my photos of Santorini. I created this website before Paxos Travel Guide, and once I have completed Paxos Travel Guide I will be revisiting this website and adding lots more new content which is exciting.
Photography Explained Podcast
Yes I have my own podcast, the Photography Explained Podcast, where I explain one photographic thing per episode in plain English in less that 10 minutes without the irrelevant details.
It really is rater good, if I do say so myself….
This is the Photography Explained Podcast website – again all my own work.
What about You Tube?
I have a Paxos Travel Guide YouTube Channel, where you can find the iPhone videos taken on the island and some of me talking about Paxos.
My main YouTube Channel is Rick McEvoy Photography. On this channel you can find a weekly video that accompanies my weekly blog posts.
OK – I'm nearly done
So now you know. Paxos Travel Guide is a website created by me about my experiences of my time on the wonderful Greek Island of Paxos as a paying customer.
The website is entirely my own work.
Now that I have got that out of the way why not go and find out all about this wonderful Greek Island for yourself.
Please get in touch with any commercial enquiries you may have both in the UK and abroad, if you want to buy an image, or to speak to me about any future collaboration – just email me at sales@rickmcevoyphotography.co.uk.
Getting back to Paxos, which is of course the point of this website, here is an iPhone selfie of me in the wonderful Greek heat of Paxos, overlooking the harbour in lovely Lakka.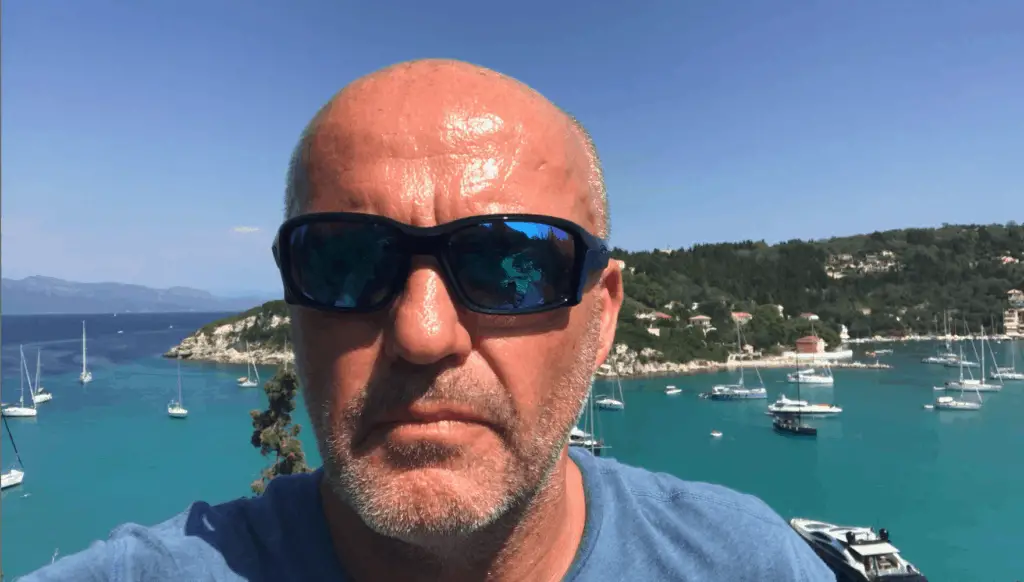 Rick McEvoy – Paxos Travel Guide