Day 3 – Sunday. Having spent a day getting to Paxos, and a day doing virtually nothing, it is time to plan to move!
What are Lakka Paxos Holidays really like? Today I will continue the theme of resting and recovering on the Greek Island of Paxos. And I will drift into day four where I start to plan the rest of the holiday and get out of the hotel grounds for a bit doing some exploring.
I said time to plan to move – well it is Sunday. We can't rush these things now can we.
A late start to day 3 for me
I woke up at about 9.30. Nickie was up and long gone to the pool. I was clearly going to have a tired day today – I could sense it. Maybe it was the lack of food the day before – I do need my sustenance. If I don't eat properly I can be quite pathetic.
I woke up at 9.30 but couldn't summon up the energy to get up till about 10 and got myself up to the pool at about 10.30 starving and tired.
When I say up to the pool and not down to the pool remember that the pool at Hotel Bastas is unusually above the hotel at the back.
Time for a lie down
Next job was to lie down on a sun lounger for a bit and catch up on the amazing cricket action from the day before in England.
Lying down was a tremendous success that I did an excellent job of. I might have forgotten to say that there are toilets below the pool which are a great place to apply sun cream in the shade. More stairs to negotiate.
I have to tell you it is not easy being tired!!
Lunch at the pool at Hotel Bastas
Lunch was a delight – I had sausage on toast, which was hot dog sausages fried which I split in half and put on buttered toast with lots of ketchup. Nickie had the club sandwich, which was very nice too. Food accompanied by a large beer.
I know – I had a beer before any food – well I am on my hols after all!
And when I am on my hols my lunchtime beer has an inevitable effect – more sleeping!
Time to lie down again
After all that exertion it was time to lie down again and have a rest. I caught some more of the cricket, luxuriating in the experience of the Apple Air Pods Nickie got me for my birthday. 
These things are truly excellent, if expensive. They work with just one ear-piece in, meaning that headphone use does not have to be completely anti-social.
That and you can double tap the pod to stop what you are listening to, and double tap again to start listening again.
Minimal effort which is good, especially on a day like this.
I can wear one of these guilt-free knowing that I can converse when needed, when I am awake that is!
My achievements today
Today during the day, I achieved the following
Sleep – 12 hours
Sleep by the pool – 1 hour
Dozing – 2 hours
Eating – ½ hour
Drinking – 1 hour
Reading – ½ hour
Listening to the cricket – 4 hours (combined with the above)
So, the cricket won today
And this is what Paxos does to you. It makes you unwind. It makes you relax.
It is such a lovely, laid back place that I find it impossible to do anything other than turn into a useless unproductive but ultimately relaxed sloth.
And that is one of the things I love about Paxos, and the pool at Hotel Bastas.
Time to move
We left the pool early today, with a plan to get up a bit earlier in the morning. Leaving the pool early is 5pm for me. I can stay there till the sun goes down.
There is a limit to my slothness, but I am nowhere near hitting that point yet.
Back to the room
Back to the room and time for a quick bit of writing on the balcony in that blistering evening heat. This is not the most productive time of the day to write, as I can barely see my iPad screen, and have to have sunglasses on as it so bright.
So, what I do is type away pretty much blindly and accept that I will have more correcting to do than usual.
Another problem is that when I concentrate on writing I tend to get in a zone, one where I forget that there is a can of Mythos warming up nicely on the table top that you could fry an egg on.
Shower time.
Have I mentioned the showers at Hotel Bastas? There is an art to not flooding the bathroom floor, and also to not having the shower curtain clinging to you. I managed to master this on day 2, much quicker than last year, or maybe the showers have improved over the course of the last year. Or maybe our room was better than last year?
Air con is on for getting ready to head out for the evening.
Back down to lovely Lakka
We head off down to the water again, and this time get to the waterfront and turn right, walking the lovely waterfront to a bar called Mandi's. They don't do cocktails unfortunately, which was a shame, so we try the house red which was actually nice and cost a princely 5 euros.
The setting is wonderful, sat on a table looking over the harbour of Lakka full of boats and lovely warm flat water.
But I'm hungry
Starving having had a sausage sandwich/ club sandwich and some crisps we walked back and took a lovely waterside table at the restaurant called Arriva. As we were so early we caught sunset at the restaurant while we were having a drink waiting for our food. I was convinced that it was going to be a stunning sunset, but it turned out to be quite a non-event. Oh well. I have mentioned this before though, so I won't go on here.
What did we eat?
A basket of bread to start with. Basket means 4 slices by the way in case you were thinking of like a large basket! No photos yet of the food – I have not got into full flow yet, but they will come don't worry!
No starters tonight, just the bread then into the main courses.
I will let you into a secret here. We seem to struggle with a starter and a main course each. We cannot manage to eat both, so end up either skipping starters or sharing a main.
Is this unusual?
Is this an age thing?
We often look at the sizes of portions of food that people eat with amazement. And sometimes when we are sharing a main course we cannot even manage that.
What did we eat – finally!
Tonight, I had the traditional Greek dish, stifado, and Nickie had pasta with prawns in a cream sauce. All rather nice.
An amusing thing about Paxos and the waterside tables is that there are fixing points for boats all along the waterfront, so when you are sat there one of the small RIBs from one of the big boats could appear and tie up at your table.
This happened to us.
An Italian couple appeared, but they moored up at the next table, got out of the boat, did a bit of shopping, came back, put the shopping in the boat then sat down to eat.
How cool is that? Maybe next year…
We were shattered so went back to the hotel and fell asleep with the air con on. Nickie woke up at 3am again and turned the air con off and opened the doors – I obviously did not feel the cold as I was fast asleep.
Day 4 – Monday – time to do stuff
Today is the day for planning stuff to do. I said planning to do stuff, not doing stuff. I need to get on with this holiday in Lakka – we have travelled a long way and there is lots to do.
I set the alarm for 7am, got up, put the kettle on and then went back to bed and fell asleep. I got up again a little while later and we had two rather strange fruity Yorkshire teas and took coffees up to the pool, where I started writing this bit about yesterday.
Remember the travel cups from going to the airport? This is where they were (not being dramatic here) a virtual lifesaver!
Relaxing by the pool
I had to plug my headphones in to block out a naughty child's name being repeatedly shouted out by one of the parents in an otherwise completely silent pool area.
9 am at the pool you can sit in sun or shade – it is entirely up to you. I sit in the shade to write – apart from that I am in the sun. Why travel all this way to sit in the shade?
And now it is time to plan the rest of our holiday in Lakka
The plans for our remaining time here are as follows
Today (Monday) – book stuff to do. I know that involves effort!
Tuesday – get the bus to Gaios in the morning
Wednesday – nothing
Thursday – Car
Friday – Car
Saturday – rest
Sunday – rest
Monday – Go to Antipaxos
Tuesday – whatever we want to do again
Wednesday – who knows
Thursday – nothing – last full day
Friday – get the early ferry back to Corfu
Breakfast at the pool at Hotel Bastas
We shared an excellent full English breakfast with coffee, toast and fresh orange juice – 14 euros.
We finalised our plans and then went and did our bookings. We got the hire car from Babis at the hotel, and the boat from Sam the Olympic Holidays rep.
The timings didn't work out quite as planned, we got the car for the Tuesday and the Wednesday, and the boat for the Sunday.
This is what we are going to do then
Day 4 – Today (Monday) – book stuff to do. I know that involves effort!
Day 5 – Tuesday – get the bus to Gaios in the morning
Day 6 – Wednesday – nothing
Day 7 – Thursday – no car – to be decided!
Day 8 – Friday – to be decided!
Day 9 – Saturday – rest
Day 10 – Sunday – Go to Antipaxos
Day 11 – Monday – rest
Day 12 – Tuesday – Car
Day 13 – Wednesday – Car
Day 14 – Thursday – nothing – last full day
Day 15 – Friday – get the early ferry back to Corfu
Of course, when you are on holiday whilst it is nice to have a plan it should be too rigid other than actual bookings!
This all worked out fine though and gives us the variety we need.
And that essential last day of doing nothing.
Work done it was time for the pool
I forgot to say – the path from the pool
Whilst ordering breakfast we found out about a path that went around the back of the bar that it turns out took you to the beach.
After an hour of reading I went off for an explore, armed with nothing more than my phone, a 20 euro note and my t-shirt.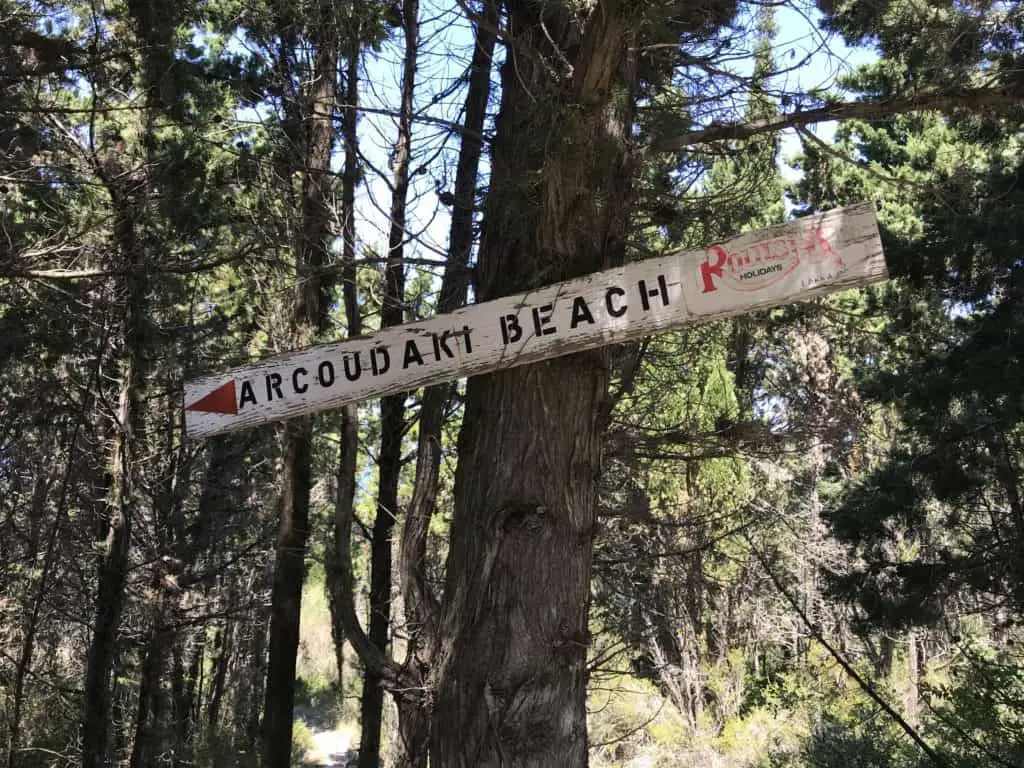 I eventually made it to Arcoudaki beach (insert photo of the sign), having mistakenly wandered onto a private estate and being shouted at by a local lady, to who I apologized profusely.
This beach was shall we say small and rocky. I went in the water up to my knees then regretted doing that as it is impossible to walk with wet flip flops, so I sat on a rock for a bit and waited for everything to dry.
Which took about a minute.
The beach was not deserted
Accompanying me on the beach were too men and a woman with a golden retriever. There was nothing there at all, no bar, shops.
No sand.
Off I then went to the next beach, navigating using my instinct and Google Maps on my phone. I could barely see the screen in that ever so bright sunshine, but I made it there after getting lost a couple of times.
This was a walk inland, not along toe coast in case you were wondering.
So, this is Orkos Beach
An interesting beach, with an eclectic mix of Italians and English upper classes – it was like something from a Hugh Grant film! And there was a house on the beach that apparently belongs to the former footballer Bruno, who used to play for some famous football teams somewhere.
I am sure I saw him.
There is a sign at the entrance to the house saying private house, but the number of people in there made it look more like a bar than a house – very strange and confusing.
The beach was pebbly with no facilities but a lovely place with crystal clear waters and lovely views.
Getting back to Hotel Bastas
I walked back in the searing heat regretting not bringing any water. I got lost three times but made it back to the hotel in 21 minutes, not bad considering. And I didn't offend any of the locals on the way back which was good.
A quick dip and then a salad for lunch with Nickie, accompanied by a most welcome beer, then it was time to cool off in the pool before settling down to crack on with The Russia House, which I am reading on my Kindle. I started reading this book over Christmas and am determined to finish this in the first week so I can start a new book I have.
And I checked my emails – it is a Monday after all
I checked my emails, nothing urgent that needed dealing with, and then the iPad was off again until the next day. Well until I got back to the room to write this.
Back on the balcony
Now I am having a beer on the balcony completing this section of my daily journal, before we head off down to Lakka for cocktails and dinner. An altogether lovely way to spend a day in lovely Paxos.
Monday night in Lakka
We went to the bar on the waterfront for cocktails, but they didn't have any mint, so Mojitos were off the menu. They wouldn't have any for a week apparently – small island life! We tried their alternative, which was too sweet.
Back to Romanticos we went, where they had the full recipe for mojitos Thankfully so all good again!
Then it was down the road to the number 1 rated restaurant in Paxos, Paxomadi. Service was at island pace, but the starter of baked feta cheese was excellent and very filling. The house red by the carafe was nice too.
They were clearly very busy, and possibly understaffed, so the service was hit and miss. Mains were ok – prawn saganaki and roast chicken and fries. We had the same problem with being full of starters and bread, unable to eat our main courses completely. We had a drop more wine before heading back for a night's rest.
I think that this eating thing is not helping with our restaurant experience!
Want to know more about Paxos?
I hope that you have found this post helpful, informative and even a little bit entertaining! To find out more about my favourite, wonderful Greek island all you need to do is click here and I will take you straight back to the start of my Paxos blog. Nice and easy!
Oh yes, I hope that you enjoy the next post.
Rick McEvoy