So you want to go to Paxos? Great – where can you stay?
In this post titled Paxos Hotels –where to stay on this wonderful Greek Island, I will tell you the six actual hotels on Paxos. I will give you basic information about the hotels, where they are, web addresses and up to date contact details for each hotel (which I have checked myself).
There are only six hotels on the Greek Island of Paxos, but a quick internet search will suggest more than six hotels. In researching this post there seemed to be endless villas, apartments and aparthotels that came up when I put the search term "Paxos Hotels" into Google.
If you are a hotel in Paxos and I have missed you off the list please let me know and I will add you to this post.
Hopefully now when you put that term in this post appears and tells you about Paxos Hotels and nothing else!
This is not of course a review of the hotels on Paxos – there are plenty of other websites for that good stuff.
Here are the Paxos Hotels
I thought starting with just the list of hotels was as good a place as any! This list of (just) hotels will help you narrow down your search if all you are after is a hotel.
The six hotels on Paxos – in alphabetical order
Amfitriti Hotel – Lakka
Hotel Bastas – Lakka
Hotel Margina – Gaios
Torri e Merli – Lakka
Paxos Beach Hotel – between Gaios and Mongonissi
Paxos Club Resort – just outside Gaios
And here they are on a map courtesy of good old Google.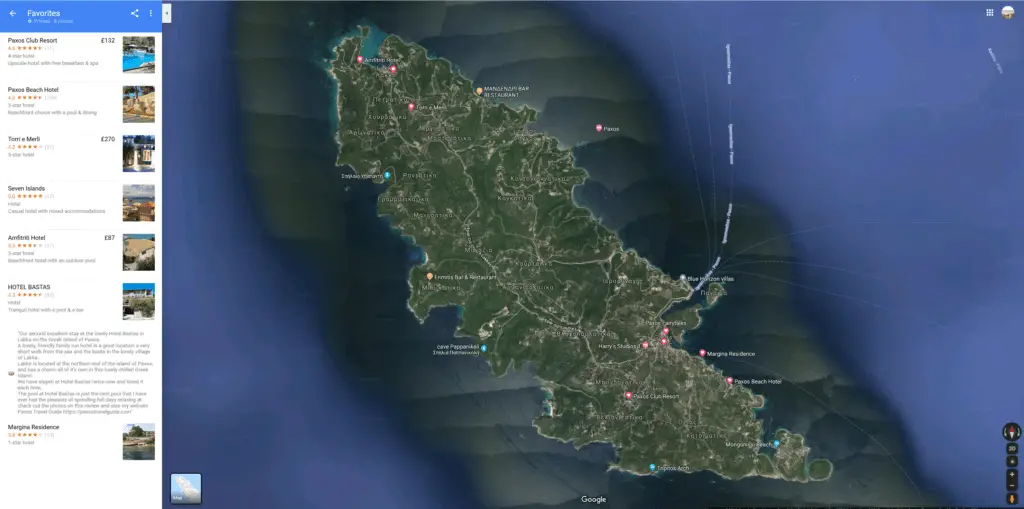 Yes – that is it – there are only 6 hotels in Paxos.
And to be completely honest we have only stopped at Hotel Bastas.
Please note that all the information on this page is accurate at the time of writing in July 2019.
I will write a separate post about places to stay other than hotels, including houses, studios, apartments. aparthotels and villas on Paxos. And boats of course. And maybe even camping!
The information in this post.
I have used the information on the hotels websites to try to give you a balanced view of the hotels, some I have visited, some I have stayed in and for some I have done neither.
I have contacted every hotel to make sure that the contact details are correct and up to date.
OK – lets look at the hotels one by one, starting with the hotels in the capital of the island, Gaios.
Gaios
This is the capital of the island and is located about 4 miles down the island on the east coast. Most ferries arrive at the port of Gaios, and it is a very nice short walk along the waterfront to the centre of the town.
The island has a population of circa 2,500, with the largest concentration of people being located in Gaios, which is by far the largest town on Paxos.
Hotels in Gaios
Hotel Margina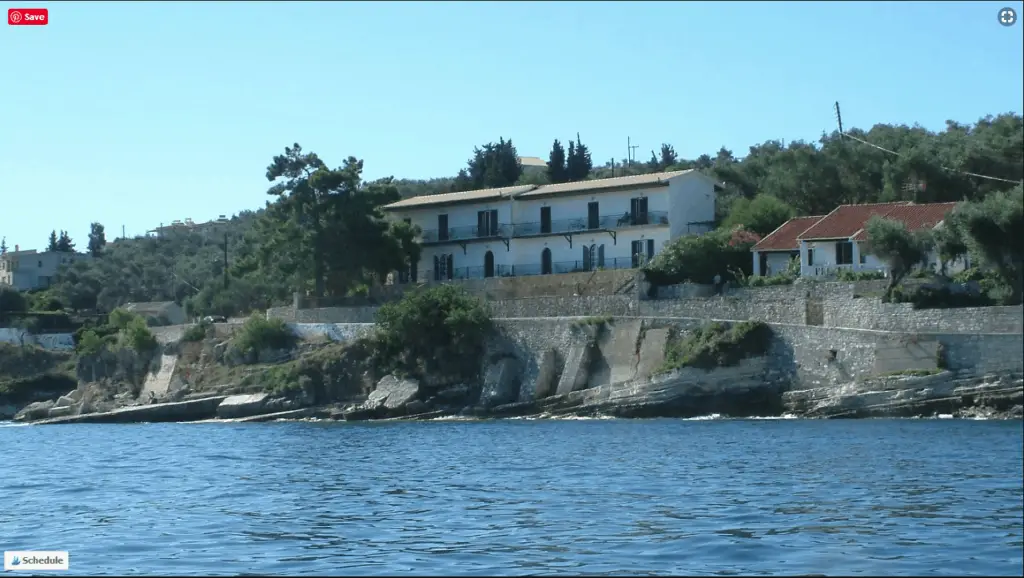 This photo is taken from their website
Location
A quick walk into the centre of Gaios.
Description
I have extracted this from the hotels' website
"Located 400 metres from the centre of the bustling harbour of Gaios, the main town of Paxos, the Hotel Margina Residence is perfectly placed for those wanting a tranquil location that is within easy walking distance of the numerous shops, bars and restaurants of the town.
With every room having breath-taking views across the harbour entrance and within 20 metres walk of the nearest swimming beach, the Margina makes the ideal base for a unique island holiday experience.
This friendly, family run hotel offers a warm welcome and exceptional level of service that will ensure an unforgettable stay. It is no surprise that many clients return year after year to enjoy the hospitality of the Ventouris family and their staff."
And with regard to the rooms this is what the hotels says
"The comfortable apartment style rooms are all air-conditioned and have ensuite bathroom facilities. All rooms are serviced on a daily basis. Every room has a private balcony with breath taking sea views and are equipped with
Refrigerator
Tea/coffee making facilities
Hair dryer
 Iron
Secure Wi Fi access
Television"
Website
https://www.marginaresidencepaxos.com
Contact details
Email jokema@otenet.gr
Lakka
Lakka is a small village located at the top of the island, and from parts of Lakka you can see Corfu to the north. One of the features of Lakka is the wonderful harbour with idyllic turquoise blue water and all the lovely boats.
Hotels in Lakka
Amfitriti Hotel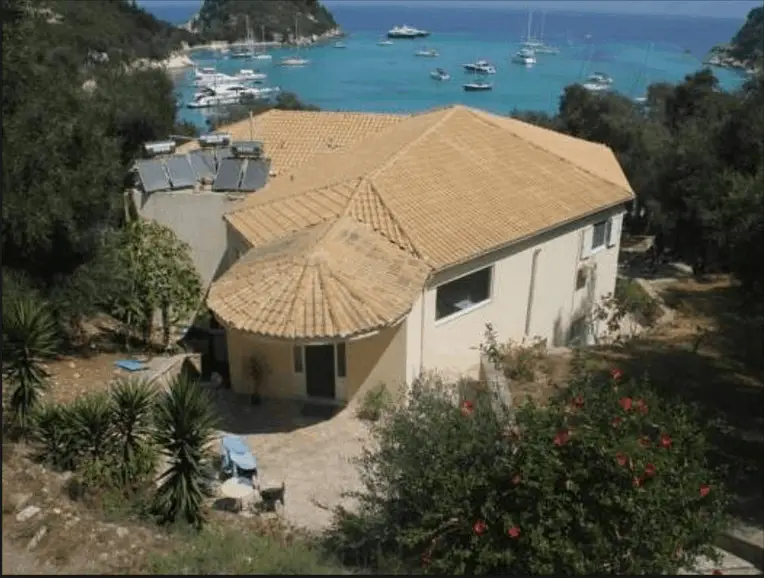 This photo is taken from their website
Location
Just 150 metres from the village of Lakka
Description
According to the hotels' website
"In absolute respect to the surrounding environment, we have created a place characterized by the authenticity of Greek Island colour, possessing all modern amenities. It is situated on Harami Beach, 150 meters from Lakka resort, and provides a breath-taking view of both mountain and sea. The Amfitriti family invites you to experience the warm atmosphere and their traditional hospitality."
Facilities
"Built on an ideal site Amfitriti Hotel is a unique place to enjoy a relaxing and peaceful holiday in an outstanding natural environment. A whole world for discovery is waiting for you full of colours and shapes which will capture your heart forever. Swimming pool, pool bar which serves breakfast, refreshments, snacks and beverages, reception area, helpdesk, dining room and beach equipped with sun beds are some of the facilities that we offer you".
Website
Contact details
You can email the hotel at booking@amfitritihotel.gr
Hotel Bastas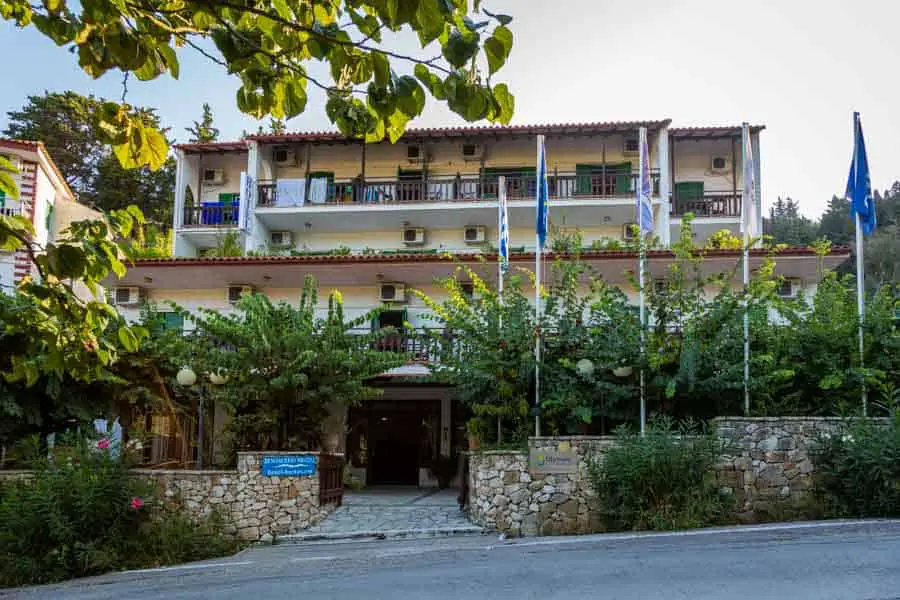 I took this photo myself!
Location
A 2-minute walk to the wonderful waterfront of Lakka
Description
From the hotel website
"On the magical Ionian island of Paxos, on the outskirts of the picturesque community and harbour of Lakka, is the Bastas Hotel.
Our 3-star hotel has traditional architecture and 42 comfortable rooms. We are open from 1st May to 20th October.
The welcoming management and friendly staff will offer excellent service to ensure a comfortable and relaxed stay.
For all guests travelling independently we can organise transport from Gaios port to the hotel and back to the port at the end of your stay. Please do not hesitate to email us for further details.
In addition to the 42 rooms constructed in 2000, new facilities are added every year and the quality of service is regularly upgraded.
Parking
Pool Bar
Sunbeds
Garden with flowers
Balcony in every Room
English Literature
Minibus
Reception Bar
Swimming Pool
Parking area"
Website
Contact details
Torri e Merli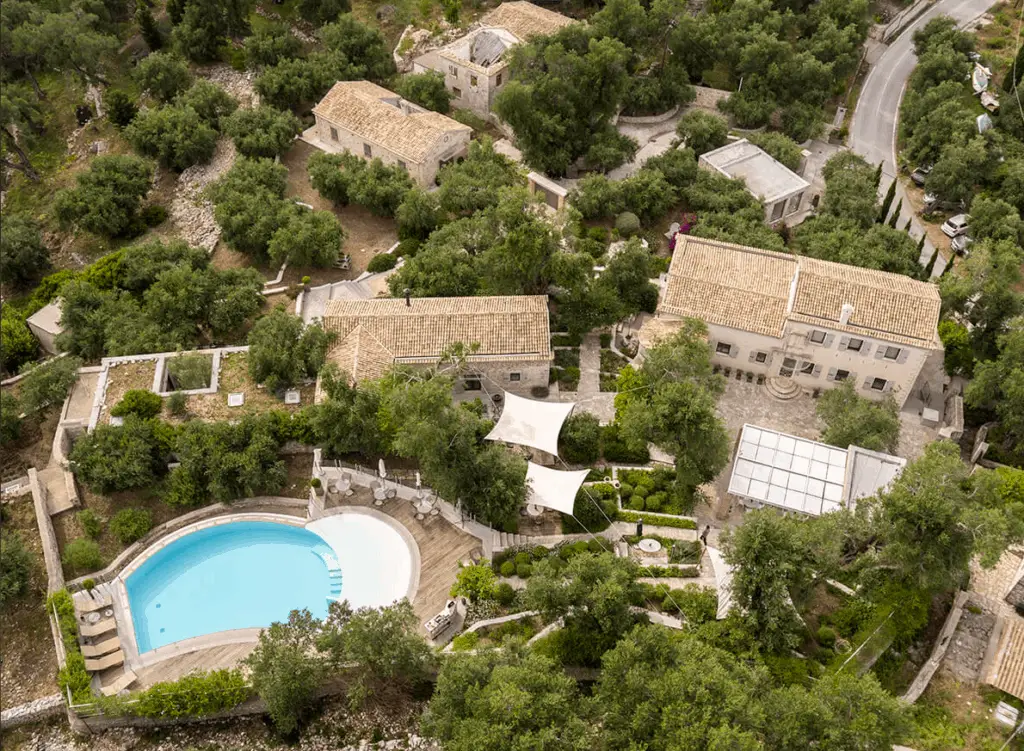 This aerial photo was taken from their website.
Location
A 20-minute walk through the olive groves into Lakka
Description
From the hotel website
"The Pinnacle of Fine Luxury
Nestled in the magic of an ancient olive grove near Lakka – a uniquely peaceful spot in the northernmost harbour village of the emerald Paxos Island, harmoniously embracing the turquoise bay – is an exquisite 17th century Venetian manor house which has been restored into one of the most sophisticated 5-star boutique hotels. With its fine luxury and superior aesthetics, this retreat unfolds to its eclectic guests as a destination for absolute tranquillity, rest and wellness making their stay an unprecedented experience.
The serene natural surroundings combined with the bohemian chic, romantic ambience are much preferred by discerning guests looking for a special hideaway to unwind and let go, by enjoying amenities and services meeting their every need."
Website
Contact details
You can email the hotel using info@torriemerli.com
Loggos
Loggos, or Longos, is a couple of miles south of Lakka in-between Lakka and Gaios. And unfortunately does not have any hotels!
Hotels in other locations on the island
Paxos Beach Hotel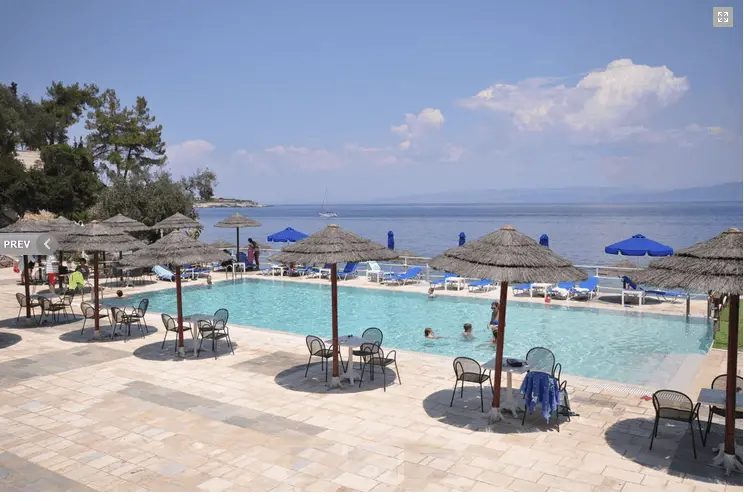 This photo is taken from their website
Location
The hotel is located 1.5kms from the main town on the island of Gaios.
Description
According to the hotel website
"Paxos Beach is located on an idyllic bay, just 1.5 kms from the island's main village of Gaios. The hotel complex is constructed of native Paxos stone, on a slope spilling into the waters of the Ionian Sea, on a 20,000 sq. meter property surrounded by olive and pine trees. The calm and soothing surroundings with the view of the crystal waters offer our guests the atmosphere for the ideal destination for that relaxing but revitalizing holiday.
Paxos Beach achieves a beautiful balance of comfort combined with style based on the local traditional architecture. Τhe meticulously designed guestrooms and suites offer our guests a sense of warmth and relaxation: earth colors, atmospheric lighting and earthy materials collaborate to create warm and hospitable interior spaces.
Please note that all of our rooms are non-smoking rooms.
Highlights
Paxos Beach Hotel
Panoramic Views of the Ionian Sea
Warm and Friendly Environment
Private Relaxing Beach
Bungalows are built in the typical sugar-cubes shape
Easy accessible berthing for small yachts & boats
Large Swimming pool (140m2) & spacious sun terraces
Restaurant & Bar with Spectacular Sea Views
Unique Flavourful Experience in Affordable Prices
Distinctive Design Remaining True to the Traditional Character and Architecture"
Website
http://www.paxosbeachhotel.gr/
Contact details
info@paxosbeachhotel.gr
Paxos Club Resort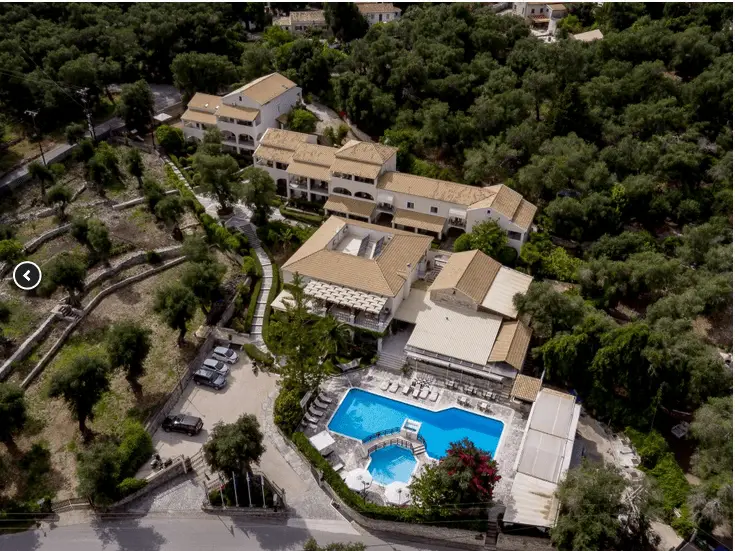 This photo is taken from their website
Location
Just a kilometre from Gaios.
Description
According to the hotel website
"In a warm and friendly environment, Paxos Club Resort & SPA offers an exquisite place to relax and enjoy supreme accommodation in nature. Finely located within proximity to the capital of Paxos, Gaios, and the harbour, the hotel ensures smooth access to the major sights and attractions on the island.
There are five types of constantly renovated rooms and suites at the hotel, covering all needs and demands of travellers. Ample spaces, impeccable cleanliness, anatomic mattresses, distinct colors and all boasting private terraces with stunning views to the garden.
 
Guests are welcome to relax by the sensational saltwater swimming pool and lie comfortably on the sun loungers with a fruity cocktail from the pool bar. 
Breakfast buffet is served in a traditional house dating back to 1896 that has been especially renovated, while at the same restaurant guests may enjoy lunch and dinner with breath-taking pool views. And for a rejuvenating experience, our brand-new Spa provides the ultimate escape. 100% natural ingredients are combined perfectly to offer exquisite therapies and an unforgettable journey of the senses. 
Welcome to the picturesque island of Paxos, welcome to Paxos Club Resort & Spa!"
Website
Contact details
You can email the hotel at info@paxosclub.gr
And that is the hotels of Paxos.
As you will see whilst there are only seven hotels on Paxos they are all rather different. There is something for most peoples tastes among this small selection.
Hotel availability
I need to tell you that at the time of writing this post in July there was very little availability in August – most of the hotels are fully booked. If you are thinking of going to Paxos next year I strongly advise you to book early or you may be disappointed.
You can book any of these hotels direct or using one of the many affiliate websites. I have to say that we prefer to communicate directly with hotels and book direct when we can.
We have stopped at Hotel Bastas twice and loved it. I am sure that the other hotels are absolutely fine, and to be honest I have not heard bad words said about any of them but am not able to advise on which hotel is the best as we have only stopped at Hotel Bastas.
Before I go what about Antipaxos?
Well there are no hotels on Antipaxos, but I will tell you the places that you can stay on Antipaxos in another post.
And as for those villas, apartments etc – check back to my website Paxos Travel Guide for a long list post.
Want to know more about Paxos?
I hope that you have found this helpful. If you would like to find out more about Paxos then please head over to my home page where I go through all the pages on this site with links so you can straight get to the stuff you want to.