In this post I will tell you about the beaches of Paxos.
Which are my favourite Paxos beaches? You will find out in this post in which I will tell you what I know about every beach that I am aware of on Paxos. I have visited most of them either by foot, car or boat.
I will start with Lakka Beach, in Lakka (of course) where we were staying, and I will go around the island in a clockwise direction
Here is the map that show the main beaches – there are a couple of unnamed beaches along the way, and one that does not appear on any maps.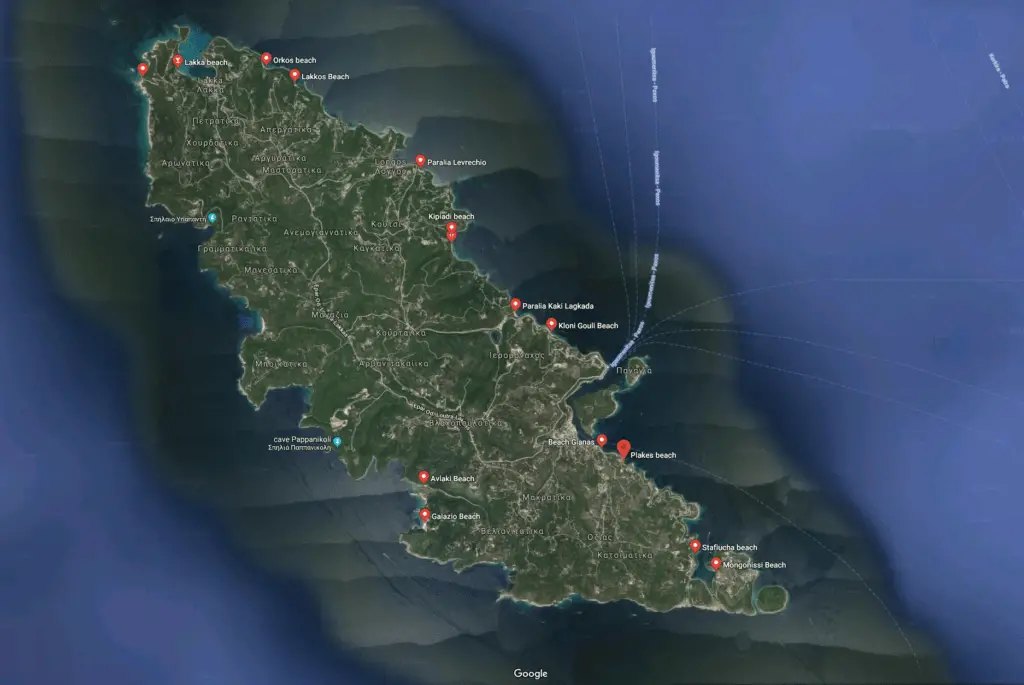 At the end this post I will provide some general advice that will help you enjoy your visit to any beach on the wonderful Greek Island of Paxos.
Without further ado, these are the beaches.
Lakka Beach
Arcoudaki Beach
Orkos Beach
Lakkos Beach
Manadrenti Beach
Hermans Beach
Leverechio Beach
Marmari Beach
Kipos Beach
Kipiadi Beach
Kaki Langada Beach
Kloni Gouli Beach
Plakes Beach
Stafiucha Beach
Mongonissi Beach
Galazio Beach
Avlaki Beach
Plani Beach
Lakka Beach
This is the main beach in Lakka. Whilst it is a pebbly beach it is in a great location just minutes from the centre of the village of Lakka. You can get drinks and food from the bar just off the beach. The bar is part of the family run Hotel Amfitriti Hotel.
Lakka Beach is one of my sunrise locations, and the place where the leaf blower started up just as I was about to start filming one morning!
Lakka Beach gives you great sunrise views, with the sun rising over the hill across the bay
(where you can find Hotel Bastas).
There are great views of the white boats of Lakka from the beach. Check out this video which I took of the lovely clear water and very gently lapping waves.
Arcoudaki Beach
I found this beach all by myself whilst wandering around the land surrounding Lakka – this is what I do. I wander around and find things.
Here is a sign to the beach.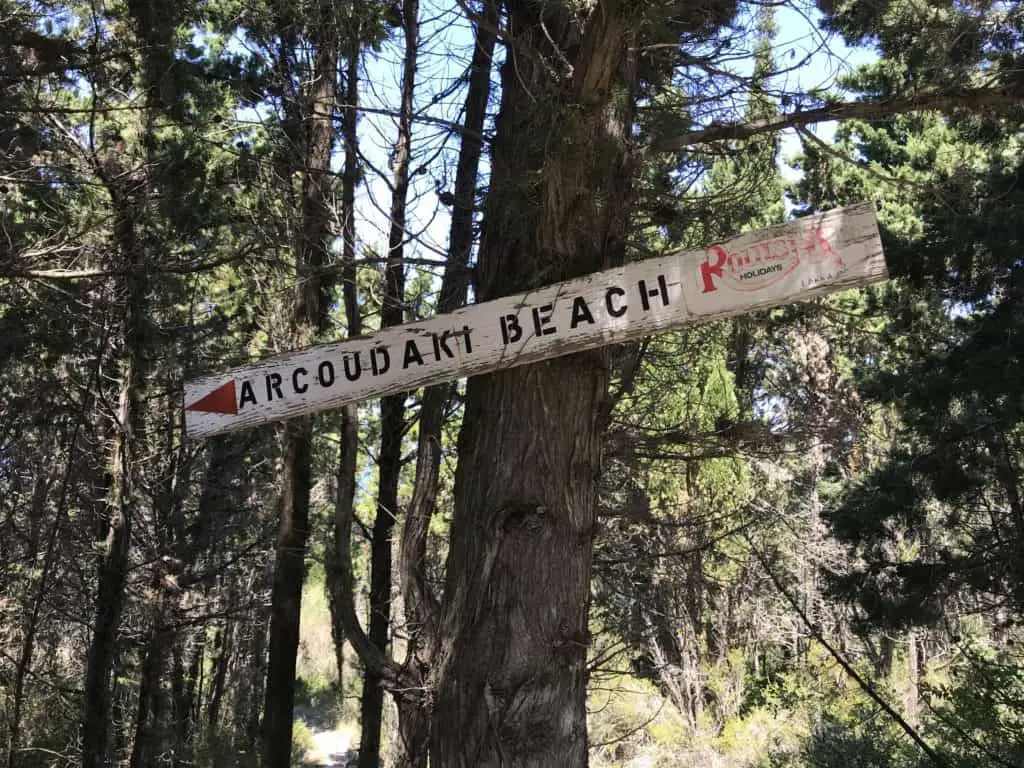 This beach is not shown on Google Maps.
And it is not the biggest beach. And there are sunrise naked swimmers to contend with!
Orkos Beach
Orkos Beach is lovely, but it is a bit of a trek down to the beach. Make sure you are in good shape and take the best footwear you have with you. Having said that I walked down there following a family who had small children wearing flip flops carrying large inflatables!
There is nothing when you get down to the beach. Apart from a house which so the story goes belongs to a former footballer called Bruno. I cannot remember which team he used to play for, but there is a house right on the beach which looks more like a restaurant to be honest which belongs to Bruno.
So they say.
Orkos Beach was lovely but with no facilities at all, so you have to take everything you need with you, and of course take it all back again.
Lovely crystal-clear waters are your reward for making the trek down there.
My lingering memory of Orkos Beach was the eclectic mix of middle-class English and Italian families – I have mentioned in another post it felt like I was in the middle of a Hugh Grant film!
Next Beach down is Lakkos Beach
Lakkos Beach is small and quiet and lovely. Again, a trek from the village is required but again you are rewarded for your efforts. And as there is nothing there this beach can be quieter. I have walked to Lakkos Beach and visited it by boat, and there have never been more than half a dozen people on the beach when I have been there.
Again, no facilities at the beach so take what you need and bring it all back with you at the end of the day.
Manadentri Beach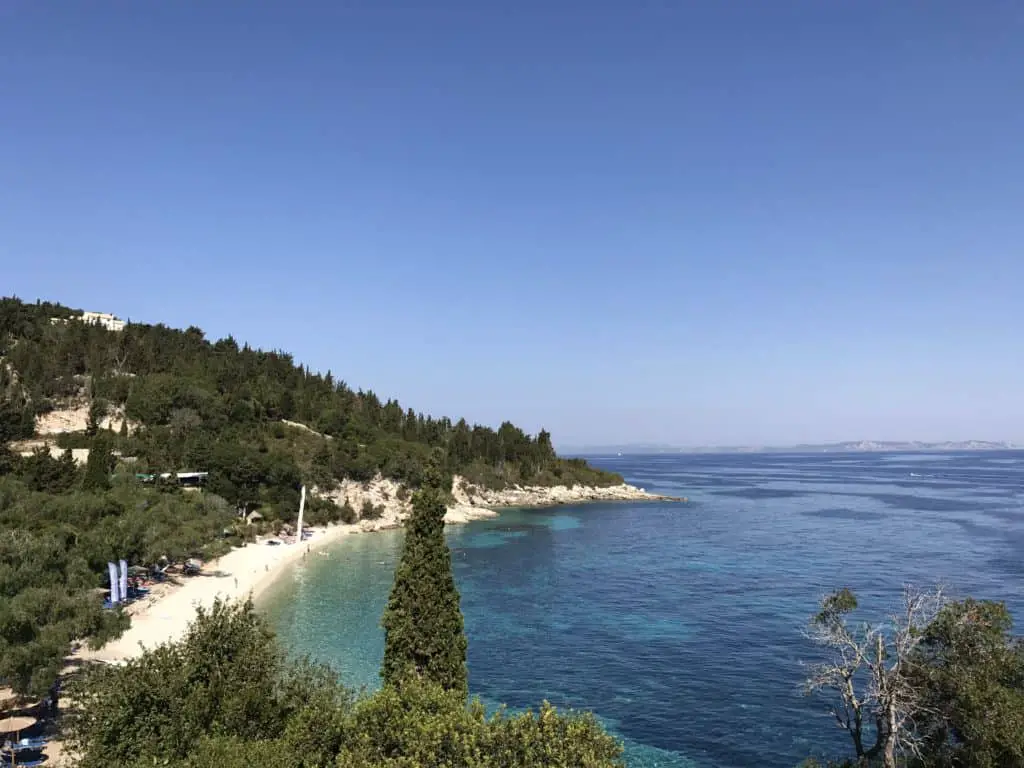 Next beach down on the west coast is Manadentri Beach. This is a very popular beach that can get busy. One of the reasons it gets busy is that it has facilities!
I did not know about Ben's Bar when we visited this beach, so cannot vouch for it, but it does sound great. The other bar, called ΜAΝΔΕΝΔΡΙ Bar Restaurant is the one that you have to walk through from the car park to get to the beach.
Very mixed reviews of this place from the guests at Hotel Bastas, most of whom had spent a day there. Hotel Bastas provide a free shuttle bus from the hotel to the beach, picking up late afternoon.
You can get a taxi or drive there of course, or have an even longer walk than the other beaches.
For me the place was too busy and noisy, but it was nice to be able to get food and a drink and sit down looking at the sea. It is a lovely beach to be fair.
And here is the best bit.
If you walk through the beach bar and turn right, walk down to the end where you find the restaurant of the Glyfada Beach Villas, which visitors are more than welcome at. We had a lovely meal there and even got to use their pool which is situated high up above the beach with great views.
You have to ask nicely to use the pool of course, which they let us do as it was quiet, and we were clearly nice people!
And there is a bar at the top by the pool as well.
Another thing that I love doing here is swimming from the Glyfada end of the beach. Swim out to the right-hand side and there are some rocks you can dive into the blue from. I snorkel using swimming goggles only, just diving down and holding my breath.
Hermans Beach
Talking of which, I have swum round here from Manadentri Beach. All I can remember seeing was some rocks to be honest, I did not make it to the actual shoreline, as I was checking out the stunning boats moored in this tiny bay.
Leverechio Beach
There is no beach at Loggos really, so the next beach down after Loggos is Leverechio Beach. This beach has the Boukolos Taverna which looked nice – we did not eat there. And everyone I have spoken to said that had an excellent time there – great food and great service.
One for another time for sure.
Another lovely beach with crystal clear waters – we did not stop at this beach unfortunately, we just had a quick look on our way through.
Marmari Beach
A stunning beach that we visited by boat. Very quiet, very lovely and more lovely clear water which I enjoyed a swim in.
There is nothing at the beach, which is one reason why it can be very quiet. This is another pebbly beach.
Kipos Beach
Another beach we passed by boat but have not been too. This beach is another one which is a bit of a walk, but very popular with people who have visited it. The sea is yet again lovely and clear.
The lack of facilities and the effort involved in getting there make this a lovely quiet peaceful beach.
Kipiadi Beach
This is a bigger beach, and as the walk is quite long a very quiet and rather stunning beach. We visited this beach by boat and counted three people along the entire length of the beach.
The beach is located in a lovely semi-circular bay which is popular with passing boats as it has lovely clear flat waters which are great for a swim stop.
This is the beach I want to go to by land next time I am lucky enough to be on the island of Paxos.
Kaki Langada Beach
Another small beach which you can find just off the road to Gaios. When you drop down the hill and turn right the beach is right there.
This is another typical Paxos Beach, pebbly, small, quiet, no facilities and lovely clear blue waters. And not so much of a trek to get to!
Kloni Gouli Beach
A small beach on the way into Gaios from the north of the island. There is a bar nearby and sun loungers available which is good. The downside to this is that this beach can get busy, so if you like peace and quiet you might be better off going somewhere else.
I have seen this beach virtually deserted and also pretty rammed, so it just depends on the day.
Bartek Beach
This beach is actually in Gaios, so if that is where you are staying this will be your local beach This is another beach with the potential to get vey busy. On the plus side it is a quick walk into the centre of Gaios where you can get anything and everything that you might need.
The beach is located just down from my favourite memorial in Paxos, the Statue of Georgios Anemogiannis. TO get there walk along the road on the waterfront south out of Gaios and you will see the steps down to the beach just after the statue.
This is a great beach to visit in the evening once all the day trippers have left the island. Being on the east coast though sunrise is over the other side of the island. Sunrise is a good time to be there though.
Plakes Beach
Further down the road south out of Gaios Plakes Beach. Rocks and pebbles and lovely swimming are what you will find here.
Unnamed beach
After Plakes Beach there is a beach with no name which looks like it is worth investigating on foot or by boat
Paxos Beach Hotel
This is a beach that you have to pay to access, although €5 for the day seems pretty reasonable to me. This charge is taken off your bill when you buy food and drinks so well worth a visit. And the Paxos Beach Hotel is worth a look too!
As you continue down the road from Gaios to Mongonissi there are a few small unnamed beaches which are worth a look. Being unnamed there is a great chance of getting a beach all to yourself, remembering that you have to take everything with you for the day, and take it all back when you leave – there are no bins on these beaches.
Stafiucha Beach
Stafiucha Beach is the next named beach, which is located at the entrance of the channel into Mongonissi making it a great place to sit and watch the boats go by.
Mongonissi Beach
This is a sandy beach in front of the Mongonissi Beach Bar. There is also a café just beyond the beach. This is a sandy beach – yes a sandy beach! And there are facilities here too making this beach great for a day out.
This beach has the potential to get busy too. The drive around the bay is great, and you get great views of the bay from the top of the hill.
There are also sun loungers in front of the boat moorings which can be quieter.
This is also a great beach to visit if you are travelling by boat.
Galazio Beach
This is the next named beach, which is the first beach we come to our trip around the coastline of Paxos on the west coast.
There is a beach before then which has no name and is at the foot of the cliffs, so great to visit by boat.
This beach is accessible by boat or by foot if you are feeling adventurous. And if you are a strong swimmer you can swim from the nearest beach called Avlaki Beach.
What do you get at Galazio Beach? Those stunning turquoise/ blue waters which are one of the features of the most beautiful Greek Islands.
We visited this beach on our boat trip and it is stunning.
Avlaki Beach
Take care on the road down to the beach – the road ends up being rough and bumpy gravel. There are a couple of parking spaces at the bottom though.
This is a small beach in a lovely sheltered bay with yes stunning clear blue water!
Erimitis Bay Beach
You know a beach is a big beach on Paxos when it has a sign from the road to it!
This beach is stunning! One of the best beaches in Paxos. No doubt about that.
Nothing there mind, but great for late afternoon sun. I cannot vouch for sunsets there unfortunately, much as I would like to.
We visited this beach by boat, the water is a bit rocky so care needs to be taken unless you moor some way out and drop anchor, which is what I should have done.
And if you are going by car? I would recommend parking where you can and walking the last bit. I drove all the way to the three parking spaces for the lovely complex down there. The spaces were full, so I turned around and guess what – I really struggled to get the Peugeot 108 hire car up the hill. I thought I was going to burn the clutch out – be aware of this if you drive down there!
Plani Beach
We have now made it back round to near Lakka at the top of the island. You can get to this beach by car, taking the road to the lighthouse before turning off and driving down to the beach. This is probably the most exposed beach on Paxos, so check the wind direction before going there or you might have an uncomfortable day.
And being relatively exposed you can get a rougher sea here (in comparison to gently lapping water that is!).
No facilities but minutes from Lakka.
And give this beach a go at sunset!
Meattie Buir's Beach
A lovely, quiet, out of the way beach. One person I spoke to referred to this as the hidden gem of Paxos. It is a bit of a trek to get there, but well worth it. Yes the water is lovely and clear – great for swimming.
You can take a car and park at the end of the road north of Lakka – this is the same road that you need to take to get to the Lighthouse. Park at then end and it is a quick walk down the rough path to the beach.
And finally, the beach with no name
There is one last beach. I found this beach as I was walking along the path to the north of Lakka trying to find the ruins of the old church Agiou Thoma.
There were people on this beach – just a small group who had got to the beach by boat. I am sure I could have scrambled down to the beach from the path.
And that is the beaches of Paxos as far as I know!
While I am on the subject of beaches on Paxos I guess I should tell you which beaches can be found on the smaller Greek Island of Antipaxos. That is something for the next post, which will be all about Antipaxos.
A few more things
Facilities
Many of the beaches on Paxos have no facilities whatsoever. You need to thing about this before going to some of these beaches. I made the mistake of walking to Arcoudaki Beach without taking any water – this is the video that I recorded as a result of this stupidity!
Take everything you need and no more, and don't forget to bring everything back with you.
Rubbish
There are no bins on most of the beaches so you have to take your won rubbish away with you, which is a responsibility we all share to keep this lovely island in the condition we would like to find it.
Naked swimmers
I assume that this is a sunrise/ sunset phenomenon, but I was rather surprised to be joined by people who cheerfully said good morning to me before stripping off and going for a naked morning swim!
Don't take the kids to Arcoudaki Beach at sunrise is the best advice I can give you!
Orientation
The beaches on the east coast get the sunrise but the sunset is on the other side of the island. These beaches get the full force of the sun from first thing in the morning, and in my experience are less exposed to the prevailing winds.
The beaches on the west coast do not get sunrise (directly) but do enjoy sunset. There are a couple of beaches on the north west coast which are a bit more exposed and experience rougher seas than the east coast.
Shoes
To get to most of the beaches you need decent footwear – don't try to get to Orkos Beach in flip flops as you might struggle with the rough paths, and there is nothing worse than struggling to get somewhere knowing that getting away some hours later is going to be even harder!
Shade
Some of the beaches offer limited amounts of shade, some nothing at all. Wear a hat – you will benefit from this at some point in the day trust me.
Wear sunscreen
I know this is blindingly obvious, but I got complacent one day and did not put any on and paid the price for it later. Wear sunscreen – you will still get a tan! Being bald I use a moisturiser on my face/ bald head with a minimum SPF of 15.
Sunshine
Most days in Paxos enjoy wall to wall sunshine. This can get tiring and certainly dehydrating. Be aware that the sun on Paxos is (probably) hotter than where you have come from and needs to be allowed for.
Swimming
Swimming in Paxos is great. The sea is lovely and clear, and on most beaches there are very few if any waves, just nice gentle lapping waves. Check out this video of the waves on Lakka Beach – it is six minutes of peaceful loveliness!
Of course take care when swimming – you know what you need to think about so I will not patronnise you here.
Phone signal
There is a pretty good phone signal on most of Paxos, but it can fade away at the edges. I found myself with no phone signal at all trying to navigate to the Tripitos Arch using Google Maps. Don't therefore be 100% reliant on a phone signal as you will find there are places where you have none. That is why I bought a map that shows all the roads and footpaths – that is all I need to know when I am out and about.
Snorkelling
Find some rocks in a nice sheltered bay, check the depth then jump in and go snorkelling – this is what I love doing.
And when I go snorkelling I do not use a snorkel – they drive me up the wall. I don't wear a mask any more. Just a pair of swimming goggles. Does that mean I am no longer snorkelling?
Unnamed beaches
There are some beaches which do not have names that I am aware of. Check them out and if they are any good let me know and I will add them to this list!
Related reading on my blog
There are a number of other blog posts which you will find of interest if you are interested in getting around the wonderful Greek Island of Paxos, which I guess you must be as you have made it all the way to the end of this post!
What Is Paxos Like – Simply A Stunning Greek Island
Paxos Car Hire – What I Did In 48 hours – days 12 and 13
Paxos Mobile Phone Signal – And What About Wi-Fi?
Paxos Travel Guide – Getting Around The Island
Updates
If you find when you visit that things have changed since I went to them please let me know and I will add this info to this post – it would be great to be able to keep this post as up to date as possible.
Summary
I hope that you have enjoyed reading all about the beaches of Paxos – please join me in my next post which is all about the even smaller island of Antipaxos.
Want to know more about Paxos?
I hope that you have found this post helpful, informative and even a little bit entertaining! To find out more about my favourite, wonderful Greek island all you need to do is click here and I will take you straight back to the start of my Paxos blog. Nice and easy!
Oh yes, I hope that you enjoy the next post.
Rick McEvoy